A Cooking Competition in the Pacific Islands Has a Life-Saving Mission
Governments and celebrities are battling diet-related diseases with reality TV.
Judges on cooking competition shows tend to be culinary royalty. Rarely, though, are they actual royalty.
When Princess Salote Mafile'o Pilolevu Tuita of the Kingdom of Tonga swept onto the stage during the season finale of Pacific Island Food Revolution, several of the contestants looked ready to faint.
But participants in PIFR aren't called "contestants." Instead, host Robert Oliver refers to the competitors, hailing from the Pacific Islands of Fiji, Vanuatu, Samoa, and the Kingdom of Tonga, as "food warriors." Much like the show, it's a title that seems lighthearted but hides a purpose that's deadly serious.
The Pacific Islands, which stretch from New Zealand to Hawai'i, comprise dozens of nations with dozens of cultures. But most share the same problem. Non-communicable diseases, such as heart disease, diabetes, and hypertension, have scourged Pacific Islanders for decades. Of the 10 nations with the highest obesity rates on Earth, eight are Pacific Islands.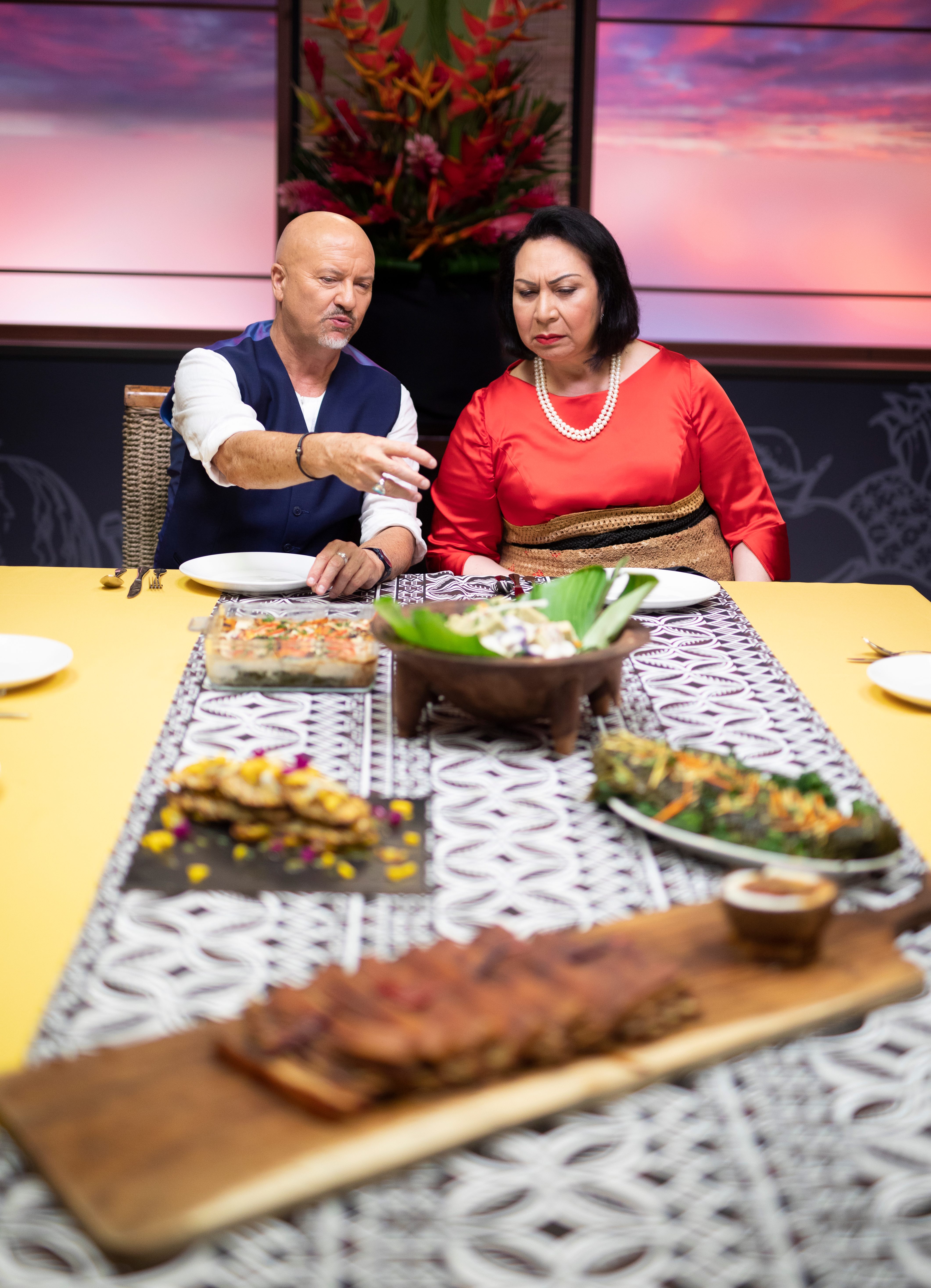 The culprit, says Wame Valentine, communications manager for PIFR, is a Pacific-wide dependence on calorie-heavy, nutritionally light, imported, processed foods. More insidiously, he says, globalization and the long history of colonization in the Pacific have uprooted the region's traditional diets. British corned beef and American sodas fill Pacific shelves and plates. Traditional foods, from fresh pineapple to seafood, simply aren't as compelling or well-marketed as McDonald's, laments Valentine.
The consequences have been disastrous. Over Zoom, Valentine, who was born on the tiny Fijian island of Taveuni, is visibly distressed as he recounts how three Fijians a day undergo an amputation due to diabetes damaging their extremities. "For a country of 800,000, that's really just jaw-dropping," he says.
Considering that non-communicable diseases like diabetes account for 70 percent of deaths across the Pacific, it might seem like too serious of a problem to be solved with reality television. But host Oliver insists that making healthy, local eating interesting to people across the Pacific is much easier through compelling TV than doctor's warnings or governmental scolding.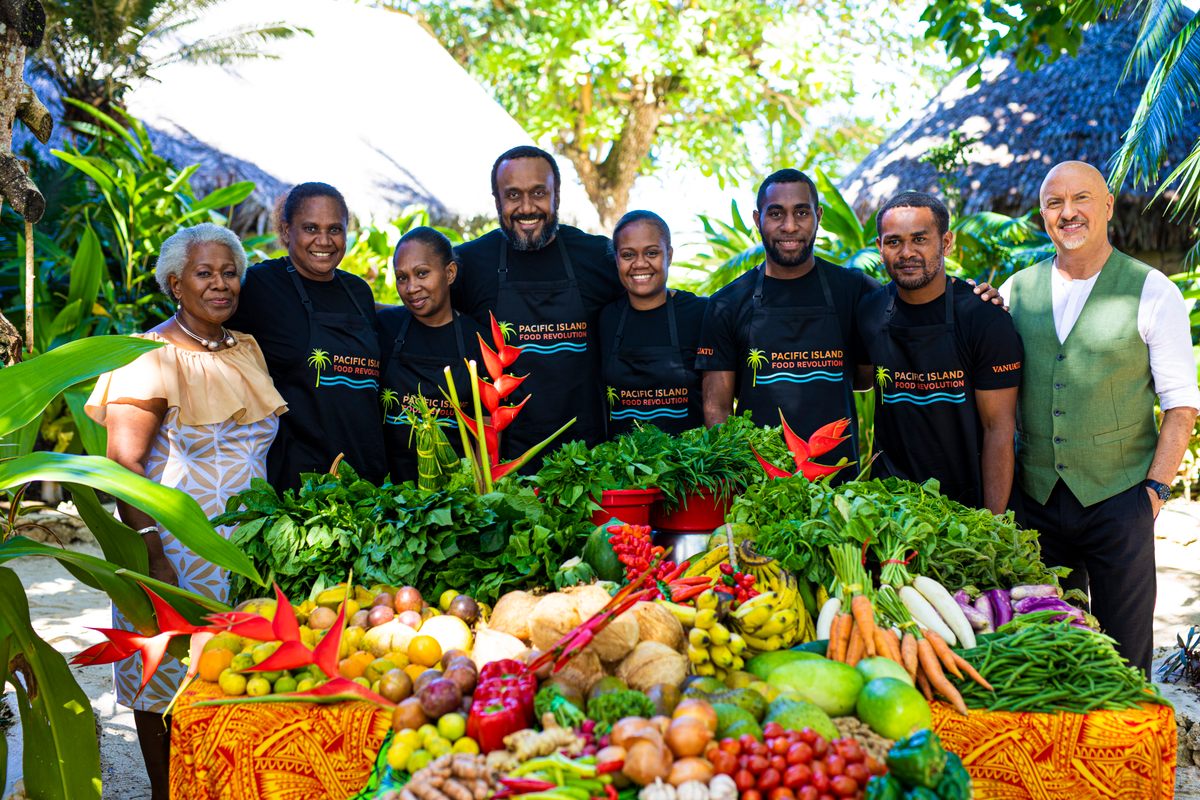 Oliver, a chef and cookbook author, grew up in Fiji. He spent two decades as a chef in New York, and published a wildly successful book, Me'a Kai: The Food and Flavours of the South Pacific, in 2010. He was invited to judge on an Australian cooking TV show soon afterwards. On a subsequent visit to Fiji, he noticed a local craze for the show MasterChef. "The competitive stuff is what pulls people in," he remembers realizing.
Simultaneously, governments across the Pacific region declared the non-communicable disease epidemic a crisis. So Oliver hit on an idea for a culinary competition show centering Pacific Islanders. "On their terms, [with] their food, their leaders, their people, their culture," Oliver says.
When PIFR debuted in 2019, it was the first Pacific Island-based reality television show aimed at Pacific Island audiences. A large portion of the show's funding came from the Australian and New Zealand's Foreign Affairs departments. "They are supporting it because, pragmatically, the NCD crisis will end up on their shores if they don't deal with it on the front end," Oliver says.
The show itself, with two complete seasons and a third delayed by COVID-19 restrictions, is simple. Twelve duos of skilled chefs compete in their home countries for the chance to face other national champions in the finals. With local co-hosts ranging from Tongan Olympian Pita Taufatofua and Vanuatuan indigenous-food expert Votausi Mackenzie-Reur, the program, Valentine explains, aims to be educational and inspiring, as well as entertaining.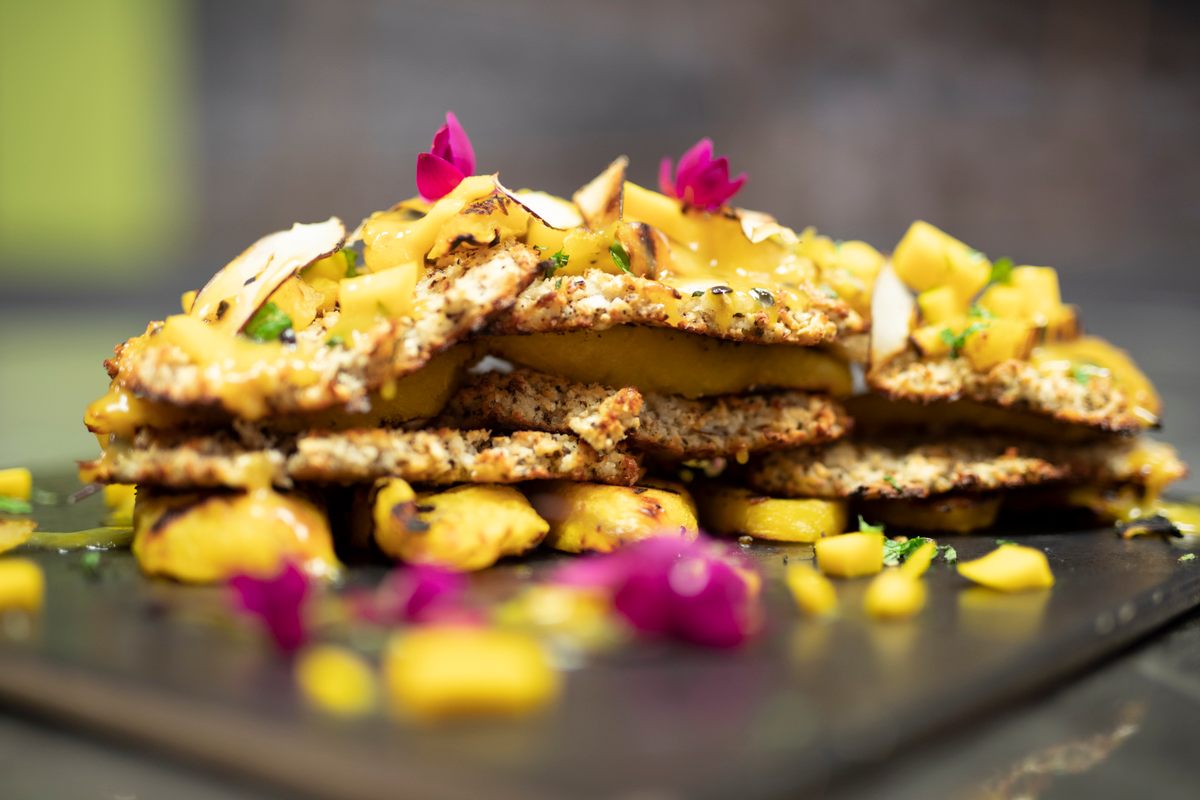 But viewers expecting Hell's Kitchen and Chopped-level meltdowns and fireworks will be disappointed. The show makes even the genteel Great British Baking Show look like a WWE cage fight. "It's very Pacific, in the sense that the nastiness isn't there," says Valentine. "It's funny to watch. You'd see the Tongans cooking a dish, and they'd notice the Samoan contestants need a coconut. And they'd chuck them a coconut."
The goal of the TV show, he says, is to promote local foods such as coconut and manioc rather than instant noodles and white rice. But change in the region is an uphill climb. Centuries of colonialism have strangled many people's appreciation for their traditional foods, leading to a mantra of "'we're not good enough,'" Valentine says. "And that's incredibly unfortunate, it's incredibly sad that people think that way."
But while contestants are encouraged to use the vegetables and fruits familiar to their grandparents, the show's message is not about a return to the past. "We're not promoting earth ovens," Valentine says dryly, referring to the traditional cooking method. Instead, the focus is on freshness, meaning that contestants are challenged to use local ingredients to make everything from school lunches to meals based on Native carbohydrates, such as taro, rather than imported white rice. The winners of season one, Knox Taleo and Leo Vusilai, cooked their way to victory with dishes such as Sweetheart taro with turmeric tuna and choko (chayote) and pumpkin tip salad. The duo won a trip to Hong Kong and a set of Fijian pearls.
Both Valentine and Oliver beam with pride as they relate viewership and engagement numbers. TV stations across Oceania broadcast the show, which reaches 5 million Pacific Islanders a week. A survey of regular viewers, Oliver says, had 66 percent of Vanuatuan respondents saying that they had changed their diets due to PIFR, with Fiji and Samoa close on their heels. And while the show limits itself to four countries, that's not from lack of interest. "We've got terrific viewership in Papua New Guinea, and we get emails every week saying, 'Please come here,'" Oliver chortles.
But, Valentine is quick to add, PIFR is more than its slickly produced television show. The events of each episode are translated into local languages and broadcast on radio stations across the Pacific, reaching rural communities. The show's website offers school lesson plans and recipes. And many contestants have gone on to become professional cooks or food advocates, to great success. "It's a change in the mindset," says Oliver. "People are saying what they viewed as village food and ordinary is now sexy, big TV food."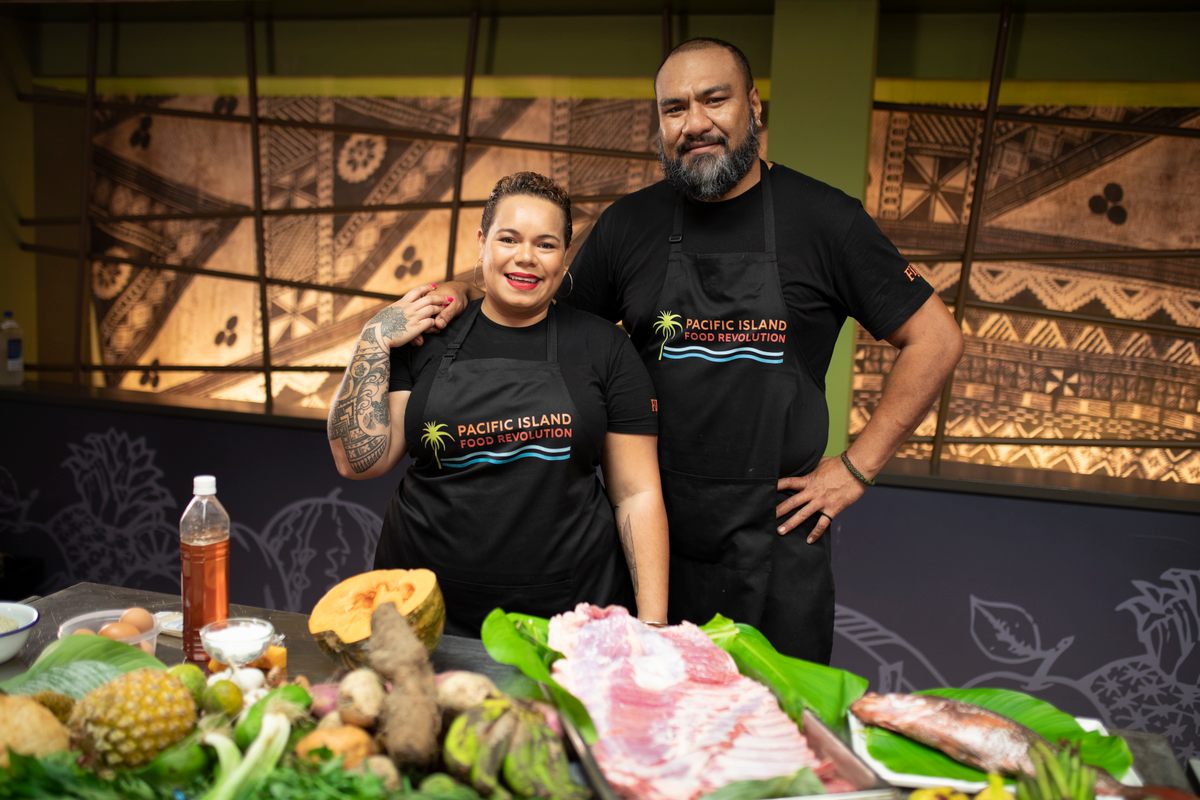 Valentine points out that promoting local foods has other effects too. By lessening the amount of imported food, more money goes to local farmers. Tourists also clamor for local food, something that was generally unavailable. Up until recently, he notes, restaurants in Fiji's capital were generally Chinese or Indian. For years, there wasn't a place where "you could walk in and order a nice bowl of rourou with fish and some coconut cream and sweet potatoes." (Rourou is taro leaves, stewed and spiced Fiji-style.)
That is changing, with new Fijian restaurants popping up all the time. The momentum for a local food movement is building, Valentine says. He acknowledges, though, that changing cultural behavior is a gradual process, and one that might require more than two seasons of reality TV. But he's still heartened by what the show has accomplished. "The fact that we're using media and using it innovatively, in an entertaining way," he rhapsodies. "That we're using Pacific humor and, most importantly, we're using Pacific people. We're showing black and brown faces on the screens, promoting Pacific food and Pacific culture in a Pacific way."
Gastro Obscura covers the world's most wondrous food and drink.
Sign up for our email, delivered twice a week.