Americans Once Celebrated Thanksgiving with Tricks, Treats, and Mayhem
Ragamuffin Day looked a whole lot like Halloween.
On November 26, 1911, children ran rampant through Manhattan. Some wore garish masks modeled after George Washington, Uncle Sam, or various political figures; others smudged their cheeks and donned ragged clothes to look like hobos. "New York children have something to be thankful for on Thanksgiving Day," wrote journalist Wilton Markham in The Free Lance. "On that day at least the children literally take possession of the streets." Dressed in their shabbiest finery, these faux-beggars would go door to door, collecting apples, candy, pennies, or other snacks, asking, "Anything for Thanksgiving?"
If the idea of kids dressing up in costumes, playing tricks, and asking for treats sounds familiar, that's because the roots of modern-day Halloween lie in this forgotten American tradition: the Ragamuffin Day parade. Thought to have originated in Irish and other immigrant neighborhoods in New York, Ragamuffin Day took off almost as soon as Abraham Lincoln declared Thanksgiving to be a national holiday in 1863. Unsupervised and unfettered by work or school, New York's children had a rare opportunity to cut loose.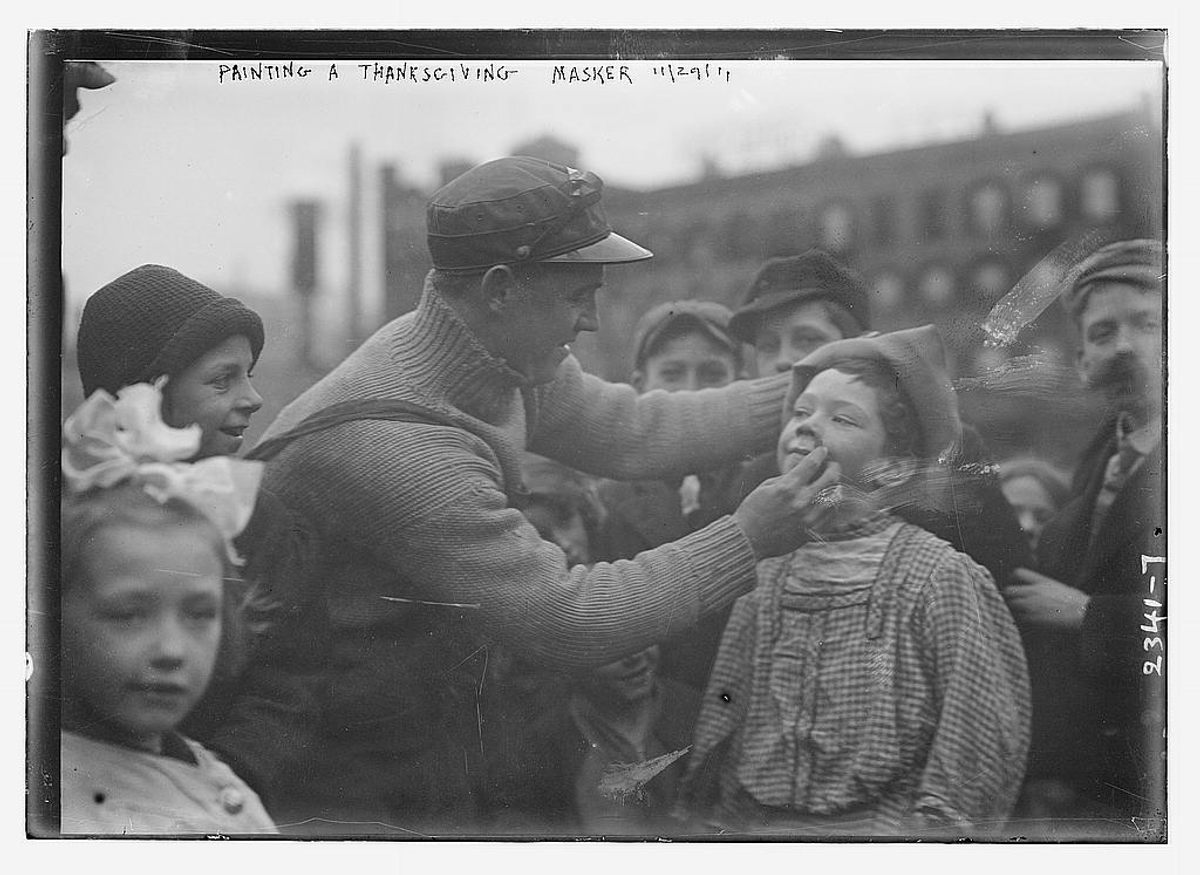 Markham goes on to describe thousands upon thousands of these "ragamuffins" wreaking havoc by pelting pedestrians with confetti and flour, hitching rides on the fenders of moving cars, blasting horns, riding horses, and finding all sorts of ways to "generally enjoy themselves to the limit of their temporary freedom." Life as a kid around the turn of the 20th century wasn't great—around 6 percent of the workforce in 1900 was under 16—particularly in New York's crumbling tenement buildings. But for one day of pure mayhem, children could get away with just about everything "short of the actual commission of crime."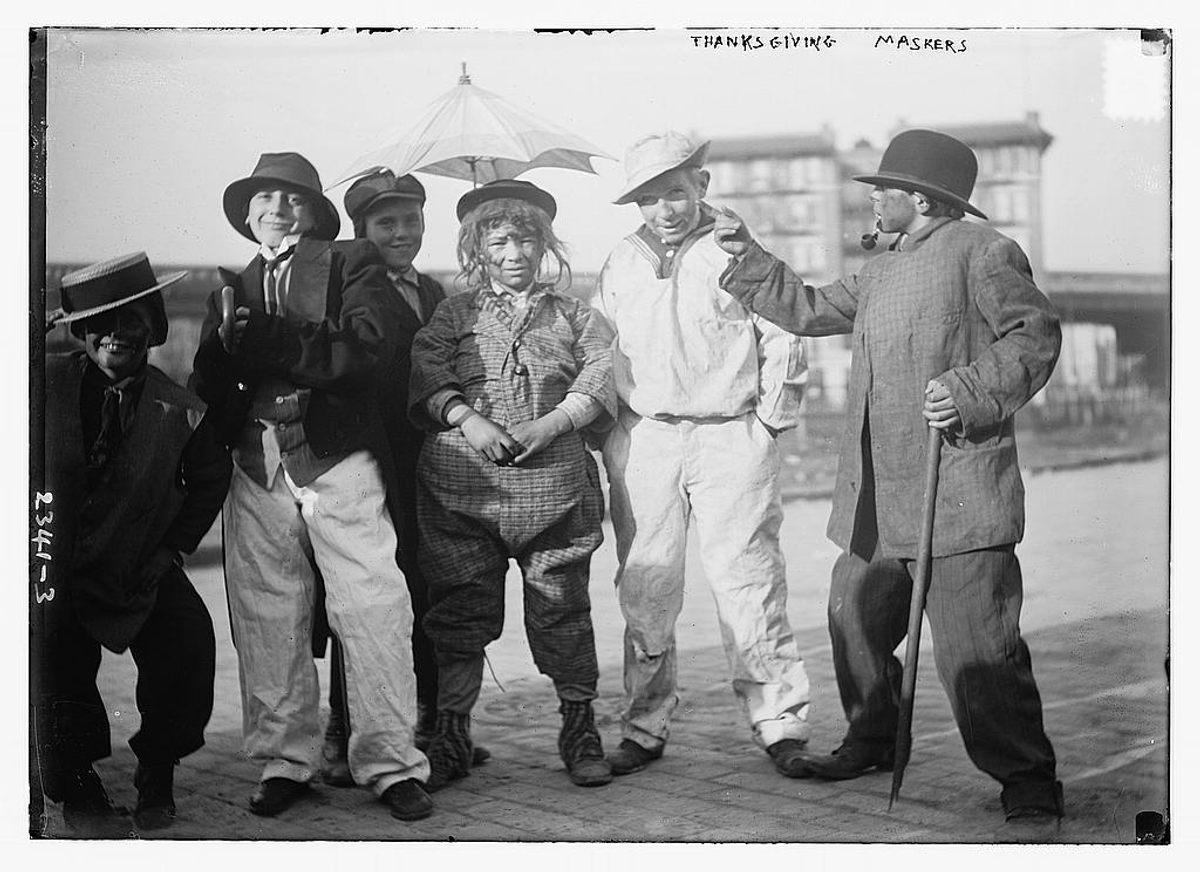 As with Halloween years later, Ragamuffin Day became a time to experiment with and explore social taboos. Drag was particularly popular, with one report describing boys dancing to piano music and decking "themselves out in worn-out finery of their sisters." Even some adults got in on the action. A prominent member of the New York Conservative Party, Jack O' Leary, would later write in his memoir about dolling himself up in his "mother's face powder, lipstick and rouge" for the occasion. Predictably, given the era, insulting ethnic stereotypes with "greatly exaggerated facial peculiarities" were also a popular choice.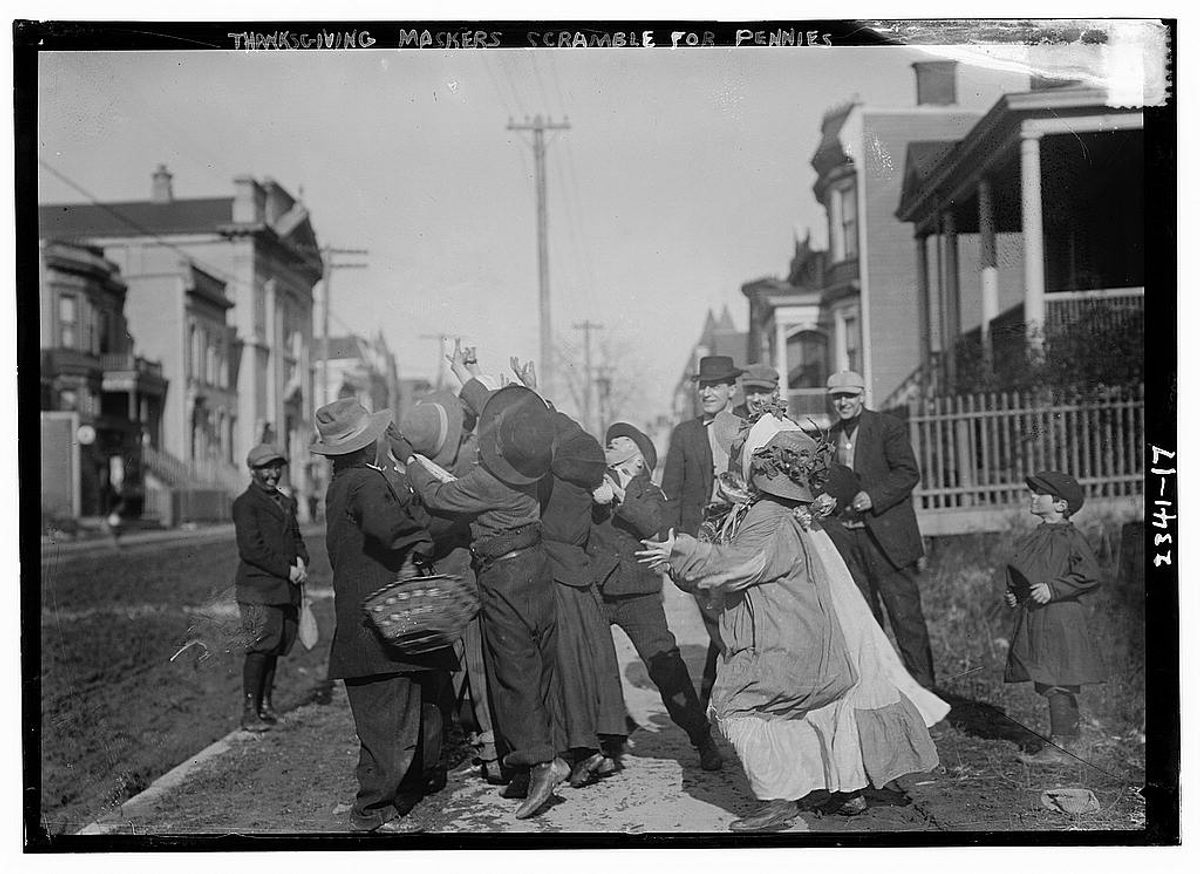 Not everyone was thrilled with Ragamuffin Day. While most of the festivities were harmless, reports of bonfires and vandalism left New York City elites skittish. When the Great Depression rolled around in 1929, the idea of children cosplaying poverty and begging for food seemed in particularly poor taste. The New York Times began running an increasing number of articles and op-eds calling for an end to the tradition. The New York Public Library blog cites a 1930 note by William J. O'Shea, Superintendent of Schools, saying that "many citizens complain that on Thanksgiving Day they are annoyed by children dressed as ragamuffins, who beg for money and gifts."
While Ragamuffin Day continued on for a number of years in Greenpoint, the Bronx, and Flatbush, the tradition gradually faded away. In the 1940s and '50s, Halloween was on the rise, as was another sort of Thanksgiving parade.
As a way to deter would-be ragamuffins, in 1937, the Madison Square Boys Club started throwing its own alternative, comparatively wholesome parade. Their slogan, "American boys don't beg," spoke to the grim economic climate of the times, as well as a growing sense of nationalism. Newspaper articles on Ragamuffin Day often focused on the idea that "the custom is believed to have originated by the foreign born population of the big city, who, while they have no Thanksgiving in their own lands, make use of other holidays for carnival masquerades and seized upon Thanksgiving for that purpose after coming to America."
In 1956, New Yorkers celebrated the last recorded Ragamuffin Day in the Bronx. At that point, trick-or-treating had come to mean something else and the Macy's Thanksgiving Day Parade gave Manhattanites a more regulated way to dress up and act out. Today, Ragamuffin Day is nothing but a memory.
Gastro Obscura covers the world's most wondrous food and drink.
Sign up for our email, delivered twice a week.