Satanic Panic in America's Greatest Forgotten Garden
How Untermyer Park went from botanical wonder to devil's playground and back again.
Hidden away behind a great stone wall in suburban Yonkers, New York, sits a long-forgotten gardener's masterpiece. Statues of sphinxes peek at passersby from just beyond the wall, hinting at the decaying grandeur that awaits inside Untermyer Park. Two-thousand-year-old imported Roman columns tower dramatically from a scenic clearing, heralding the end of a stone staircase which seems to descend infinitely; crumbling tiles line the bottom of what must have once been an incredibly elaborate mosaic pool.
In their heyday, Samuel Untermyer's gardens were applauded as a horticultural marvel. Celebrated internationally, they attracted droves of visitors in the 1920s and 1930s. But when Untermyer passed away in 1940, the enormous cost of upkeep required to maintain his gardens was far too daunting for either the City of Yonkers or the State of New York, and the estate was left to fall into a slow decay.
Despite decades of neglect, the early glory years of Untermyer Park are still apparent in the impressive ruins that remain, along with traces of a darker and far more sinister era that came to follow. Satanic scribblings and ominous graffiti appear on columns, towers, and decrepit walls; cryptic markings alluding to a traumatic time in New York City's history. But the Untermyer Gardens Conservancy has spent the last decade trying to revitalize the gardens and restore the park's reputation for idyllic beauty.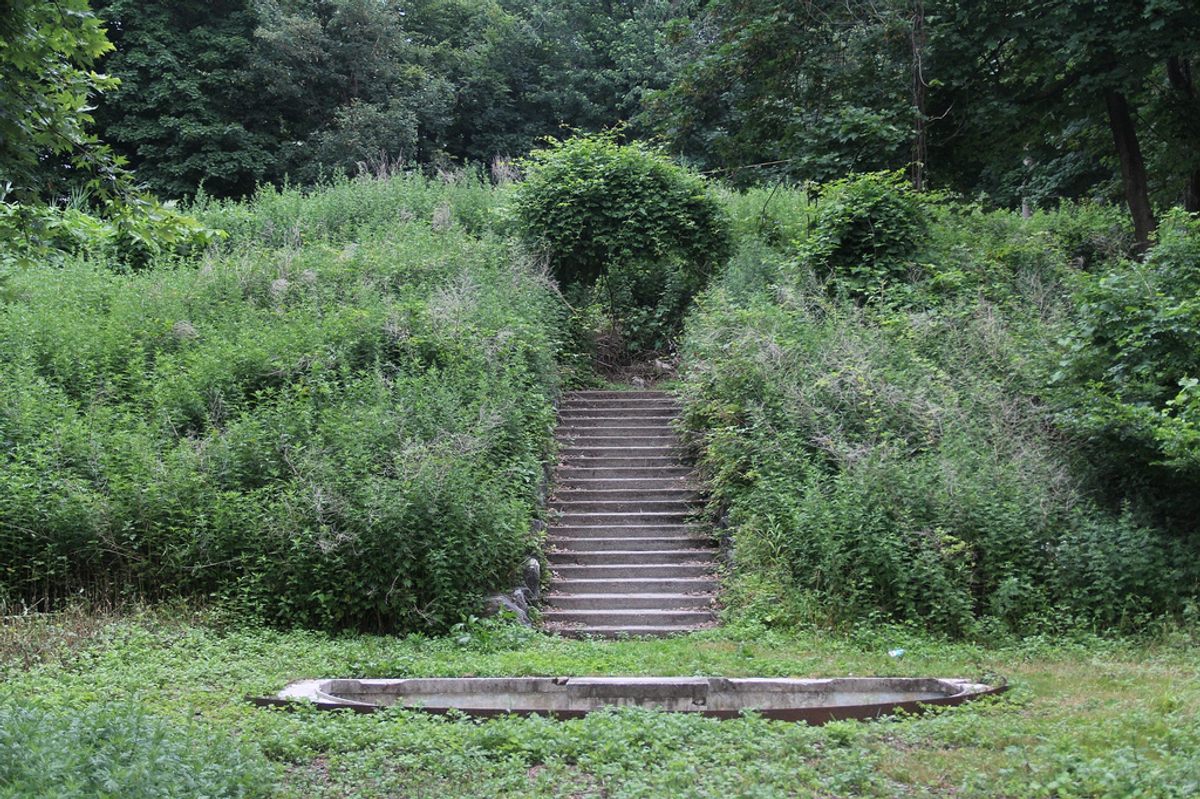 In the 1970s, New York was undeniably gritty. It was a city in economic crisis, with sky-rocketing crime rates and a steadily declining quality of life for city residents. Subways and parks had become the settings for muggings and rape, corruption was widespread amongst the NYPD, and prostitution and drug dealing were all too familiar sights on city streets.
Meanwhile, the western world had developed a growing infatuation with the occult, reflected in the prominent music and films of the era in which demonic possession, ritualistic sacrifice, and alleged hidden satanic messages were thematically popular. Satanic panic was a new phenomenon, with widespread fear and paranoia surrounding claims of secret underground cults and their supposed engagement in dark and sadistic rituals.
In the midst of all this phobia, a series of strange occurrences involving Untermyer's long-derelict gardens earned the park a disturbing new reputation. Overnight workers at neighboring St. John's Hospital regularly claimed to see torch flames moving deep within the woods. Strange chanting was also frequently reported, and the park's old abandoned pump house became referred to locally as Devil's Cave.
A 1976 police report documents the finding of carefully mutilated German Shepherd bodies in the aqueduct south of the park; just one of several instances involving significant numbers of skinned and disfigured Alsatian dogs occurring in the greater New York area over the next several years.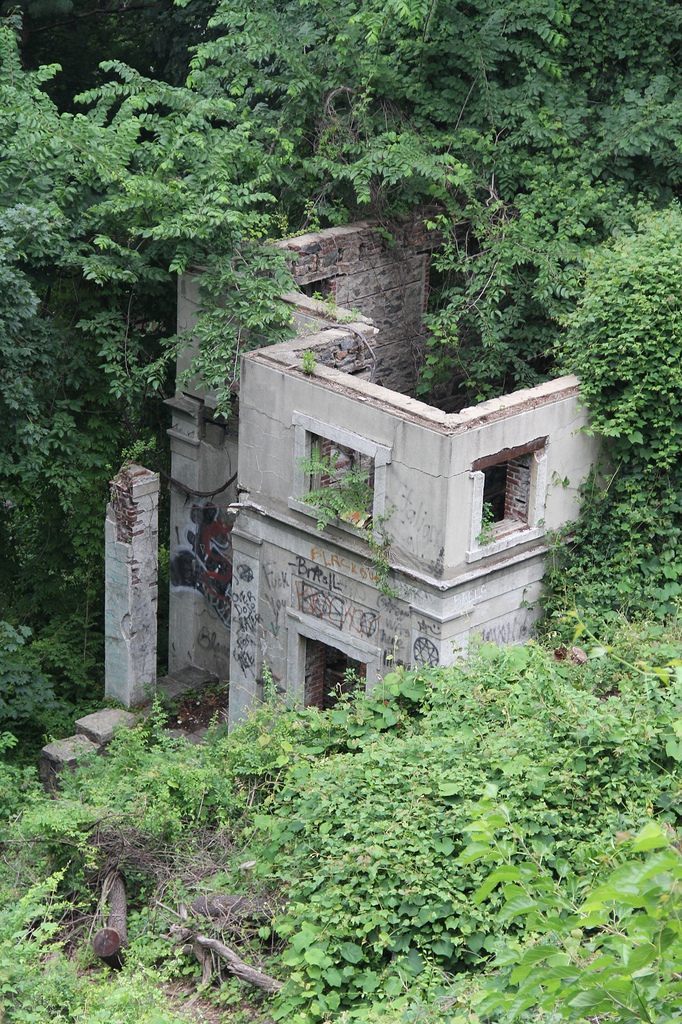 Starting in July of 1976, the year-long murder spree of the Son of Sam serial killer—later identified as Yonkers resident David Berkowitz—escalated satanic phobia into an outright frenzy, holding the city of New York hostage in fear until his arrest in August of 1977. While Berkowitz initially confessed to six murders and several other non-fatal shootings, in the years following his arrest he has consistently claimed that he acted as a part of something much greater: a large-scale satanic cult with headquarters based in Yonkers, a group which Berkowitz recounted as holding frequent gatherings in the heavily wooded grounds of Untermyer Park.
While his credibility is clearly questionable, it is interesting to note that several of the people that Berkowitz accused of being fellow cult members following his arrest soon came to bizarre and untimely deaths. Berkowitz claimed that the father of a neighboring Yonkers family, Sam Carr, was "the high official of the Devil's Legion," as well as being the owner of Harvey, the infamous black lab used as a transmitter of evil. Both of Carr's sons, John and Michael, were also accused of heavy cult involvement and having a hand in multiple murders.
The brothers each died violently within two years of Berkowitz's arrest; John Carr in 1978 at the age of 31 from a rifle shot to the face that was deemed suicide, and 27-year-old Michael Carr in 1979 from a drunk driving accident on Manhattan's West Side Highway. Oddly, there is documentation that young Michael had a clinical aversion to alcohol and did not drink.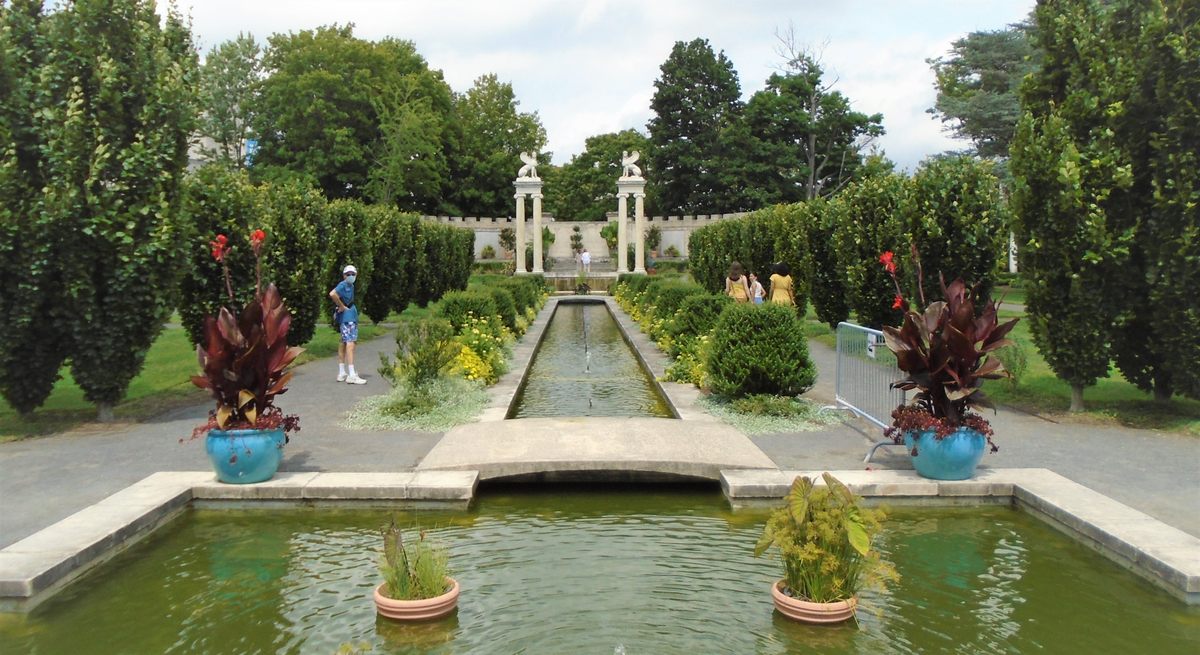 Even without delving into the satanic cult theory, several people prominently involved in Berkowitz's case at the time of the manhunt, subsequent arrest, and trial have been adamant about evidence indicating the existence of more than one gunman from the very beginning, including Queens District Attorney John Santucci and police investigator Mike Novotny.
The case was reopened in 1996 and remains so, but with no further conclusive findings. Berkowitz is currently serving six consecutive life sentences at Sullivan Correctional Facility. He's become a born-again Christian with his own website and has relinquished the Son of Sam title for his new moniker, "Son of Hope".
Decades later, a once prevalent fear of satanic rituals and secret occult gatherings seems a distant memory. But even as the park blooms with new life, our infatuation with the dark side carries on, remembered within the walls of what was long known as America's Greatest Forgotten Garden.
This article has been updated to include information about the park renovation.
This story originally ran in 2013; it has been updated for 2022.