Around the World in 6 Quarantine Pantries
How chefs in Bolivia, Malaysia, Italy, Rwanda, Canada, and Thailand are preparing for lockdown.
With many cafes, restaurants, and bistros shuttered to halt the spread of COVID-19, a new era of at-home self-reliance is upon us. Worldwide, people are making last-minute forays into markets and grocery stores before retreating home, prepping their kitchens for a prolonged period of sheltering in place. It's an unprecedented moment in which pantries from Milwaukee to Mogadishu, Sarajevo to Saigon, have become the focal point of our at-home lives.
For a global perspective on this rare moment, I spoke to chefs from six countries about how different cultures are quarantining and sheltering in place. What stands out is the importance of agricultural know-how, the ability to be your own safety net, and the importance of familial and social networks. Recalling lessons from our parents and crafting nostalgic comfort foods is a common panacea. And while many are keen to experiment, the economic crunch also demands frugality and resourcefulness.
These are the kitchens of the coronavirus age.
Chef Anis Nabilah
Kuala Lumpur, Malaysia
The Kuala Lumpur that Chef Anis Nabilah left in late February was not the same city she returned to in early March. Malaysian officials announced a partial lockdown while she was in Mecca with her family for their Umrah pilgrimage. "Half the people didn't take it seriously," she says, "and the other half went on a panic-spree and emptied all the grocery stores." By the time she returned, she couldn't even find flour. Luckily, her parents live nearby, "and their kitchen is like a mini-mart."
While classically trained and versed in international cuisines, Nabilah is spending her time at home re-familiarizing herself with Malaysian ingredients and cooking for the Malaysian palate. "Even when I make pasta, it can't be that Italian," she says. "I have to add some Asian flavors to make it work for my family, lots of chili."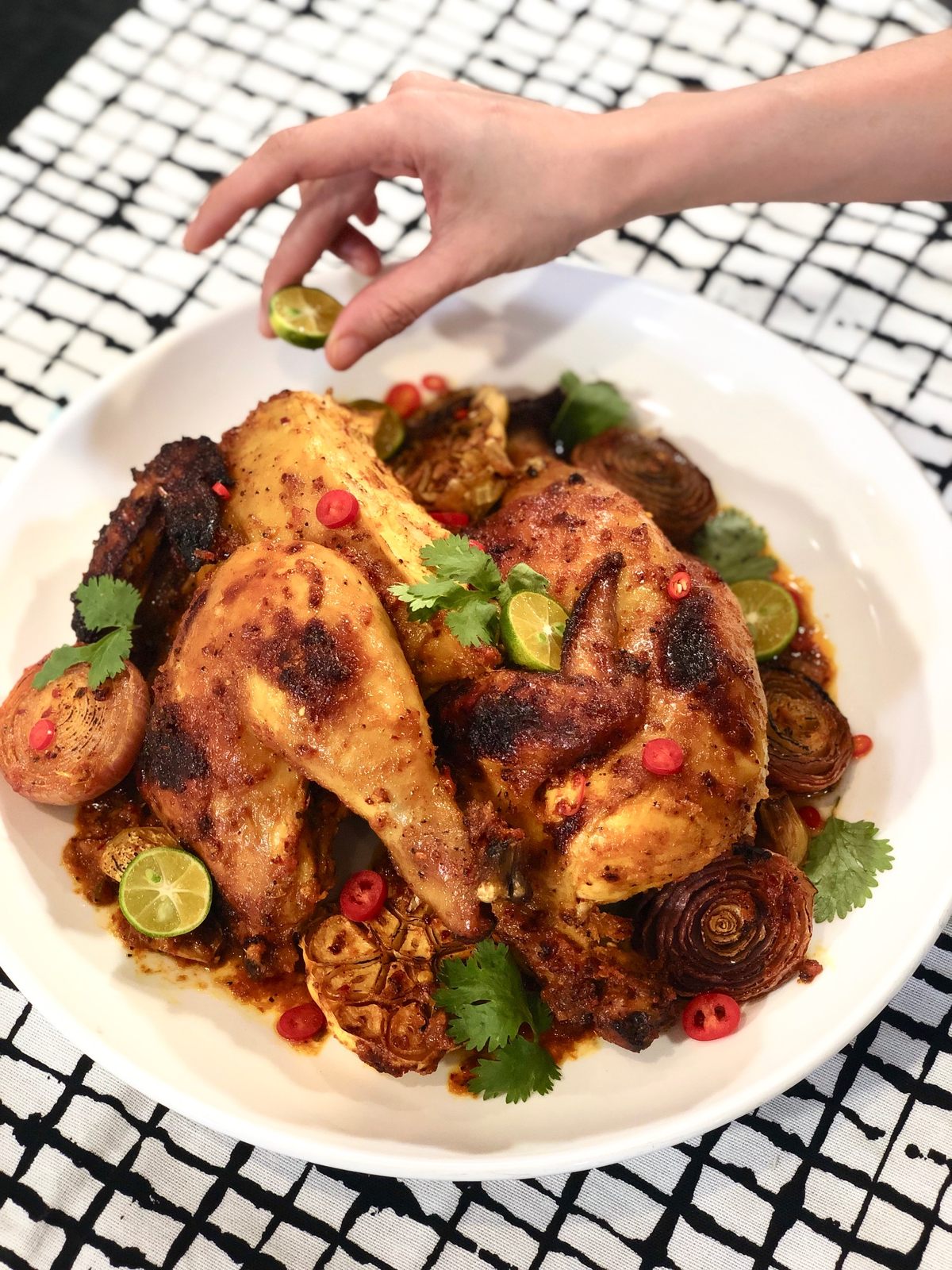 Her parents have a range of rices and rice noodles that function as the bed of many Malaysian dishes. Powerful flavor-makers such as dried fish, dried shrimp, and garam masala mark the unmistakably spicy funk of many Malaysian dishes. A backyard garden with chilies, lemongrass, turmeric, and galangal allow for a range of curry bases as well.
With this trove of ingredients, Nabilah has been crafting Indian mulligatawny and Thai thom yum goong, reflective of Malaysian cuisine's blend of regional flavors. "We're big on soup," says Nabilah, "it's comforting for them." She recently made a traditional Malaysian short rib soup called sup tulang, fragrant with star anise, cinnamon, cloves, and cardamom, topped with lime, coriander, and spring onion, though she worries it's still not as good as her mother's.
While the globetrotting chef is happy to revisit the flavors of her youth, she's careful to balance lavish meals with more spartan ones. After our conversation, she says she plans to mix a can of tuna with chilies, raw onions, and coriander over a bed of rice, topped with lime and spring onions. "A spicy little rice bowl," she calls it. "This is no time to indulge. I just make sure I have three meals and that's that."
Chef Joseph Shawana
Toronto, Canada
Chef Joseph Shawana's downtown Toronto restaurant, Kū-kŭm Kitchen, has been closed since mid-March. Still, he's far from bored: He chairs a nonprofit called Indigenous Culinary of Associated Nations and serves as the Indigenous Culinary Advisor for Toronto's Centennial College. The only problem is that he's locked out of his pantry, in a way. "You can't forage much from the sidewalk in Toronto," he says.
A member of the indigenous Canadian Odawa group, Shawana was born and raised on Manitoulin Island, part of the Wiikwemkoong Unceded Indian Reserve, a six-hour drive north of Toronto. It was there that he learned how to live off the land, watching his mother and grandmother forage, cook, and eat with the changing of seasons. "Watching them stretch one ingredient to create so much stuff was eye-opening," Shawana tells me, "and that's the mentality of indigenous people, to utilize what you have."
After a handful of COVID-19 cases were confirmed in mid-March, however, his reserve was put on lockdown. Luckily, Shawana made sure to bolster his pantry beforehand. His quarantine pantry is filled with dried blueberries and wild strawberries; dehydrated dandelion, osha, and cattail roots used in stews and soups; wild mushrooms like chanterelle, morel, and candy cap; and acorns to be ground into flour. His freezer is full of hunted game meats ranging from moose, elk, and venison to pickerel, bass, and whitefish.
With his restaurant closed, Shawana is making home-cooked dinners with his wife and son—a rare treat for a working chef. He's been oven roasting rainbow trout stuffed with wild leeks, mashing roasted sunchokes, and even experimenting with an indigenous-style crème brûlée he calls reverse colonization in a bowl: duck eggs, corn milk, Mexican vanilla, and candy cap mushrooms. "That's what I try to do every day—utilize pre-contact ingredients and reintroduce them in a contemporary style of cooking."
Still, he's careful to pace himself. "I'm trying not to use too much because we're still not sure when we'll be able to go back North," he says. Toward that end, Shawana makes sure to have a healthy stock of "evergreen" in his pantry. The multi-purpose ingredient is made by simmering juniper, spruce, cedar, or pine needles in water. It can be taken as a tea by adding honey or maple syrup, or treated like a stock to impart an earthy flavor onto braised meats.
A go-to public figure for all things foraging, Chef Shawana says he's noticed a resurgent interest among younger indigenous Canadians in foraging skills. "This virus is taking a lot of people back to their roots," he says. "They want to learn how to hunt now, how to fish." It's a cause he's championed for years. "We can't always depend on the street lights being on, you could say."
Chef Dieuveil Malonga
Kigali, Rwanda
"There is no going back to our old ways after this," writes Chef Dieuveil Malonga from his home in Kigali, where he is hosting several employees from his restaurant, MEZA Malonga. Of the sundry lessons to be gleaned from this pandemic, he hopes one in particular will resonate. "When it comes to education and career choice, I hope people will finally stop overlooking the importance of agriculture."
While he hails from the neighboring Democratic Republic of the Congo, Malonga's move to Rwanda places him in a country whose main economic activity is agriculture. In a small plot behind his restaurant, Chef Malonga himself grows corn, peas, sugar cane, and wheat, while bean producers in the nearby Great Lakes region keep a variety of legumes accessible. With his guests in mind, he caught and preserved 45 kilos of catfish and mamba from nearby Lake Rweru before the virus reached Kigali.
Still, there are ingredients he's going without. With borders closed, he's unable to source rice from neighboring countries. "As an alternative, we currently rely a lot on corn as well as cassava leaves and flour for dishes like fufu," he writes, referring to a traditional African method of boiling and pounding starches into a dough-like consistency.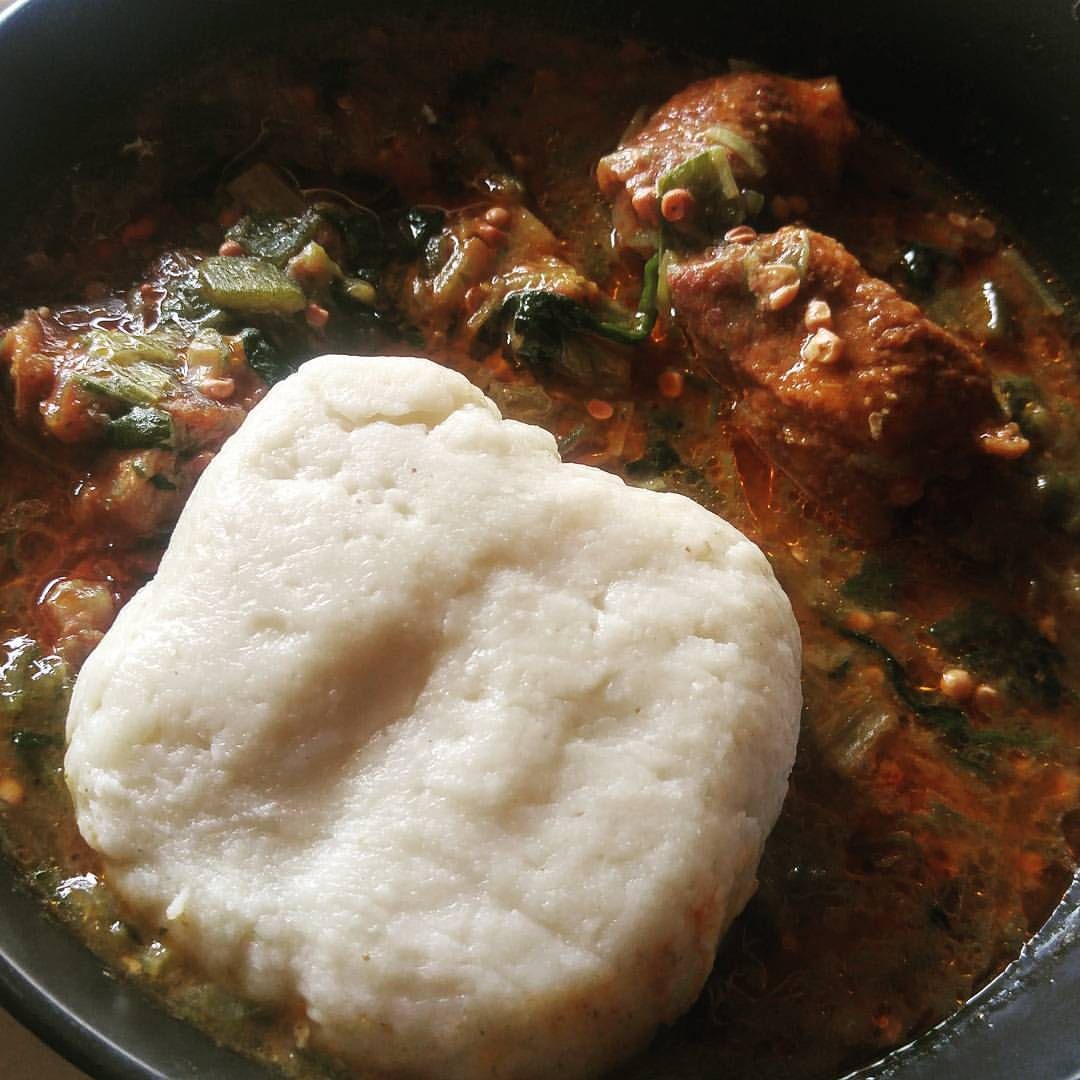 With regional staples including yam, sweet potatoes, and sliced plantains, Malonga's pandemic pantry underscores locavorism, another charge he hopes the post-pandemic food world takes more seriously. "There are many products we chefs love to cook with, but don't necessarily need, that contribute to deforestation," he writes. "I challenge our industry and governments to simplify the food chain and introduce communities to ingredients that are equally good for their health and the planet's."
He points to an ongoing regional crisis overshadowed by the pandemic. "The nearby Congo Basin Rainforest of my homeland has been in flames for months. It is the second green lung of the planet after the Amazon, which also has been burning," he writes. "How interesting then that COVID-19 attacks our respiratory system?"
Chef Anissa Helou
Sicily, Italy
It's a long story, but suffice to say that the daughter of a Syrian father and a Lebanese mother, whose cookbooks are cited as introducing Western audiences to Middle Eastern cuisine in the 1990s, wound up in Trapani, Sicily, because it reminds her of home. "The produce, the warm hospitality, the seasonal approach to food," she tells me, "not to mention the Mediterranean." (Though she admits that a stroll along the latter earned her a scolding from local police.) She's making her walks shorter, but her time in the kitchen longer—not inventing new dishes, but perfecting old ones.
An evangelist of Levantine cuisine, Helou keeps her pantry festooned with staples such as burghul, tahini, orange blossom water, apricot leather, 7-spice mixture, salep, and pepper paste. It helps that an Italian devotion to freshness precluded food deficits seen elsewhere. "The mentality here is different," she says. "It's not in their nature to 'stock up,' so there have been no shortages."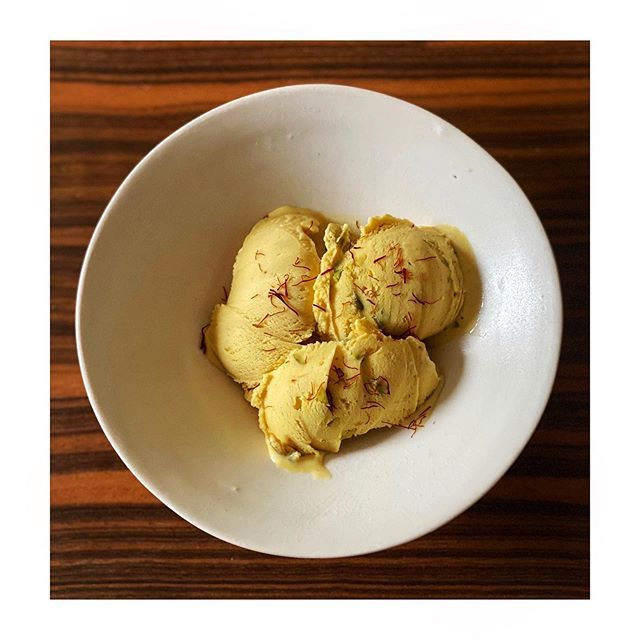 "If I want to spend a lot of time in the kitchen, I spend it on food I was brought up with," she says. That means dishes such as tabbouleh, fattoush, and kibbeh. "Anything that takes time but also demands precise skills: chopping the parsley just right, laying the kibbeh very evenly, rolling out the dough just so." Kabab karaz, in which lamb meatballs are gently simmered in a bath of sour cherries and pomegranate molasses, is quintessential Aleppian cuisine, a taste of childhood summers spent in Syria, in the midst of this strange spring.
Helou is only breaking from her nostalgia mold for homemade saffron ice cream thickened with ground orchid tubers, a treat otherwise known as booza in the Arab world and bastani in Iran. It helps satisfy a lifelong, and perhaps inevitable, sweet tooth: Her Arabic last name, Helou, translates to "sweet" or "sweetness."
Chef Marsia Taha
La Paz, Bolivia
Marsia Taha is the head chef at Gustu, a one-of-a-kind restaurant high up in the Bolivian capital. A wedding of Bolivian ingredients and fine dining, Gustu's fare is typified by plates such as llama with Andean tubers and ostrich tartar with maca, two new menu items Taha rolled out days before the restaurant was forced to close. "After the first confirmed case, they shut the country down bit-by-bit," she tells me. "A week later the country was in complete self-quarantine."
Taha largely abstained from the panic purchasing that gripped much of her city—she's content to stretch traditional Bolivian staples to meet her family's needs. She makes sure to have chuño and tunta, two types of potatoes preserved using an ancient Andean method of freeze-drying; quinoa, the forgotten-then-beloved grain first harvested around Lake Titicaca; Padilla chilies from the Low Andes; maca root for roasting and stews; and coca leaves for infusions (despite Gustu's boundless meat options, Taha eats mostly vegetarian). She also keeps Bolivian wine on hand, sourced from producers who are able to maintain vineyards 10,000 feet above sea level.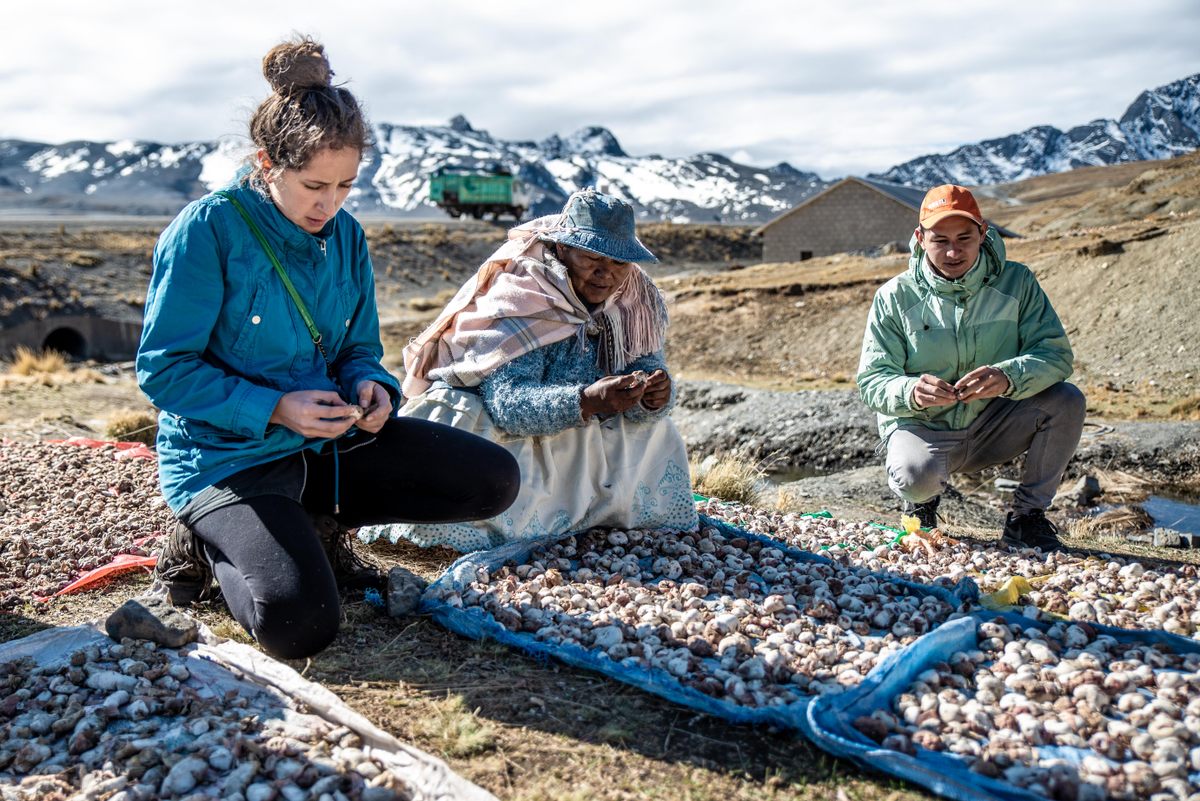 While city markets are open until noon daily, Taha explains that the last digit of Bolivians' ID card grants individuals one day a week to go food shopping. "It's very strict," she says, "the police check IDs and everything." Luckily, producers and farmers are still at work, stabilizing the country's supply chains.
Holed up with her immediate family, Taha finds herself cooking traditional Bolivian comfort food such as Sopa de Maní, a simple peanut-based macaroni soup with onions, carrots, and beef that nods to Bolivia's role as the birthplace of the peanut.
A self-made chef who came to head one of the best restaurants in Latin America, Taha is using this time to draw up plans for a new menu at Gustu and conduct research for Sabores Silvestres, an interdisciplinary project preserving ancestral Bolivian gastronomy. "The internet is a perfect tool to keep learning, to keep the mind in shape," she writes. "We have to spend time reinventing ourselves, learning from this crisis."
Chef Ian Kittichai
Bangkok, Thailand
The once-frequent guest on Iron Chef: Thailand and current international restaurateur Chef Ian Kittichai is overseeing the reorganization of his several businesses in the wake of the pandemic. Still, he's making time to wake up at 3 a.m. for the sake of his sourdough starter. "The proofing was done," he writes in an email, "and it had to be baked."
At home in Bangkok with his wife, son, and two dogs Mei Hua and Charlie, Chef Kittichai is a model of self-sufficiency. He's blending his own oat milk and cashew milk ("cashews are very plentiful in Thailand," he writes), which he uses to make overnight oats that he'll top with Asian pears and banana. With many markets closed and a strict curfew in place, he's turning his perishable vegetables and stocks into chilis, soups, and stews to portion and freeze for later use. He also grows betel leaves on his balcony garden, the base of the classic Thai finger food miang kahm.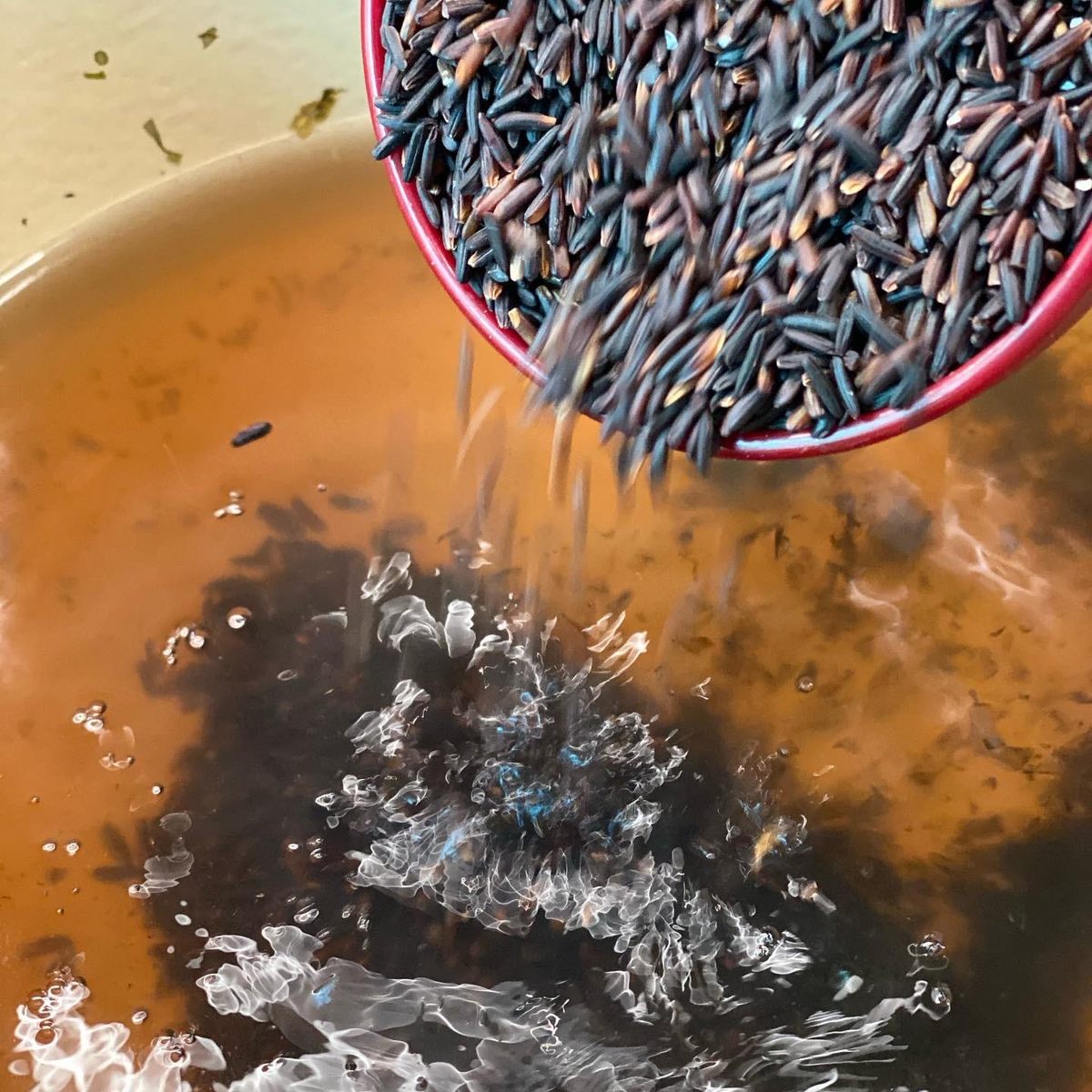 Still, the chef is leaving room for comfort foods. He's whipping up fast classics such as krapow moo, a wok-fried dish with holy basil, chilis, and pork, and slower ones such as jok, a breakfast rice porridge of Chinese influence that brings to mind the mornings of his youth, spent with his late parents and seven sisters in Bangkok's working-class Klong Toey neighborhood. He's been making a Thai variation with riceberry, a varietal from Northern Thailand, to which he adds pork and seaweed meatballs.
As Chef Kittichai pivots his businesses to a delivery-based model, with all proceeds going directly to his staff, he's committed to flexibility in the coming weeks and months. "The world today is a very different place than it was yesterday," he writes. "I don't know what tomorrow will look like, but we have to keep going." He cites a Thai phrase, Suh-suh, used in instances of hardship or difficulty. "It means 'keep fighting, don't give up.' That's what we are doing."
You can join the conversation about this and other stories in the Atlas Obscura Community Forums.
Gastro Obscura covers the world's most wondrous food and drink.
Sign up for our email, delivered twice a week.