The Mystery of New England's Gray Corned Beef
The specialty is usually pink, but it looks different around Boston.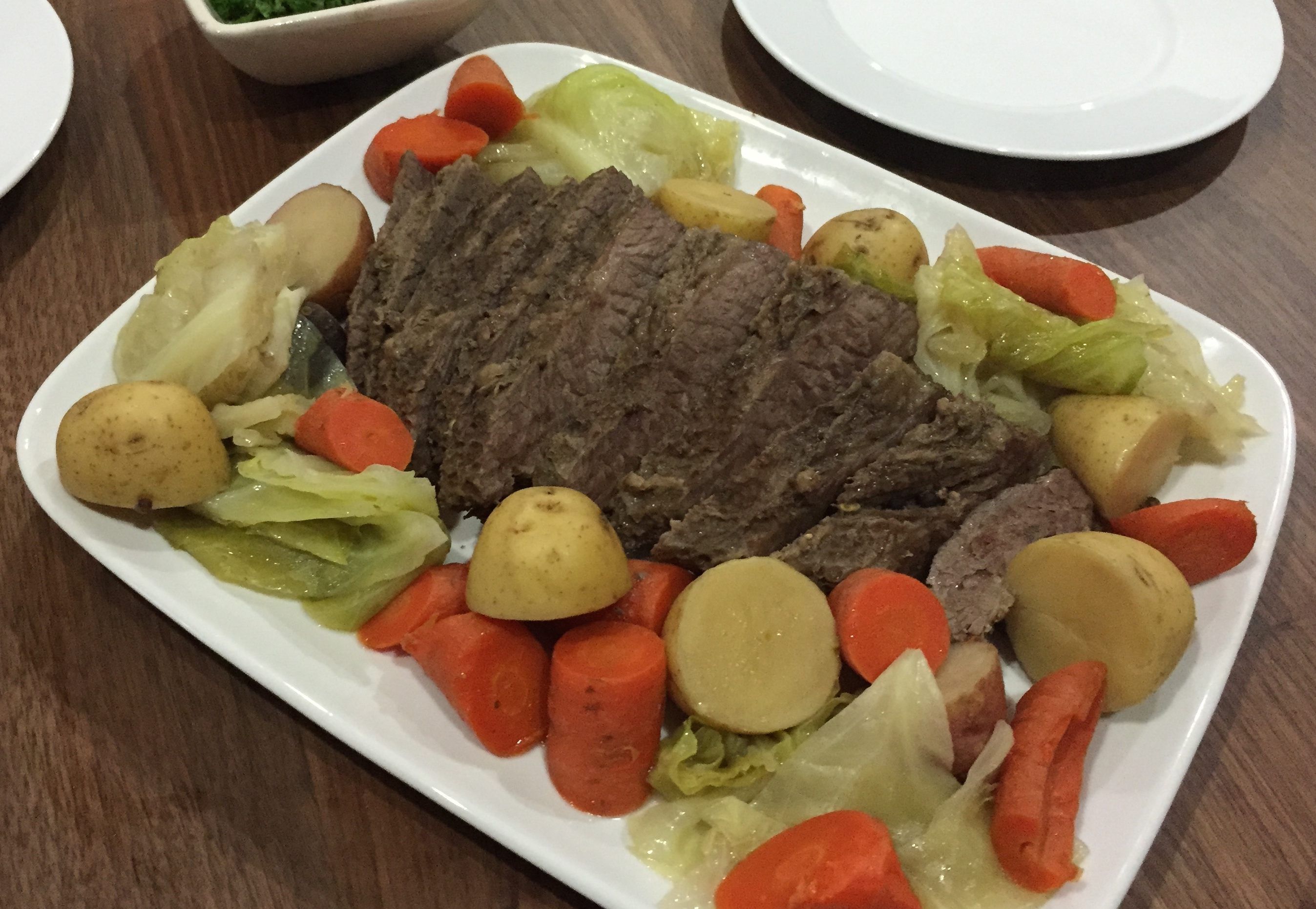 Corned beef has been around for centuries, and it will be on the tables of Irish-Americans this St. Patrick's Day. But in and around Boston, corned beef looks a little different. Instead of its familiar pink-red color, it's gray-brown. And no one quite knows why New Englanders do corned beef differently.
The color difference is due to one ingredient: nitrates, either in the form of sodium nitrate or saltpeter, added into the salty brine that gives brisket its corned taste and flavor. Nitrates preserve meat and give it a reddish color, two compelling qualities that make red corned beef much more popular than gray. Nitrates, which are potentially carcinogenic, have long been controversial. But in an age before refrigeration, they were a blessing. In the 17th century, even saltpeter-containing gunpowder was rubbed on meat.
Without added nitrates, corned beef is a dull gray. It's uncommon to find, except in certain regions. "[Gray] corned beef is eaten within a fifty-mile radius of Boston, including a few towns in New Hampshire," writes Joan Nathan, author of An American Folklife Cookbook.
The usefulness of nitrates have made red corned beef the norm for hundreds of years. One of America's most influential early cookbooks, The Virginia Housewife, calls for tablespoons of saltpeter to be rubbed over brisket. But it's unknown why exactly Boston residents opted not to put saltpeter on their beef. Robert S. Cox, author of books on New England specialties such as chowder, cranberries, and pie, says it's a mystery to him too. "It's gray, like the New England skies in late winter," he says, "but I don't get a sense that corned beef is that poetic."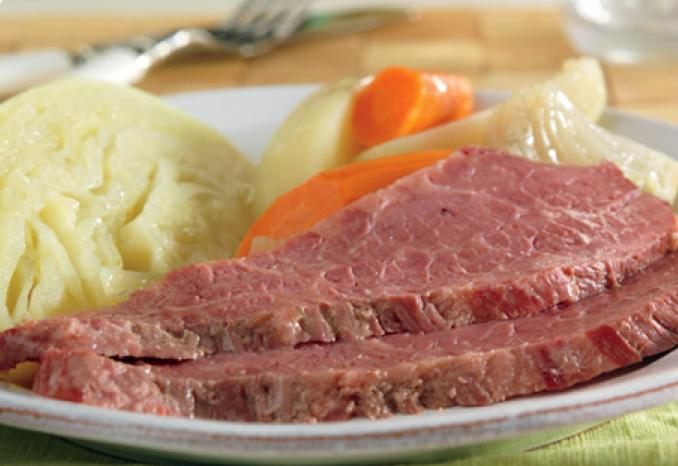 The gray/pink dichotomy is especially visible this time of year, as people prepare corned beef and cabbage. But according to The Oxford Encyclopedia of Food and Drink, not only is the beef not naturally pink, corned beef with cabbage isn't really an Irish specialty. On the Emerald Isle, a festive St. Paddy's Day meal would include lamb or bacon. Instead, Irish-American corned beef and cabbage is a mash-up of different food traditions, one of which may hold the answer to the origin of gray corned beef.
Irish immigrants coming to the United States in the 19th century had extensive experience raising, curing, and exporting beef for the English. Beef was much cheaper in the United States, and many communities embraced it as a staple, such as the preserved meats of Jewish delicatessens. Irish immigrants who lived in New England, especially around Boston, were quickly introduced to another tradition: New England's boiled dinner. Consisting of corned beef and vegetables, boiled for hours, it soon became an Irish-American specialty. In Boston, at least, it's often made with the mysterious gray corned beef.
If anyone would know the origins of Boston's gray corned beef, it would be 79-year-old Al Cohen, a butcher and grocer at Bell's Market in South Boston since the 1960s. His family has run markets in Boston over four generations, making gray corned beef all the while. Cohen, who makes corned beef by the barrel from a family recipe, says he has no idea who started making the specialty. He prefers it, and he doesn't offer the red kind at Bell's: Customers who ask for it are directed to the supermarket. But there is one thing he's certain about: The 900 pounds of what he proudly calls "New England gray corned beef," which he's made in the last week, will all be gone before St. Patrick's Day.
Gastro Obscura covers the world's most wondrous food and drink.
Sign up for our email, delivered twice a week.