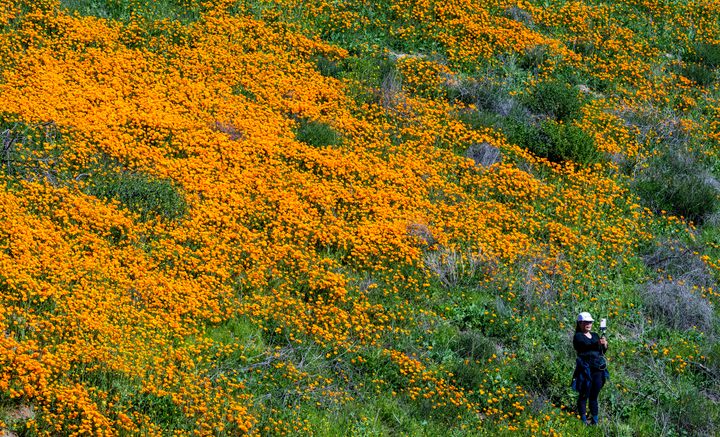 Stunning Wildflower Superbloom Photos That Will Have You Racing to the Hills
Orange, yellow, and purple petals blanket the southwestern United States.
Millions of iridescent wildflowers are carpeting the rolling hills of the southwestern United States. Yellow goldfields and purple filaree flowers bloom across rippling grasslands northwest of Los Angeles in Tule Elk State Natural Reserve. Some 300 miles to the east, fields of golden desert dandelions, pink red maids, and purple stalks of indigo bush frame the brick-colored sandstone peaks of Nevada's Red Rock Canyon. To the south, across the Mojave Desert, violet pockets of sand verbena and yellow-orange desert sunflowers erupt from Anza-Borrego Desert State Park's sandy crags. This explosion of wildflowers is the region's first "superbloom" in three years, prompting thousands of visitors to hop in their cars and drive hundreds of miles to witness nature's spectacular flower show.
As research ecologist Daniel Winkler told The Los Angeles Times, scientists don't have a clear definition of what constitutes a wildflower superbloom. It's "really a cultural phenomenon, where people decide that there are enough flowers here, right now, that we'll call it a superbloom," he explained. Scientists do understand what causes these monumental bloom events, however—a series of dry seasons followed by a wet season.
Wildflower seeds are quite savvy and wait for a rainy season before growing. If soil conditions are too dry, they'll lay dormant beneath the soil—sometimes for years. And after three years of severe droughts in the southwest, millions of wildflower seeds were ready to bloom at the first sign of rain. The deluge finally arrived this past winter. During one of the region's wettest seasons on record, some ​​78 trillion gallons of water rained down on California alone, according to meteorologist Ryan Maue's calculations from National Weather Service data. All of that water following a years-long drought created the perfect conditions for a wildflower superbloom event and Mother Nature did not disappoint.
The buds started popping up in mid-February. And now, in April, the bloom is reaching its peak with millions of wildflowers blanketing the southwest. In June, the flowers are expected to slowly start to dwindle before disappearing entirely by July. Since we aren't all lucky enough to be within driving distance of these vast wildflower vistas, Atlas Obscura compiled photos of this year's superbloom so that we can all smell the California poppies and lavender-blue sprays of lacy phacelias.