How a Vet Hospital on Wheels Rescued Australian Wildlife During Floods
Injured birds, bats, echidnas, and more got some TLC during a disaster.
A providence petrel goes onto the X-ray machine. Some traumatized animals, including a tiny Gould's long-eared microbat, are swaddled in towels. An echidna, or spiny anteater, has a tube attached to its long beaky nose. All these animals injured during the recent historic floods in New South Wales, Australia, and their care was in the hands of an expert veterinarian team at the Byron Bay Wildlife Hospital.

Days of relentless and heavy rains caused the worst flooding in decades on parts of Australia's eastern coast. It has not only upended the lives of thousands of human residents, but non-human ones as well. "There are the clearly devastating problems for burrowing and ground-dwelling animals like wombats and echidnas that can quickly become trapped by flood waters," Evan Quartermain, the Australian head of programs and disaster response for the Humane Society International, told The Guardian. "And aquatic animals such as platypus and turtles face major run-off issues and can easily be swept far from their territories.... The wild weather also creates havoc for birds that will struggle for shelter and have nests blown from trees."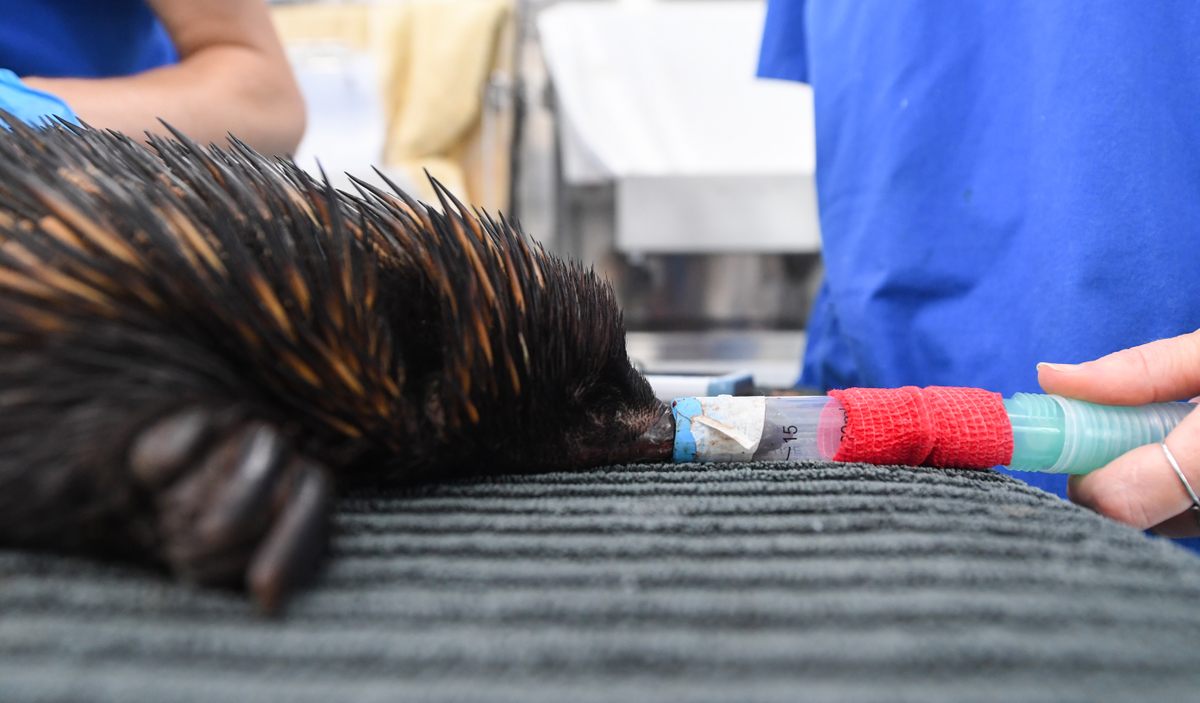 Creatures fleeing the rising waters to seek shelter can also be injured or killed in road accidents. The echidna with the tube "sustained horrific injuries" after being hit by a car along Broken Head Road in the Byron Bay region, according to the hospital's social media account. Bree Talbot, the leading veterinarian at the mobile hospital at Byron Bay, used ultrasound to assess the condition of the creature, which sustained a wound under its porcupine-like spines.
Byron Bay Wildlife Hospital is not an ordinary vet office—it has a dedicated wildlife urgent care center on wheels. In fact, many wheels: The 22-wheel semi-trailer, more than 60 feet long, is Australia's largest mobile wildlife hospital. Self-sufficient and furnished with state-of-the-art medical equipment, the trailer can be taken anywhere that Australia's distinctive fauna need help.
The current crisis has it situated at Australia's eastern-most point, where the veterinarian team are seeing increasing numbers of animals with injuries from the floods. "Treating injured and traumatized wildlife requires expert knowledge of their anatomy and physiology in order to triage and identify the problem, and provide appropriate treatment," Talbot writes. "During a disaster like floods or bushfires, demand for services like ours is great, while the resources to source expensive medicines, supplies, and equipment needed to do our job is scarce." Since the nonprofit hospital opened in October 2020, it has provided care, free of charge, for more than 500 creatures, and this flood will certainly increase that count, especially as clean-up and recovery from the disaster begins. Byron Bay Wildlife Hospital has been asked the public to be vigilant on the road and keep an eye out for injured or shaken wildlife, but "never drive through floodwater and never place yourself at risk or in danger attempting to reach wildlife in distress." That could mean another rescue.