John K. King Used & Rare Books
This sprawling bookstore spans four floors and has more than a million books in stock.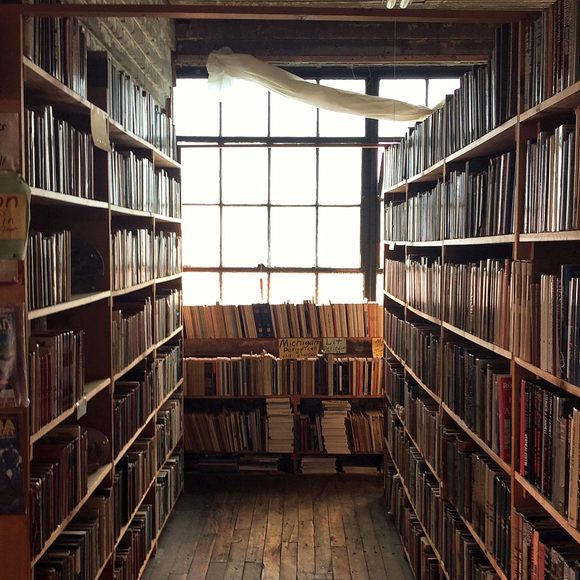 View all photos
The stacks of John K. King Used & Rare Books.
As soon as you walk into John K. King Bookstore, an employee will hand you a map. With a collection that spans four massive floors, you'll certainly need it to find your way around—although you might want to get lost in the stacks.
John King started collecting and selling rare and used books while he was still in high school, leaving class early on Fridays to set up a table at antique shows. He opened his first store in Dearborn, Michigan, in 1971, before moving into Detroit's famous Michigan Theater Building.
He quickly outgrew his storefront in the movie theater-turned-parking garage, renting other offices in the building to hold his growing collection and sending customers on mad hunts up and down staircases and through the building's hallways with keys to the room that held the collection they were looking for.
In 1983, he purchased the giant, abandoned Advance Glove factory, which is where John K. King Used & Rare Books still lives today. The sprawling, four-story building houses a collection of more than a million books, from signed copies of Ernest Hemingway novels to free copies of old phone books and magazines.
The bookstore has seen some incredible gems in its day, including original photos of Mark Twain tucked into a Mark Twain biography and a small pamphlet from the 1950s (pulled from a box of library discarded ephemera) with a signed presentation from the junior senator from Massachusetts, one John F. Kennedy.
Whether you're looking for a copy of Mao Tse Tung's Little Red Book or an obscure piece of 1920s German erotica, you'll find what you're looking for here—along with just about everything else old and almost forgotten.
Community Contributors
Added by
Edited by
---
Published
June 11, 2018
---
Edit this listing
In partnership with KAYAK
Plan Your Trip
No purchase necessary. Winner will be selected at random on 10/01/2023. Offer available only in the U.S. (including Puerto Rico). Offer subject to change without notice. See
contest rules
for full details.