Wogan Cavern
A spiral staircase connects the limestone cave with Pembroke Castle, birthplace of King Henry VII.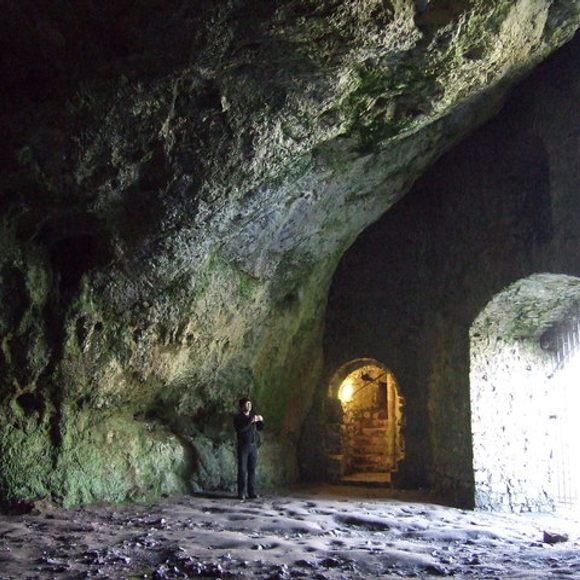 View all photos
Wogan Cavern showing the entrance stairs and massive Norman-built wall.
In Wales, a 12th-century castle is hardly notable. The Norman invaders left them scattered all over the country. However, Pembroke Castle has a feature that makes it stand apart from the others: Lying underneath it is Wogan Cavern, an enormous natural cave.
People can access the cave from a huge spiral staircase within the castle. Fifty-five steps lead down into the large subterranean limestone room, which was created by the natural process of water erosion.
Wogan Cavern is at river level, and the castle owners blocked the cave entrance with a massive stone wall that contained a large door. It's been proposed that the cave was used for directly loading and unloading ships on the river. It was also fortified with arrow slits.
The cavern was used even before the medieval modifications that placed a castle atop it. It's believed to have even been visited by the Romans.
Apart from its magnificent cavern, the castle is also notable as the birthplace of Henry VII, first of the Tudor monarchs. It's now the largest privately-owned castle in all of Wales.
In the U.K., the only castle that is somewhat similar is Peveril Castle in Derbyshire, which is built directly over Peak Cavern. But, unlike Wogan Cavern, Peak Cavern cannot be accessed directly from the castle, nor was it used by the castle for a practical purpose.
Community Contributors
Added by
Edited by
---
Published
September 27, 2017
---
Edit this listing
In partnership with KAYAK
Plan Your Trip
No purchase necessary. Winner will be selected at random on 01/01/2024. Offer available only in the U.S. (including Puerto Rico). Offer subject to change without notice. See
contest rules
for full details.