Meet the Artist Who Makes Creatures Out of Cutlery
It's fork art!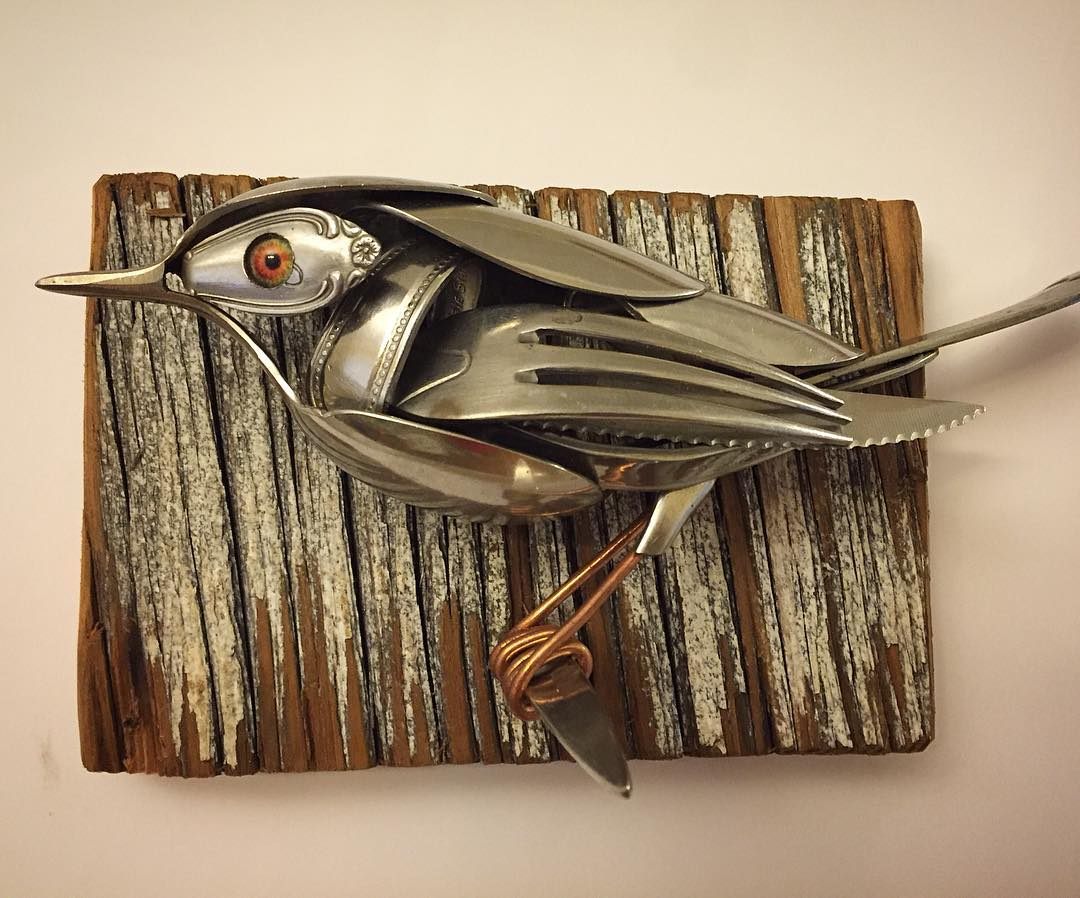 One of the internet era's unlikely art stars, the Charleston-based Matt Wilson has made dozens of headlines for his intricate metal sculptures. Many share a common, curious motif: They depict animals and birds, all improbably made from cutlery.
Wilson's artistic journey has been just as unusual as his work. He grew up in Greenville, South Carolina, and eventually pursued a drawing and painting degree at Winthrop College. But, feeling burnt out, he left school with one year to go. "I'm not a great student," he says. So he headed to Charleston, where he did landscaping while beginning to explore metal sculpture as a medium. Looking for work, he applied for a job at Detyens Shipyard, Inc., in hopes that he could also hone the skill of welding for his art.
It turned out to be a serendipitous choice. During the hiring process, he met the owner of the shipyard, Loy Stewart. After hearing about Wilson's background, Stewart made up a job for him on the spot. Wilson became the shipyard's artist in residence, drawing ships that came in to be serviced as gifts for their respective captains. After a year of learning to weld and work with metal, he began making miniature ships instead of sketches, occasionally working on other projects, too. Stewart, he says, "wanted to see me become an artist."
After ten years at the shipyard, Wilson has gotten faster and faster at crafting ships, giving him more time to focus on non-nautical art. Earlier, his mother had given him a bag of old utensils to have around his workshop at the shipyard. After considering a set of spoons, he bent the metal into simple shapes that suggested two birds together. He called the piece "Lovebirds."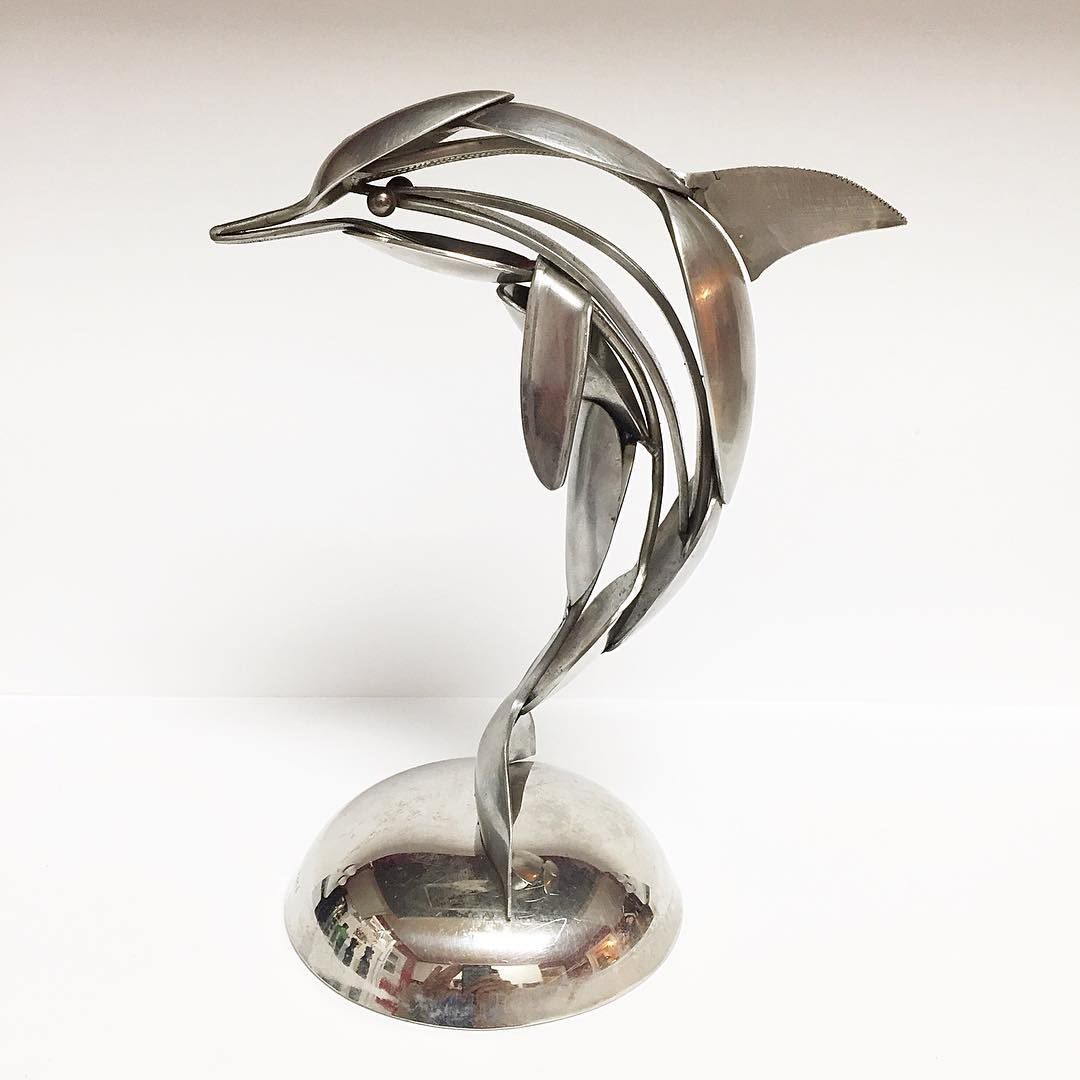 Upcycling—that is, turning discarded or inexpensive materials into something new—became the name of Wilson's game. Now, in addition to the wonders within his Etsy store, AirtightArtwork (temporarily empty as he restocks), Wilson makes statues on commission. Pictures of his work have traveled across the internet, and have been published in newspapers as far away as Hong Kong. Just last week, he says, he was invited to participate in an upcycled art show in Paris.
The shipyard is a natural and rich source for material (or, as he puts it, "all kinds of cool metal"). When a local industrial sewing facility closed after 100 years in business, Wilson traded a large handmade owl statue for the opportunity to net a century's worth of tiny metal bobbins and pulleys. These days, Wilson patrols 11 thrift stores around Charleston in search of silverware. He admits he could probably ask store owners to set aside utensils for him, but the chase is too good to give up. Stainless steel often makes an appearance in his work, along with silver-plated metal. Almost everything is usable, he says, with one notable exception: IKEA cutlery, which snaps whenever he tries to work with it.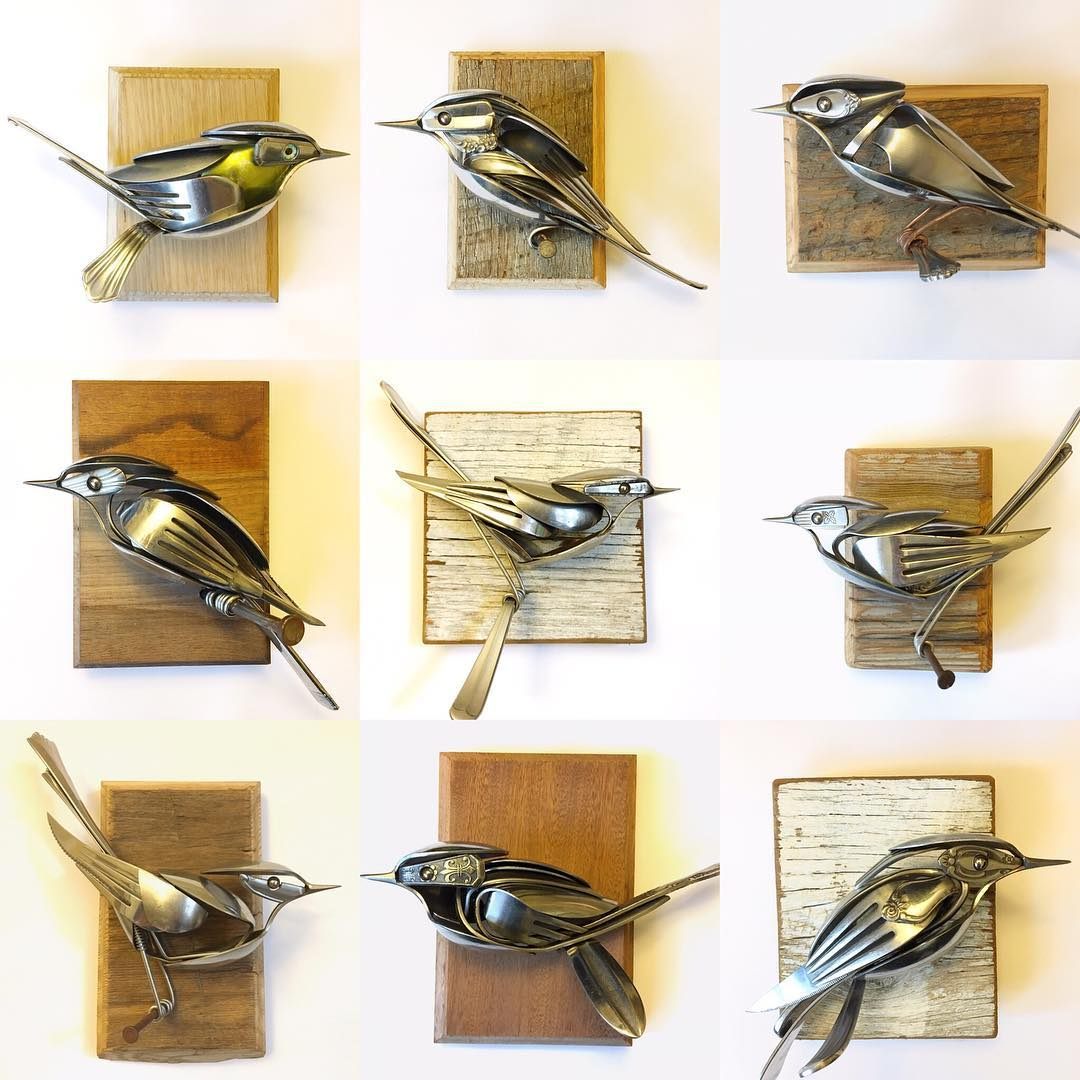 In Wilson's sculptures, the bowls of spoons become the curved heads of birds, while handles evolve into jaunty tails. After years of forging birds from spoons, Wilson began mixing it up with other cutlery as well. The shift in cutlery type has yielded other treasures: The tines of forks and steak knives form wing feathers, and slotted serving spoons bloom into rounded chests.
Living near the ocean means Wilson has also dipped into depicting sea life. One commission, from Hawaii, requested that Wilson make a metal whale. To craft the creature, Wilson used metal serving tongs for its fins.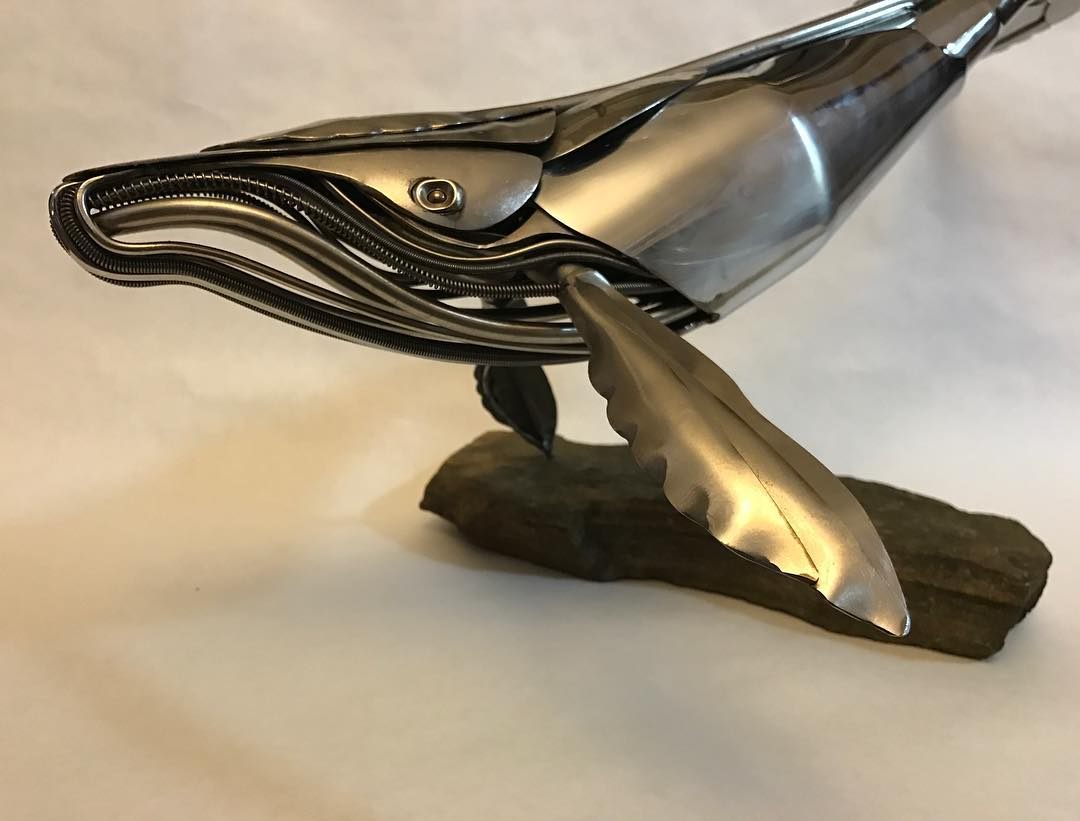 Most of his birds still start with two spoons, which comprise the body. However, Wilson is reluctant to disclose how exactly he bends and welds his creations together. "It's something I've defended for a long time," he says of his technique, citing rampant copycats. "It took so many years to get where I'm at, from those first simple birds that were just two spoons." Part of the joy of Wilson's work, too, stems from sussing out how the disparate elements of each sculpture seamlessly fit together to form these winged creatures.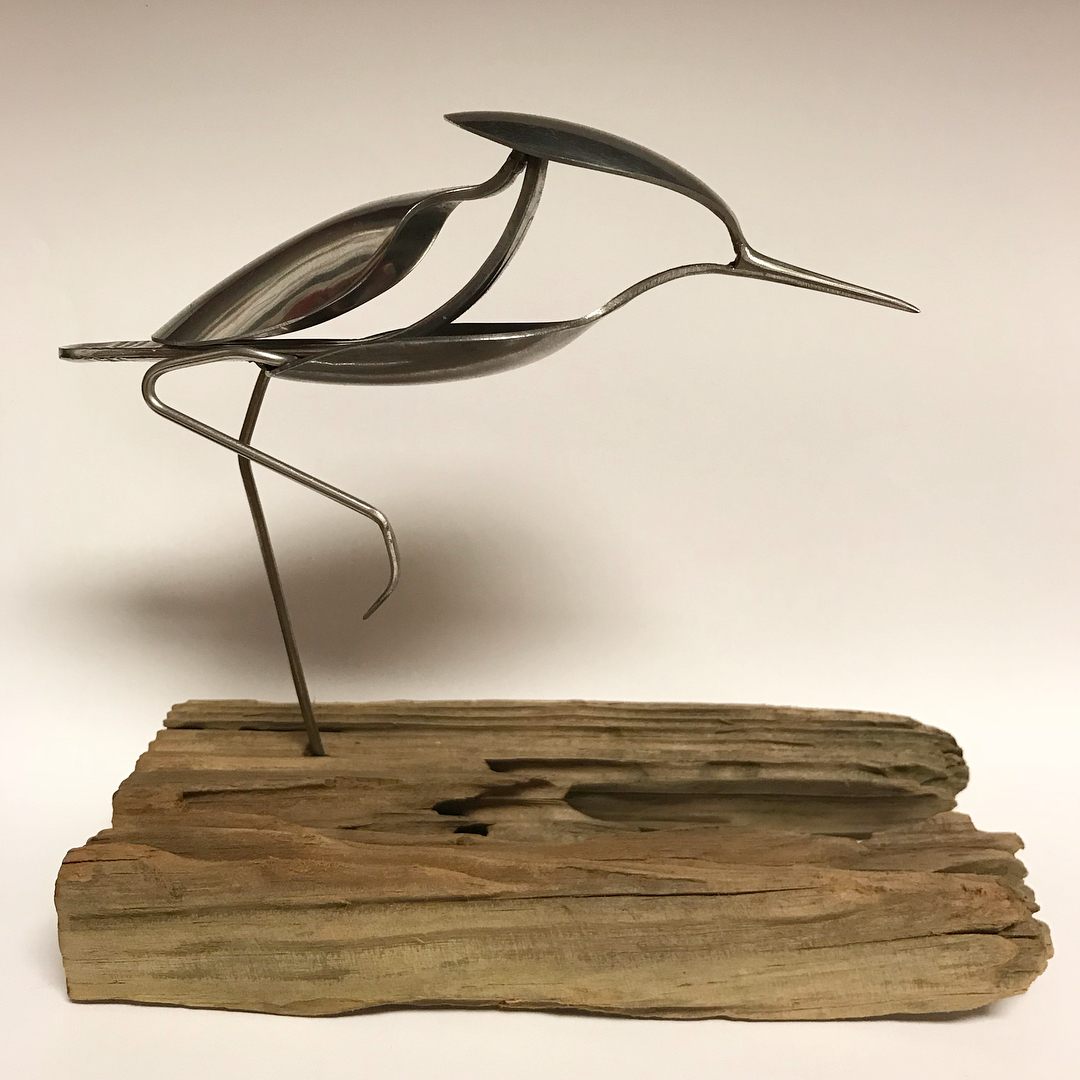 Viewers may have to also make some guesses as to the breeds of his sculpted creatures. Unless it's a commission, Wilson usually doesn't make specific birds. At the craft shows he attends, though, people will come up to him and start categorizing his birds on display. "They'll just start pointing out, 'Oh, that's a wren, that's a chickadee, this is obviously a blue jay," he says. "I get a lot of birders telling me I'm doing things just right, though."
Gastro Obscura covers the world's most wondrous food and drink.
Sign up for our email, delivered twice a week.