The Chinese City Famous for Eggs With Two Yolks
Gaoyou ducks are bred to produce tasty double-yolkers.
At a recent breakfast in Yangzhou, a prefectural city in Eastern China, a waiter served me a plate of boiled eggs. This seemed like common fare. But when I looked closer, I saw that each and every one of the brined and boiled duck eggs had two yolks, rather than one.
That morning, breakfast came with a side of speculation. How could the restaurant, one of many in Yangzhou serving the famous breakfast spread known as zaocha, or "morning tea," ensure an endless supply of double-yolked eggs? Two-yolked eggs are usually rare—a statistically random occurrence. But I later learned that these eggs, served alongside soup dumplings and sandingbao (steamed buns with bamboo, chicken, and pork), were no accident. They came from nearby Gaoyou, a city synonymous with double-yolked duck eggs.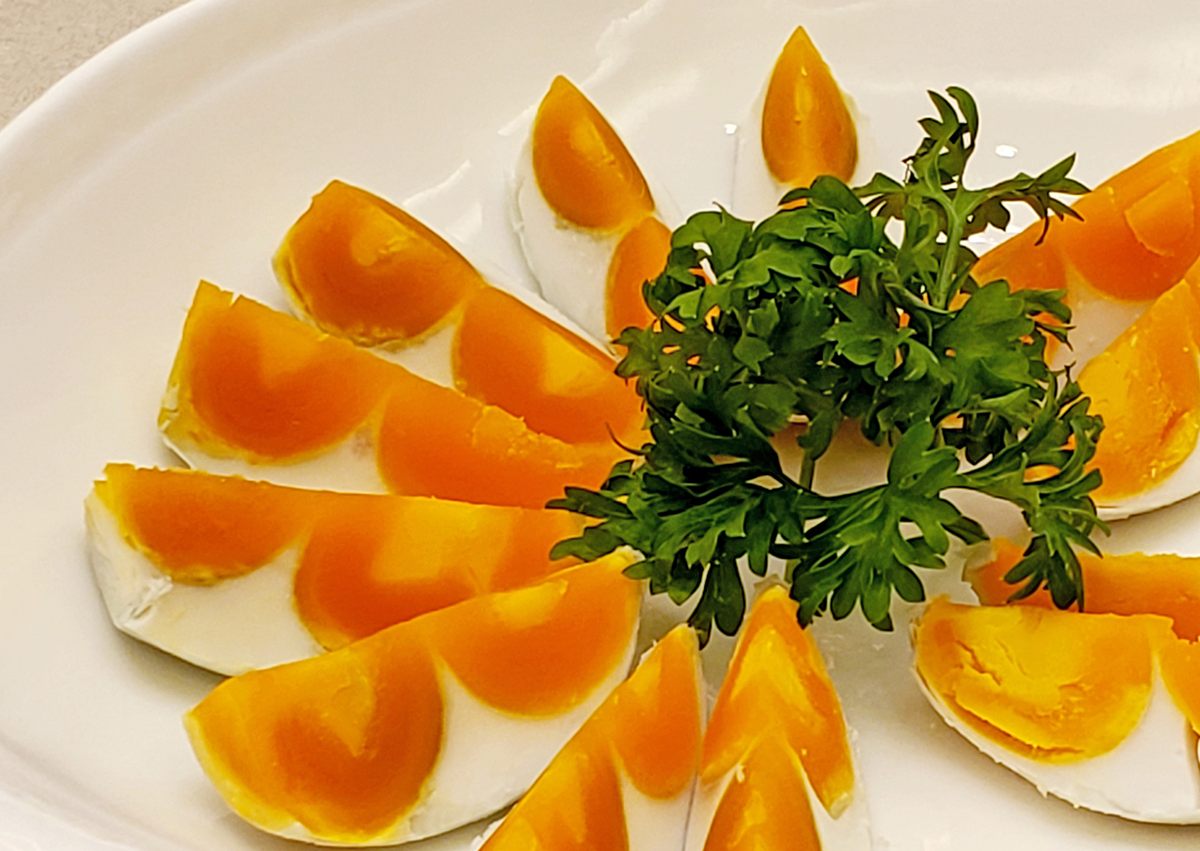 Though often referred to as a suburb of Yangzhou, Gaoyou is a city in its own right, with a population of nearly one million. Set amongst rivers, lakes, and China's Grand Canal, Gaoyou relies on waterfowl for more than just breakfast. "In Gaoyou, people tend ducks, eat ducks, sell ducks, and give ducks, especially in the observance of family rituals," writes Chinese history professor Antonia Finnane. Family members gift each other ducks on occasions ranging from marriage to a child's first day of school.
Tourism websites proudly proclaim that the local duck industry dates back to the sixth century, and for hundreds of years, gourmands and writers have praised the green-white eggs laid by the city's handsome brown ducks. Long ago, a creative Gaoyou duck farmer must have decided to make the odd occurrence of a double-yolked egg more of a sure thing. After all, double-yolked duck eggs are held to be more nutritious, and their rare appearance suggests good luck. Another motivation is that double-yolked eggs can command six to eight times the price. As a result, hatching double-yolked eggs—specifically duck eggs—is big business.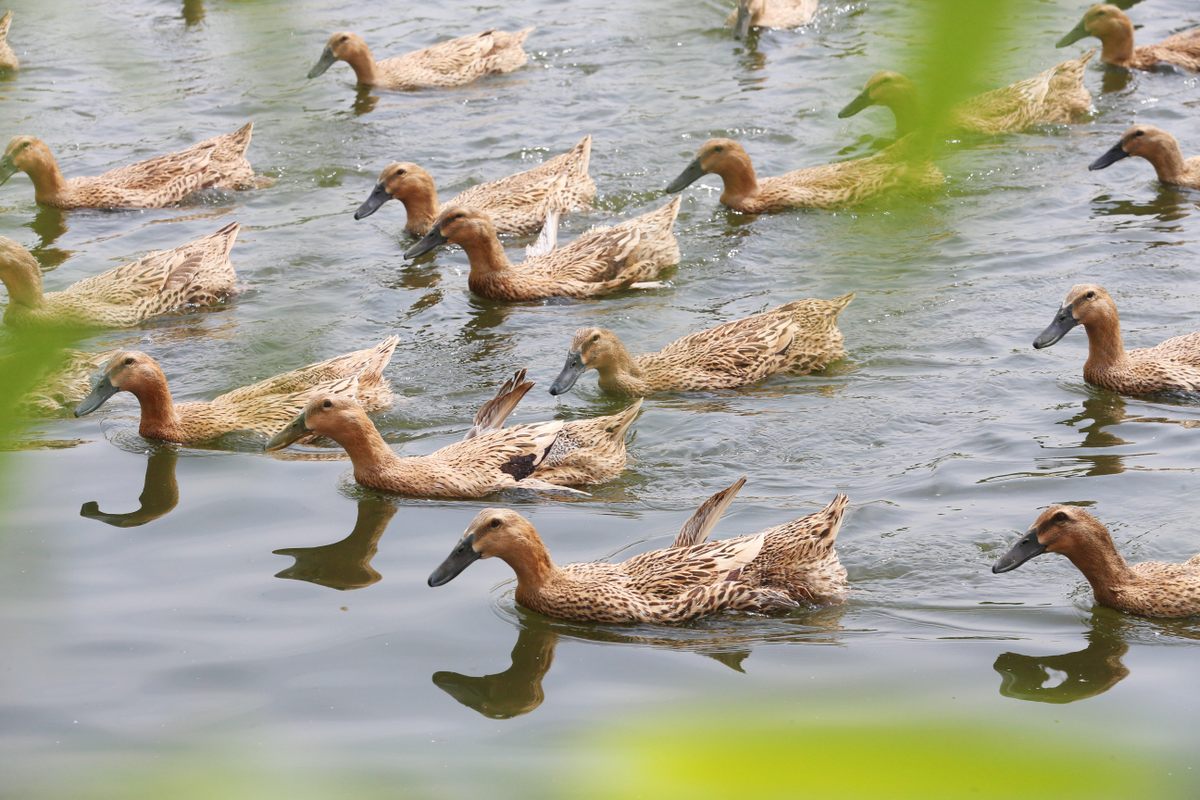 Locals assiduously bred Gaoyou's local duck variety for generations to produce double-yolkers, which occur when a fowl ovulates twice in the process of formulating an egg. This was no mean feat. In a 2010 paper, researchers mournfully note that "a double-yolk egg will [usually] not even survive to hatch. If it does hatch, the poor ducks are severely deformed, connected to one another." But the breeding in Gaoyou, they note, has produced ducks that lay anywhere from two to 10 percent double-yolked eggs.
Even in Gaoyou, farmers can't immediately spot a double-yolked egg, which look like their single-yolked brethren. But there is one surefire way to peek inside an egg without cracking it: When a bright light shines on them, double yolks show up as twin gray shadows.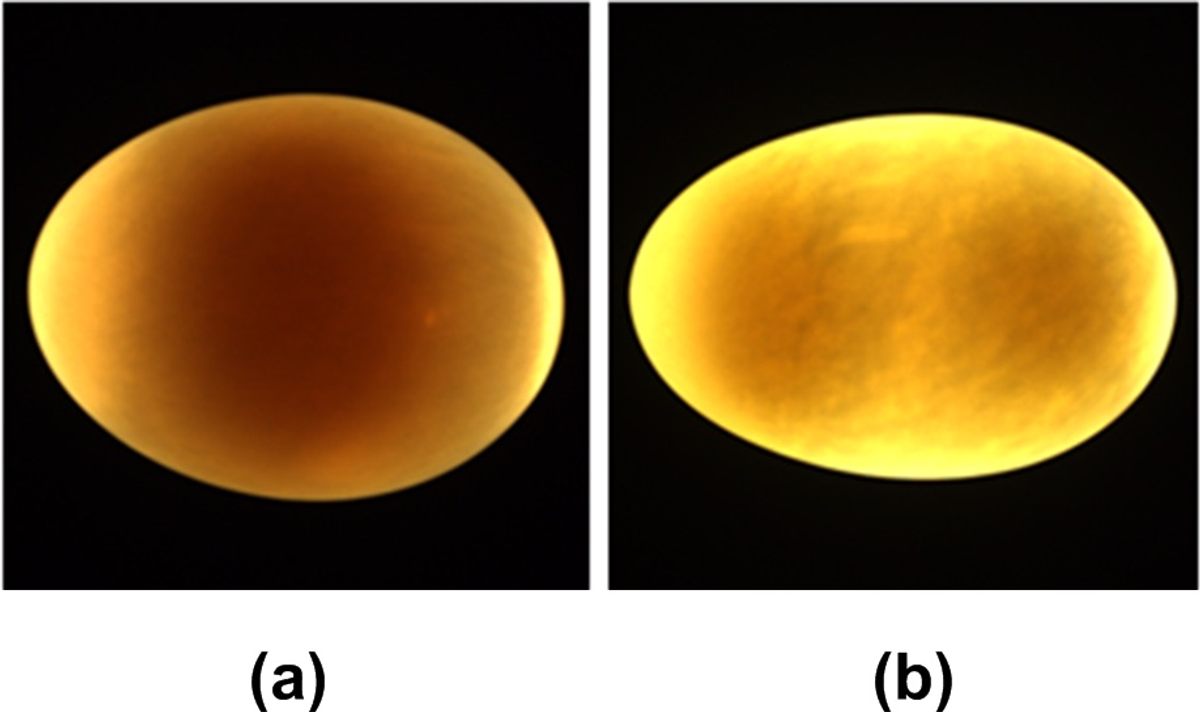 This process, known as candling, might evoke images of eggs held up to wax candles one by one. The reality of the double-yolk egg industry, though, isn't so rustic. Big egg producers breed ducks at aquatic farms, and factory workers pick precious double-yolkers off backlit conveyor belts. The workers may even be ousted, since researchers are developing algorithms to recognize double-yolked eggs with computer-vision technology.
Whether single-yolked or doubled, workers then brine the large green or white eggs in vats of salt water, and pack and ship them off, with many double-yolkers ending up on local breakfast tables. Cooked and sliced, the yolks are a bright red-orange, rich, and oily, an umami treat that pairs perfectly with buns and tea.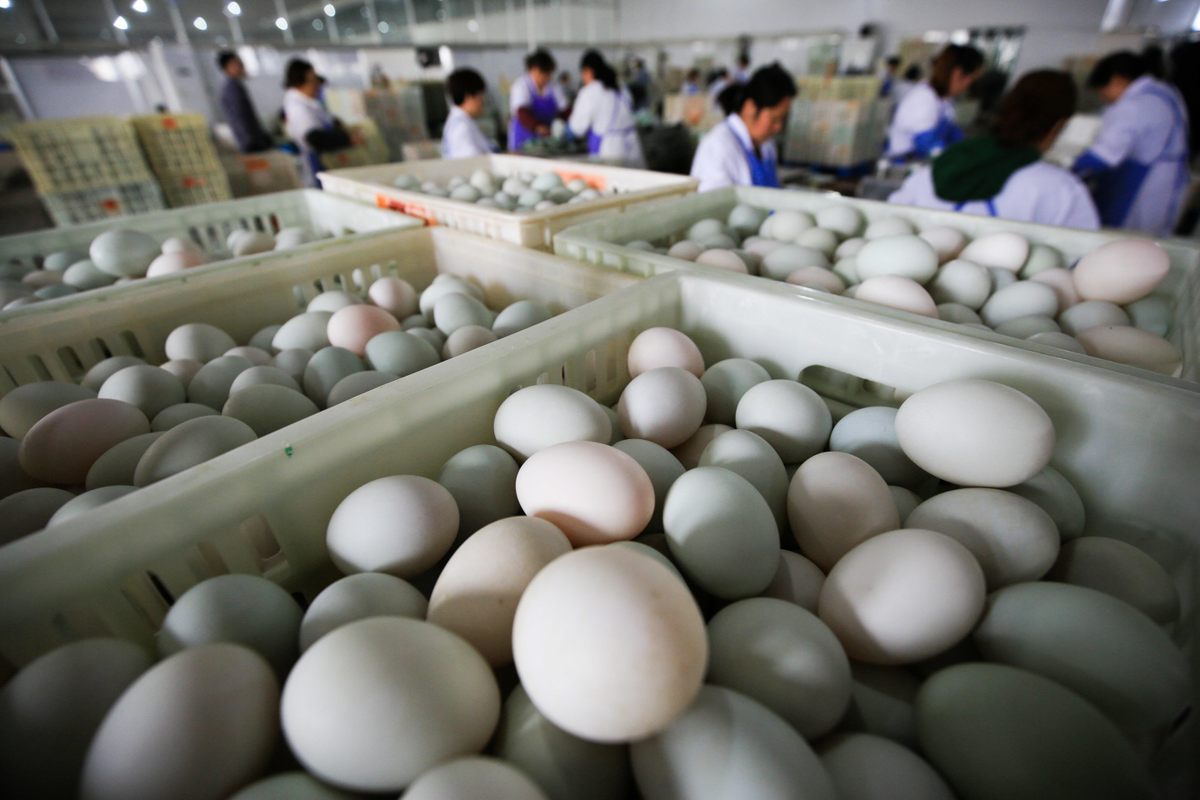 Earlier this year, Gaoyou proudly held the 15th China Double-Yolk Duck Egg Festival. The event promotes local investment, fêtes city projects, such as the opening of the Chinese Duck Culture Museum in 2011, and celebrates the city's claim to fame. But if you can't make it to the celebrations, typically held in early April, salted duck eggs are always on offer at the city's many teahouses, often with an extra yolk.
You can join the conversation about this and other stories in the Atlas Obscura Community Forums.
Gastro Obscura covers the world's most wondrous food and drink.
Sign up for our email, delivered twice a week.