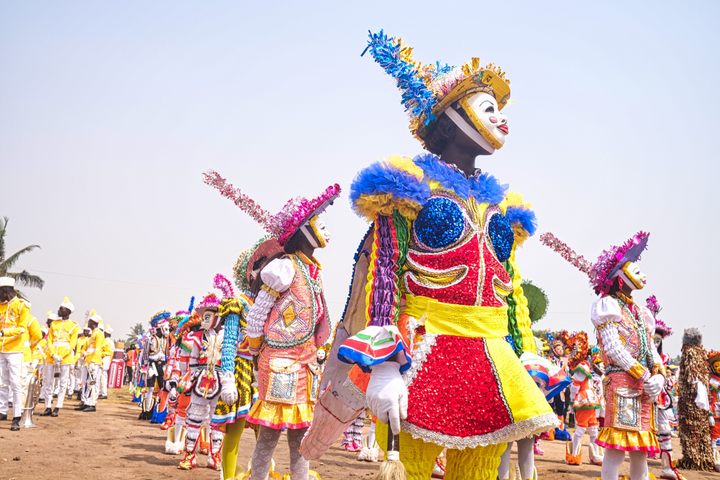 In Ghana, the New Year Starts With a Fancy Dress Masquerade
Once a colonial tradition, a creative festival has been elevated to new heights.
On January 2, 2023, the people of Winneba, a town in the Effutu Municipal District in the Central Region of Ghana, got together for the region's most colorful masquerade event, the Winneba Fancy Dress Festival. With its elaborate assortment of costumes and masks, the festival is a celebration of creativity, ingenuity, and history.
Locally known as Kakamotobi, the festival is derived from contact with Dutch colonizers, who wore masks and colorful costumes in the coastal towns of Ghana to celebrate the new year, dancing and drinking all night long at white-owned bars. In the 1930s, the people of Winneba made this tradition their own by establishing various masquerade troops—but did not keep it behind closed doors. A variety of characters perform with marching bands in the streets, for the people of the town. It is alleged that a Mr. Abraham, a local photographer and attendant of one of these white-owned bars, was the first to transform the masquerade tradition into local custom in Winneba. When Ghana gained its independence from British colonial rule in 1957, the country's first president, Kwame Nkrumah, formalized the festival and sponsored the first parade to mark Ghana's independence.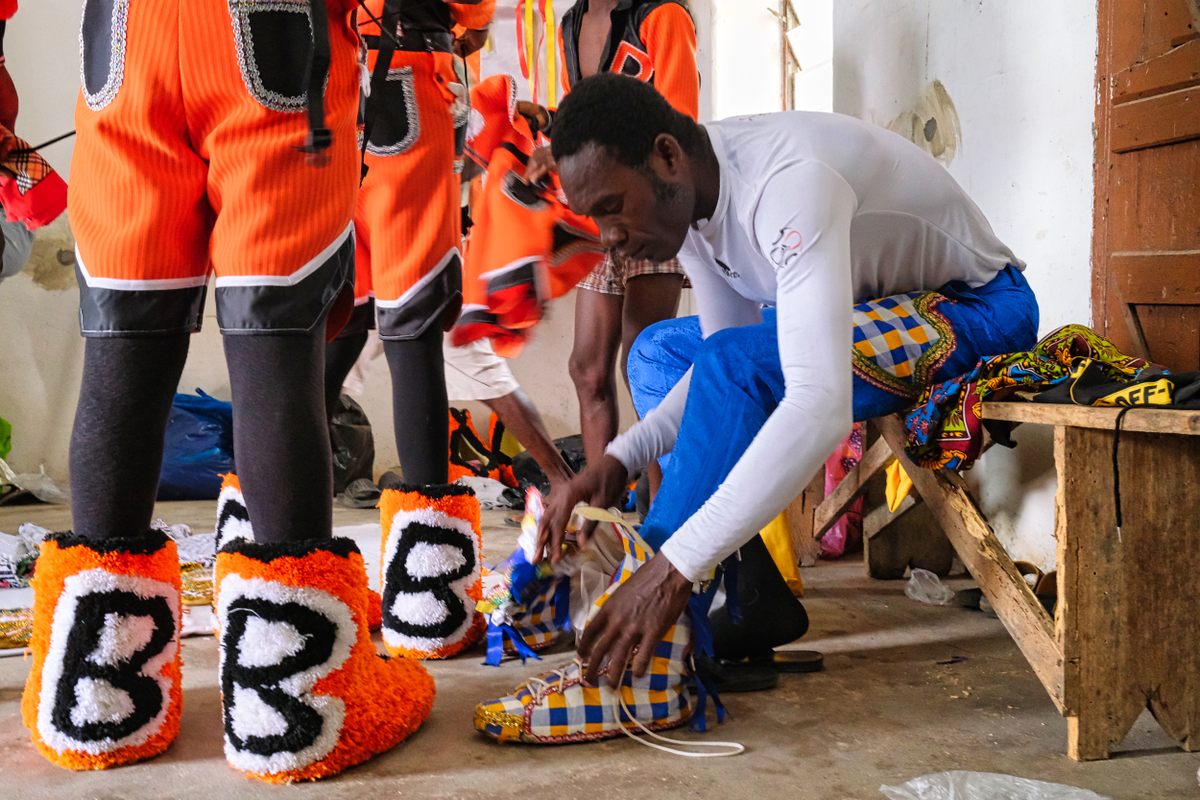 What began as a fun activity to ring in the new year, now has some Mardi Gras energy, with a competition between five groups of masqueraders: Nobles No. 1, Egyaa No. 2, Tumuus No. 3, Red Cross No. 4, and Royals No. 5. The groups have an average membership of 100, and rehearsals begin as early as September, with costumes planned and chosen beginning in October.

The Fancy Dress Festival fuels the creativity of the people of Winneba and every year inspires each group to try and outperform the others with the most eccentric and unconventional costumes and performances. The brass bands that join the performers play renditions of traditional songs and popular music, sometimes including Christian hymns and songs.
This year, Red Cross No. 4 won the competition, marking the 80th anniversary of the group's formation. At one point during the festival, Rodney Quarcoo, a photographer based in Ghana, went to the base of the winning group to photograph their past trophies. One of the leaders of Red Cross No. 4 said to him, "You are officially part of our 80th anniversary story."

Atlas Obscura shares Quarcoo's photos of this celebratory start to the new year.