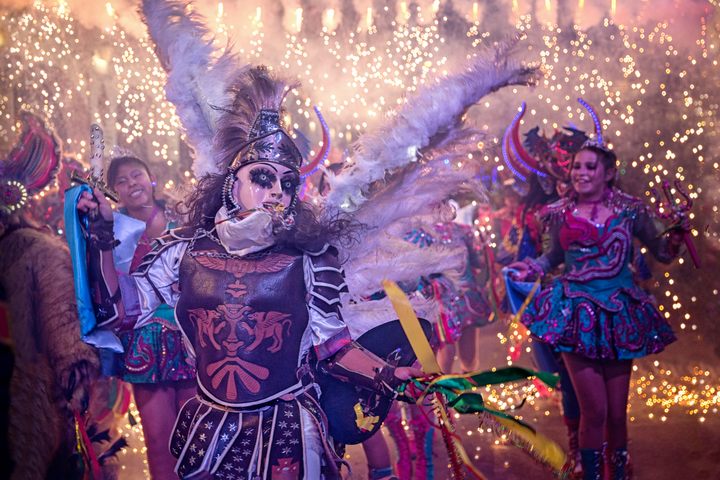 Bolivia's Dance of the Devils Is a Party and a Battle Between Good and Evil
Heaven and hell, music and dance at the Carnaval de Oruro.
More than 12,000 feet above sea level in western Bolivia, in the small city of Oruro, every year for centuries has seen a battle between good and evil. Dancers wearing elaborate, horned, technicolor masks perform the Diablada, or "Dance of the Devils," trying and ultimately failing to defeat the Archangel Michael. Though it might be the festival's most visually striking and thematically poignant set piece, the Diablada is but one feature of the annual Carnaval de Oruro.
The Indigenous Uru people have observed this festival since pre-Columbian times, before the Spanish Empire outlawed the local customs of the "Upper Peru" area in the 17th century. Rather than disappear, however, the festival adapted, incorporating Christian iconography and religious dimensions, and becoming a model of "syncretism" between cultures. Due to Bolivia's long history as an important mining region, the Carnaval de Oruro evolved into a tribute to the Virgen del Socavón, the patron saint who watches over and protects miners. According to UNESCO, which recognized the Carnaval as part of the Intangible Cultural Heritage of Humanity in 2001, the region's declining mining activity is one of several factors threatening its Indigenous communities.
The Carnaval itself betrays no indication of being under threat. More than 28,000 dancers and 10,000 musicians take part in the entrada, or main procession, repeatedly traversing a 2.5-mile route over the course of 20 hours. It's a display of endurance befitting a festival that has survived for centuries, through imperial oppression and cultural transformation. To put it more accurately, it has thrived: bursting anew each year in song, dance, and a rainbow's worth of masks, traditional clothing, and artwork.
Atlas Obscura offers a look into the traditions of Carnaval de Oruro.