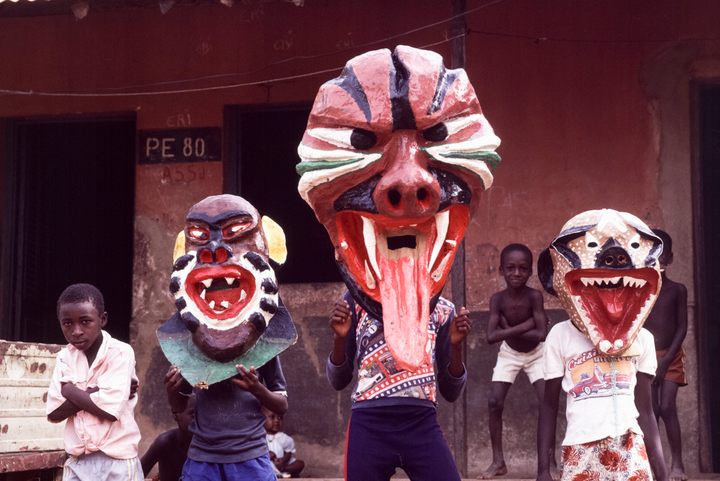 Carnival in Guinea-Bissau Represents Resistance and Possibility
In the small West African Nation, the festival is history.
Guinea-Bissau is a small country on the coast of West Africa, tucked between Senegal and Guinea. Though it has fewer than two million citizens, and is among the world's least-developed nations, it is rich in culture, language, and religion. There may be no better place to begin to understand that mix and the country's history than at its annual Carnival celebration.
Once a part of the Mali Empire and colonized by Portugal in 1588, Guinea-Bissau has several distinct ethnic groups. Other European powers came and went over the years, and it was a hub of the trade in enslaved people. All of these influences can be felt in the country's culture today. A notable import is Carnival, which has been celebrated for over 100 years, even though the country is majority Muslim and has only a small Catholic population. It was a small festival in its initial form, according to Christoph Kohl in his book A Creole Nation: National Integration in Guinea-Bissau, "a creole cultural representation in a few trading posts." But historically these celebrations came to be more than parties. They were symbols of resistance.
As the desire for independence grew in the first half of the 20th century, Carnival came to represent a political movement. The state cracked down. There were bans on masks and regulations on costumes—both of which often parodied the Portuguese colonial state. And maybe the most devastating to locals, dance performances and other entertainment required a special license.
By the 1950s, celebrations in the cities were over, leaving only smaller ones in the suburbs or private areas. But sometime after independence in 1974, following a protracted conflict, Carnival returned with a renewed energy, led by the country's state-run youth organization. In the 1980s, when these photos were taken, the newly revived Carnival was packed with masked children and teens parading through cities and towns. In 1984, the festival was taken over by the General Directorate of Culture, which expanded it. Though the country has seen its share of turmoil since then, the now-nationwide event crosses ethnic and social lines, each group adding its own sounds, sights, and customs. The Carnival also has competitions, with prizes given for best group performance and mask, and a Carnival queen.
Atlas Obscura has a look back at the formative years of Guinea-Bissau's Carnival tradition.