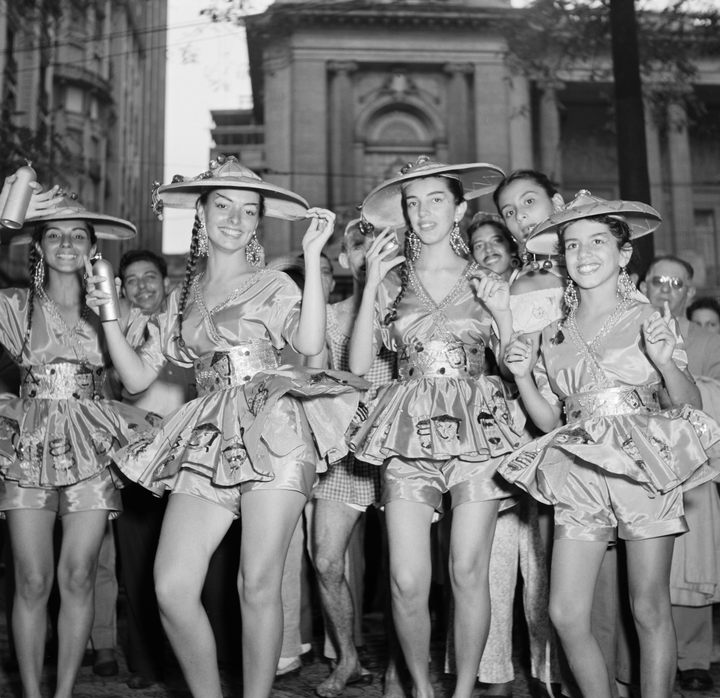 Take a Parade Down Memory Lane to Rio's 1953 Carnival
Images of a city and culture showing itself off to the world.
A 1951 LIFE Magazine article described the rules of Rio's Carnival: "If you are old enough to stand up by yourself and young enough not to require assistance, you keep going until you fall down." It might not be that simple, but "keep going" is sort of what the world's most famous Carnival is all about. Over the centuries, through wars, through sickness, through economic turmoil, the music kept playing—at least until 2021 and 2022, when the pandemic silenced the grand parade. (This year's is postponed until April, though parties went on.)
The 1950s had been a pivotal time in Rio's history. The population had doubled between 1940 and 1960. Artistic movements—Neoconcretism, Bossa Nova, Cinema Novo—were blossoming. Its multicultural identity was becoming known to the world. The sounds and sights of samba, an Afro-Brazilian musical and dance form, have been present in the parade since 1917, and the costumes, parades, and parties have grown more ornate and audacious over time. The reporter for LIFE wrote of a "perfumed ether squirter," which "when used in small doses, is guaranteed to produce a giddy, lighter-than-air sensation." For many, Carnival alone does that.
The festival was becoming a space that, like many other Carnival celebrations around the world, reflected the diversity of a place and the people who have made it unique. As one musician told NPR in 2016, "The parade raises the self-esteem of the whole neighborhood, and it shows people that we are able to mount big events that the world watches."
American photographer Earl Leaf captured some of the spirit of 1950s Rio Carnival. Atlas Obscura joins him on a parade through the past.