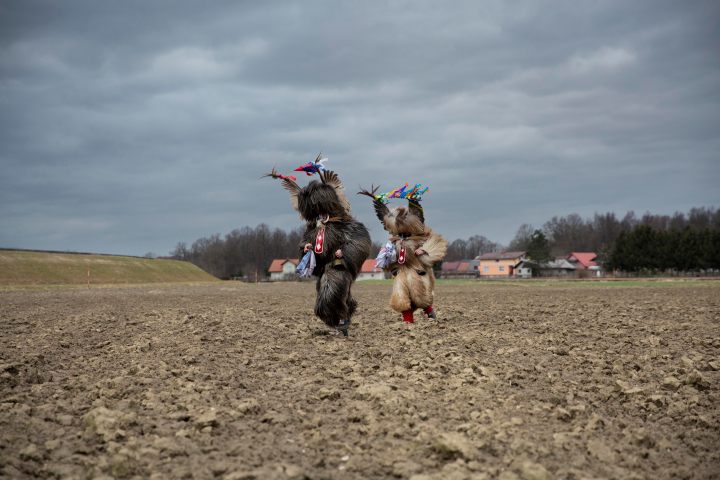 The Supernatural Sheep of Slovenia's Door-to-Door Carnival
To bring spring, hundreds of hirsute revelers roam the country's villages.
If spring is nigh, and hordes of people are roaming around in sheep costumes making lots of noise, it's a safe bet you've found yourself at Kurentovanje in Ptuj, in northeastern Slovenia. This annual rite of spring carnival begins 11 days before Ash Wednesday—and if you're in the area, you'll know.
The core of the carnival consists of groups of Kurenti—folks wearing gigantic sheepskin costumes—going door to door at local homes, forming circles around the residents, and jumping around, shaking sticks adorned with hedgehog skins. The point is to make enough noise to chase away the remnants of winter and other associated evil spirits.
"In fact, it is a special feeling of power and some kind of supernatural energy," says one participant in a UNESCO video about the festival. "When you put your cap on you somehow go through a certain transformation from the ordinary man to a true Korant [Korent], a supernatural being." It is a transformation one may make many times in one's life: Many begin participating with the Kurenti as young children, only to subsequently bring their own children and grandchildren into the fold.
Though Kurentovanje is now a multigenerational phenomenon, and was inscribed in 2017 to UNESCO's list of the Intangible Cultural Heritage of Humanity, it is in fact a fairly recent arrival in Ptuj. Though the festival draws on the Kurenti—old folkloric figures—the first organized iteration took place only in 1960. Local historian Drago Hasl was eager to find a way to preserve folk traditions, which found themselves under threat from modernization. He succeeded: Just ask any of the Ptuj residents who answer their doors and are surrounded by spring-bearing sheep.
Atlas Obscura offers a glimpse inside the Kurentovanje tradition.