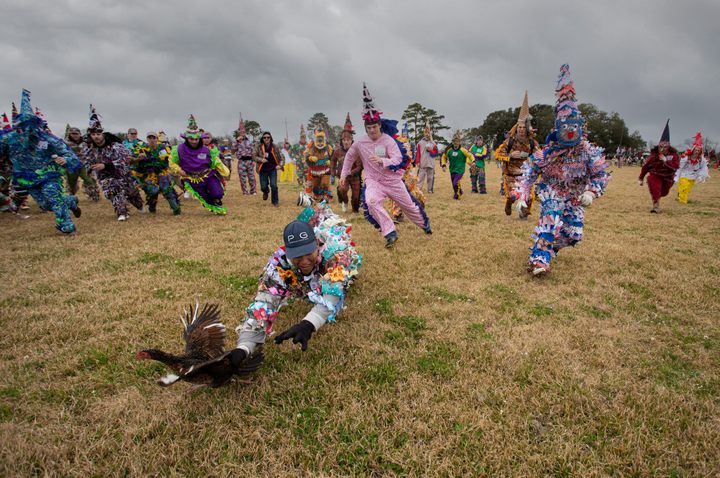 A Short Drive From New Orleans, Cajun Mardi Gras Is a Different Animal
Colorful costumes and alcohol, sure, but also chasing chickens.
We've all seen the sweaty, thrilling, bedazzled New Orleans version of Mardi Gras, but there's something else going on in Cajun country, in the small towns a few hours west of the Big Easy. There, a kaleidoscopic, bead-free inversion of the Carnival celebration takes center stage. Welcome to Cajun Mardi Gras.
The old story goes that Cajuns are descendants of the French settlers of maritime Canada, expelled in the 1760s following the Seven Years' War to wander the Earth. They finally came to rest in the rice country of central Louisiana. But true Cajun culture is more like a crazy quilt of historic traditions—French, African, Spanish, Native American, even German and Polish.
The celebrations differ from town to town, but the courir, or "run," is the highly visible staple of each, one with roots in rural France. Participants wear costumes that follow a basic template: a patchwork of fringed fabric, a conical hat called a capuchon, and a wire mesh mask decorated with a phantasmagoric face. So attired, the revelers, who are themselves called Mardi Gras, travel a circuit of mostly rural roads by wagon or flatbed trailer, or on horse or foot, shepherded by gold-caped capitaines on horseback. Periodically, at prearranged points, the capitaines divert to a farm field or yard to ask permission for his rowdy charges to beg for ingredients for a communal gumbo that, traditionally, at least, was prepared at the end of the day.
In most cases the begging culminates in a chicken chase. Chickens are thrown to the revelers, who then must run them down. All of this is usually fueled by staggering amounts of alcohol and raucous Cajun music, either from a band staged on a wagon or string musicians on foot, or both.
Atlas Obscura spent a day there, just before the long hush of Lent, and brought back these photos of Cajun Mardi Gras.