The Rise and Fall of the Hormel Girls, Who Sold America on SPAM
The Spamettes sang and danced and glamorized canned meat.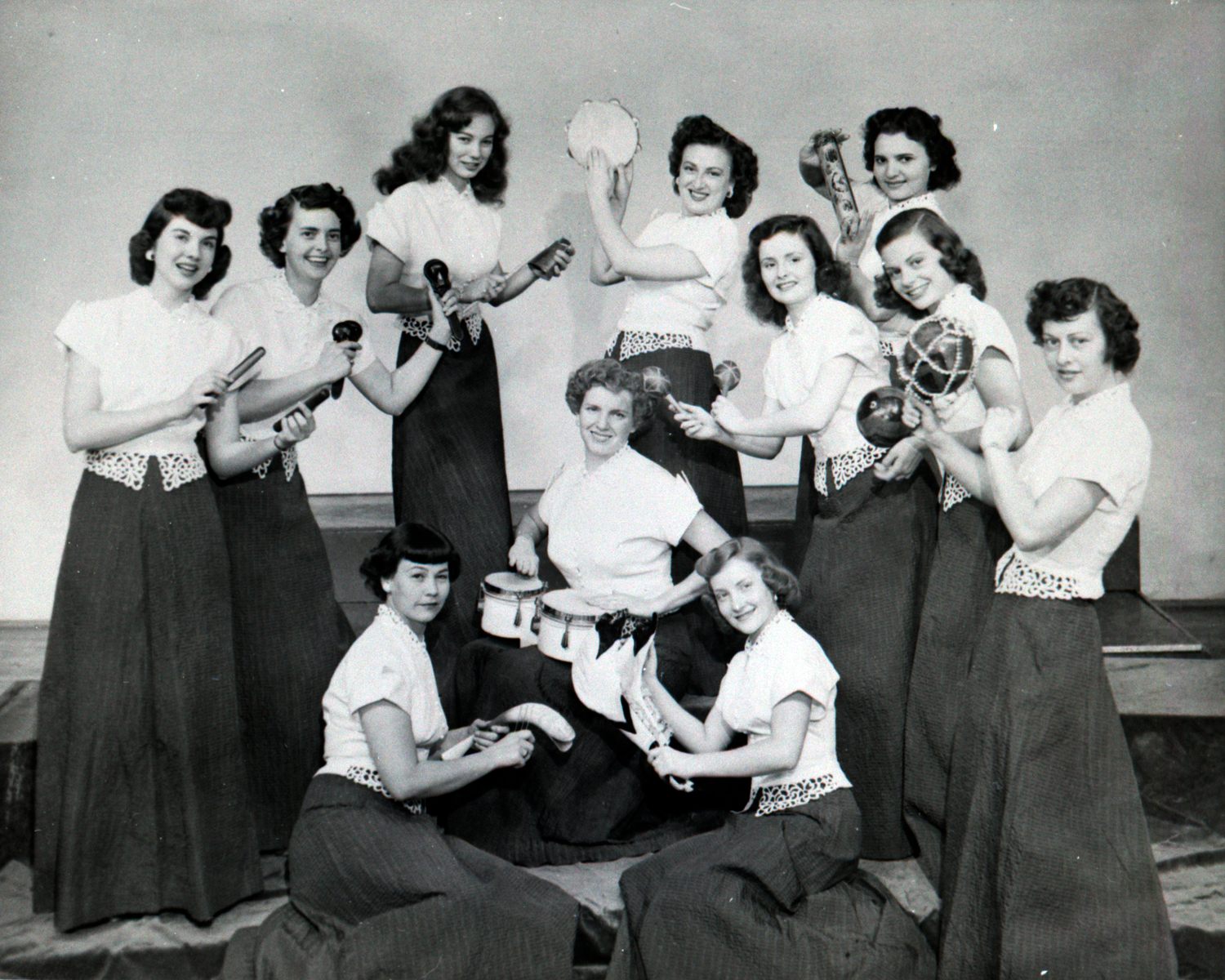 In 1945, the war that wracked the world was finally over. American women who had served as military translators, typists and, even pilots suddenly found themselves out of a job. At the same time, the SPAM Man was trying to sell tinned pork.
Jay C. Hormel was the SPAM Man. Head of Hormel Foods, he was the canny heir to his father's canned-meat business. Under him, the company introduced the smooth, spiced pork product known as SPAM right on the cusp of the Second World War. But there was a problem. By wartime's end, 90 percent of Hormel's inventory was shipped overseas, as food for American troops and allies. The company now needed to market wartime, tinned food to a peacetime audience.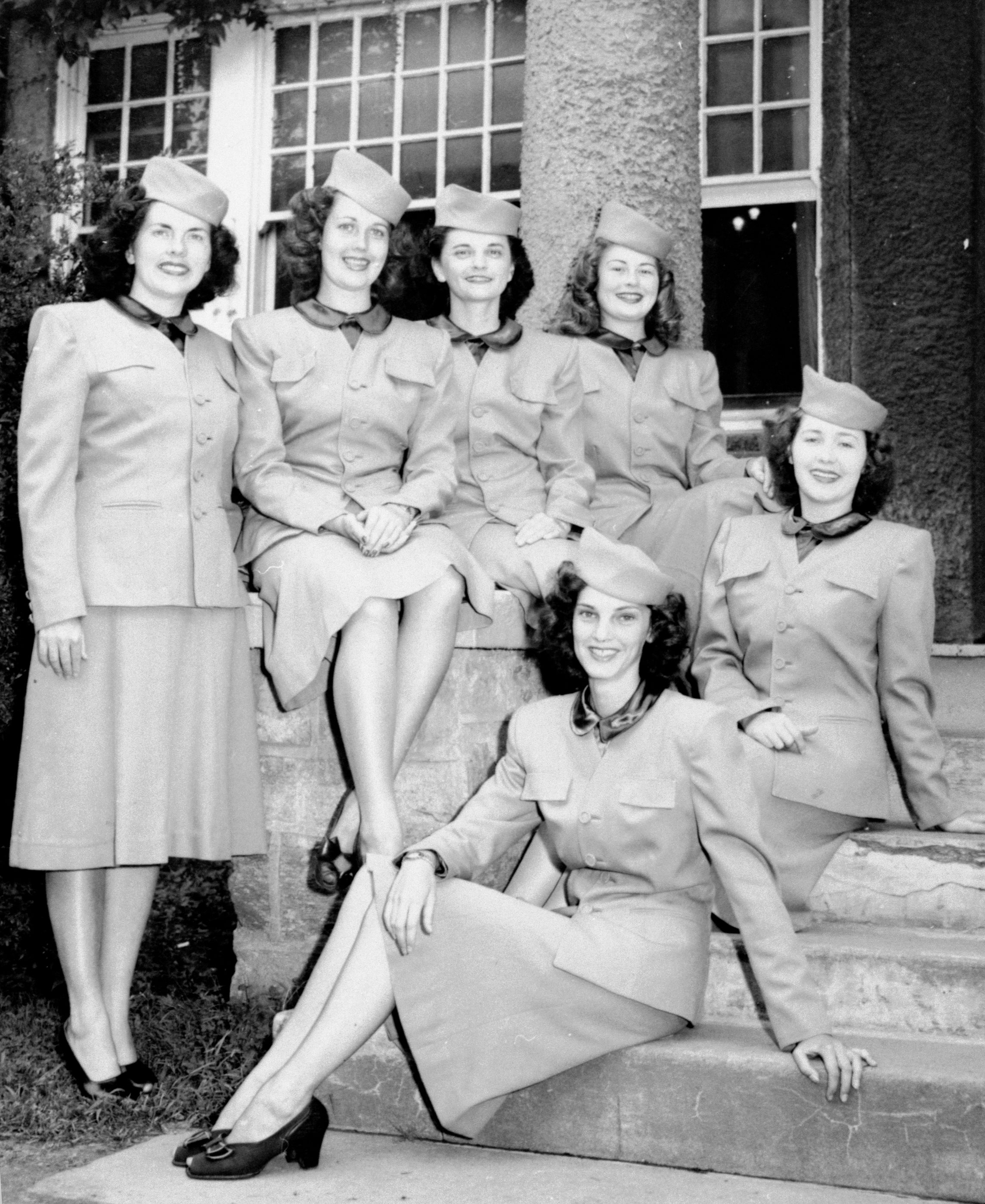 So, in 1946, the Hormel Company started hiring for the Hormel Girls, a drum and bugle corps of female musicians who had served in the war. As a veteran himself of World War One, Hormel was concerned for his employees who served. During the war, according to authors Jill M. Sullivan and Danelle D. Keck in their paper The Hormel Girls, he had sent letters to enlisted male employees assuring them that their jobs were waiting. When two managers devised a marketing strategy of an all-female, military-style band to promote Hormel products, Jay Hormel was quick to support it. As Sullivan and Keck point out, it was designed to push a "quasi-patriotic" button for consumers, who associated Hormel with the American military.
The requirements to be a Hormel Girl reflected the times. Most of the performers were white, and all were unmarried. They also had to play instruments. Ladies' bands weren't unusual. Even in the late 19th century, all-female troupes promoted American music and American brands. Hormel had even established a touring group of musicians to promote Hormel's chili con carne with Mexican music in the 1930s.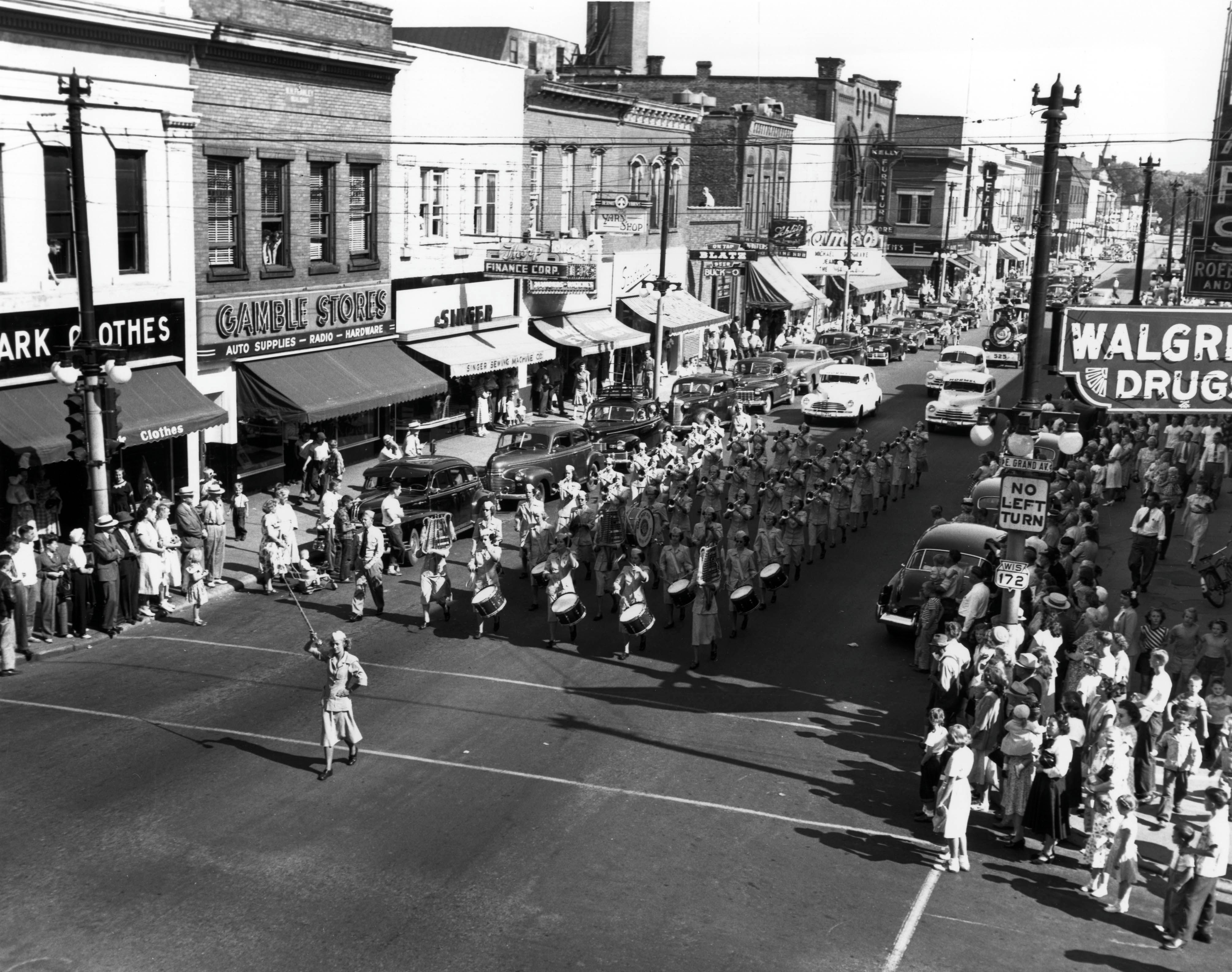 On August 29, the Hormel Girls completed their first month of training. Their test was the 29th American Legion National Drum and Bugle Corps Championship, held in New York. In neat uniforms, they played hits such as "Yankee Doodle Dandy" and "Give My Regards to Broadway." As the competition's first female team, they finished 13th. There was avid media interest, both positive and negative. The New York Times reported on an injunction brought by noise-sensitive neighbors near the Corps's Connecticut training grounds, but that was outweighed by the spectacle of the musicians performing and on parade. Hormel soon realized that the group was an advertising powerhouse.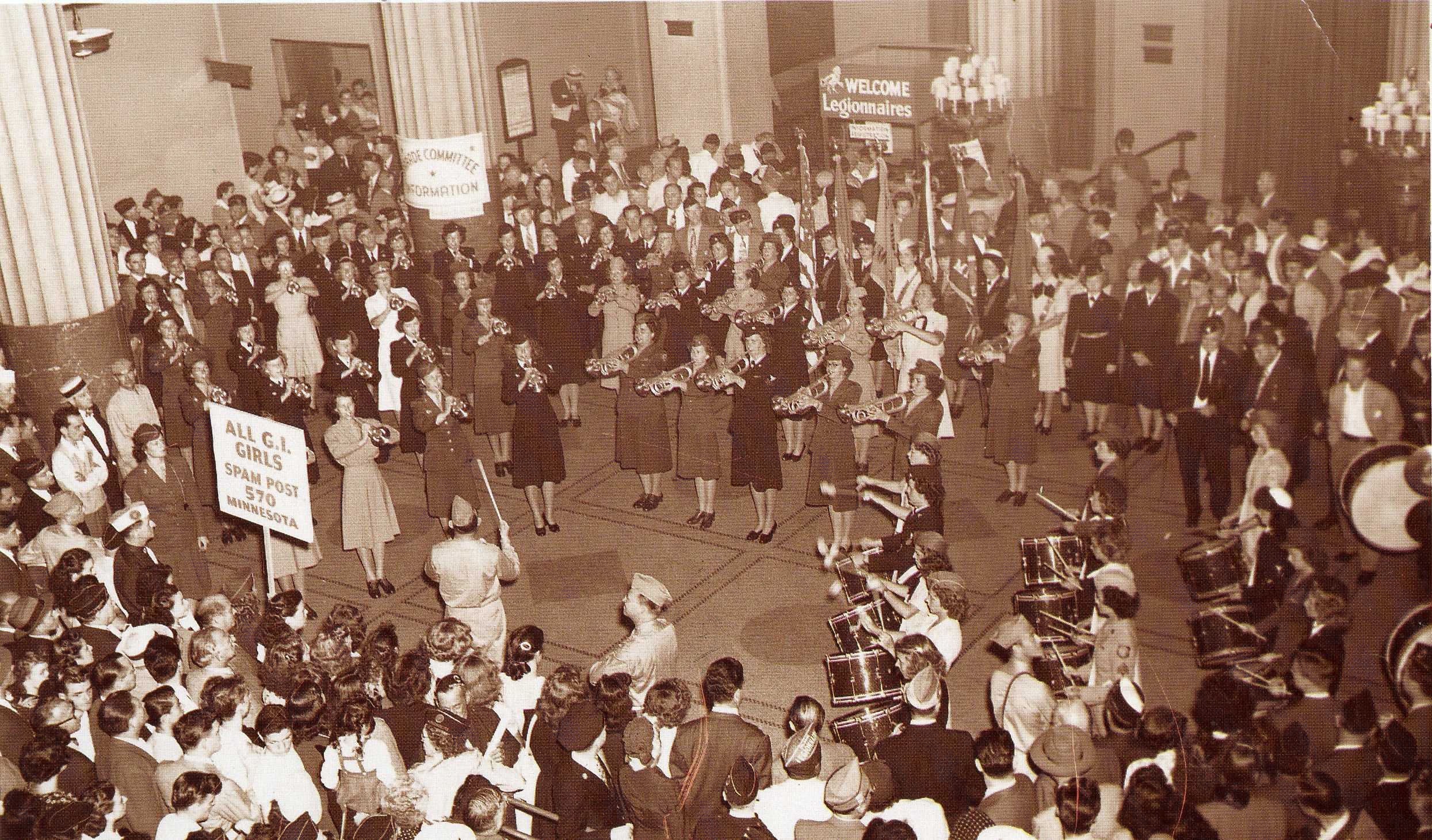 Twenty girls from the original 48 agreed to stay on, and those numbers soon grew. They marched in parades, played in shows, and sold Hormel products (especially SPAM) door-to-door. Advertisements proclaimed that when "talented ex-G.I. Drum and Bugle Girls" came to town, they distributed free SPAM or chili in stores. Driving 35 matching white Chevrolets, the performers proceeded like a caravan, drawing attention wherever they went.
In 1948, the Hormel Girls went to Hollywood and took to the airwaves. According to Sullivan and Keck, they changed their style for radio. While before they had played a mix of military and popular music, the Music with the Hormel Girls show featured big-band music, punctuated by regular reminders that Hormel's chili and ham was the best. It proved a good combination. By 1953, the show was "number four in the yearly [Nielsen] rankings."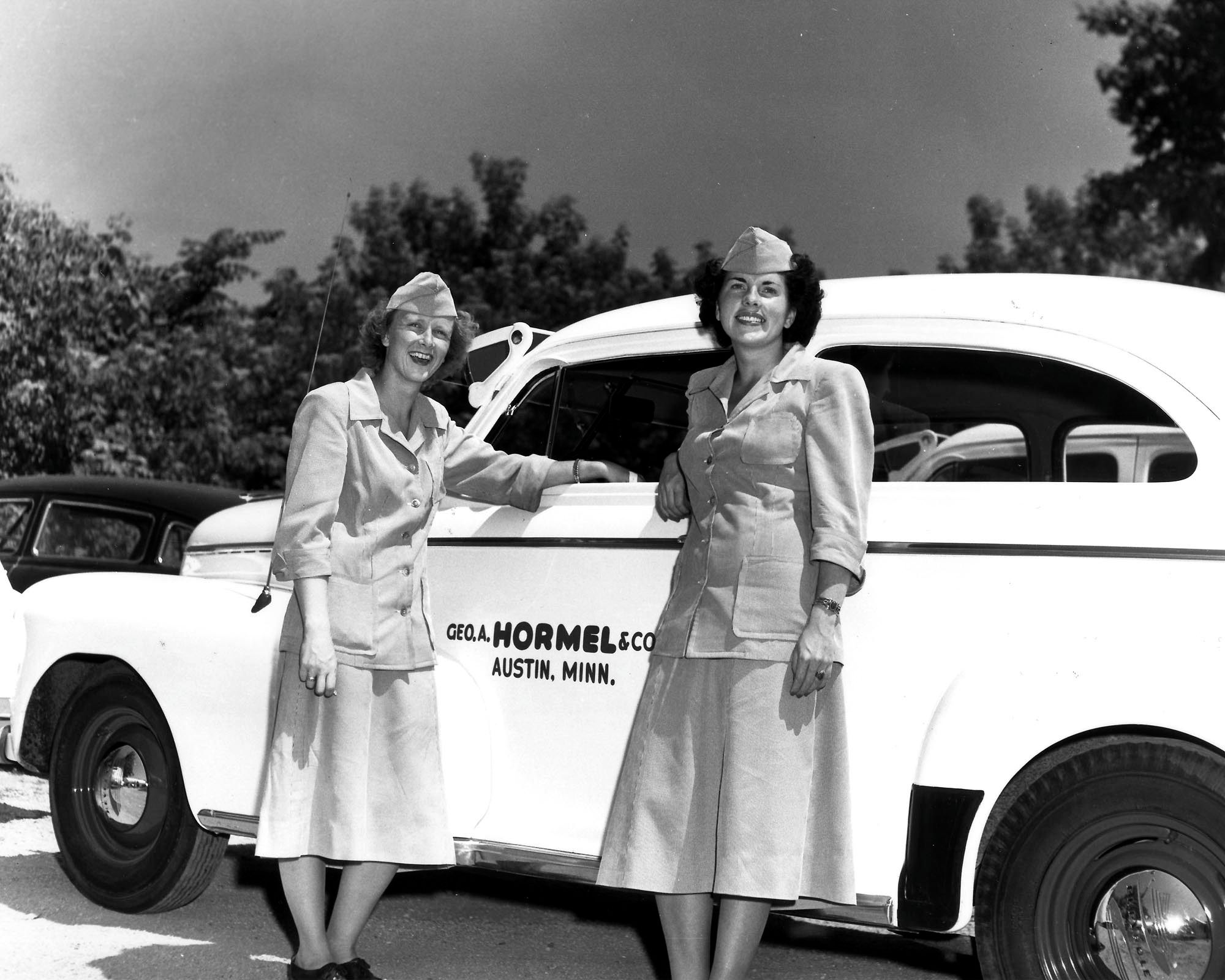 The Hormel Girls were famous. Soon, they stopped going door-to-door, and only pitched Hormel products to stores. The Girls earned bonuses for selling lots of meat, with a premium for SPAM sales. But selling wasn't the main requirement: It was still all about performing. "I didn't want to sell anything," former Hormel Girl Martha Awkerman told Sullivan and Keck. "I was there to play my horn."
In the early 1950s, the show expanded to include dance. The Hormel Girls wore elaborate costumes and performed for locals and grocers. Jay Hormel, channeling his inner bandleader, decided who would sing and play which instrument. (Some of the musicians considered him nitpicky, but he may have just been passionate about music. Several of his children and grandchildren became performers.) As the group reached its peak, many newer Hormel Girls were photogenic professional musicians, instead of G.I.'s.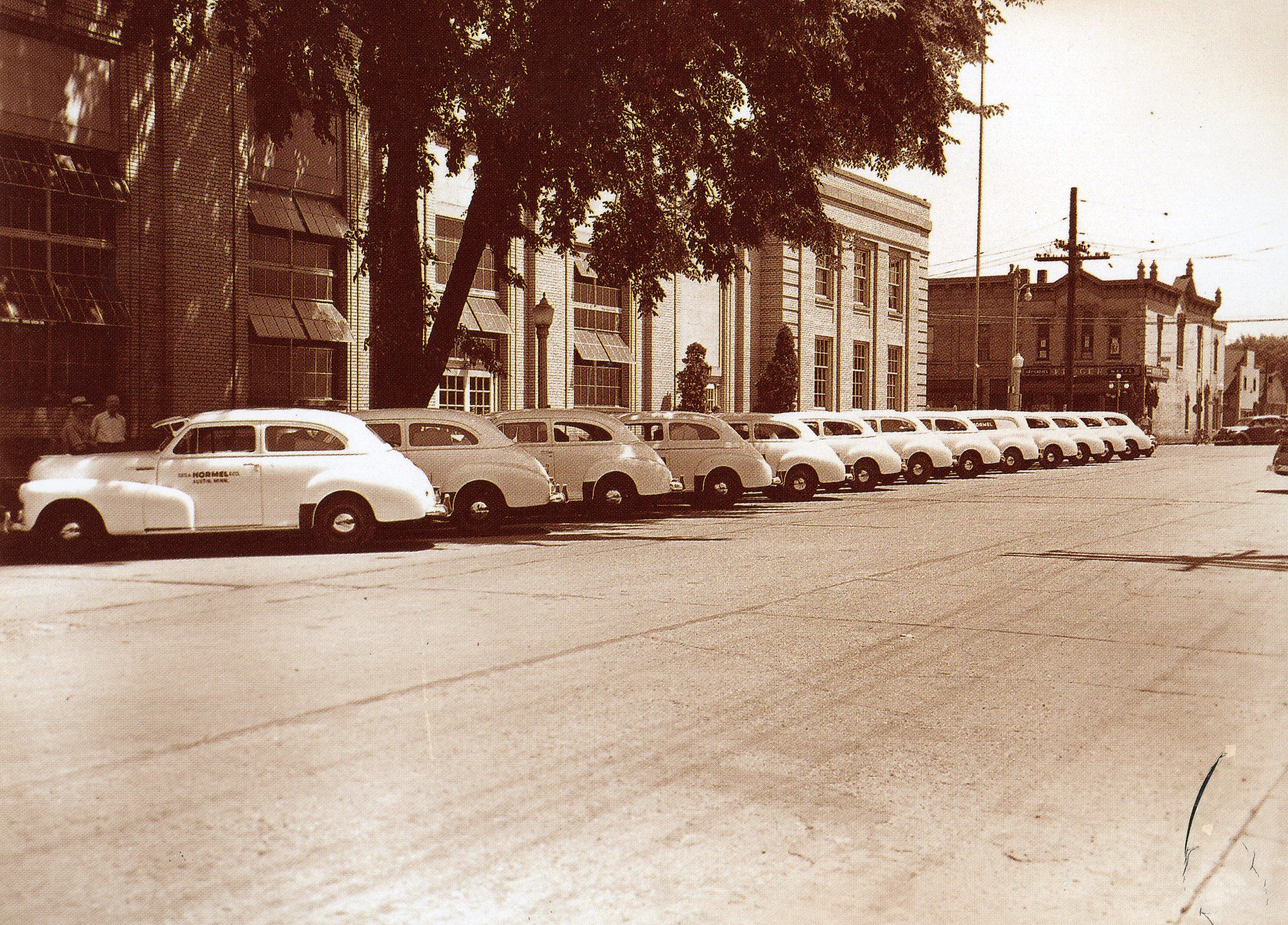 It was an in-demand job. The weekly salary of $50 was better than other wages for women at the time. It was glamorous, too. The women were known as "the Darlings of the Airwaves," or, more often, "the Spamettes." Motorcades of police cars escorted their Chevrolets into town. It was an unprecedented opportunity for young women to travel while earning good money. Despite the double-duty of performances and sales (and the possible indignity of being called a Spamette), most Hormel Girls described the experience fondly.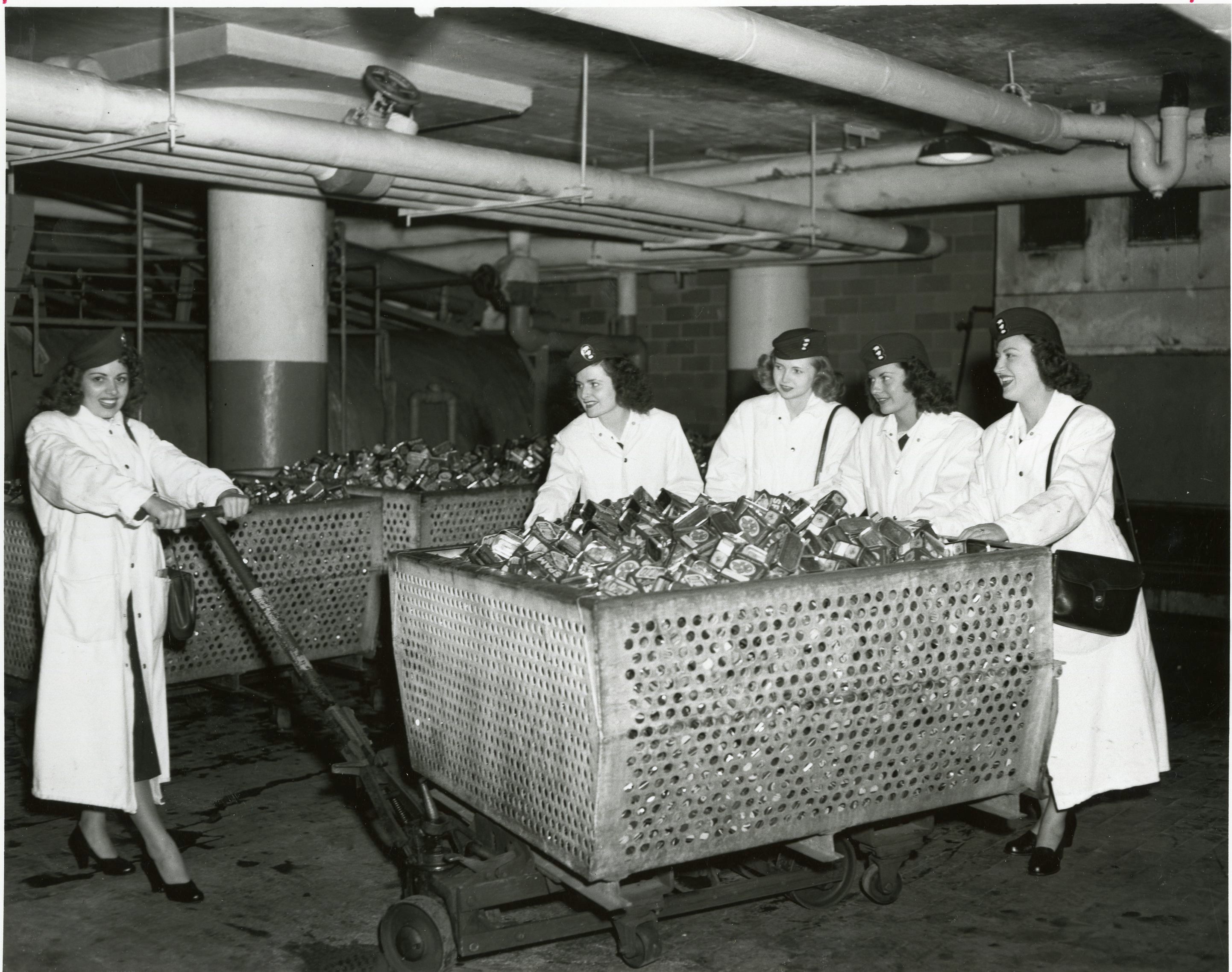 But in 1953, the show came to an end. The caravan was costing the Hormel Company $1.3 million dollars a year, and Jay Hormel was sick and would die in 1954. As television proved to be cheaper advertising, the last performance was held on December 13, 1953. Laverne Wollerman, one of the final performers, told Sullivan and Keck that the curtain was quickly pulled to hide that many of them were crying.
Hormel Girls went on to other jobs at the company, or in music. But there was no denying their effectiveness. In the years that the Hormel Girls performed, Hormel's sales doubled, and SPAM successfully made its transition from food of necessity to classic Americana. Still, in a 2010 interview, Hormel Girl's announcer Marilyn Wilson Ritter noted that SPAM wasn't even her favorite. "I liked the chili con carne," she said.
Gastro Obscura covers the world's most wondrous food and drink.
Sign up for our email, delivered twice a week.