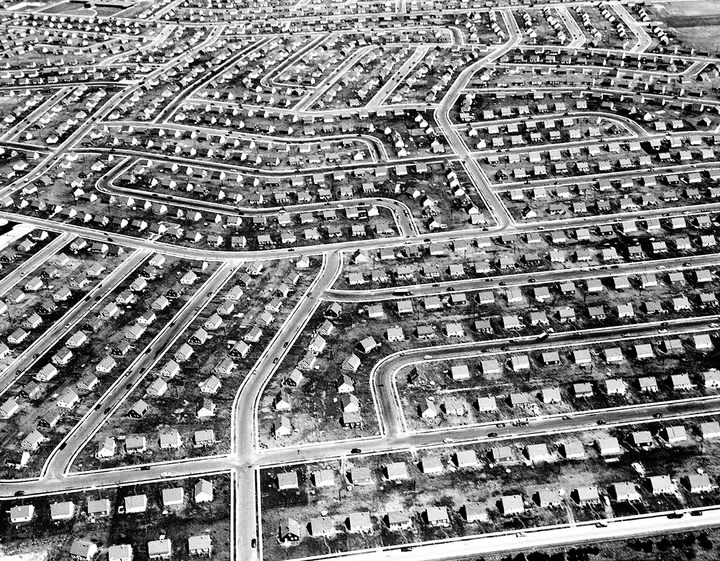 The Lingering Legacy of America's First Cookie-Cutter Suburb
Inequality was built-in.
From the air, the homes fan out like intricate beadwork. For decades, America's suburbs have been a popular setting for television shows, from Leave It To Beaver* to Desperate Housewives, chronicling entertaining trivialities against the backdrop of meticulously shorn lawns, the drifting smoke of barbecues, the infrastructure of cars and roads: a pleasantly domestic—but fraught—version of the American dream.
The idyllic ideal of modern suburbia in the United States was born in 1947 with the creation of Levittown, a large housing development in Long Island, New York. Businessman Abraham Levitt and his sons, William and Alfred, turned some potato fields into a neighborhood bearing their name, with more than 17,000 uniform, boxy, detached homes spaced equally along carefully meandering and manicured streets. The project, which reduced the building of each home to an assembly-line system of 26 steps for speed, efficiency, and cost-effectiveness, catered in particular to returning World War II veterans looking for safe and stable homes during a national housing shortage. The affordable cost allowed thousands of families to become homeowners, but only certain families.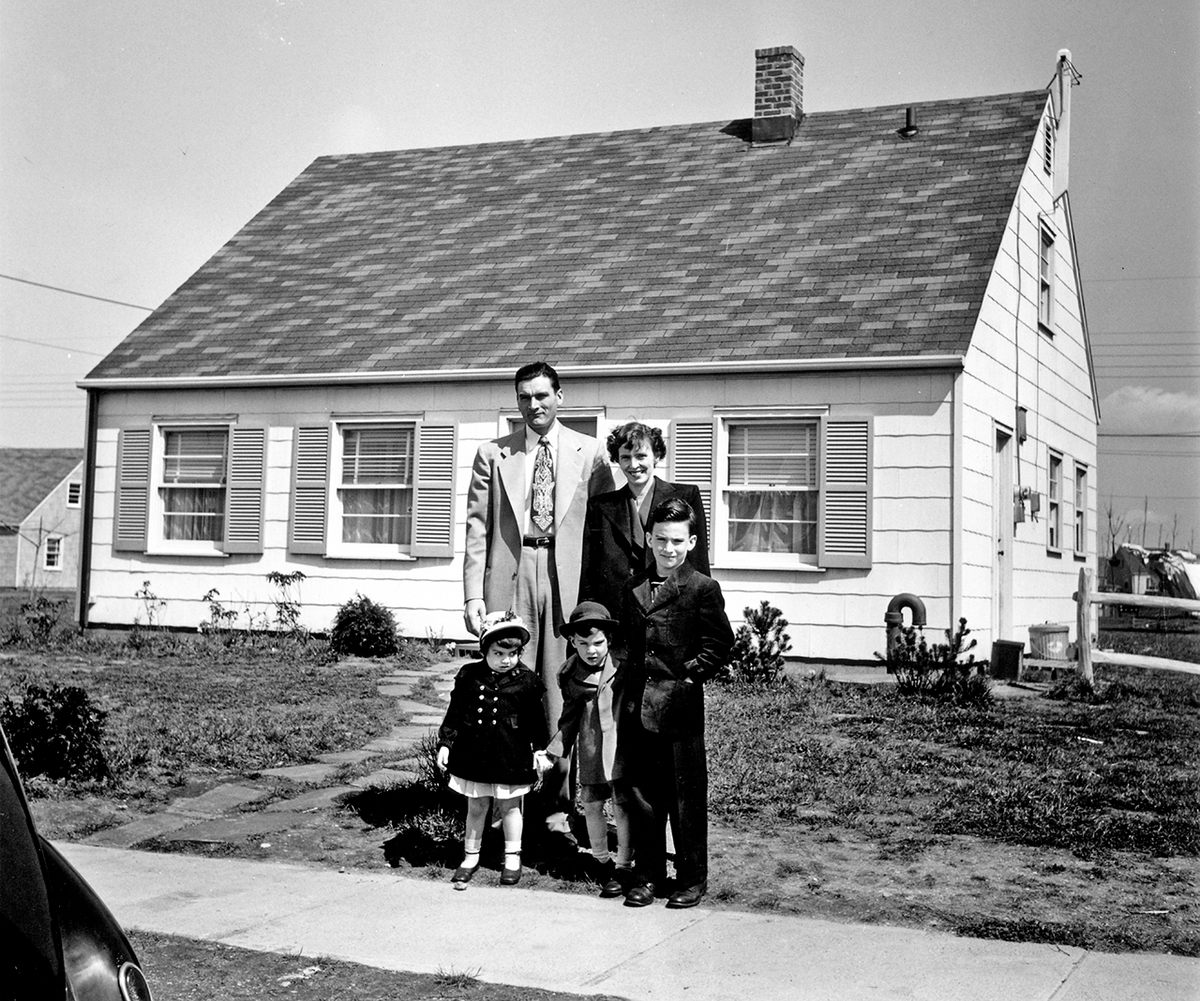 While the Levitts successfully turned their business plan into a quintessential symbol of family values, Levittown also was a symbol of exclusion. William Levitt, in charge of the housing development's marketing and sales, did not sell houses to families of color. A clause in the standard lease for the first Levitt houses baldly stated that the homes could not "be used or occupied by any person other than members of the Caucasian race." Government policies at the time, such as those of the Federal Housing Administration, supported such racist practices, blocking Black Americans and other people of color from the new suburbs and homeownership. An opposing group, the Committee to End Discrimination in Levittown, formed to fight the racism with protests and leaflets. The Supreme Court ruled in 1948 that house covenants with racial restrictions were "unenforceable" and unconstitutional, six years before the ruling on racial integration in Brown v. Board of Education.
Levittown provided a suburban template that is visible in aerial and satellite photos across the country—the now-familiar looping streets, studded with undistinguishable roofs, abruptly ending at other roads and arteries. Levittown, on the other hand, has evolved in its own way. The homes there have been so modified and expanded over the years that it's almost impossible to see from street level the architectural uniformity that once reigned. However, though racial integration of the town started in the 1950s, its initial legacy is not gone. According to the 2019 census, though the town has a notable Latinx population, just 1.2 percent of Levittown's residents are Black.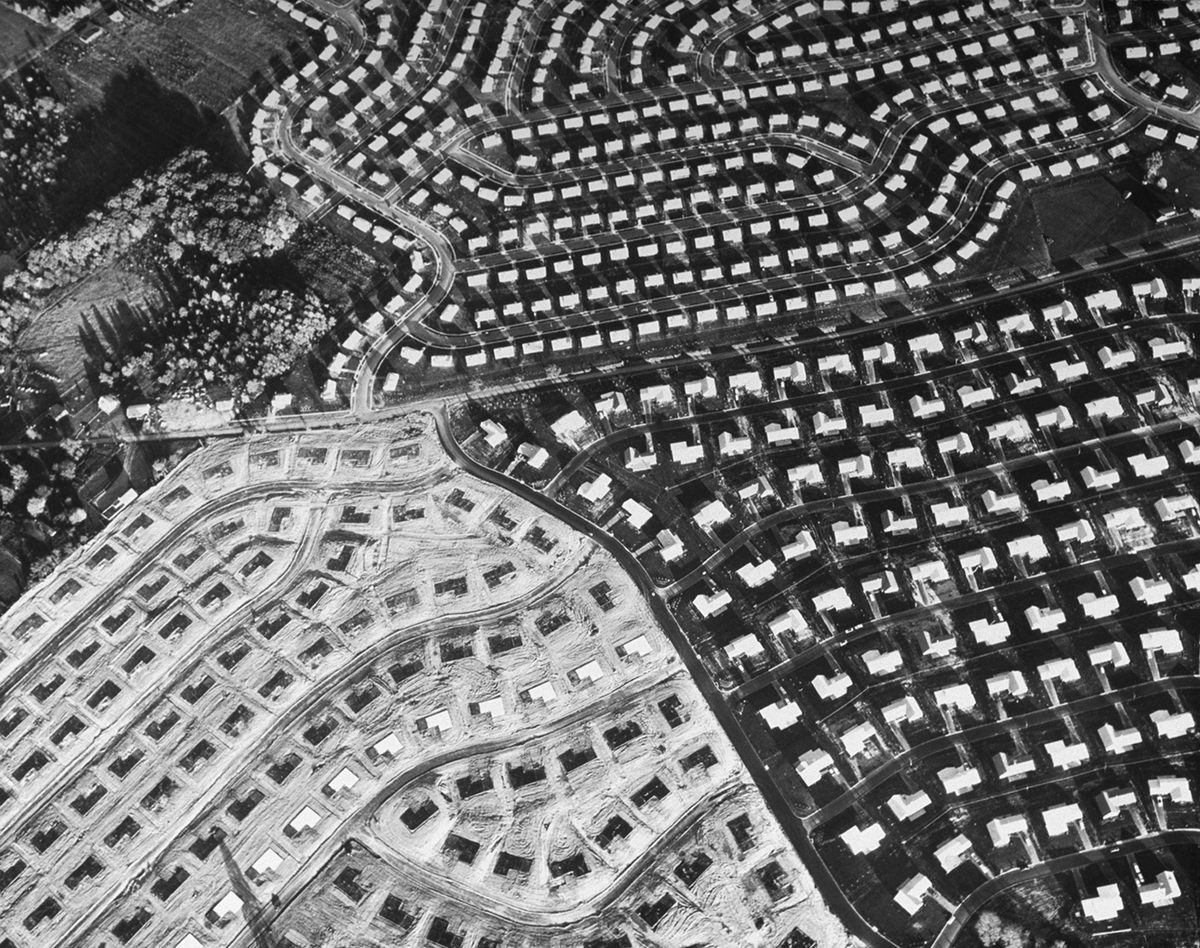 *Correction: An earlier version of this story stated that I Love Lucy is set in a suburb. The show is set in New York City until the Ricardo family moves to Connecticut in the final season.