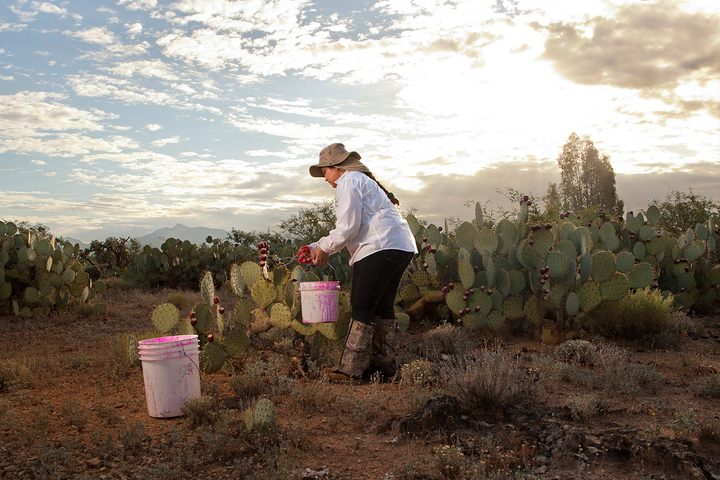 How an Arizonan Company Turns Cacti Into Candy
Prickly pear gummies are a taste of the Sonoran Desert.
In mid-August, 17-year-old Lynette Alvarez and her aunt, Nellie Botello, put on matching camouflage snake guards and steel-toed boots for their work gathering prickly pear cactus fruit. Snake-season is year round in the Arizona desert, and there are baby rattlesnakes in the summer that may not make warning rattles yet.
Along with a handful of pickers, they start as early as 4 a.m. to avoid the scorching afternoon heat. By 9 a.m., when they stop, the group will have collected up to two tons of produce for the Tucson-based company Cheri's Desert Harvest. The fruit will be pressed and its juice used to create a chewy jelly candy with a texture similar to a gumdrop.
Botello and Alvarez pick the fruits, also known as "tunas," from wild Opuntia engelmannii cacti, better known as prickly pear, using simple metal kitchen tongs. As Alvarez lightly mashes the fruits to pack her six-gallon bucket, splatters of fuchsia juice accumulate like a Jackson Pollock painting on her long white sleeves and shirt tails. While the pigment will wash out, the juice's bright-pink color is a hallmark of the beautiful syrups, jams, and candies enjoyed throughout the Southwest.
Cactus candy is not a new concept. A sugary Mexican treat made from the body of the barrel cacti was popularized in the United States in the early 1900's, and overharvesting brought the now-protected barrel cacti to the brink of extinction. Today, the sustainable prickly pear cactus is growing in popularity as an ingredient outside of the Southwest and Mexico, where it is common in restaurants and grocery stores and has long been a staple food: The Hohokam people of what is now Southern Arizona ate the full body of the prickly pear cactus, including the pads, which they de-spined and roasted in pits, while members of the Tohono O'odham Nation living in Arizona and Mexico eat the fruits and pads and have indigenous rights to harvest in Tucson's Saguaro National Park.
Each workday morning, seasonal pickers bring fruit-laden buckets to Cheri's Desert Harvest's modest facility about a mile south of the University of Arizona. Along with three employees, the company's founder, Cheri Romanoski, processes them in a 40-gallon steamer that fills the building with prickly pear's musky-sweet smell. Heated fruits are transferred to a stainless-steel wine press to extract their vibrant juice, which is then filtered twice and quickly frozen. This continues daily until the end of the summer, when the seven-person company stringently cleans the processing room of spines and swaps in new machines sanitized for candy-making and food production.
"I had no plans to ever have a business," says Romanoski. In 1985, she took leave from her elementary-school teaching job to start a family. She experimented with making her own baby foods and canned treats such as blueberry jam, which a neighbor encouraged her to sell at local farmer's markets. Enthused by the response and interested in local ingredients, she turned to the desert for inspiration, rebranding her fledgling business as Cheri's Desert Harvest.
After five years, Romanowski wanted to expand her offerings beyond syrup and jams. Fortuitously, she was introduced to a retired food chemist who moved to Tucson after working for companies such as Hershey. He took her under his alchemical wing during her year-long effort to develop a candy, since her previous attempts at substituting cactus juice into similar water-based recipes were unsuccessful. Prickly pear juice's color, viscosity, and sugar and PH levels vary, especially during summer monsoons, so she had to learn how to wrangle and tweak each batch to make a consistent product. By now, Romanowski has learned to identify which day's juicings will be best for candy making.
Each week, Romanoski and her workers make an average of 800 pounds of jelly cactus candy per day. While prickly pear is the company's most popular seller, they also make two other flavors: a pomegranate (from purchased juice) and a margarita flavor that uses Mexican gold tequila, triple sec, and lime.
A glass room with carefully controlled humidity houses the jelled candy for up to six days as it firms. When the confection is set, employees slice the candy into squares with a guitar-string cutter and dust it with sugar grains so the pieces do not stick together. Romanoski's retired husband, Jon, often helps with product packaging and labeling.
While Cheri's Desert Harvest candy is sold in Tucson shops and is popular with tourists and seasonal snowbirds, her products are also distributed to 48 states and Canada. Major companies are increasingly interested in prickly pear, and Romanoski describes Starbucks' Berry Prickly Pear Frappuccino and Michelob's cactus-lime beer as "free advertising."
Local breweries are experimenting with the company's juice, and bakeries and restaurants buy her finished candy by the pound, often spearing it onto toothpicks for a colorful margarita garnish. The candy is also mixed into cookies and dried and put into trail mix or granola. At the top of nearby Mount Lemmon, the general store sells prickly pear fudge, and one local company even created a candy-studded mesquite biscotti.
To keep up with growing demand, Romanoski plans to sow indigenous cactus cuttings on her family land near Green Valley, Arizona. While hers may not be the only company making candy from cacti, their use of the heritage prickly pear earned them, in 2021, one of 10 "Food Artisan" certifications from Tucson, which is itself one of 36 Cities of Gastronomy chosen from around the world by UNESCO. They hope this will help introduce many more people outside the Southwest to the regional treat—with a little help from snake guards, hot-dog tongs, and a wine press.
Gastro Obscura covers the world's most wondrous food and drink.
Sign up for our email, delivered twice a week.