This Mural in Queens Highlights COVID-19's Impact on People of Color
An image of a brave doctor, large enough to be seen from space.
In the parking lot of the Queens Museum, at the heart of one of the American neighborhoods most impacted by the coronavirus, a masked face now looks up at the sky, large enough to be seen from space. This is the face of the late medical doctor Ydelfonso Decoo, who was thinking about retirement before the pandemic struck. Rather than retire, he treated coronavirus patients from his community, and subsequently died of COVID-19.
Decoo's portrait was completed in late May 2020 by Cuban-American artist Jorge Rodríguez-Gerada. Over the course of just six days, Rodríguez-Gerada painted an estimated 27,500 square feet. He's calling it Somos La Luz, or We Are the Light.
Rodríguez-Gerada says he was looking for a project to commemorate victims of COVID-19, especially people of color, who have been disproportionately affected by the pandemic in the United States—African Americans in particular. According to the American Public Media (APM) Research Lab, "Black Americans' COVID-19 mortality rate across the U.S. has never fallen below twice that of all other groups, revealing a durable pattern of disproportionality." APM also reports that in New York, the site of Somos La Luz, Latinx Americans have suffered 26.2 percent of deaths, despite representing 19.2 percent of the state's population. These numbers are largely attributable to people of color being overrepresented in lines of work deemed essential, resulting in increased exposure to the virus.
After a friend informed Rodríguez-Gerada of Decoo's work and of his passing, the artist knew he had his subject. Decoo, an immigrant from the Dominican Republic, had also been the secretary of SOMOS Community Care, a physician-led nonprofit that provides more personalized, culturally sensitive medical care to New Yorkers enrolled in Medicaid—"particularly Asian, African-American and Latino communities," according to SOMOS's website. To date, SOMOS has tested some 68,000 patients for the virus, says Ramon Tallaj, MD, the nonprofit's chairman.
Reproducing the photo on a scale visible from a satellite required careful planning, and Rodríguez-Gerada says the entire first day was dedicated to marking different spots within the museum's parking lot: "the mask ends here," "there's a crease there," and other reference points. Next, he had to figure out how much paint to use on any given spot, and configure his sprayers to disperse lines as wide as three feet or as thin as an inch. All told, he estimates that the job required a total of about $6,000 of paint, from five different stores. All of the paint—more than half an acre of it—had to be matte to mitigate the sun's reflection, and that required some patient and persistent shopping.
As large as the mural is in scale, Rodríguez-Gerada's priority was highly specific. The most important thing, he says, was rendering Decoo's "exact gaze"—the "concentrated, driven" look in his eyes, which the artist based on one particular photograph. Though anyone can view the mural and understand the intention behind the tribute, Decoo's family still had to recognize him in it, says the artist.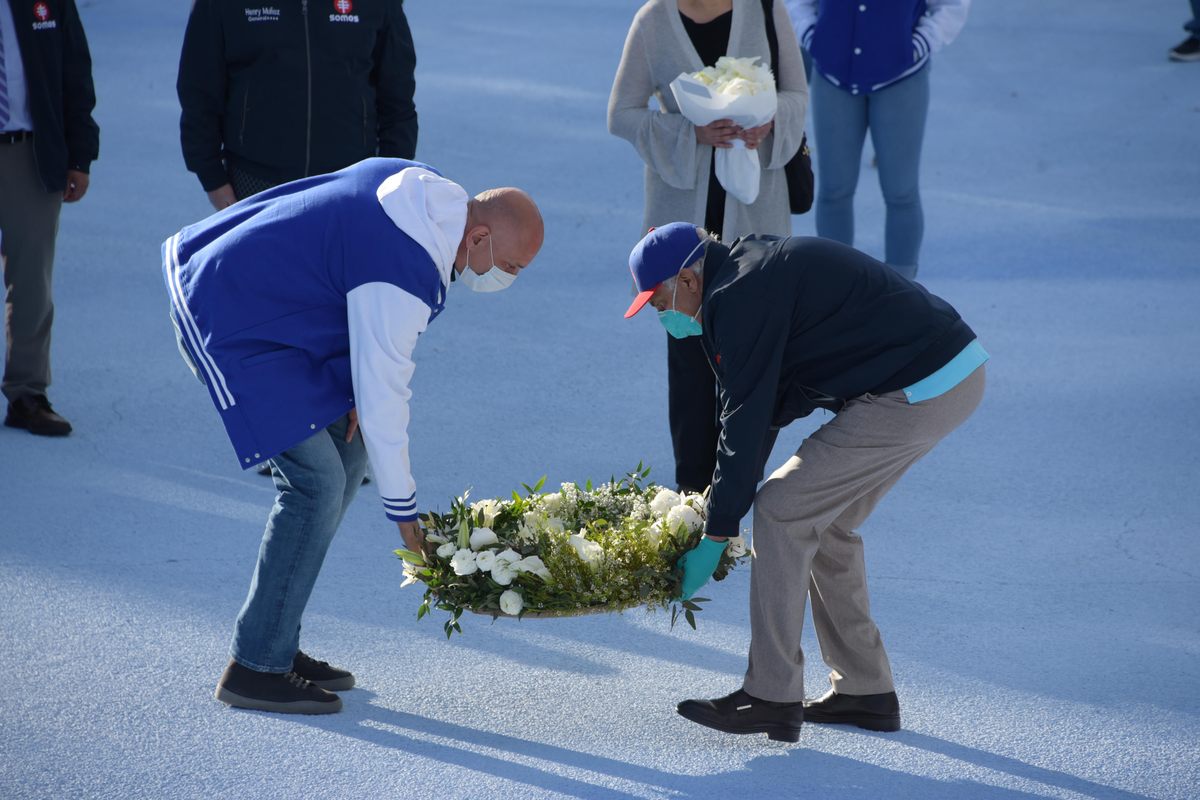 To that end, he adds, the mural does not contain any hidden messages. Instead, it's "a straightforward, loving portrait of a man who gave his life," who was preparing to retire but "decided to stay on the front lines …" Rodríguez-Gerada hopes that, despite continued social distancing, the parking lot can become "a place of mourning"—especially now, as nationwide protests against police brutality and systemic racism further highlight the inequities laid bare by the pandemic.
"We are the ones who are the most essential," says Tallaj, yet "we are the ones who suffer the most." Through tears, he names some of the other SOMOS physicians who have died of the coronavirus: Salvador Castells, Reza Chowdhury, Urena Harrell, Ashraf Metwally, Ruben Moronta, Mark Allen Respler, Jesus Zambrano, and Elda Ziko. "We were all afraid," he adds, but "we were more afraid not to act."
The mural, on its own, commemorates a man and the communities of color that have borne the brunt of COVID-19, but carries a broader message about racism and continued, systemic, casual violence. "At some point," says Rodríguez-Gerada, "this has to stop."