Why Clandestine Chinese Restaurants Are Crucial to Lisbon's Culinary Scene
The underground "Chinês Clandestinos" have persisted throughout the years.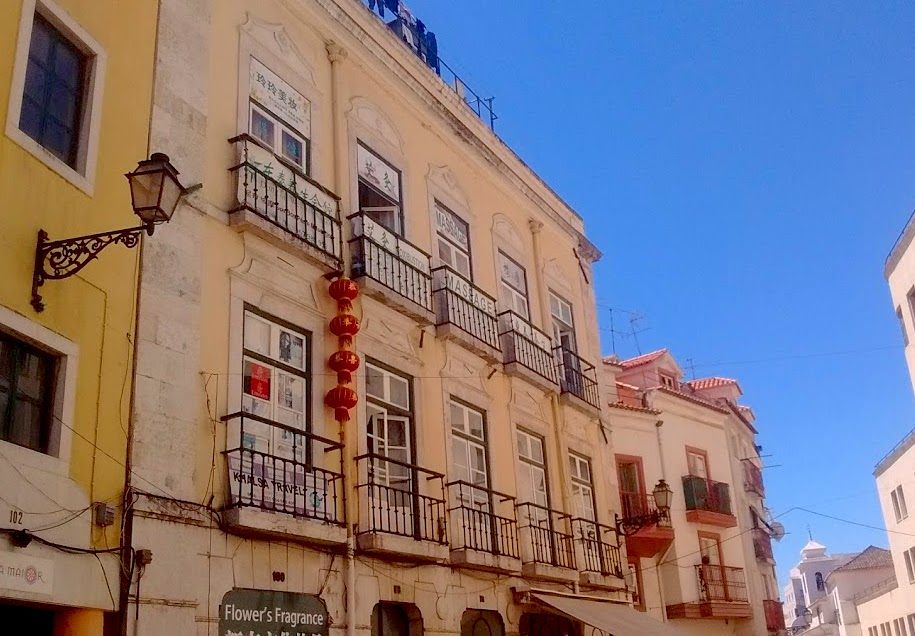 Lisbon, Portugal, is renowned for culinary offerings such as salty, charcoal-grilled sardines, the addicting pasteis de nata, and an increasingly innovative fine dining scene. The city's Chinese cuisine isn't usually mentioned in the same breath—until you head to the maze-like backstreets of Mouraria and Martim Moniz, where red lanterns dangle from upper-floor windows of apartment buildings. For those in the know, these are symbols of covert culinary operations.
A secretive universe lies within these apartment buildings: Chinês Clandestinos, or "clandestine Chinese." Clustered in the historic Moorish quarter behind Martim Moniz, these no-frills restaurants are an open secret among a handful of Lisboetas. Often operating out of family homes, they're typically not official dining establishments, and are often referred to merely by road name and number, such as Rua da Guia 9. New spots come and go, yet some have been operating under the radar in one form or another for decades.
What makes clandestinos special is their exceptional food, a world away from the Westernized Chinese restaurants that have cropped up in the city. Here, crispy frogs' legs intermingle with chicken. Strips of pork are seared with hot peppers, and eggplant is liberally doused with a bean, ginger, and chili sauce, and then fried so that the sauce both caramelizes and softens it. Ravioli frito de porco (fried pork dumplings) are also a staple across clandestinos.
The cobbled, car-free streets of Mouraria lie in one of Lisbon's most ethnically diverse areas. It's a legacy tracing back to 1147, when the crusaders conquered Lisbon and King Afonso Henriques decreed that Muslims remaining in the city should live in these hilly streets beneath the castle walls. It's long been the spiritual and literal home of immigrants in Lisbon: Today, many of the neighborhood's residents are of African and Asian descent.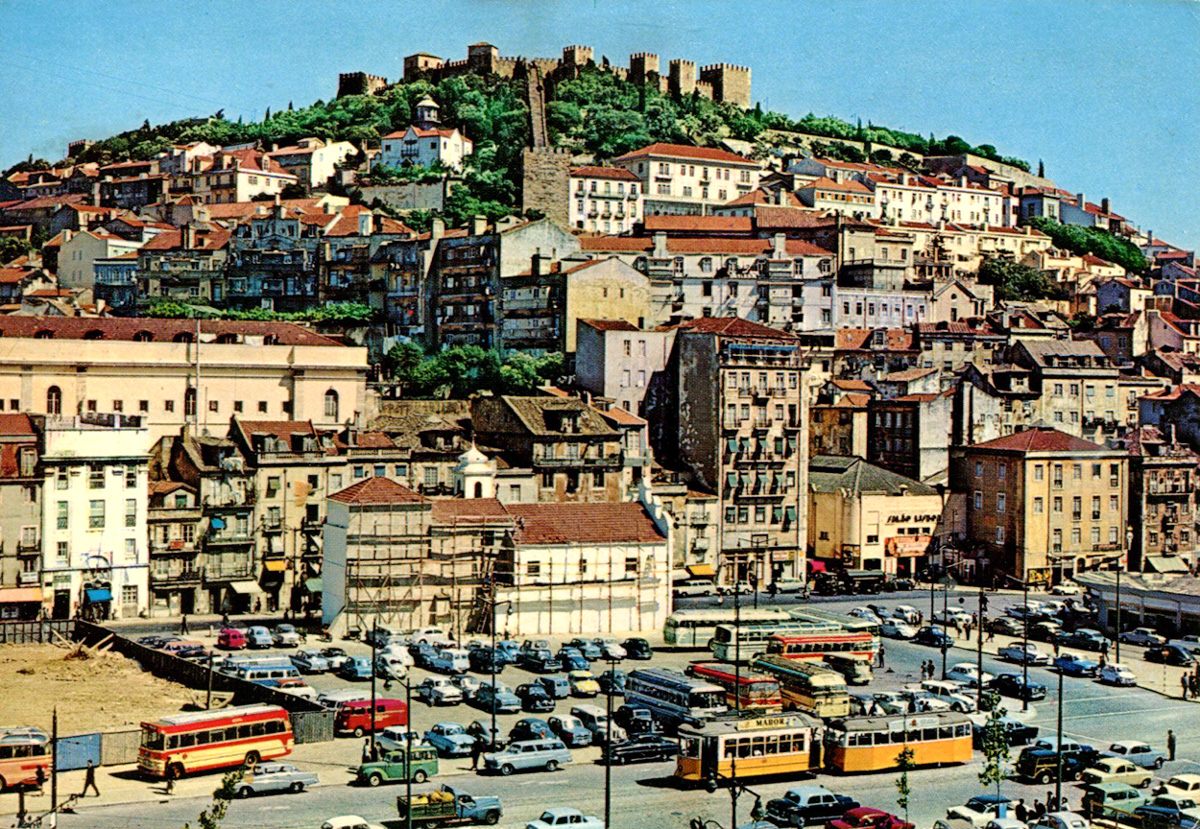 The Chinese community has an especially strong presence in Lisbon. Around the turn of the millennium, some entrepreneurial Chinese families began running small-scale catering operations. There were no menus, no formal opening hours, and no non-Chinese diners present. But the clandestinos have recently begun to attract a new type of clientele. In large part due to the dramatic gentrification of Martim Moniz square, restaurant owners have suddenly found themselves catering to groups of Erasmus students, new residents, and the occasional traveler who's heard about these spots.
One June day, I take a stroll around the clandestino epicenter of Mouraria, often known as the birthplace of Fado music, and for the Moorish castle sitting above the steep cobbled streets. With me is the German-born Anna Gruber, an adopted Lisboeta who has been living in the city for over a decade. She now runs the Estrela Park guest house, and runs tours specializing in hidden Lisbon spots. "Many of the clandestinos here are really busy now," she says, pointing to a recently-opened locale tucked into a yellow apartment building.
We walk along flag-strewn squares to Rua da Guia 9, thought to be one of the first clandestinos to open in Lisbon. When we get there, the owner, Senhora Zhang, tells us that she's been running the restaurant for seven years, having taken it over from a previous owner-occupier. "It used to be mainly Chinese families eating here," she says. "But that's changed in the past few years. We have big crowds of students, and many different nationalities. One of the biggest challenges has been communicating in other languages, but we have had our menus translated, and it's easy for diners to write down the numbers of the dishes they want."
Since her clandestino is still underground, Zhang says that word about the restaurant has spread on social media. But the local community is one step ahead. "Our restaurant is so full of foreigners now that when new restaurants open up, word spreads quickly and the Chinese community eat at those places instead," she says. Zhang says that the heightened spotlight has brought opportunities into the fold, but something's been lost, too. Online reviews mean that the once-informal spots now have to be spotlessly clean, and family members can no longer treat the place as if it were home. (Still, a handful of personal effects, such as school books and family photographs, are present.)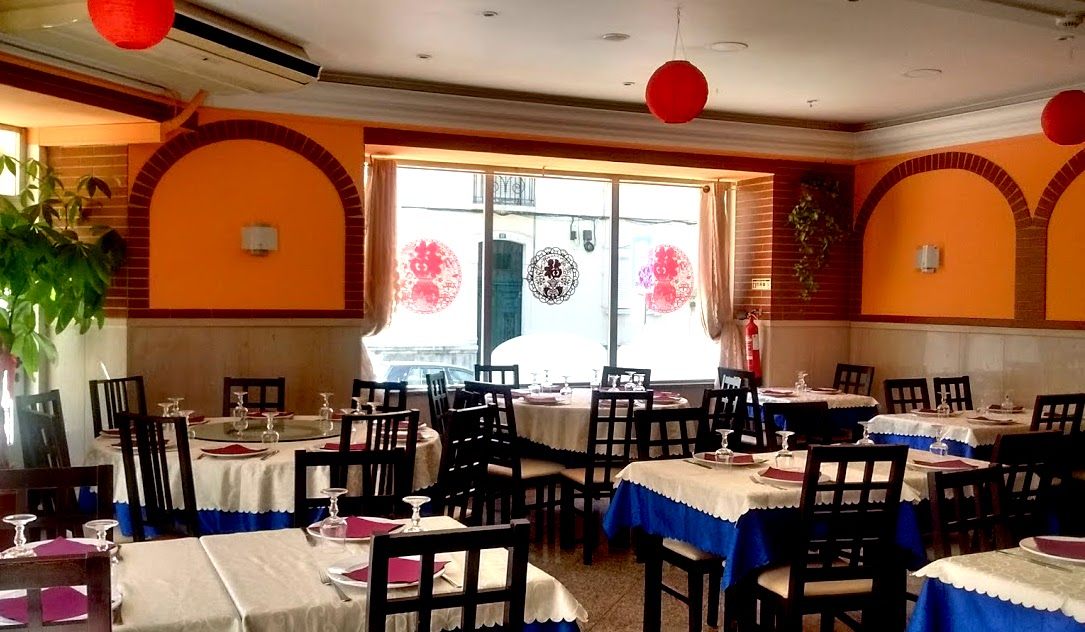 While some less-established clandestinos still feel like home living rooms—with friends and family members playing cards—Rua da Guia 9 has immaculately-laid tables, a full bar, and a menu with roughly 10 pages of dishes designed for sharing. Among these dishes includes wide rice noodles, cooked with everything from chili-spiked tofu to garlicky spinach. We order a plateful with spinach, along with gambas na chapa quente, or prawns served sizzling on a hot plate.
Other clandestinos have found success amidst shifting tides, such as the one run by Zhiaming Lu. Lu was known as one of the top chefs in Northern China before he moved his entire family to Lisbon some 14 years ago. Lu ran one of the first clandestinos in the city from his apartment in Mouraria, and was so successful that he pulled in enough money to apply for the relevant permits and go "above board." "Moving to Mouraria was a change and a challenge, but it was not hard," he says. "There was a well-established Chinese community here, and as I had built a reputation in Northern China, it was easy to find employment first in clandestino kitchens, and then my own place."
These days, his eponymously named restaurant is far from clandestine: Wide glass windows on all sides draw hungry gazes from locals passing by, and his name is emblazoned on bright yellow and red signs outside. Lu's former clandestino, on Rua do Benformoso, continues to be one of the most popular in town, although many say it lacks Lu's presence both in the kitchen and as a notable figure in the dining room, surveying his dishes with an artist's critical pride.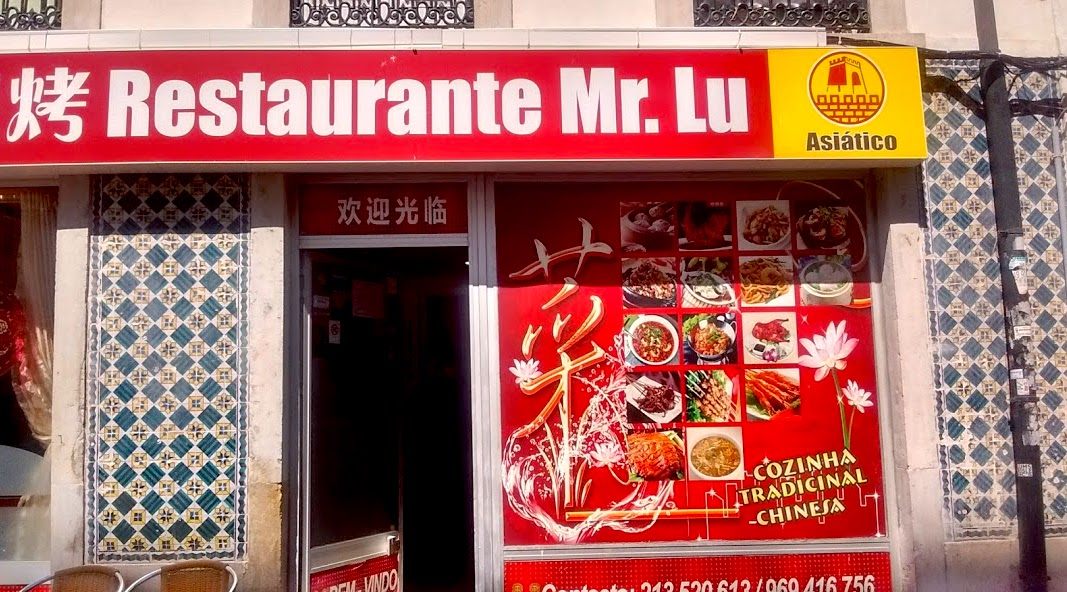 While his clandestino has changed over the years, Lu adheres to traditional dishes and ingredients from China's Shandong region, such as chili, peanut, cilantro, and cumin. "Most restaurants here are second-generation Chinese restaurants. They have already adapted to Portuguese tastes and ingredients," he says. "But it is not hard to source the ingredients here, and to make the dishes the same way I cooked them in China."
It's proved to be a winning combination—at one point, he shows me a Best Regional Chef trophy he was awarded in China. These days, Lu attracts a wide range of diners, Chinese and Portuguese alike. That's partially due to how special his menu is: It brims with spicy chicken hearts, and squid, prawn, and fish dishes are abundant (as befits a cuisine that has traveled from one coastal region to another). And vegetarians can feast on tofu and seitan seared with peanuts on a hot plate, or spiced, stir-fried, and served as mock duck with crunchy vegetables.
The clandestinos' family-style cooking, and their place in Lisbon, has prevailed as everything else has seemingly changed. "There may be more tourists and students heading [to the clandestinos], but at heart they remain the same," Lu says. "I made my success based on the quality of my cooking, and the same is true of these places: The best ones survive, even with their restrictions. In my time, it was all word of mouth. Today there is more publicity, but they will adapt, they won't disappear. And I will still eat at them."
Gastro Obscura covers the world's most wondrous food and drink.
Sign up for our email, delivered twice a week.