14 Amazing, Gravity-Defying Funiculars
Without these slanted trains, we'd have to climb hills using our legs.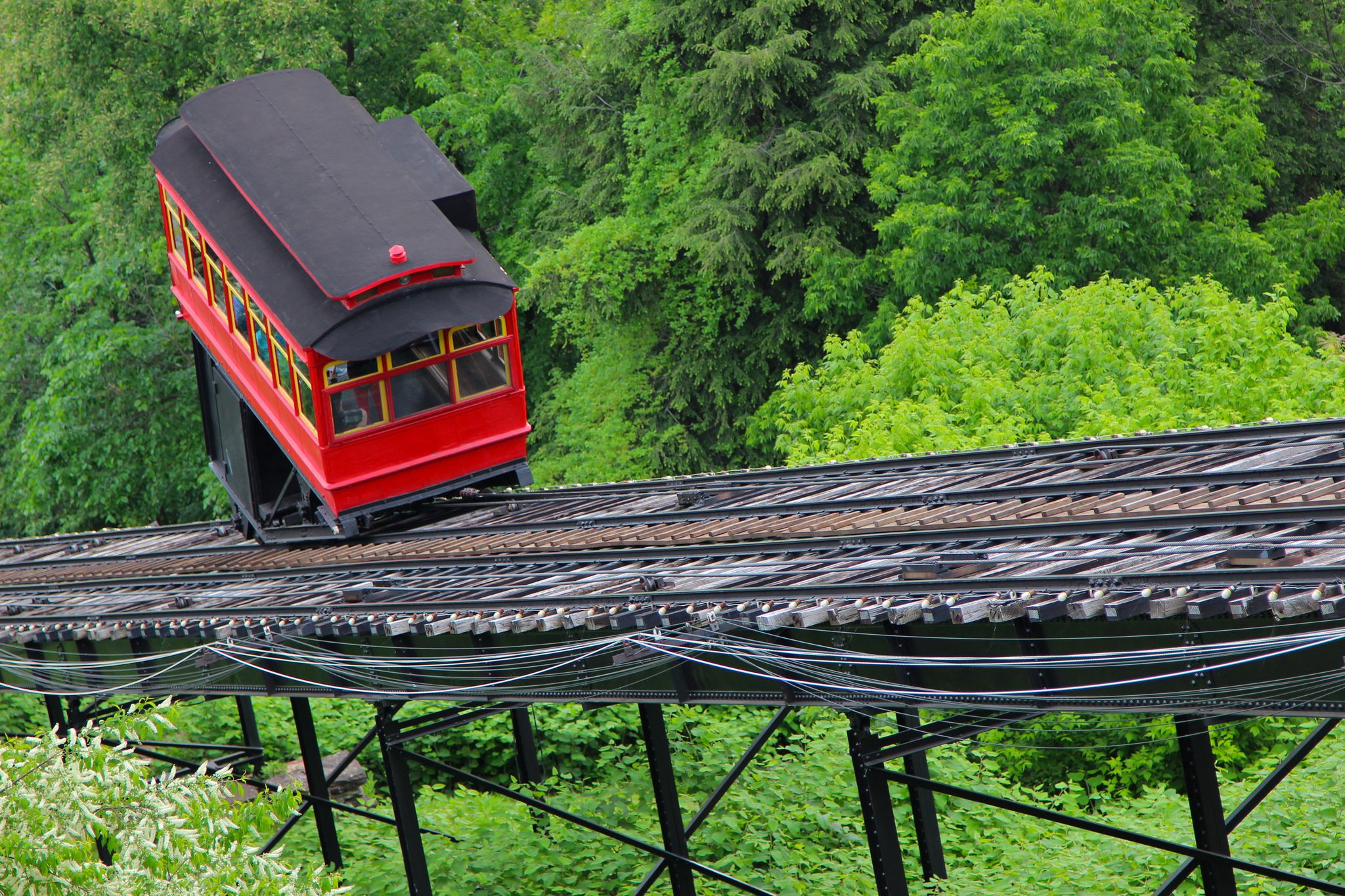 Try not to get vertigo. (Photo: Roy Luck/CC BY 2.0)
Regular trains are okay. But where are the lofty thrills? The really wondrous railways are funiculars: inclined cable railways with weird cars that are slanted, tiered, or supported by a wedge in order to keep you upright while they transport you up steep hills.
All over the globe, there are hundreds of funicular railways carrying people up the slopes and slants of our world, without causing them to so much as spill their drink. Since each one must be built to accommodate its specific bit of challenging geography, no two funiculars are the same, and each one bears its own off-kilter design. Check out 14 of the world's most amazing funiculars below, and if you know of one we forgot, feel free to add it to the Atlas!  
Mülenen, Switzerland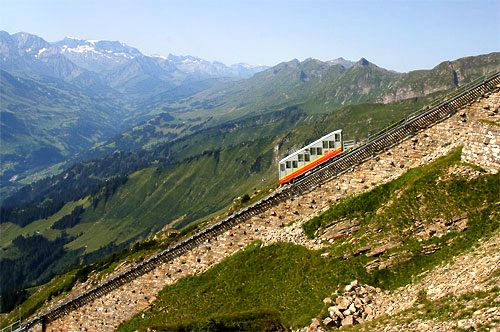 Funiculars are fantastic. (Photo: Roland Zumbühl/CC BY-SA 3.0)
One of the longest and highest funiculars in the world, the Niesenbahn in Switzerland is an engineering marvel. First opened in 1910, this 11,500-foot-long funicular carries riders up over 5,000 feet from start to finish. The historic cars and tracks have been cared for and restored over the years, and the inclined railway continues to carry people up the slope over a century after it started. [Read more]
(Photo: Paebi/CC BY-SA 4.0)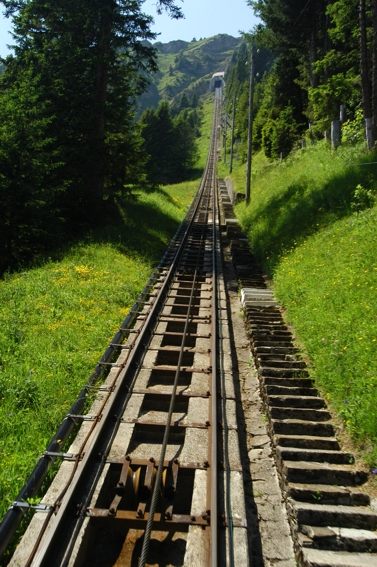 (Photo: Sgruenig/CC BY-SA 3.0)
Paris, France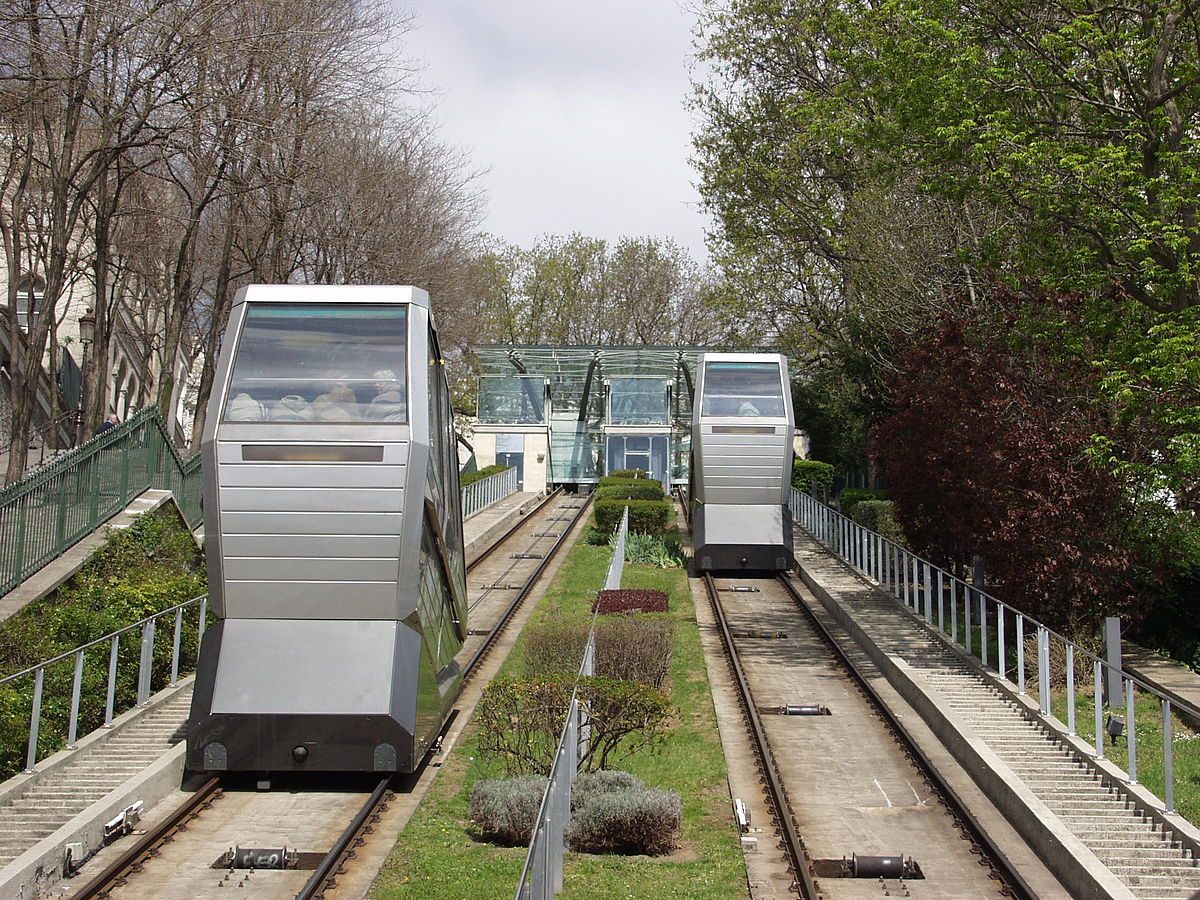 A far cry from the water powered originals. (Photo: Robert Breuer/CC BY-SA 3.0)
The view from the top of Montmartre in Paris has long been described as one of the best in the city, but getting up there has never been elegant work. That's why the Montmartre Funicular was installed in 1900. First powered by a system of water cisterns that filled to drag the cars to the top of the hill, the funicular was eventually upgraded twice and now operated automatically. [Read more]
 
(Photo: Peter Potrowl/CC BY-SA 3.0)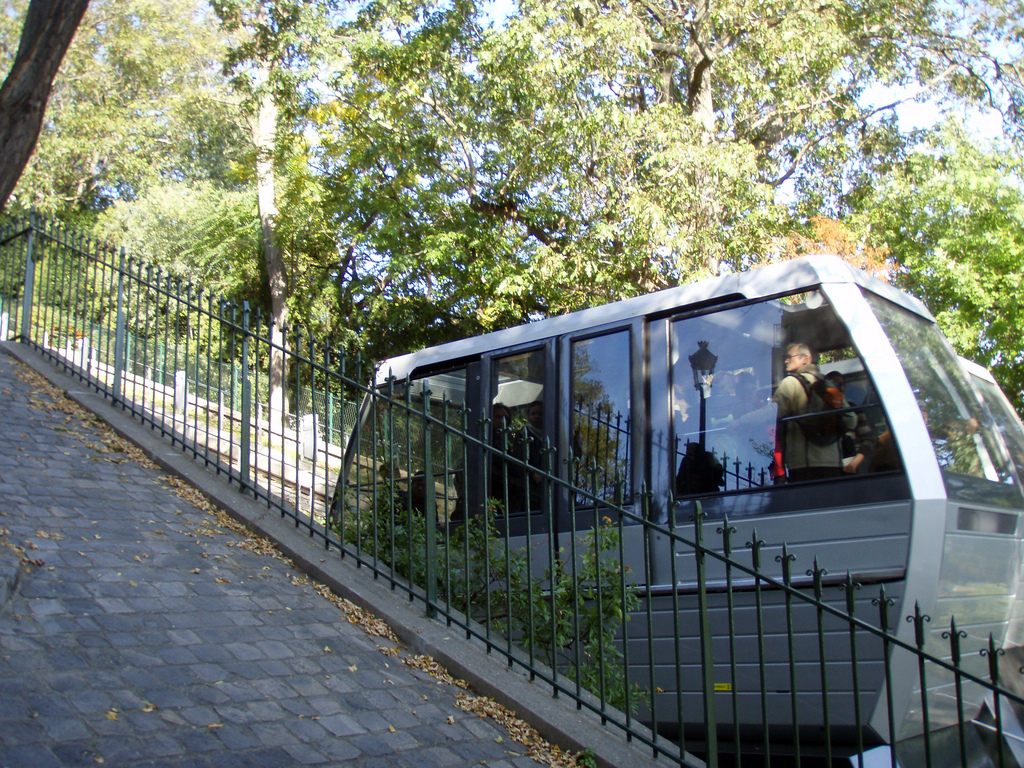 (Photo: Daniel Lobo/CC BY 2.0)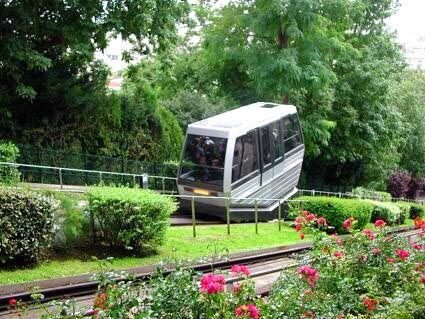 (Photo: budget travel/CC BY-SA 2.0)
Napoli, Italy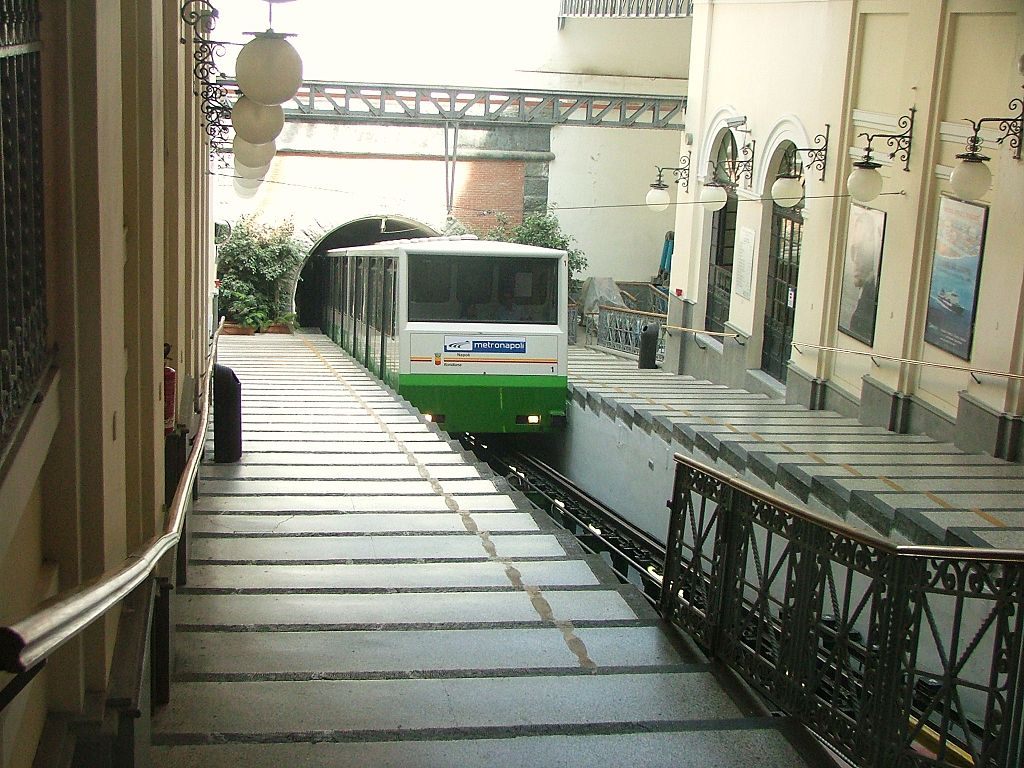 Despite this photo, you might have to fight the crowds. (Photo: MOs810/CC BY-SA 4.0)
One of the busiest funiculars in the world, this Napoli inclined rail is actually the fourth one to be installed in the city. Each year, around 10 million passengers hop on this crooked rail line to travel between the four stations it serves. The whole thing took only two years to build, but has been running consistently since 1928. Not bad for a train that doesn't even stand up straight. [Read more]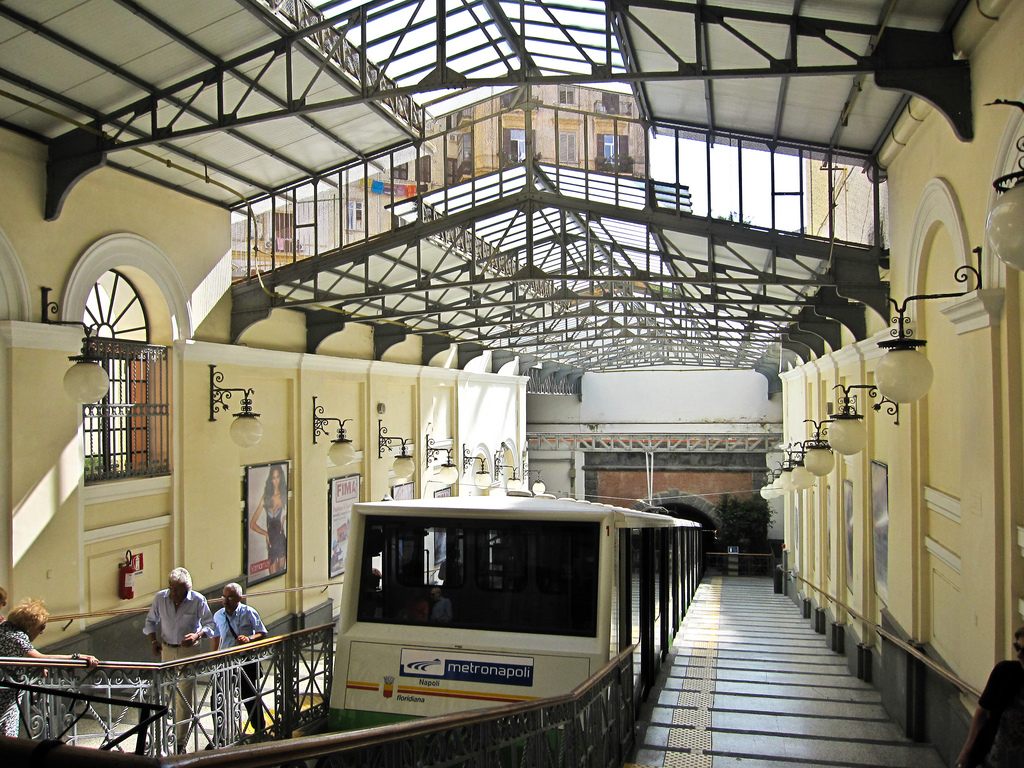 (Photo: Armando Mancini/CC BY-SA 2.0)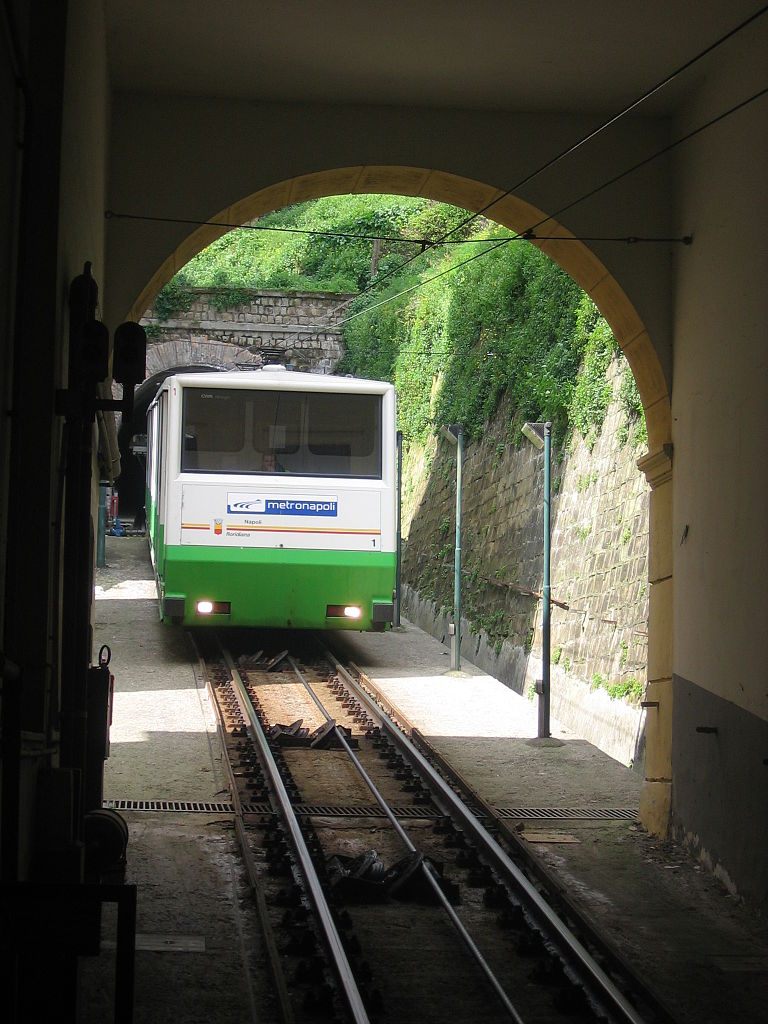 (Photo: Salento81 & Barrosh.m/CC BY-SA 3.0)
Bergen, Norway
The great glass funicular. (Photo: Jacob Bøtter/CC BY 2.0)
Curving up through the verdant hills near Bergen, Norway, the Fløibanen Funicular was built more for sightseeing than practical transport. Originally opened in 1918, the entire system was replaced in 2002, so it now looks like a sleek, modern train line. The sloped cars that make the seven-minute journey to and from the Fløyen peak have walls and ceilings made of glass so that the trip itself is an exploration of the lovely natural surroundings. [Read more]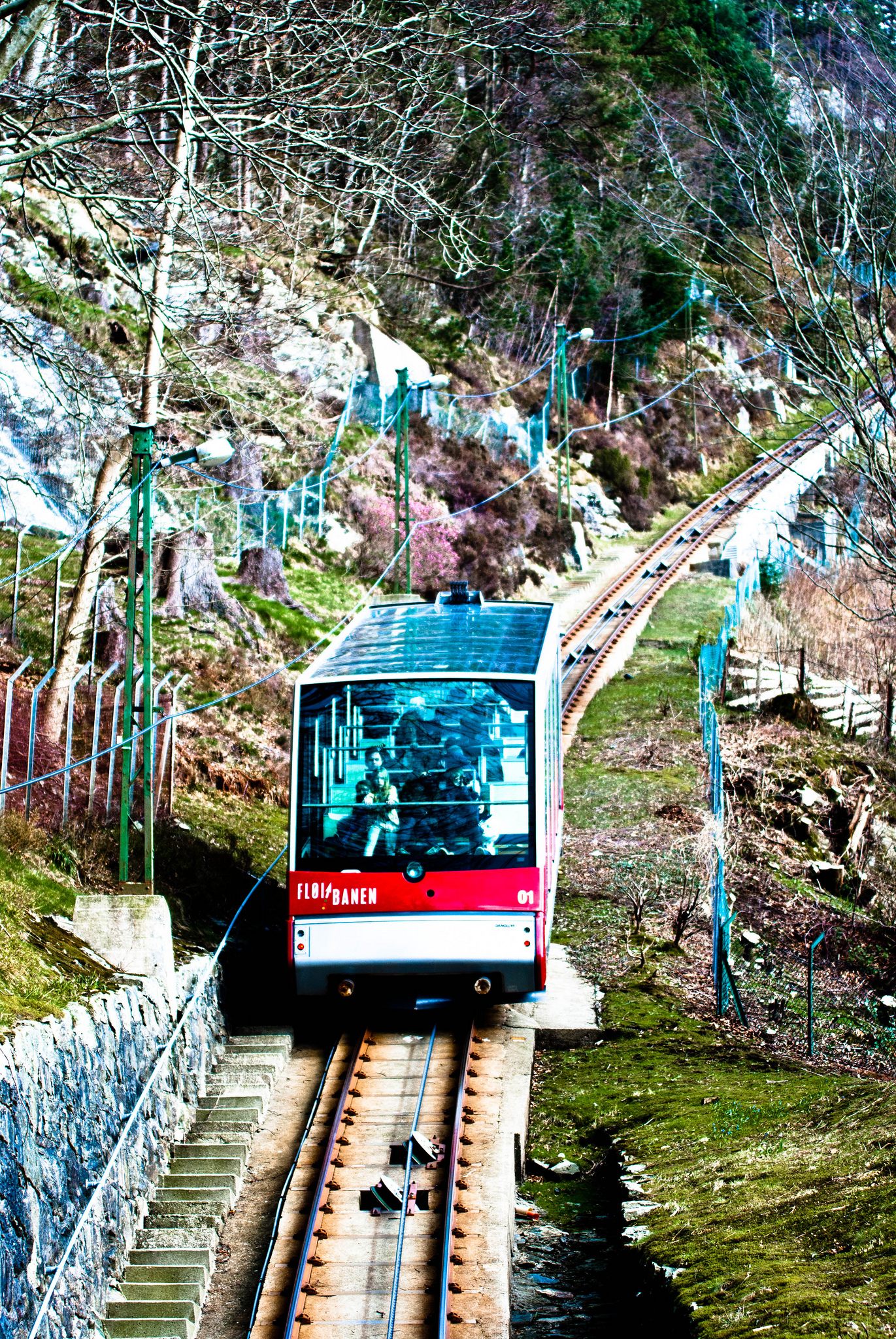 (Photo: bahind/CC BY-SA 2.0)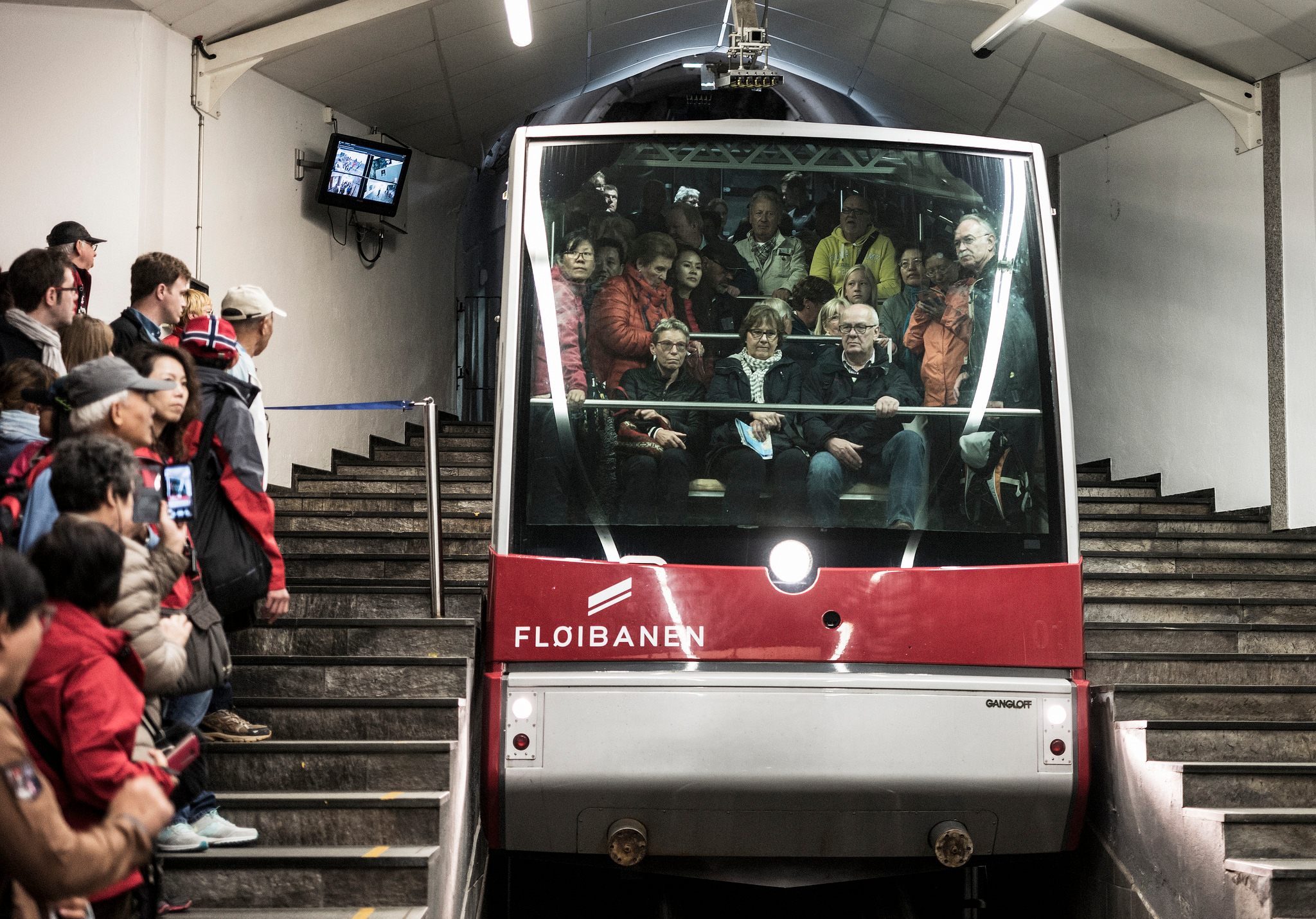 (Photo: Christopher Michel/CC BY 2.0)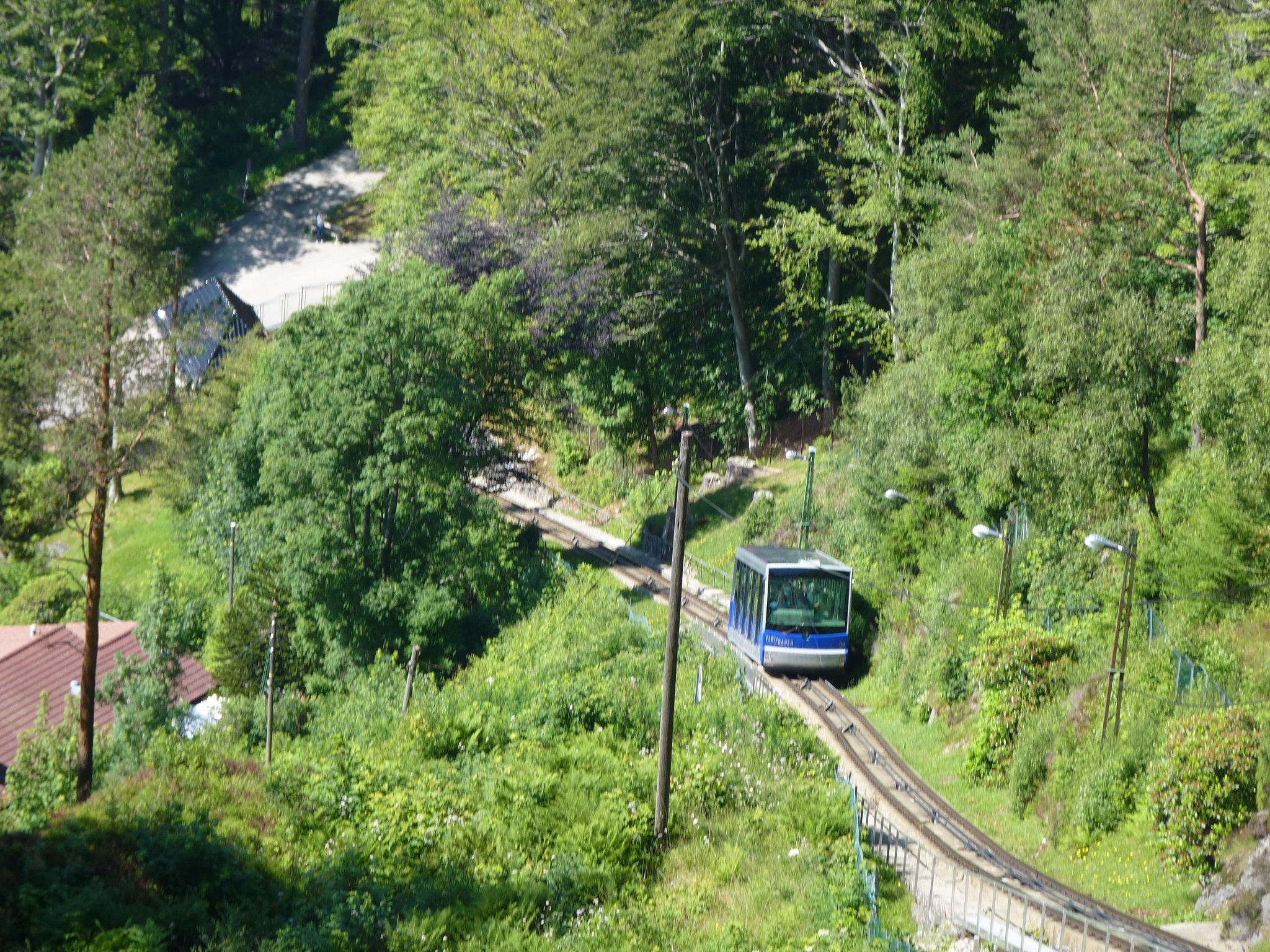 (Photo: Gerben Jacobs/CC BY 2.0)
Haifa, Israel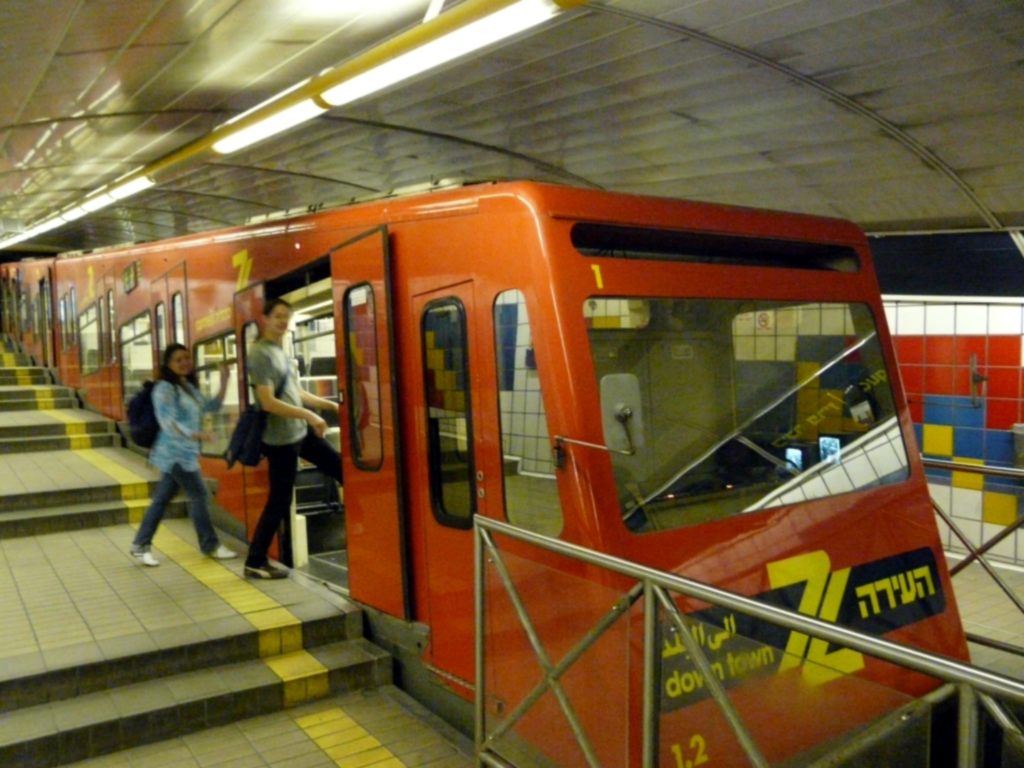 Imagine a subway chase on this stepped train. (Photo: random exposure/CC BY 2.0)
This underground funicular is one of the world's smallest subways. Running between two sweeping staircases, the Carmelit funicular is a municipal transport system that carries slanted cars of riders right to the top of Mount Carmel. The short system (the ride takes all of eight minutes) is not as popular today as it was when it was first opened, but nonetheless, the pair of counter-balanced cars continue to make the trip each day. [Read more]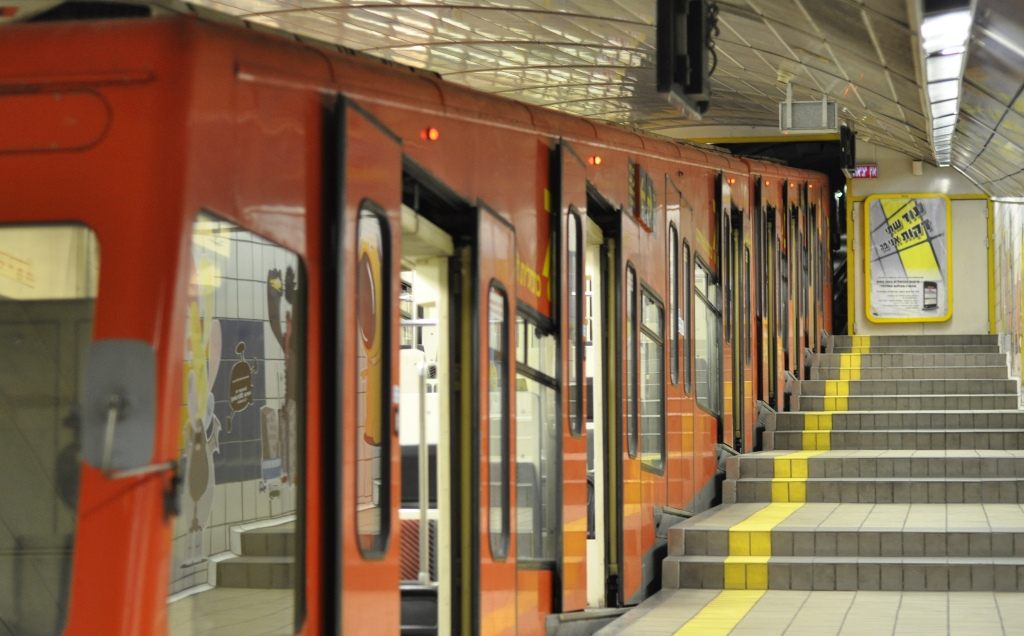 (Photo: generalising/CC BY-SA 2.0)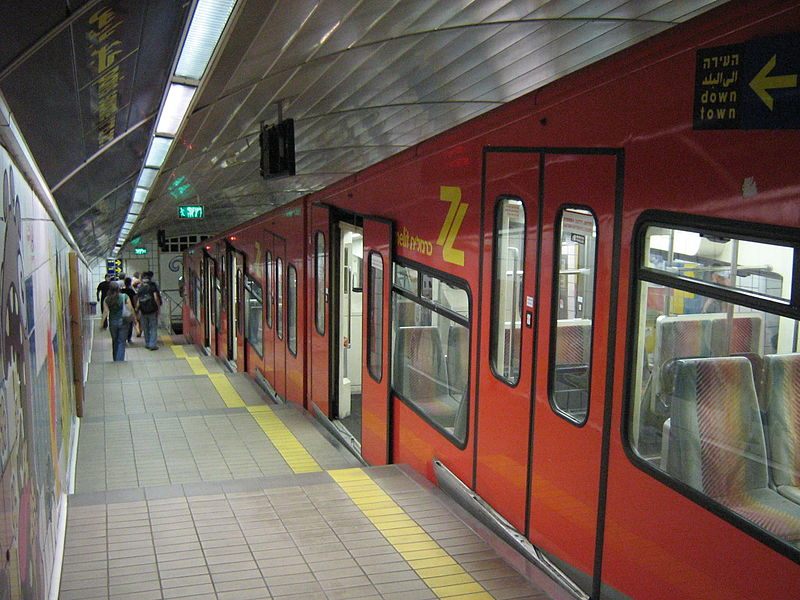 (Photo: Manuel Schneider/CC BY 3.0)
Johnstown, Pennsylvania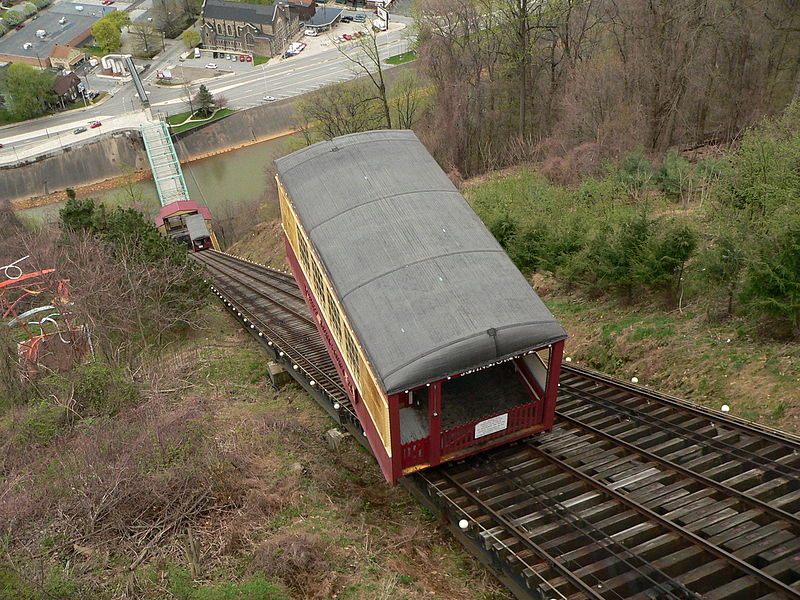 It looks like it's popping a wheelie. (Photo: Greg Hume/CC BY-SA 2.5)
Built in the late 1800s, the Johnstown Inclined Plane wasn't created as a public or tourist transport, but as an emergency service. After the Johnstown Flood of 1889, a system to get people to higher ground quickly was devised, and this historic funicular was the result. It was used to save flood victims in the 1930s and the 1970s, but now mainly operates as a tourist attraction. It has also been deemed the world's steepest vehicular inclined plane by the Guinness Book of World Records. [Read more]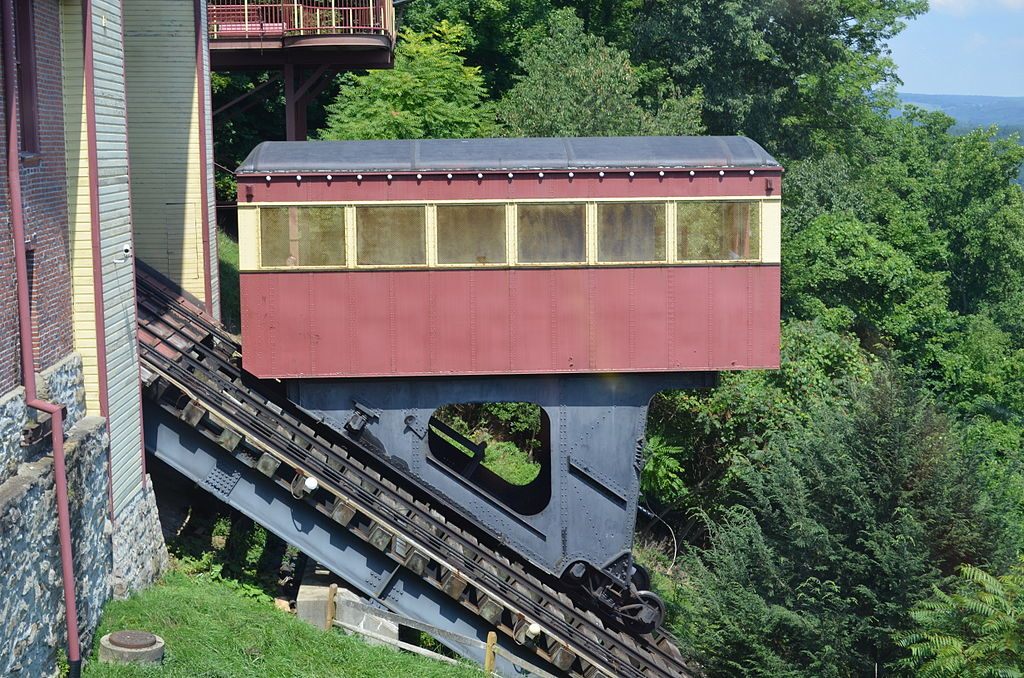 (Photo: Niagara/CC BY-SA 3.0)
(Photo: Ron Shawley/CC BY 3.0)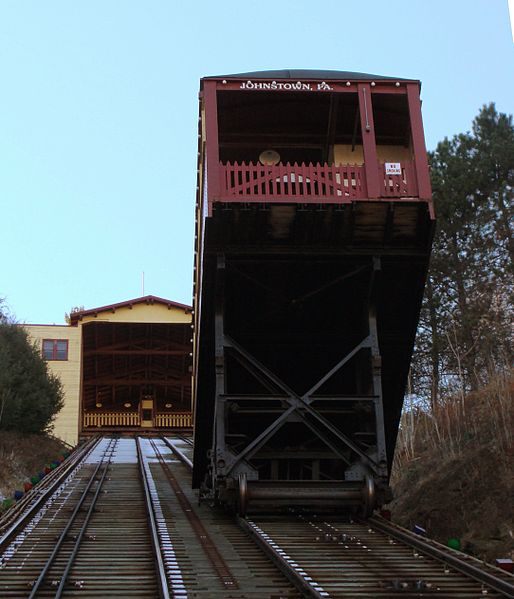 (Photo: Niagara/CC BY-SA 3.0)
Los Angeles, California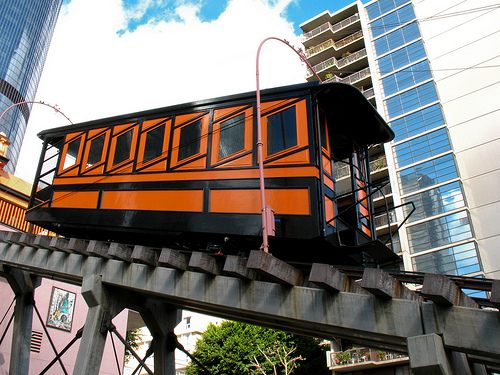 Funicular to the stars. (Photo: Alossix/CC BY 3.0)
Nobody walks in L.A., especially not up steep Bunker Hill. Instead they take the Angel's Flight funicular. Or at least they used to. The short little trolley system was first opened in 1901, providing the people of the City of Angels an easier way to the top of Bunker Hill. Unfortunately, in recent years, the funicular has been shut down due to safety and regulatory issues, as well as funding concerns. It is unclear when or if it will reopen, but until then the track provides fond funicular memories. [Read more]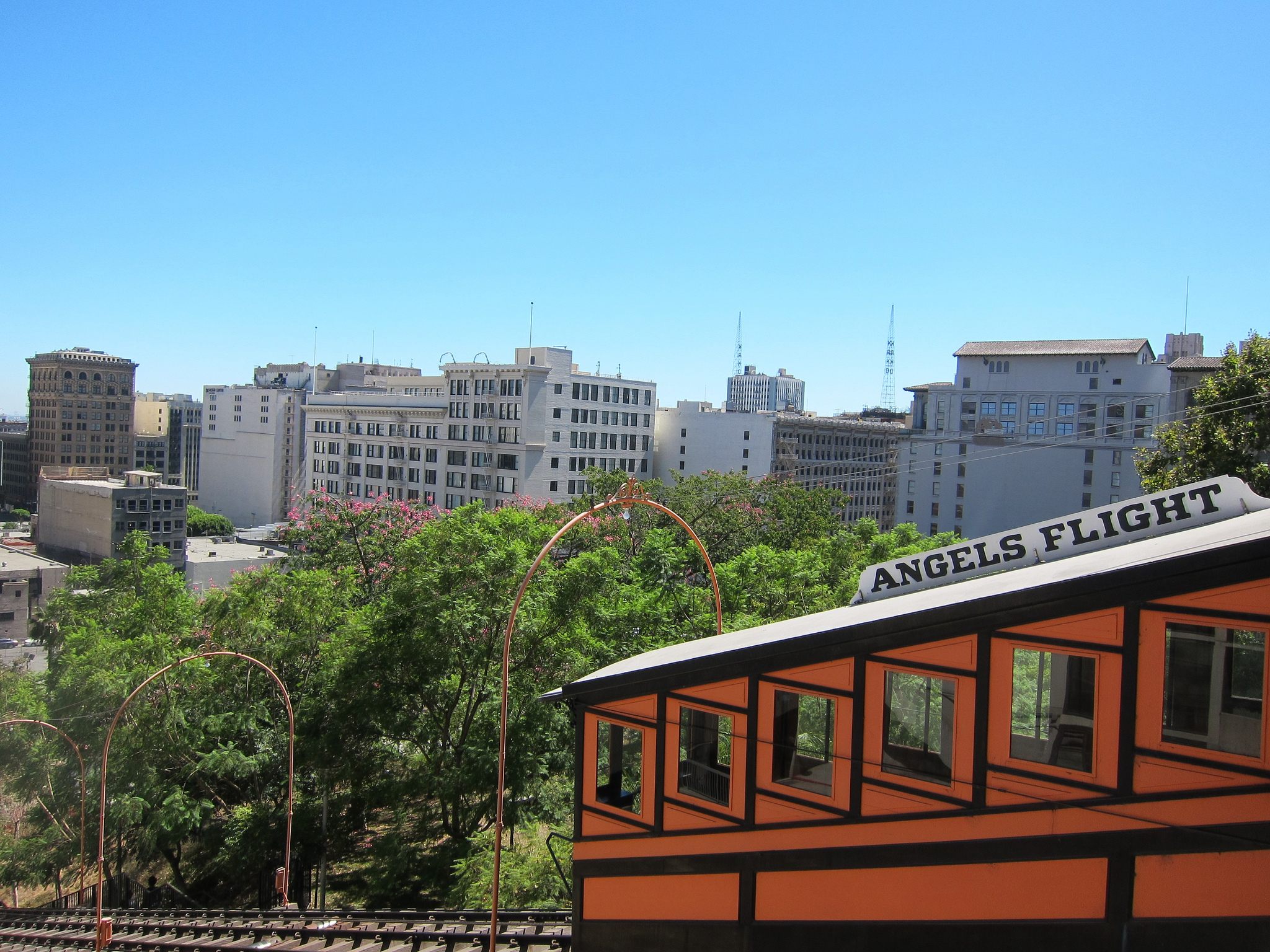 (Photo: Bell and Jeff/CC BY 2.0)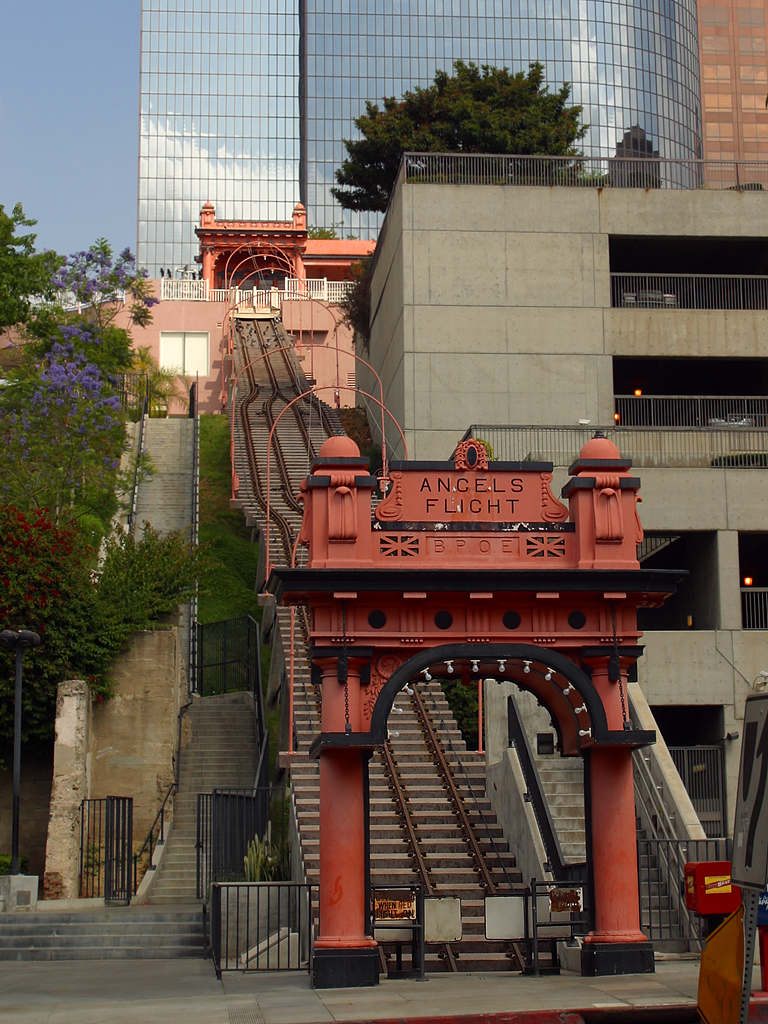 (Photo: PD Photo.org/Public Domain) 
Pittsburgh, Pennsylvania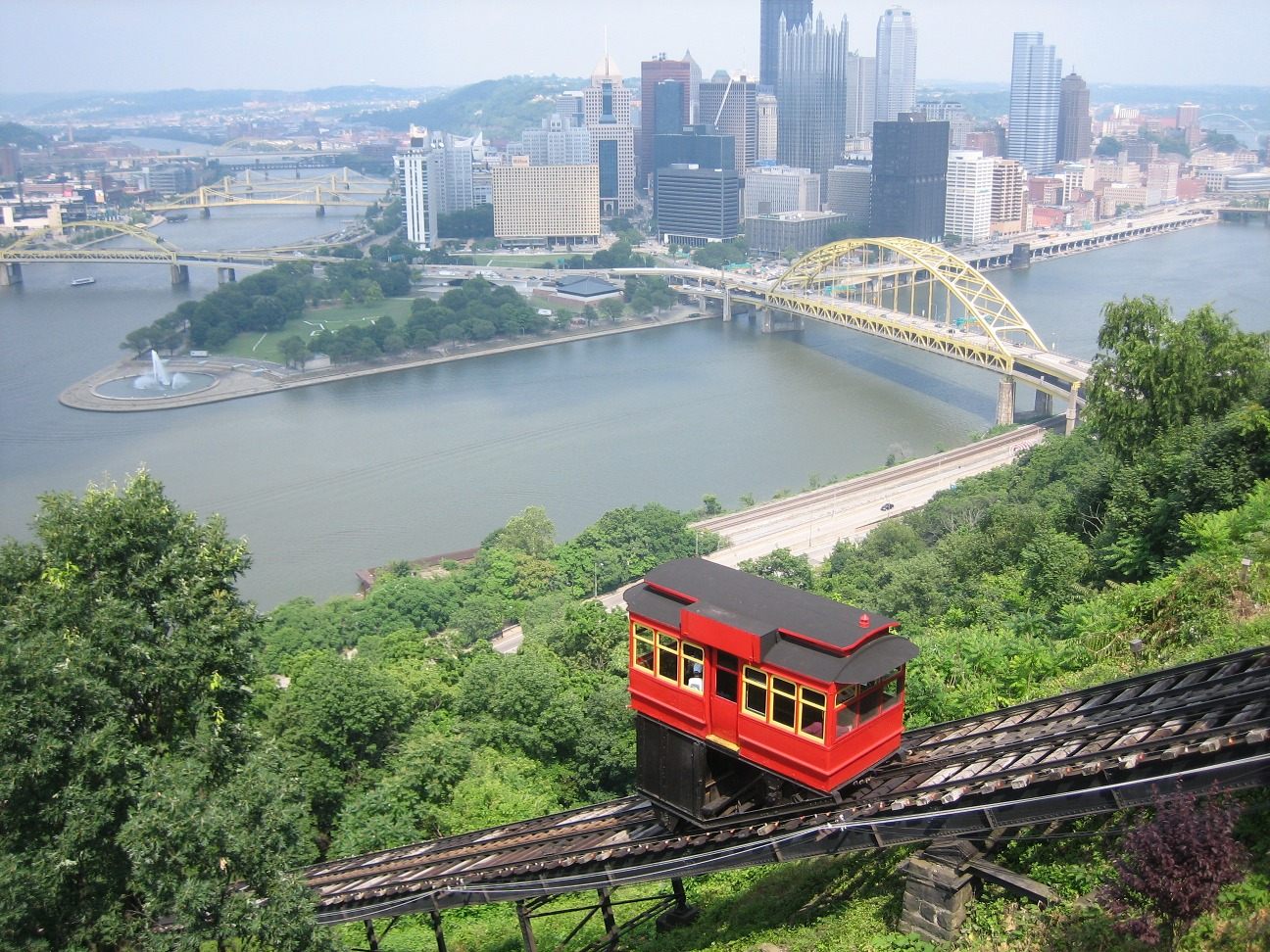 That's no model railroad. (Photo: Plastikspork/CC BY-SA 3.0)
Another Pittsburgh funicular, the Duquesne Incline is a quaint little tram that looks almost like it's part of a weirdly specific model railroad. The tracks were originally built to carry cargo up and down Mount Washington, but were later converted to allow for funicular passenger transport. The Incline closed in the 1960s, but has since been completely refurbished, and operates today as one of the city's most popular tourist attractions. [Read more]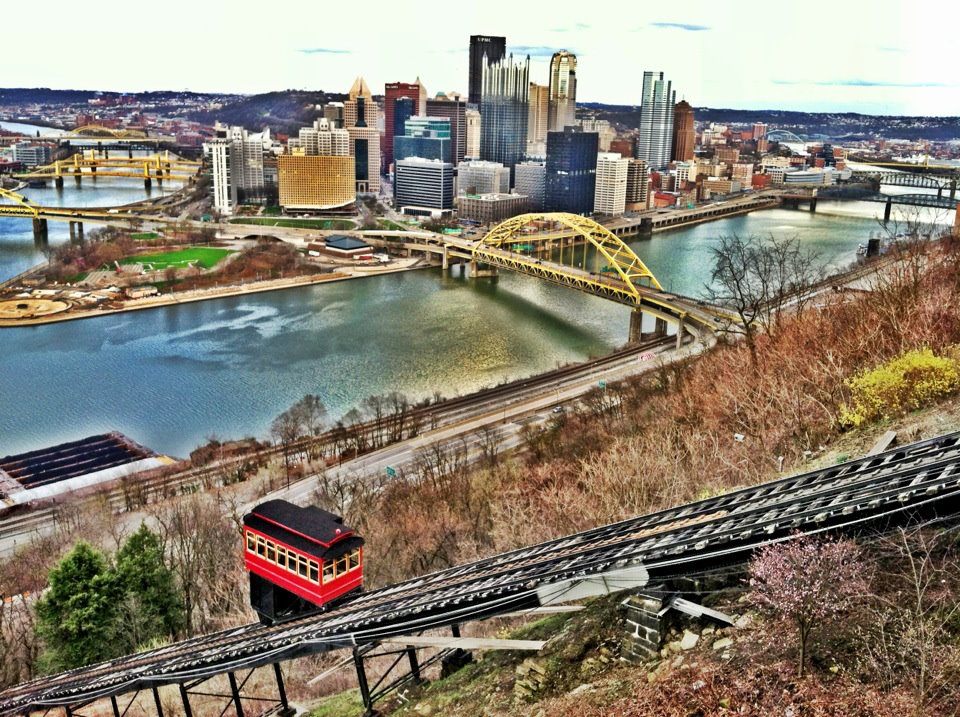 (Photo: Preisendanz/Public Domain)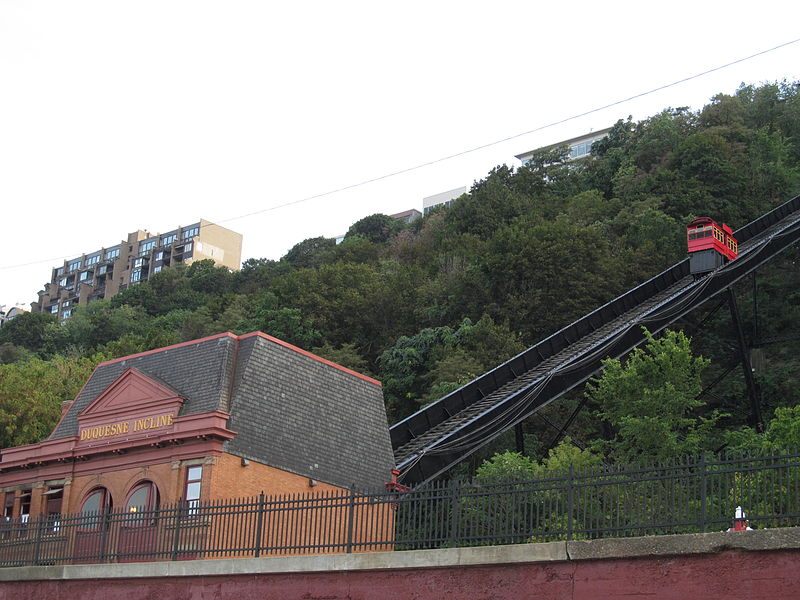 (Photo: Doug Kerr/CC BY-SA 2.0)
Pittsburgh, Pennsylvania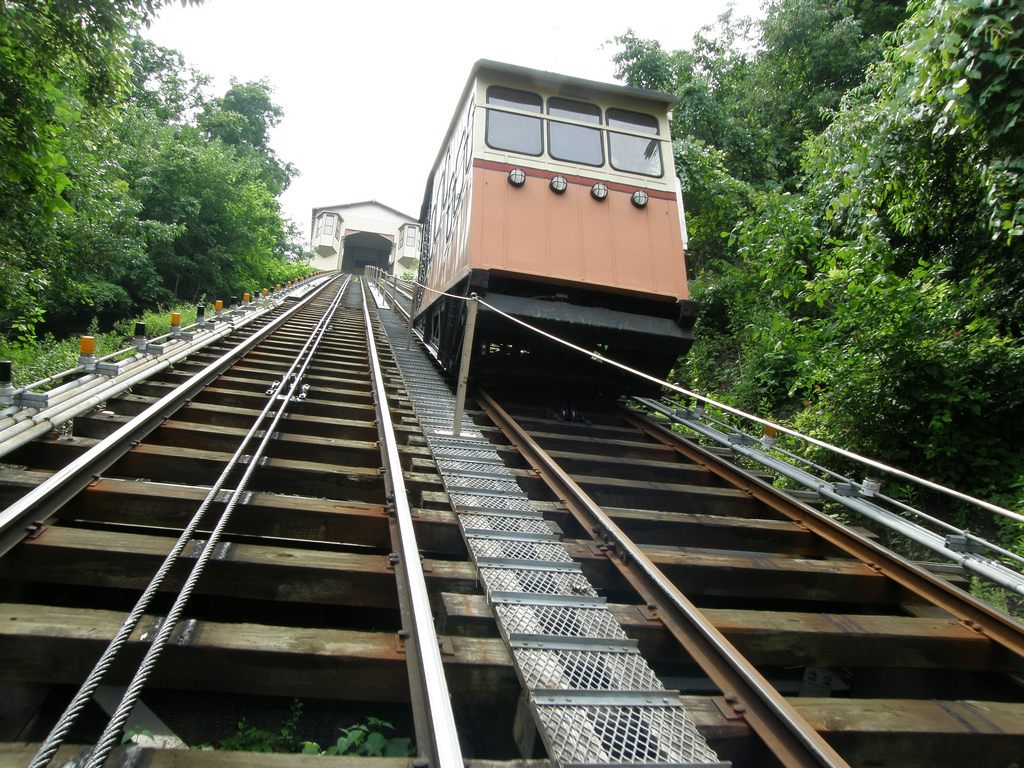 It may be old, but this funicular is far from retired. (Photo: Dan4th Nicholas/CC BY 2.0)
Operating just around a mile away from the Duquesne Incline, Pittsburgh's Monongahela Incline is America's oldest continuously running funicular. The little hut-shaped cars have been creeping up and down its hillside pretty much non-stop since 1870. Originally it was put in place to transport German coal workers, but today it operates as a popular tourist ride. [Read more]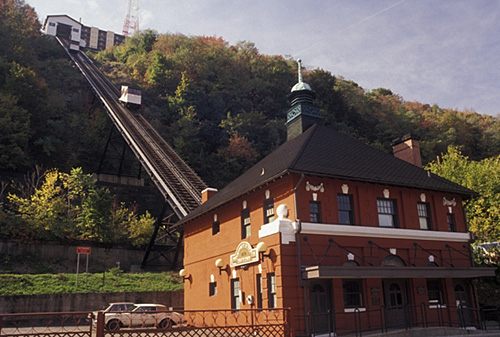 (Photo: Mark Goebel/CC BY 2.0)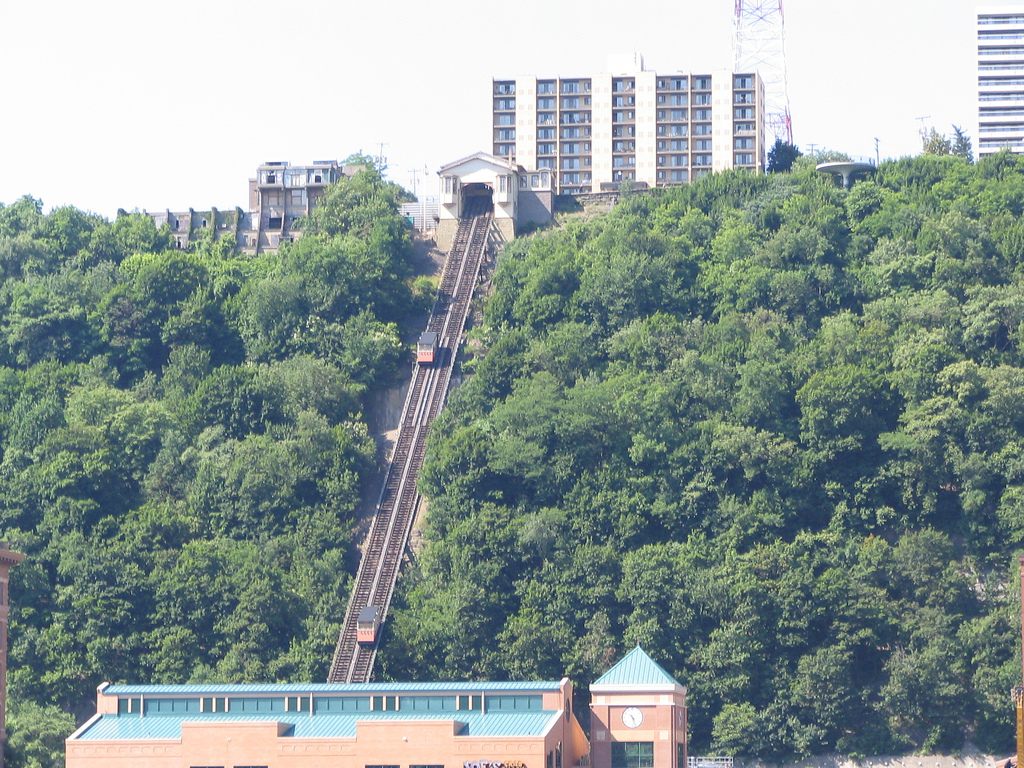 (Photo: Brent Moore/CC BY 2.0)
Dubuque, Iowa
Look at how cute those cars are! (Photo: Teemu008/CC BY-SA 2.0)

While it is not the grandest funicular in the world, the Fenelon Hill funicular is a quaint little rail system that is just as cute as a button. Originally built to carry a wealthy local businessman to his home on top of the hill, the rail line was eventually opened to the public at five cents a ride. Today it continues to carry people up the steep local slope for a small fee. [Read more]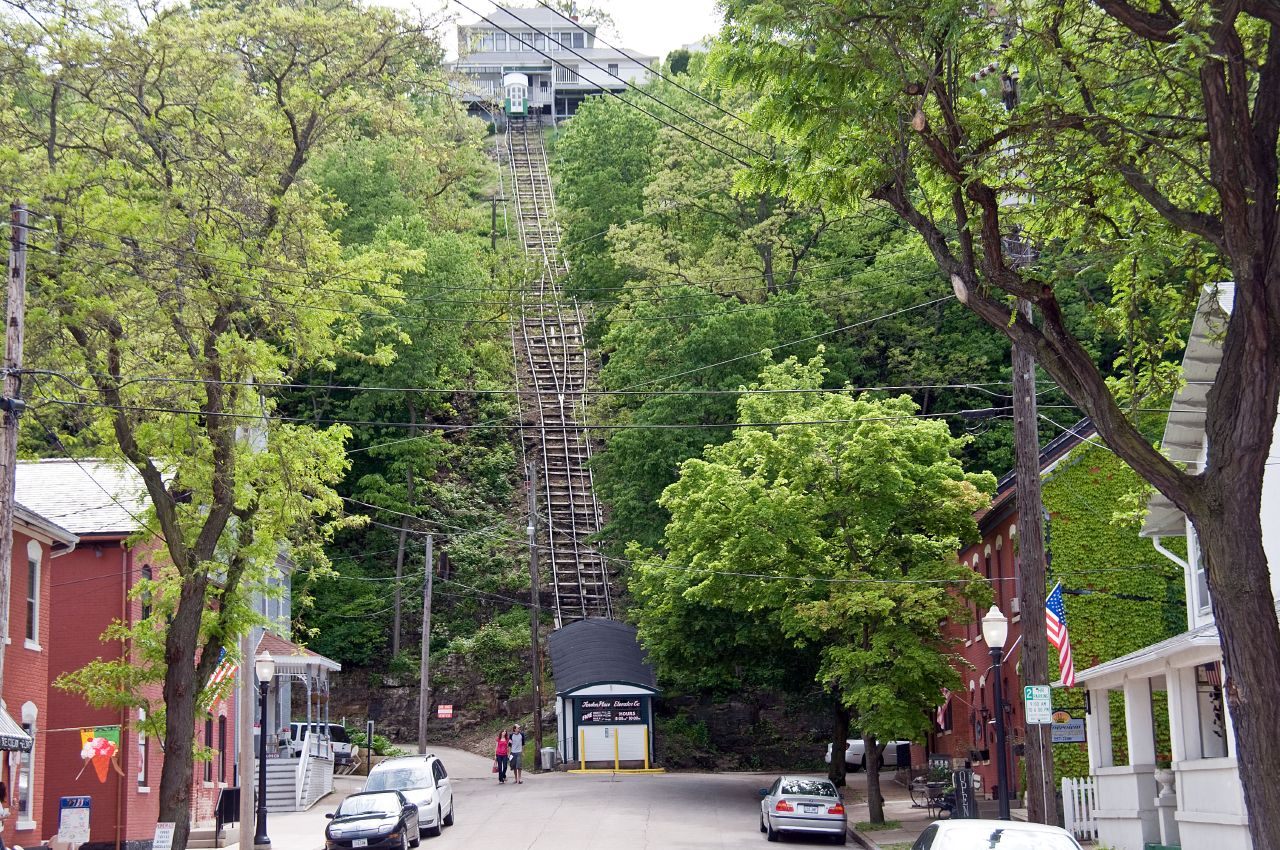 (Photo: Dirk/CC BY 2.0)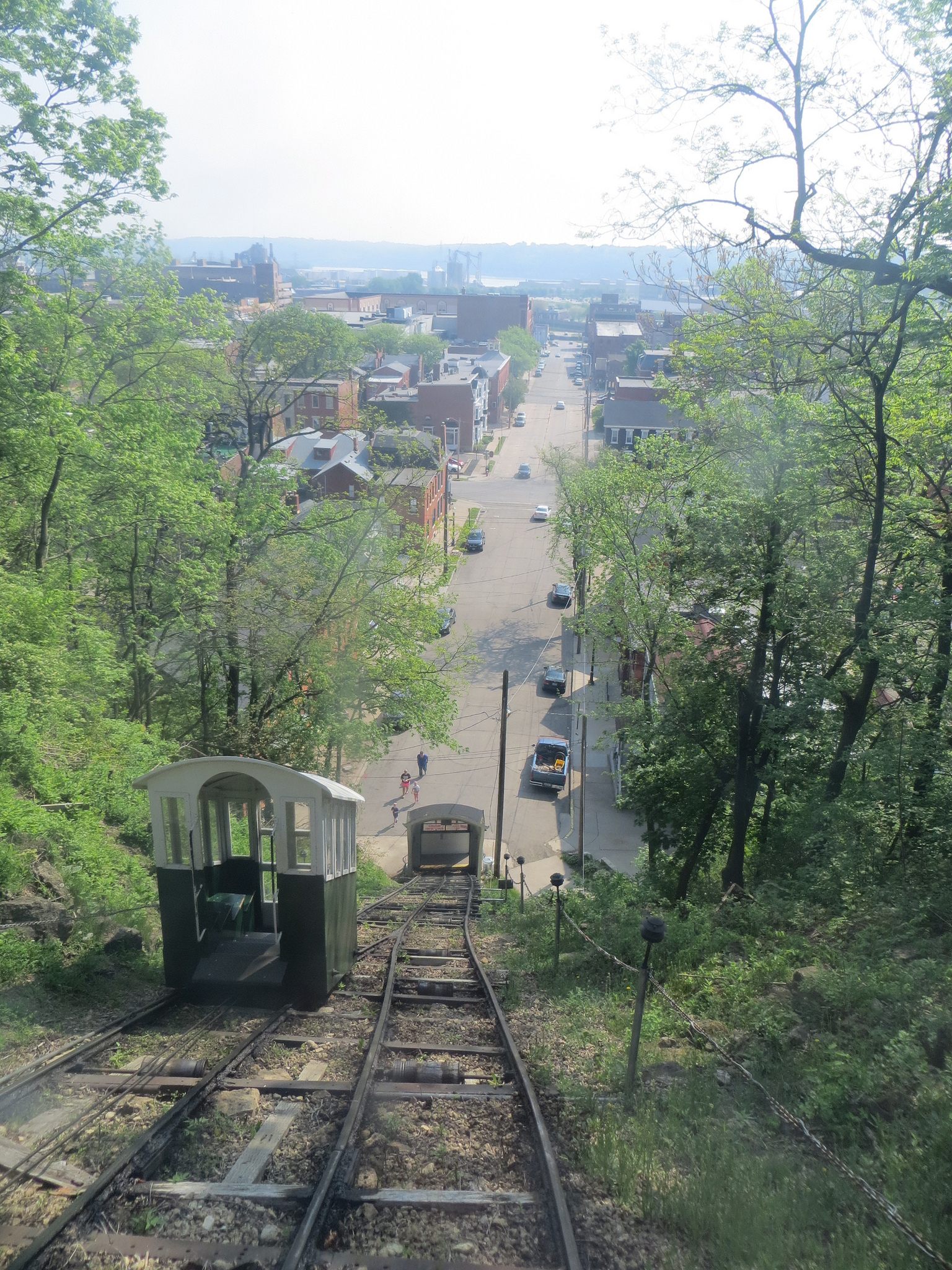 (Photo: David Wilson/CC BY 2.0)
Wiesbaden, Germany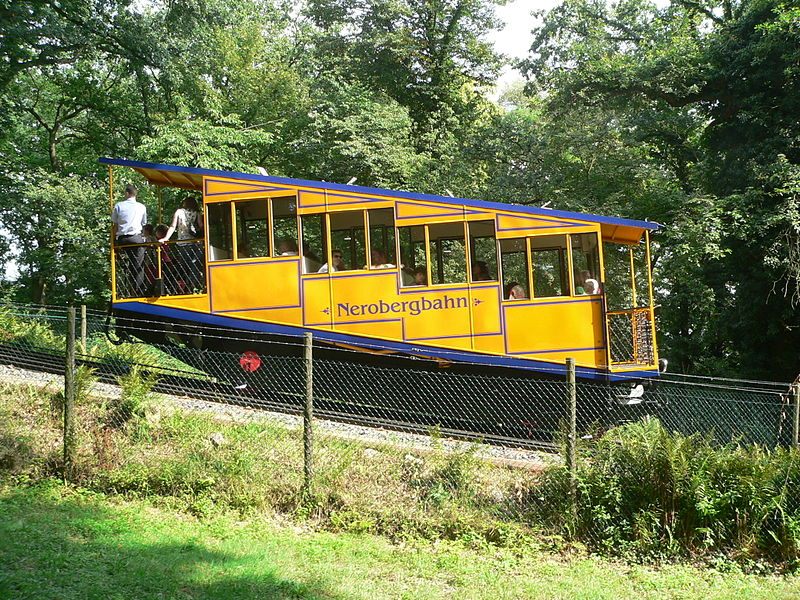 Powered by water, not steam. (Photo: JuergenG/CC BY-SA 3.0)
This German funicular only operates in the summer months for one simple reason: it is one of the few remaining funiculars in the world to continue to operate under water power. The cars are dragged up the hill by a large basin that fills with water and pulls the cars up the hill using gravity. During the winter months, there is a danger of freezing, so the short line is closed for the season. [Read more]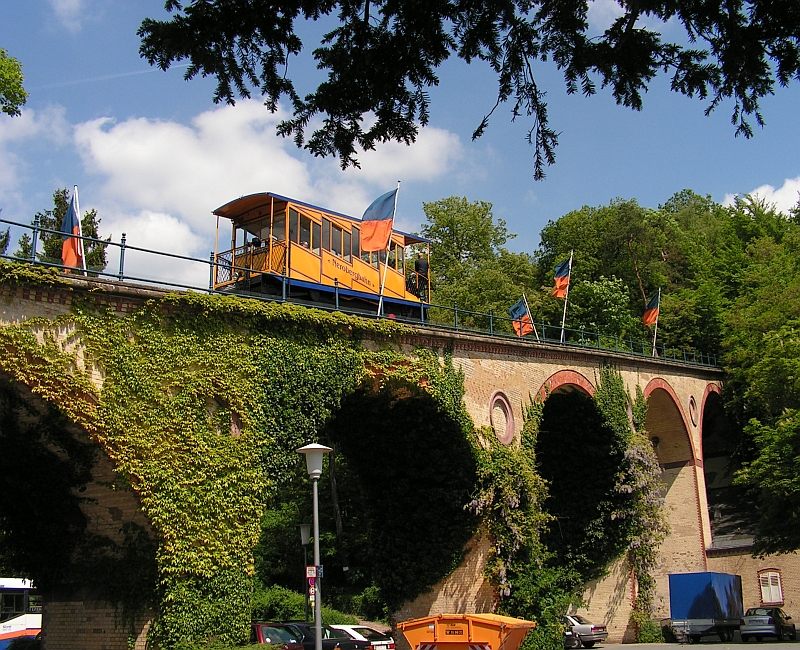 (Photo: Wolfgang Pehlemann/CC BY-SA 3.0 DE)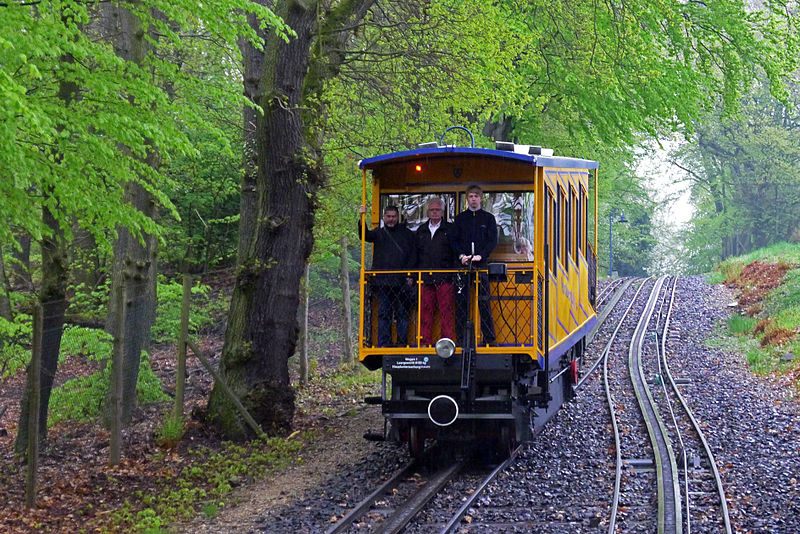 (Photo: James Steakley/CC BY-SA 3.0)
Lookout Mountain, Tennessee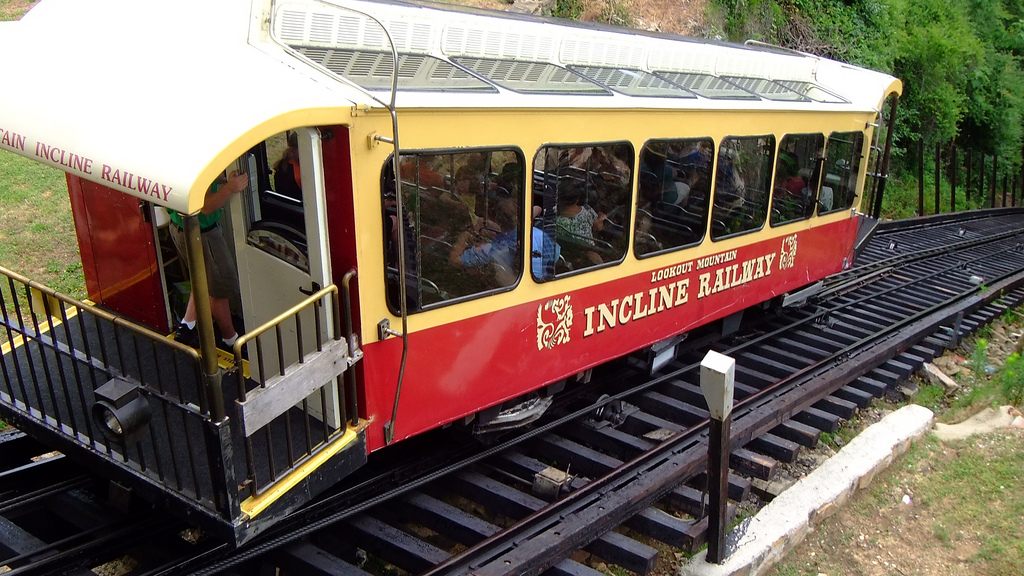 You no longer have to battle to get to the top of this Tennessee hill. (Photo: Patrick Chan/CC BY-SA 2.0)
This slanted railway runs up the steep side of Tennessee's Lookout Mountain, the site of the Civil War's "Battle Above The Clouds." Running nearly a mile in length, up some truly steep grades, the two-lane train is now frequented by locals, tourists, and Civil War buffs alike. [Read more]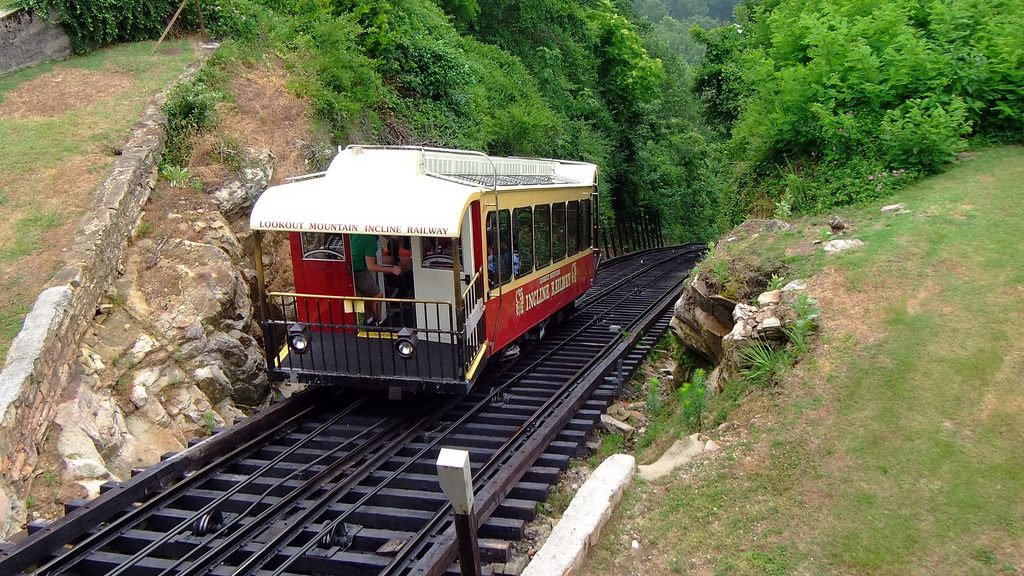 (Photo: Patrick Chan/CC BY-SA 2.0)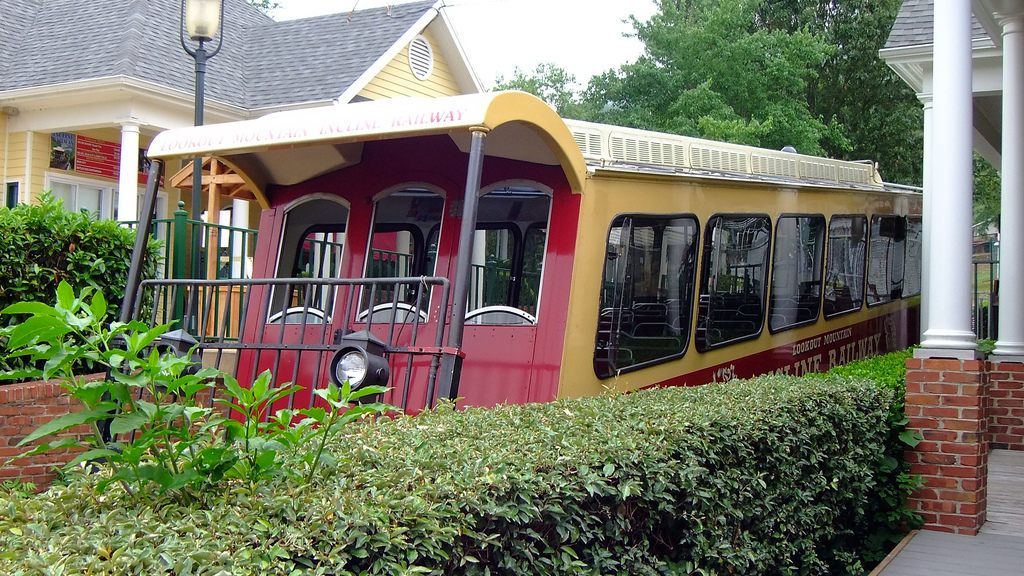 (Photo: Patrick Chan/CC BY-SA 2.0)
Stockholm, Sweden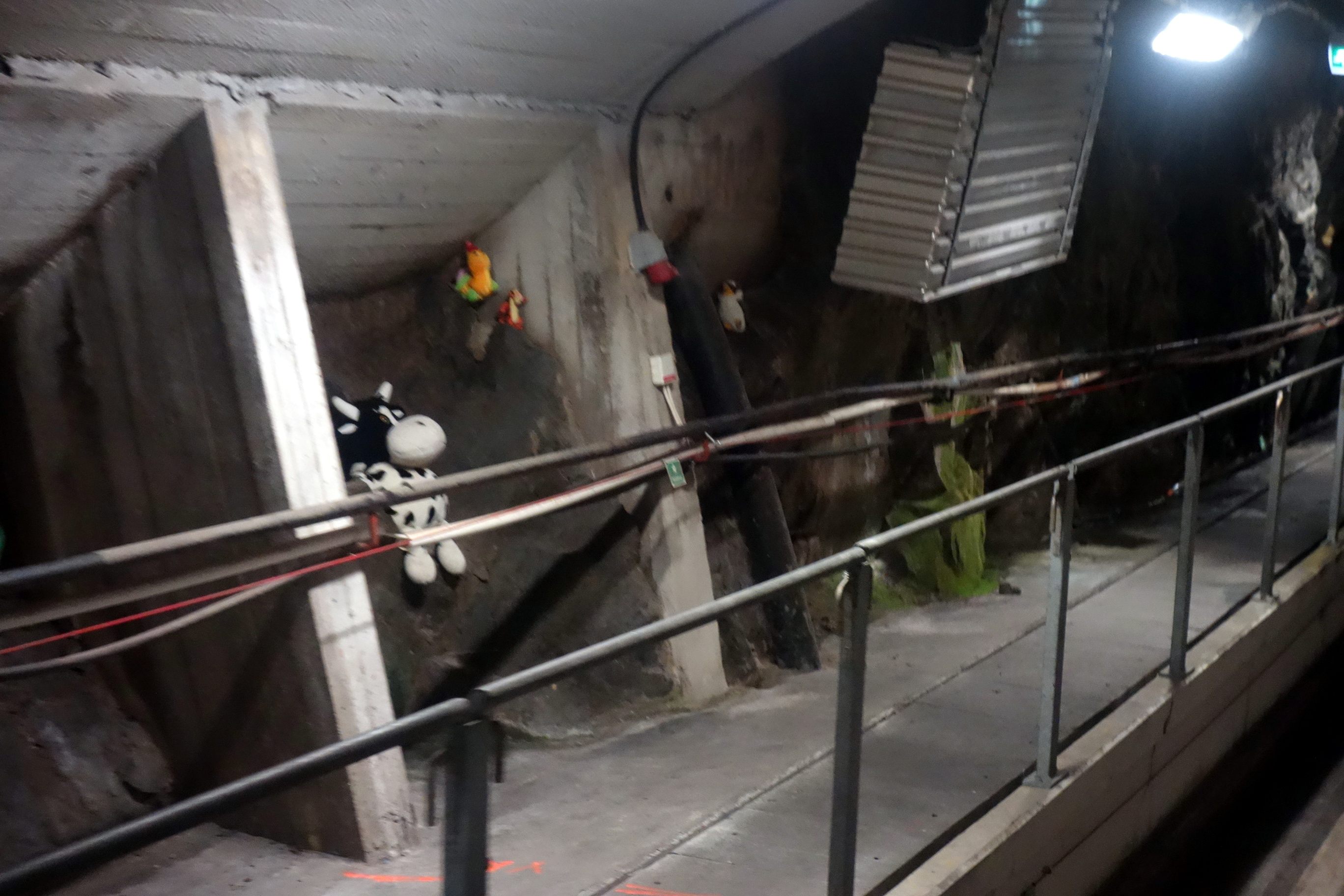 The tunnel of lost toys. (Photo: hrnick/Atlas Obscura)
While Stockholm's Nybohov funicular stop is not necessarily anything to crow about, over the past few years, some person or persons have been depositing old stuffed toys along the inner tunnel of the underground funicular. And they've become a hit! The funicular line has been in operation since 1964, but the toys didn't show up until the 2010s. When the city tried to remove them, stating that they were a fire hazard, the locals who rode the line protested, and the toys were allowed to stay. [Read more]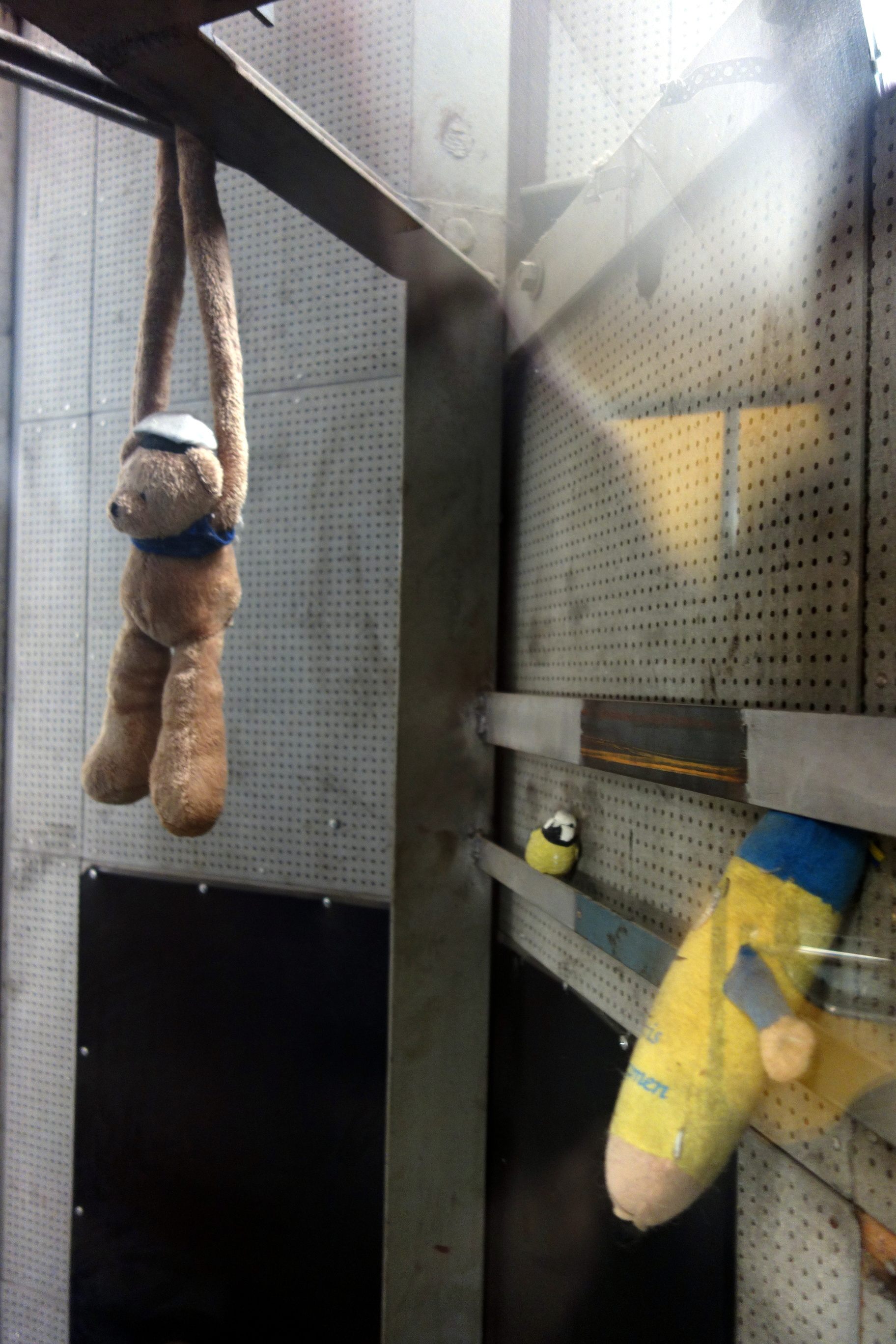 (Photo: hrnick/Atlas Obscura)
Valparaiso, Chile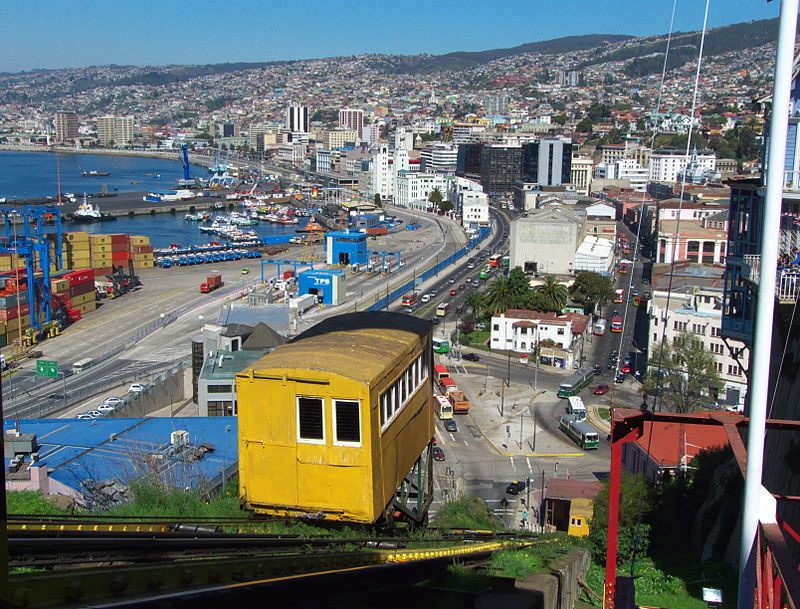 (Photo: Javier Rubilar/CC BY-SA 2.0)
Since 1911, the citizens of Valparaiso, Chile have had help navigating their steep streets—built right on a hillside—by an increasingly rickety system of simple funiculars. Looking like repurposed boxcars, the city's funiculars were once much more ubiquitous, but now only 14 of the contraptions remain in operation to get people up the steep streets. Although they have lost none of their charm. [Read more]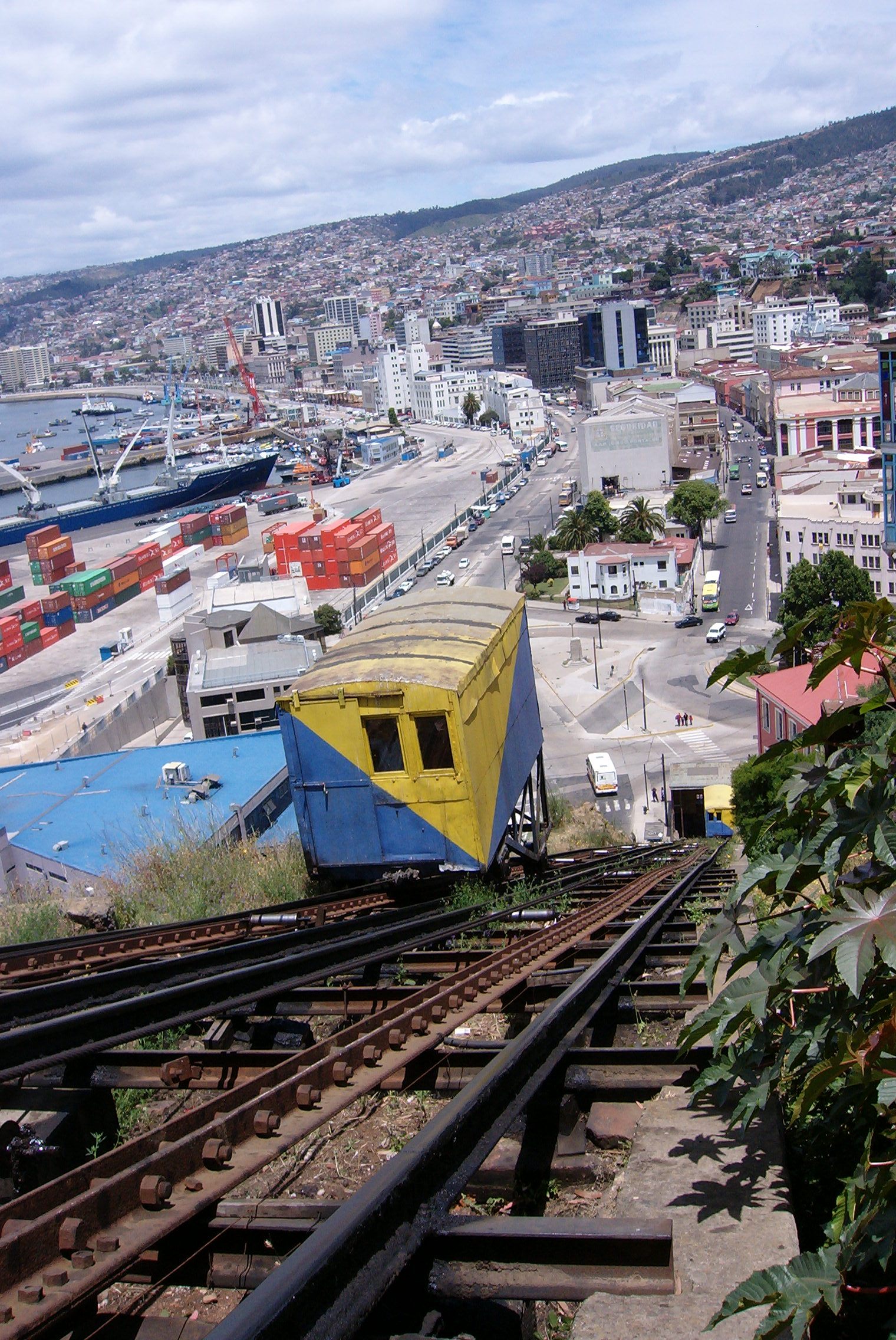 (Photo: Steffen Sauder/CC BY-SA 3.0)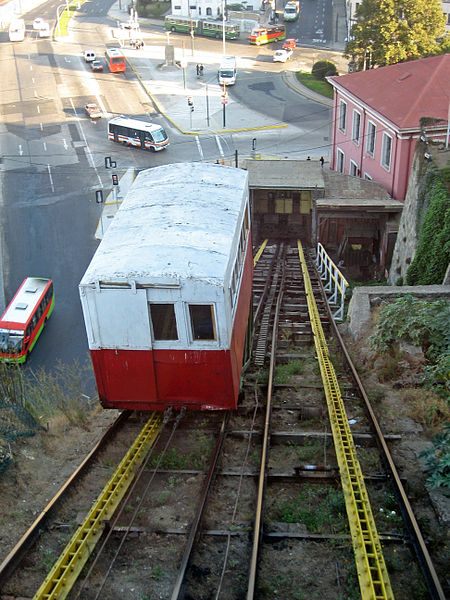 (Photo: Colin W/CC BY-SA 3.0)
Correction: In a previous version of this article, funiculars were incorrectly referred to as locomotives. This has been changed to reflect that they are not, in fact, locomotives.