Meet the College Student With 6,000 Takeout Menus
He's not quite sure what to do with them.
When Noah Sheidlower was 12 years old, his father handed him a menu from an empanada restaurant in Queens, New York, and told him to keep it in a safe place.
Sheidlower, now a rising sophomore at Columbia University, still has that menu, and approximately 5,999 more along with it. Over Zoom, he waves a hand to show me menus heaped into plastic crates and piles in his parents' house in Long Island, where he has lived since early March due to COVID-19. Before that, he had spent much of his free time ducking into restaurants around the Northeast to collect their takeout menus.
His unusual collection fits in among his family's taste for the antique and the ephemeral. His grandmother has a passion for antiques, while his father owns a "ridiculously large" collection of baseball schedules. "I really didn't know what I was getting myself into," Sheidlower says.
But that one menu turned out to be momentous. Sheidlower became aware of what he calls "the food landscape," and growing up near Queens gave him access to the borough's vibrant culinary scene. A diet of Yelp reviews, takeout food, and Gordon Ramsay shows fed Sheidlower's interest in menus.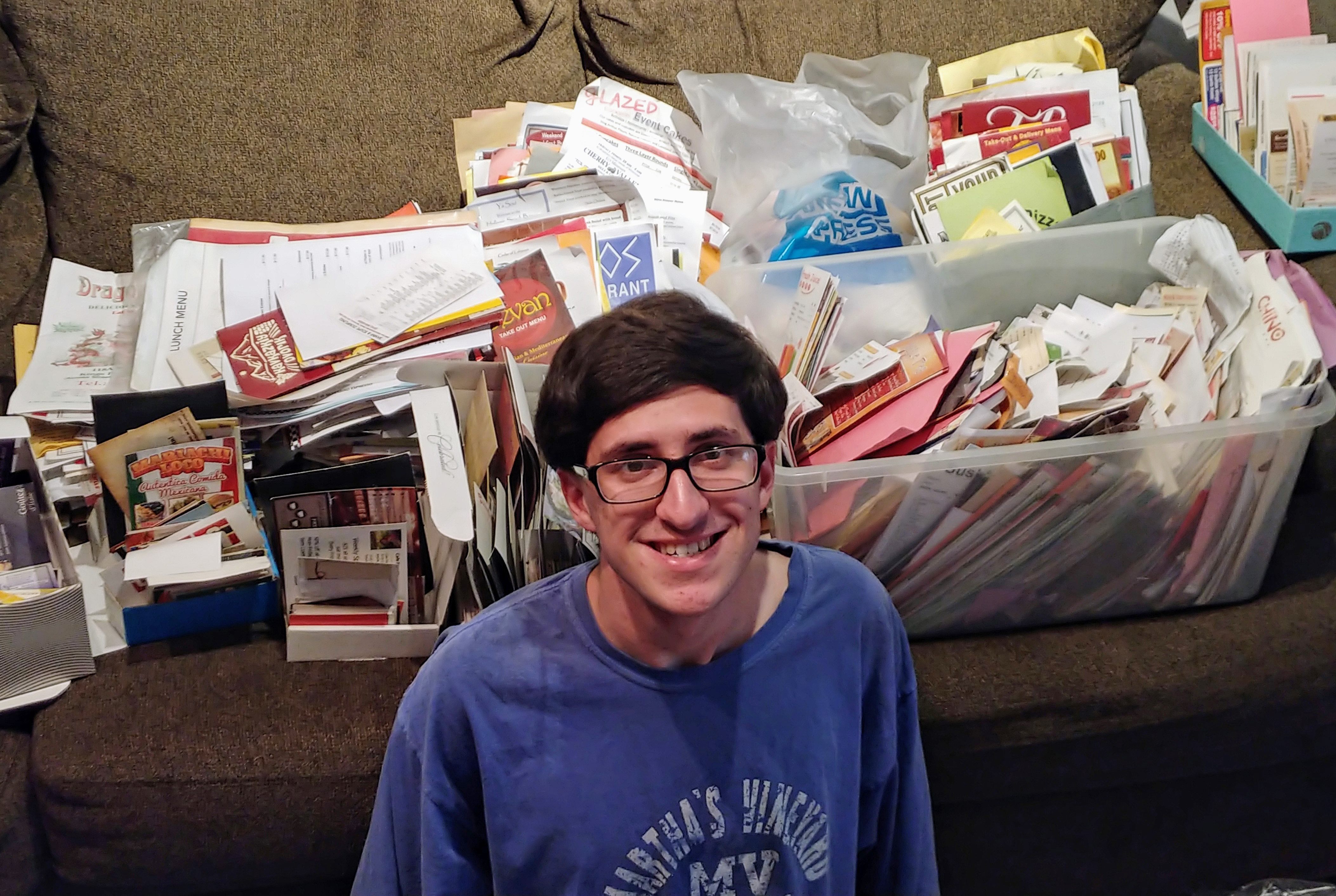 "I was a very early Yelper," Sheidlower says. There's the old joke along the lines of "On the internet, nobody knows you're a dog." No one knew Sheildlower was a young teenager either. "I was invited to all these 18+ events as a 14 year old behind my computer," he recalls. "And my parents are like, 'Don't go to that.'"
Fascinated by food trends and the sheer variety of restaurants around him, he would pick a neighborhood and canvas its eateries. Nearly every weekend during his high-school years, Sheidlower searched out menus. "Queens has at least 80 to 90 different countries represented in its food," he explains. He even published a food guide to Queens, and he continues to collect menus as a college student, albeit at a more sedate pace. On family trips across the Northeast and into Canada, he collects menus to spy out local specialties and compare similar dishes across different regions.
Some regions and cuisines in his collection are more prominent than others. Rest stops are a great source for takeout menus, since local businesses stock them to lure tourists. "And that's why I have every menu in Cape Cod, I think," Sheidlower says. He has a handful of menus, all from Vermont, that are made of newsprint and even folded like newspapers. Some restaurants print their menus in tiny booklets, with print so miniscule that you need a magnifying glass to read them. Sheidlower shows me two: one from Bombay Mahal in Brunswick, Maine, and another from Jade Tree in Providence, Rhode Island, with a teeny dim sum menu printed on the back. "And I love them," Sheidlower sighs. "They're very small."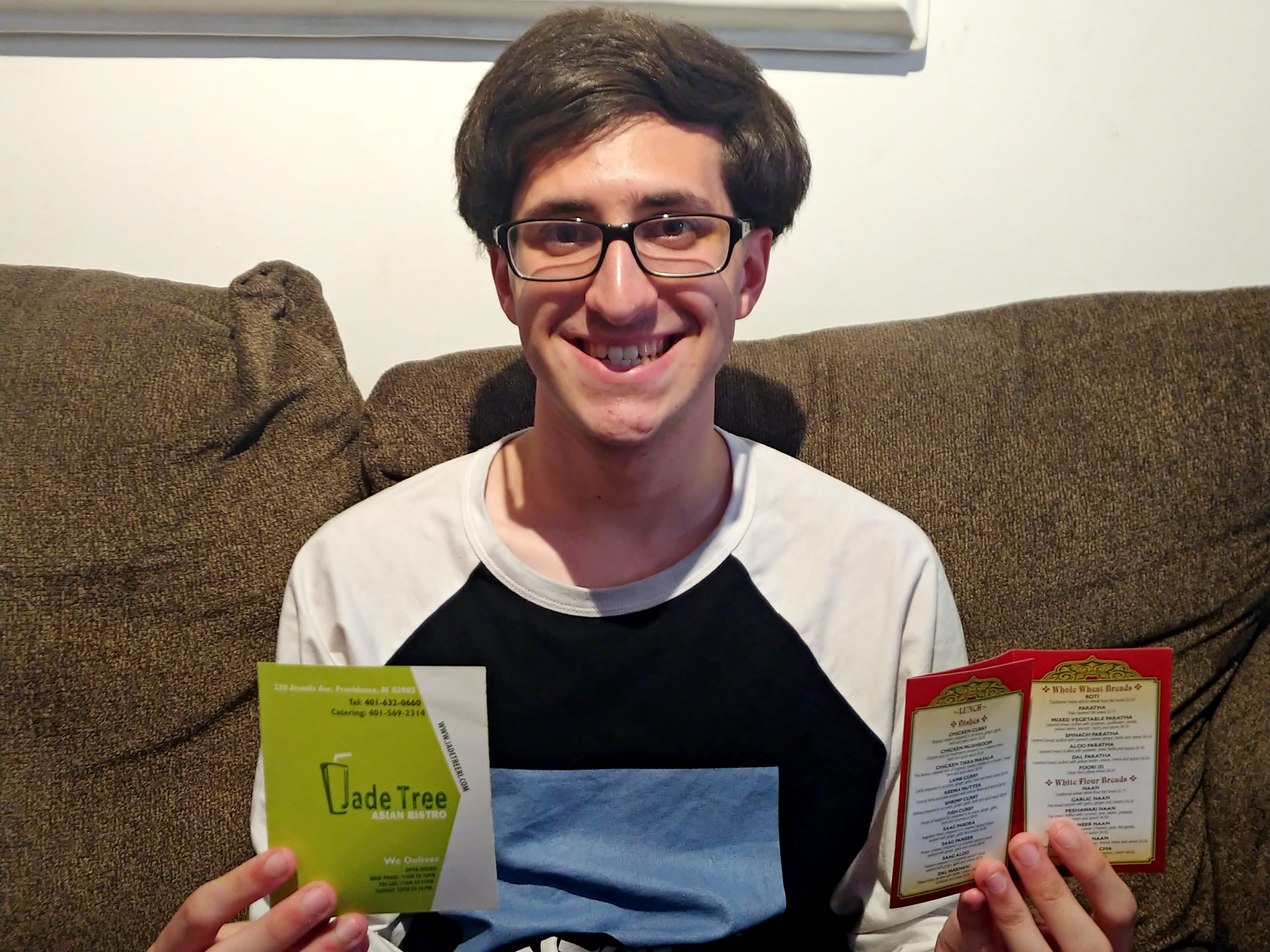 Sometimes, acquiring a new menu can be as simple as ducking into a restaurant, grabbing one, and leaving. But "a lot of the time the owners like to chat with me, or the food's so good that I get something while I'm there," Sheidlower says. "Sometimes I have four or five different lunches." He's never had a bad experience, save one time that he was shouted out of a restaurant in French. "I have a good enough knowledge of French to know that they were really getting mad at me for something," he says. He thinks they mistook him for a tax collector.
Sheidlower's hoard helps him recall spectacular meals and how he felt while eating them. At Accra Girls, a Ghanaian restaurant in central Massachusetts, he remembers happily waiting an hour while the fufu was pounded for his meal. "That was an experience beyond just getting a takeout menu," he says. Another good memory was visiting the Washboard Donut Shop & Laundromat in Tupper Lake, New York, where people get breakfast, a load of laundry done, and, in his case, a menu.
His hobby has always garnered attention. "In middle school, when I first got into it, my friends were super excited about it," he says, and gave him menus from their own fridges. After Sheidlower wrote an article about his collection for the Columbia Daily Spectator, classmates and co-workers got in touch about their own menu collections, offering to chat with him about Mongolian food and donate menus from Montana. He prefers to collect menus himself though.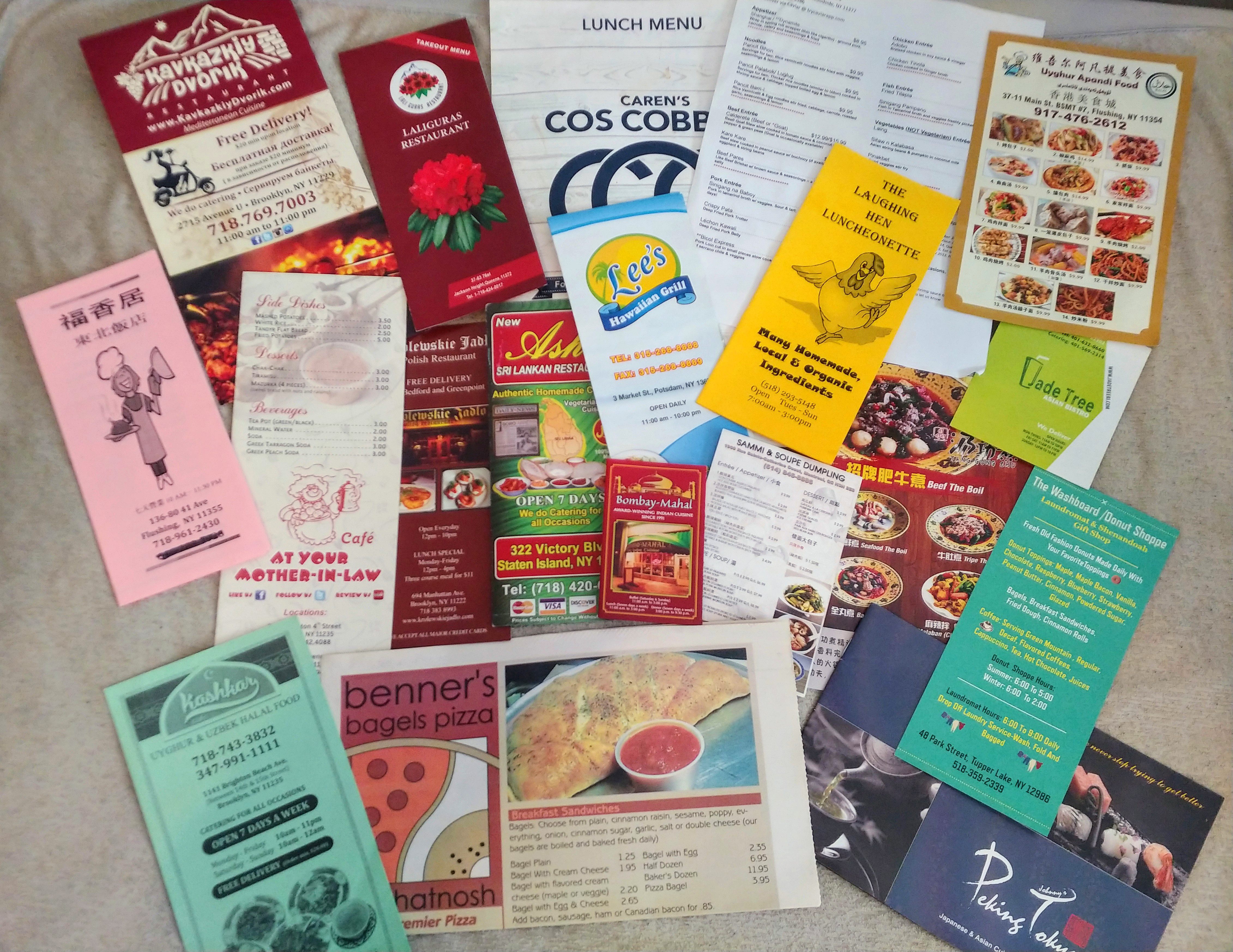 Sheidlower does use some of his menus for their intended purpose of ordering takeout, and they've taken on a new importance to him since the start of the pandemic. "They're basically a restaurant's lifeline," he says. Other than social media, paper takeout menus are often a restaurant's calling card. Even with the rise of the internet, Sheidlower says he only remembers a handful of times that a restaurant he's visited has had no menu to give him.
He's still unsure what he'll do with all his menus. He keeps collecting, he says, as "a record of my travels and a record of my growth." He thinks that they might one day have value as antiques, seeing as "right now, nobody is really collecting takeout menus." They could provide an invaluable picture of the increasing diversity of Queens and New York, he notes. And as a snapshot of Northeastern cuisine in the early 21st century, his menus wouldn't be out of place at a university, like Harley Spiller's 10,000 Chinese takeout menus at the University of Toronto, or in a library's holdings, like Miss Frank E. Buttolph's 25,000 menus at the New York Public Library. It wouldn't be a bad fate for 6,000 pieces of paper destined to be pinned to fridges, then forgotten.
Gastro Obscura covers the world's most wondrous food and drink.
Sign up for our email, delivered twice a week.