This Water Safety Campaign in New Zealand Has a Stylish, Sinister Mascot
Meet the Swim Reaper.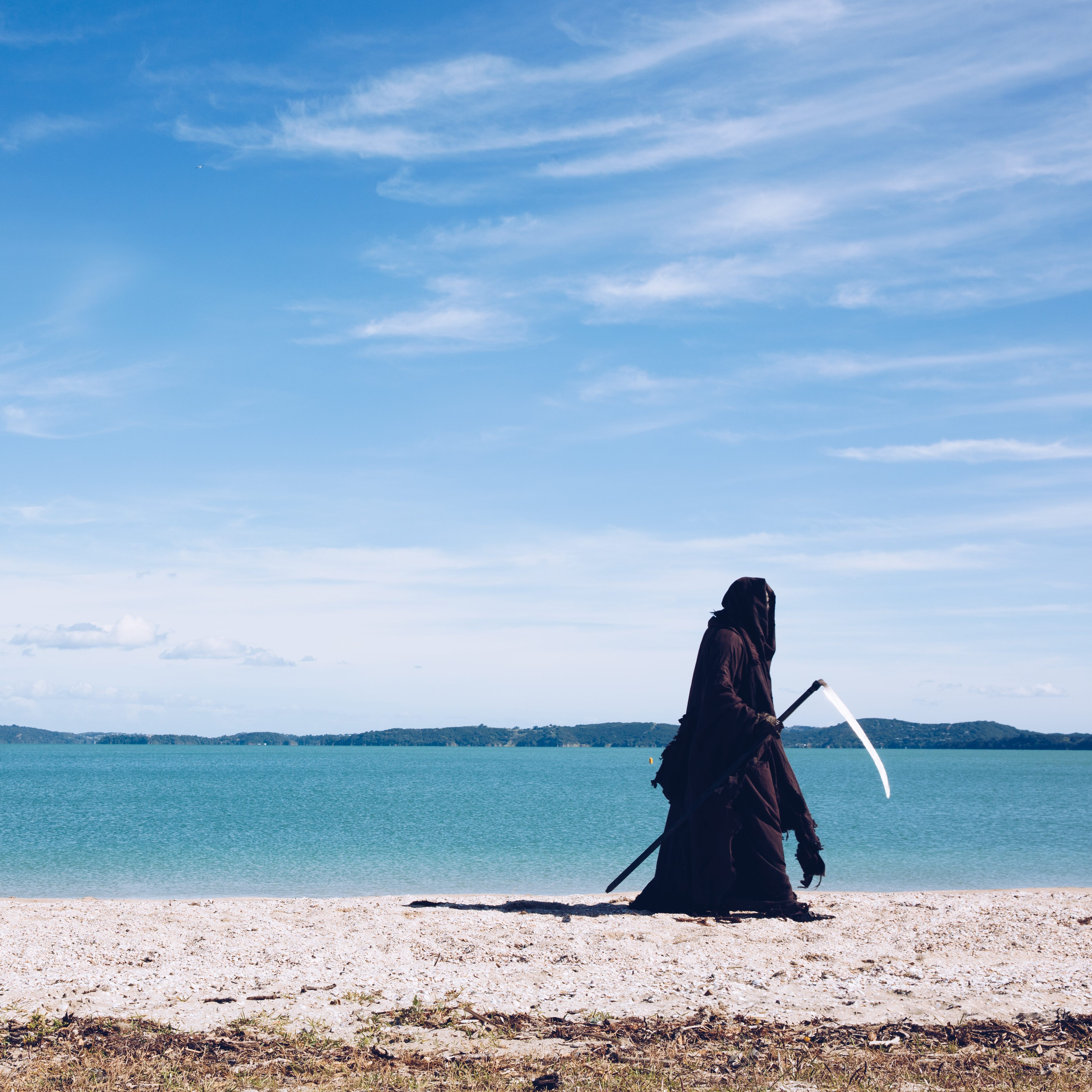 Instagram is by and large a cheerful place, filled with cute pets, happy couples, sunsets, and brunch. You'd be forgiven if, scrolling past yet another well-decorated latte, you found yourself wishing for something a bit more grim.

If this is the case, you may want to start following the Swim Reaper. The Reaper, like other Instagram stars, combines a knack for the aesthetic with a cultivated obsessiveness.
His particular look is unique, though, centered around a jet-black robe that drags in the pristine sand. And instead of wanting you to Get Fit or Eat Green or Perfect That Smoky Eyebrow, the Swim Reaper wants you to make dumb decisions in and around the water.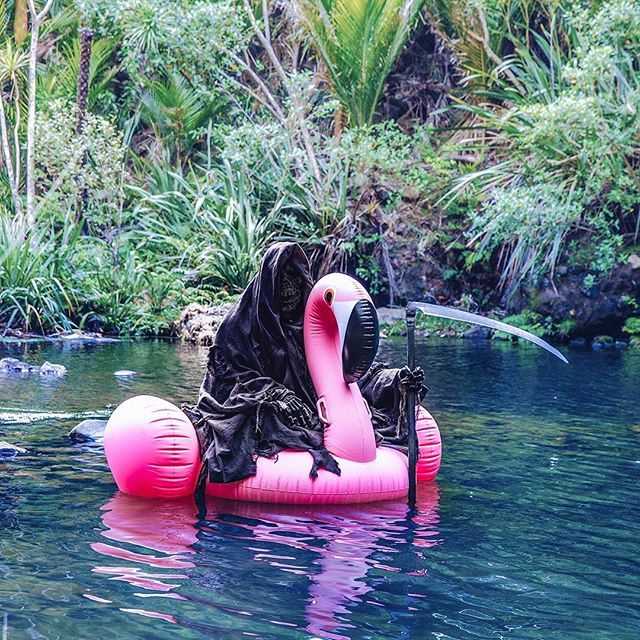 "This is what I call "swimmin' juice," he might post, next to a photo of his gloved hand holding a beer. "Knock back a few of these and just relax into drowning 🍻." Talk about #nofilter!
The Swim Reaper was brought to life by Water Safety New Zealand, a national organization tasked with increasing the country's swimming smarts. They have a number of more standard initiatives going, including skill trainings, a website full of tips, and a campaign to help keep swimming pools open in schools.
The Swim Reaper, with his flair for drama and tendency to gleefully toss around the word "stupid," is somewhat less traditional. WSNZ unveiled him last year, hoping to reach a particularly at-risk demographic: young men. "This audience can react badly to being told what to do," the group's CEO, Jonty Mills, explained to The Sun. "It is a struggle to get positive safety messages through to them."
Negative safety messages, though? Those work just fine. Thus the Swim Reaper's brand, which couples his signature photos with terrible advice he might advise swimmers to use rocks to "stop quickly," or ride riptides "all the way out to sea."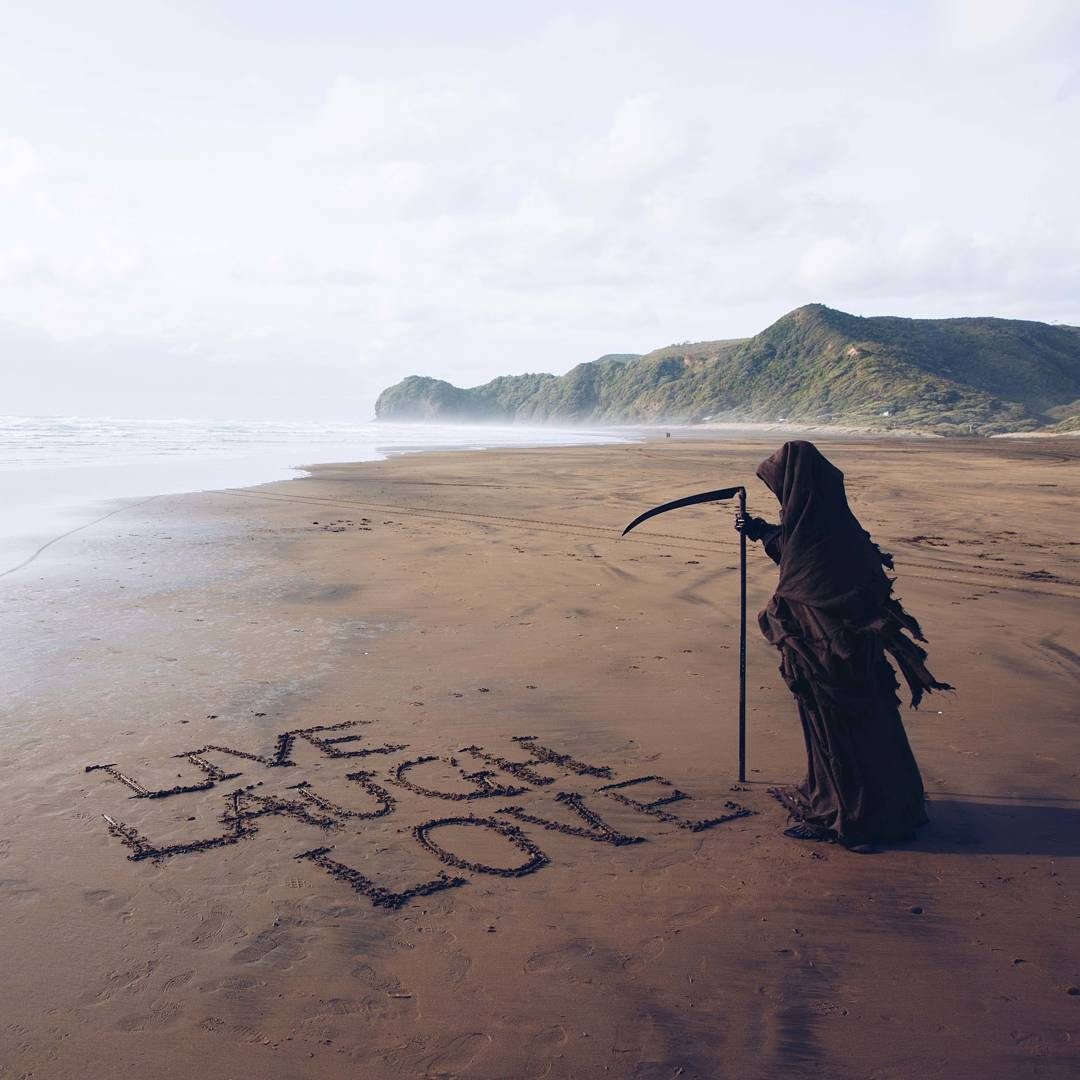 It's now the Swim Reaper's second year in action, and his brand is still holding strong. The Swim Reaper currently boasts 114,000 followers, putting him on about the same footing as model Ashleigh Jade and acclaimed figure skater Kailani Craine. WSNZ estimates that he has managed to reach 82 percent of his target group.
He's not resting on his laurels, though. Over the past few weeks, he has been photographed trying to sell jeans as swim trunks, looking out moodily from the bluffs, and meditating on a purple towel, his scythe propped up in front of him like a sun umbrella. He has also begun to garner international media attention, a fate that will surely lead to supernatural imitators across the public safety sector. Not bad for yet another beach-themed account.