The Little Known History of World War II's All-Black, All-Female Battalion
The 6888th Central Postal Directory Battalion helped connect soldiers on the front lines with their families back home.
In 1927, an unlikely friendship arose between educator and civil rights activist Mary McLeod Bethune and future First Lady Eleanor Roosevelt, based on a shared belief in the power of education. When Franklin D. Roosevelt became president in 1933, Bethune served as an advisor on minority issues, and eventually was named Director of Negro Affairs in 1939. Her work with the administration led to the creation of the Black Cabinet, an informal group of advisors who worked on issues facing Black communities across the United States. The Black Cabinet helped the Roosevelt administration draft executive orders that ended the exclusion of Black Americans in the Army during World War II. In 1944, with the support of the First Lady, Bethune pushed for the admittance of Black women in the military, through inclusion in the Women's Army Corps (WAC), a branch of the Army created in 1942. Though there was a backlash against having women in uniform from conservative elements in military leadership, tens of thousands of women were trained in a variety of non-combat specialties that were thought appropriate for women at the time: switchboard operation, baking, mechanics, stenography, postal work, and more.

All were critical to the operation of the Army during wartime. Sending and receiving mail, for example, was a lifeline for soldiers, and the only way to stay connected to the friends and families they left behind. In 1945 alone, more than 3.3 billion pieces of mail went through the military postal service. Around 8 million Americans were stationed in Europe that year. The task of organizing and delivering all that mail was daunting, and a shortage of qualified postal workers led to a massive backlog. Army officers reported that the undelivered mail was hurting morale. Something had to be done, and a unique WAC battalion answered the call
The task of sifting through this growing stack of letters and packages—some of which had been mailed years before—was given to the 6888th Central Postal Directory Battalion, the only all-Black, all-female battalion to serve overseas during World War II. The 6888th—nicknamed "Six Triple Eight" and led by Major Charity Adams Earley—was originally expected to sort through 7 million pieces of mail and packages in Birmingham, England, over the course of six months. They did the job in three.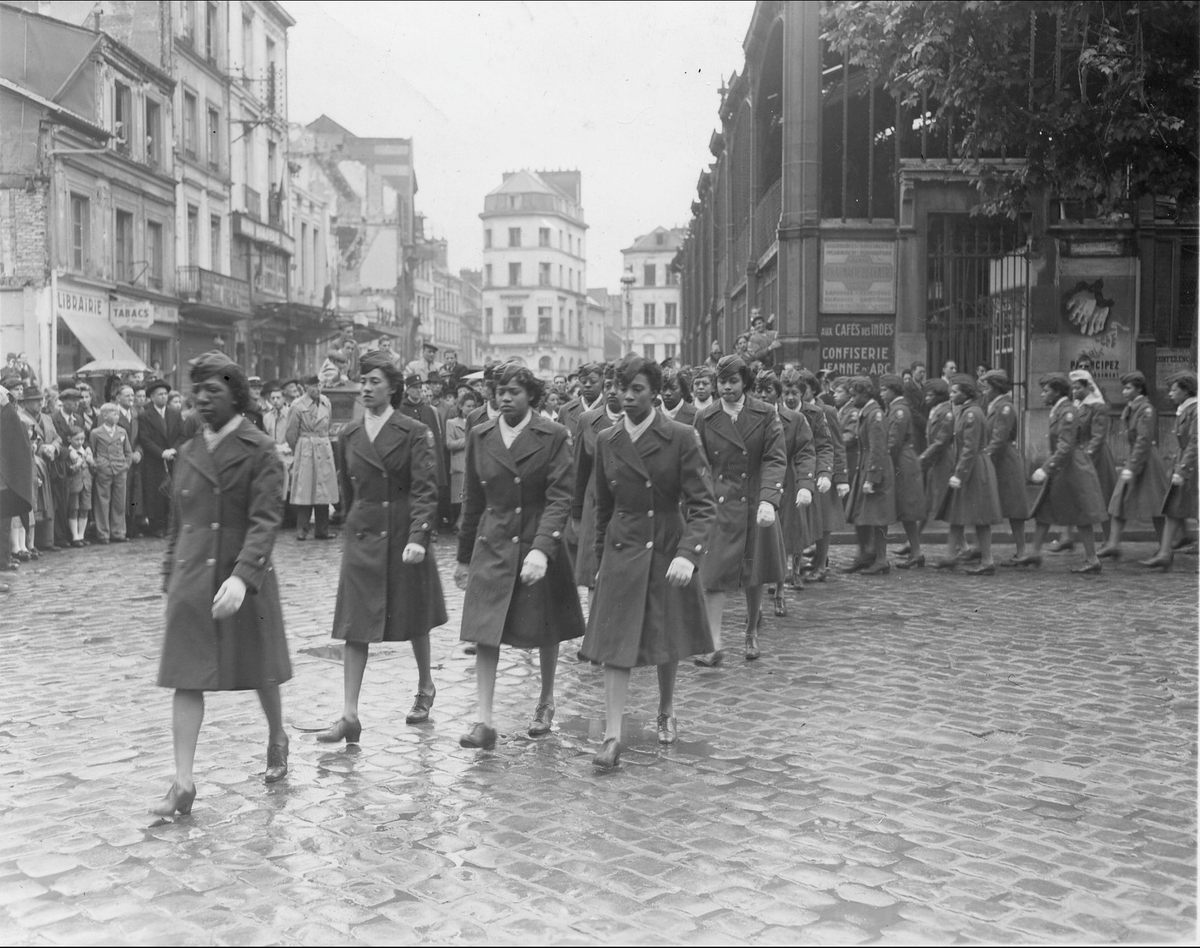 During World War II, more than a million Black American men and women served in all branches of the U.S. armed forces. For many, it was a way to prove their belonging in a country that had mistreated and excluded them for so long. Segregation laws were still being strongly enforced. "A lot of Black Americans were also thinking about what it means to be drafted into segregated military branches," says Matthew Delmont, a historian at Dartmouth College and author of Half American: The Epic Story of African Americans Fighting World War II at Home and Abroad. In a famous letter sent to the Pittsburgh Courier in January 1942, 26-year-old James G. Thompson asked, "Should I sacrifice my life to live half American?" For some Black men and women of the armed forces, fighting for freedom abroad became a stepping stone to fighting for freedom at home.
In 1943, when the WAC began admitting Black women, the War Department said that it would continue to follow Army policy and maintain a 10 percent quota of Black women admitted. In their book A Black Women's History of the United States, Daina Ramey Berry and Kali Nicole Gross estimate that 4,000 Black women signed up, even with the knowledge that they would be segregated.
The WAC had successfully fought for women to be classified under the same rank as soldiers, and the branch shed its "auxiliary" status after a year in existence. However, while white women were getting medical training, Black women were relegated to only training in administrative work and cooking. According to Berry and Gross, Black women soldiers were ordered to "scrub and wash floors, wash dishes, and do all the dirty work." When white WAC groups started getting deployed to serve in Europe, civil rights organizations, with the continued push from Mary McLeod Bethune, advocated for greater representation of Black women overseas. The War Department obliged.
Major Charity Adams Earley was the first Black woman to become an officer, appointed in July 1942. The Army, like civilian life at the time, was still segregated, and Major Adams worked in a unit with other Black women at the Fort Des Moines Provisional Army Officer Training School in Iowa. In January 1945, the 26-year-old flew on a C-54 cargo plane to England, her mission a "secret" one that she would only be told about when she landed.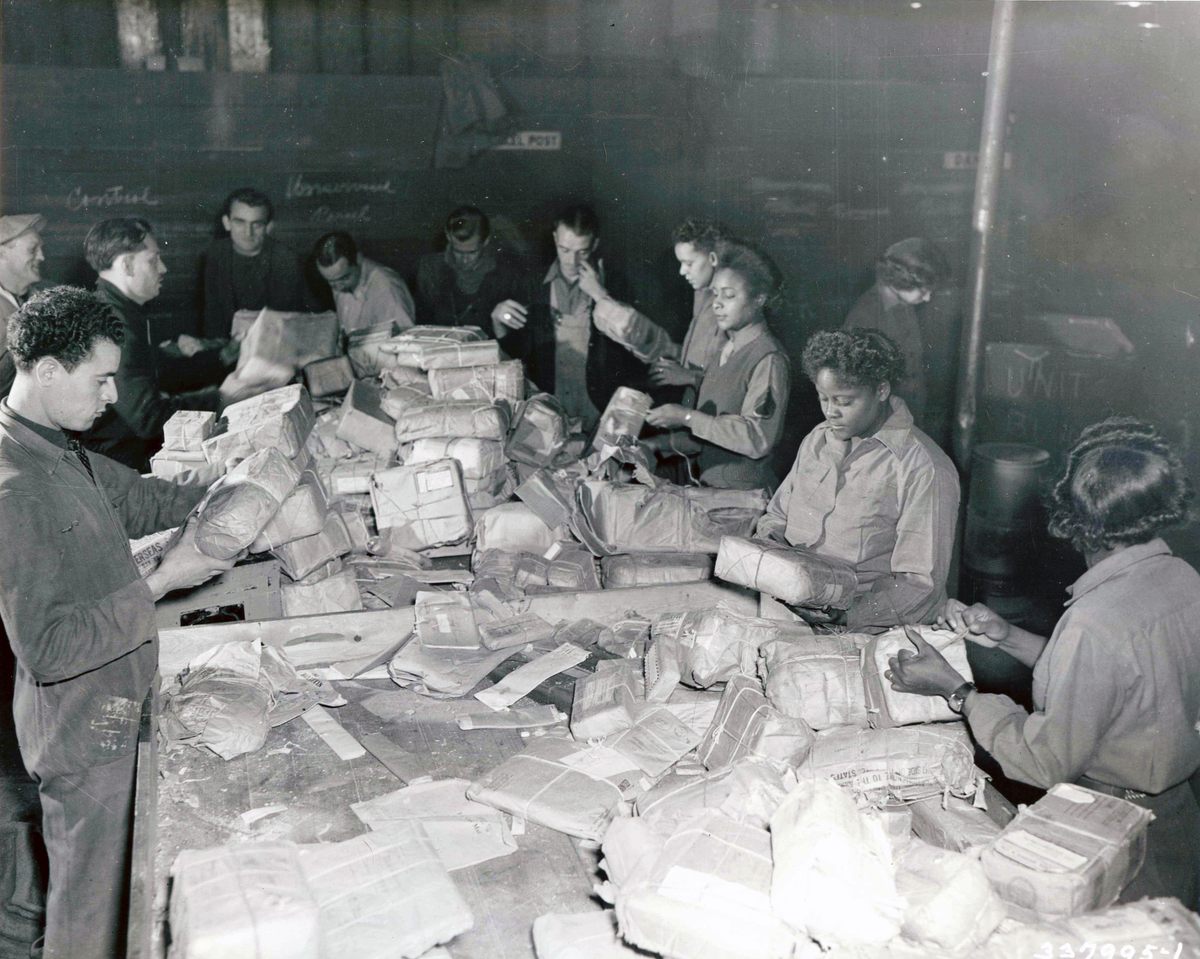 Upon arrival, Major Adams was appointed commander of the 6888th Central Postal Directory Battalion and told to prepare to welcome the 855 Black American women who would be tasked with organizing the undelivered mail sitting in warehouses in Birmingham. The women of the battalion were also not told about their task until they arrived. After months of training in Fort Oglethorpe, Georgia, the women of the 6888th sailed to Glasgow, Scotland, on February 3, 1945.
The journey on SS Île de France was fraught. While crossing the Atlantic Ocean, the ship was confronted by German U-boats, which forced the French ocean liner to change its course several times. In her book, One Woman's Army: A Black Officer Remembers the WAC, Major Adams, while waiting to welcome her battalion in Glasgow, says, "the sight of two officers whom they [the women of the 6888th] knew, standing at dockside waiting to greet them, was like a breath of fresh air. Thanks to seasickness, the salt-water spray, and the limited personal conveniences, the group was a very unhappy looking lot."

Once the 6888th reached Birmingham by train, the women found themselves dwarfed by massive piles of mail in the facilities, which included six airplane hangars. On paper, the task, though huge, seemed simple enough—organize the packages and letters to be delivered to the right people—but there were complications. In poorly lit and unheated buildings, they had to sort through mail that sometimes only contained first names, nicknames, and common names like "Robert Smith." They worked in shifts and processed an average of 65,000 pieces of mail per day until the job was finished, ahead of schedule. The next deployment was to Rouen, France, where they also finished clearing out a backlog of two to three years mail, with the help of French civilians and German prisoners of war.

When the war ended in September 1945, the 6888th was sent to work in Paris. But there were fewer women, and morale suffered under an influx of mail for the holidays. They faced another challenge—the theft of small packages, and they had to work with civilians to track them down.
By February 1946, the remaining women of the 6888th Central Postal Directory Battalion returned to the United States and the unit was disbanded at Fort Dix, New Jersey. By the end of their mission, the battalion had sorted through 17 million pieces of mail. Even though Major Adams was promoted to lieutenant colonel upon her return, the 6888th was given no public recognition or welcome ceremony.
The women of the 6888th report that they felt as though they were treated better abroad than they were at home. The experience of returning home was incredibly demoralizing for many of the Black men and women who spent years risking their lives abroad. "Most white Americans, when the military part of the war ended, wanted to go back to the way things used to be," Delmont says. "It was the exact opposite of what Black Americans wanted when they returned home." While white veterans were commemorated and welcomed with celebration, Black veterans and service workers, including the women of the 6888th, felt as though they had been cast aside. "They got home and people acted like they hadn't done anything, like they hadn't also sacrificed to win the war," says Delmont.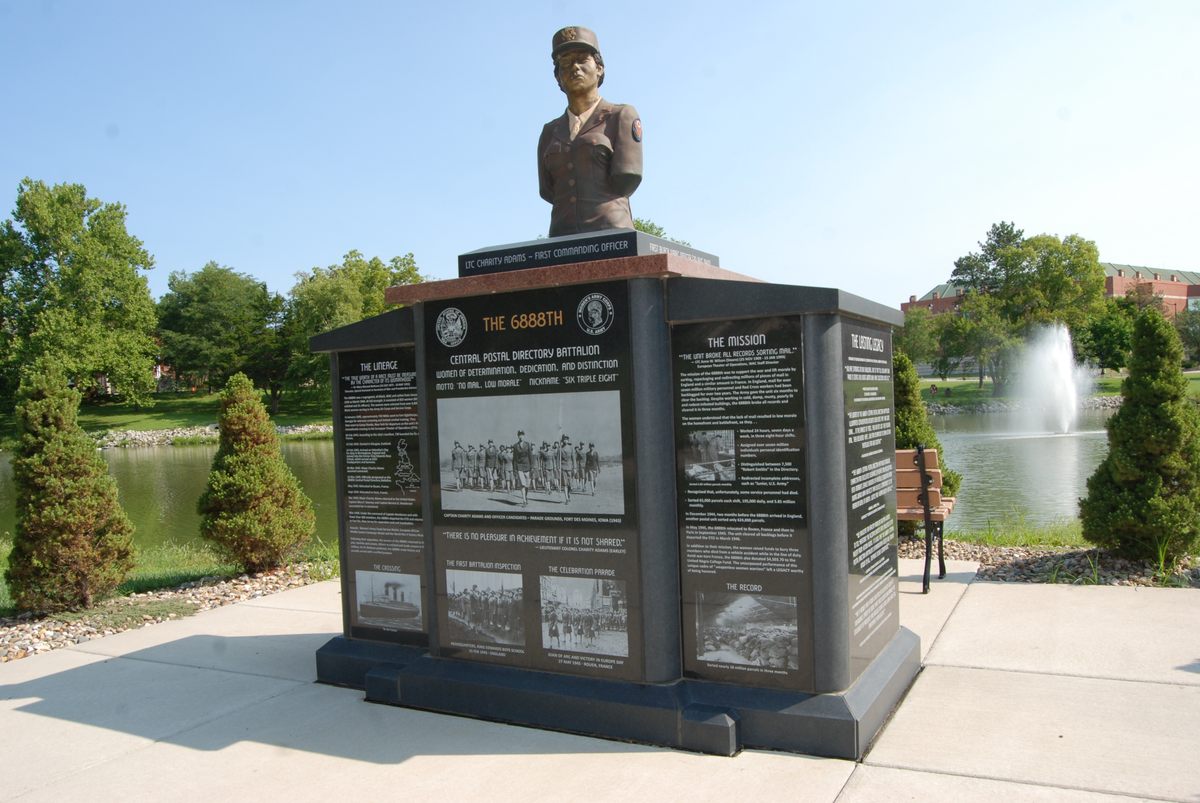 Members of the battalion received the European African Middle Eastern Campaign Medal, the Women's Army Corps Service Medal, and the World War II Victory Medal, but wider recognition for their accomplishments didn't come for another 60 years. In 2009, three former members of the unit, Alyce Dixon, Mary Ragland, and Gladys Shuster Carter, attended a commendation ceremony at the Military Women's Memorial at Arlington National Cemetery. On November 30, 2018, a monument dedicated to the 6888th was built at the Buffalo Soldier Monument Park in Fort Leavenworth, Kansas, consisting of a 25-inch bronze bust of commanding officer Major Adams. The back panel has the names of the 800-plus women who were assigned to the unit, by state of origin. On March 14, 2022, President Joe Biden signed a bill awarding the battalion the Congressional Gold Medal.

The legacy of the 6888th Central Postal Directory Battalion goes beyond their incredible work during World War II. The women and their story have been included in exhibits, books, documentaries, and even a forthcoming Netflix film directed by Tyler Perry, called Six Triple Eight and starring Kerry Washington and Oprah Winfrey. Even as Jim Crow laws persisted at home, the 6888th provided an intimate and necessary connection between soldiers on the front line and their families on the home front. They left their mark in hearts and minds.