In India, These Trailblazing Female Stunt Bikers Rule the Road
For decades, these women have fought (and won) the right to stunt.
In early 2019, freestyle stunt biker Tana Luciya Joji was practicing on a remote stretch of asphalt in Kerala, India. Street Lordz, her stunt biking team, was set to perform at a local college in only a few weeks. Expertly, she executed a wheelie, followed by the human compass, steering her bike in tight circles around one leg stretched to the ground. Shifting to the high chair, she swung her legs up over the handlebars of the moving bike. Her final stunt was the most dangerous, the Christ. Joji locked the throttle to 10 mph, hopped up to squat on the seat, then stood upright on the moving bike, her arms outstretched. Once safely back in her seat, Joji gazed up at the sky and said a silent prayer, just as her coach had taught her. Safety is never guaranteed in stunt biking.
As she wheeled to the exit, she hit a pothole. The bike tilted and fell. Too heavy for her to pick up alone, she waved over a male biker. He stopped, but rather than help, said, "Why do women do things that are not meant for them?" and sped away. Furious, Joji lifted the 300-pound bike in one go.
As stunt biking has gained popularity in India, more and more female riders are joining in. Together, they are pushing back against traditional gender roles and inspiring one another through education and community-building.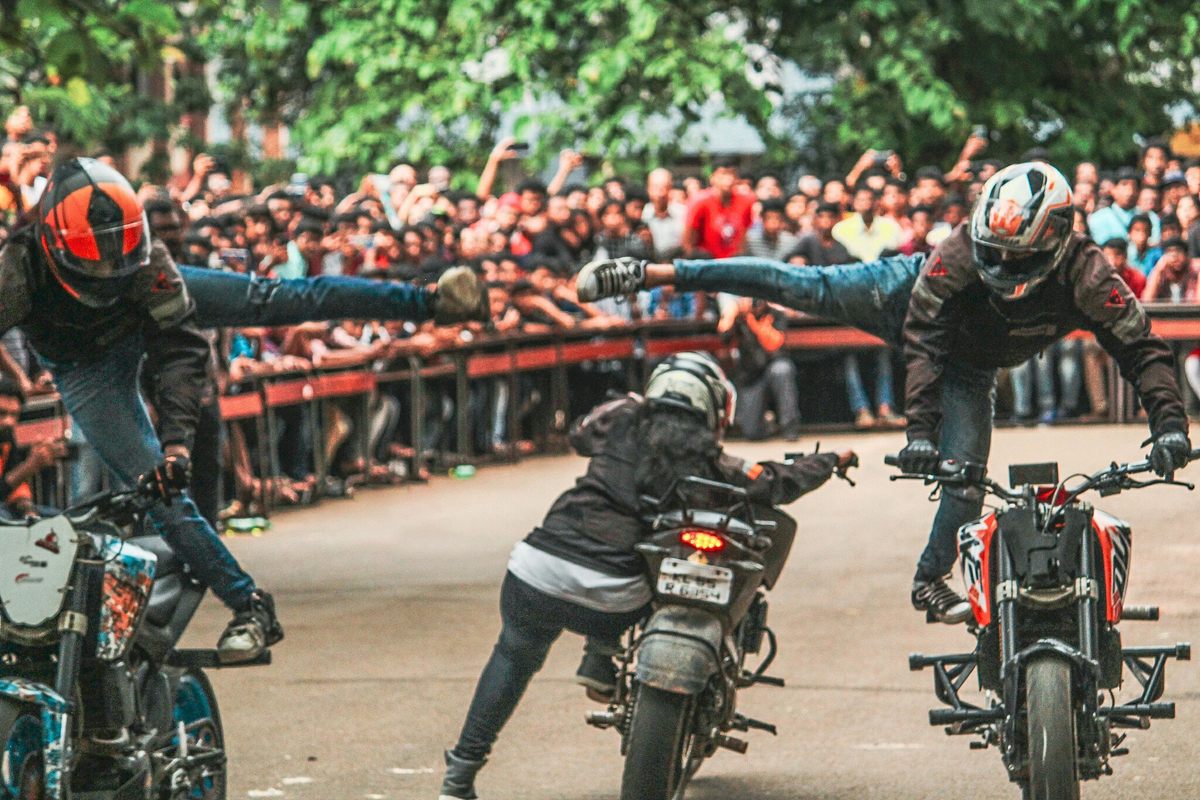 Stunt biking's popularity in India soared with the launch of MTV's Stunt Mania in 2009. While the show's three seasons largely featured male riders, several female bikers made the cut, including Firdaus Shaikh from the western Indian city of Pune. Initially encouraged by her mother to pick up the sport, Shaikh says, "stunt biking is an adrenaline high, very addictive. You do it for the thrill."
Despite her father owning a motorcycle showroom, Shaikh didn't get her own bike till she was 21, when her mother gave her one. Her father disapproved, getting angry if Shaikh even mentioned riding. When Shaikh was growing up, few women owned bikes—let alone practiced stunt biking. But Shaikh quickly excelled at stunting and was thrilled when Stunt Mania cast her on their first season. Her father, however, refused to watch a single episode. "It was hurtful," she says.
Akhitha M D, a biker from the state of Kerala in the southwestern corner of India, grew up watching Shaikh on Stunt Mania. Inspired by Shaikh's tenacity, Akhitha, who goes by her first name (a common practice in Kerala), started riding her father's Bajaj CT100 scooter when she was only 11. By the time she was a teenager, she was practicing stunts in empty parking lots on a Bajaj Pulsar 180, a larger, more powerful bike her father had bought her. When she told her family she planned to go pro, they were taken aback—but no one tried to stop her.
Akhitha quickly realized she needed a coach. Her search led her to a Mysuru-based stunt biking group in southeast India. Impressed by her enthusiasm, the group's founder, Syed Shadab, decided to coach her. Akhitha went on to become the sole female rider with Shadab's Legendary Stunts Inc, a stunt-riding team that performs across southern India. Akhitha was lucky; many male coaches refuse to train women altogether, often leaving female stunt bikers, like Shaikh and Joji, learning dangerous tricks from internet tutorials.
Regardless of how you learn a trick, every stunt biker needs safety equipment, a lot of it. "There is a jacket with elbow pads, trousers with knee pads, a back protector, chest guards, shoulder caps, a helmet, gloves, and big, shiny boots," lists off Joji. But women have a difficult time finding gear that fits. "All this gear is for men only. We have to make do with smaller sizes of the men's range," she says.
When Thanooja Nizar, a stunt rider from Coimbatore, a city in the south Indian state of Tamil Nadu, started riding at 14, she didn't have proper gear or a coach. Nonetheless, at 16, she came in second at 2021's South India Women's Stunt Biking Competition. But no one from her family watched her clinch the title, says Nizar, who eventually did find a coach years later.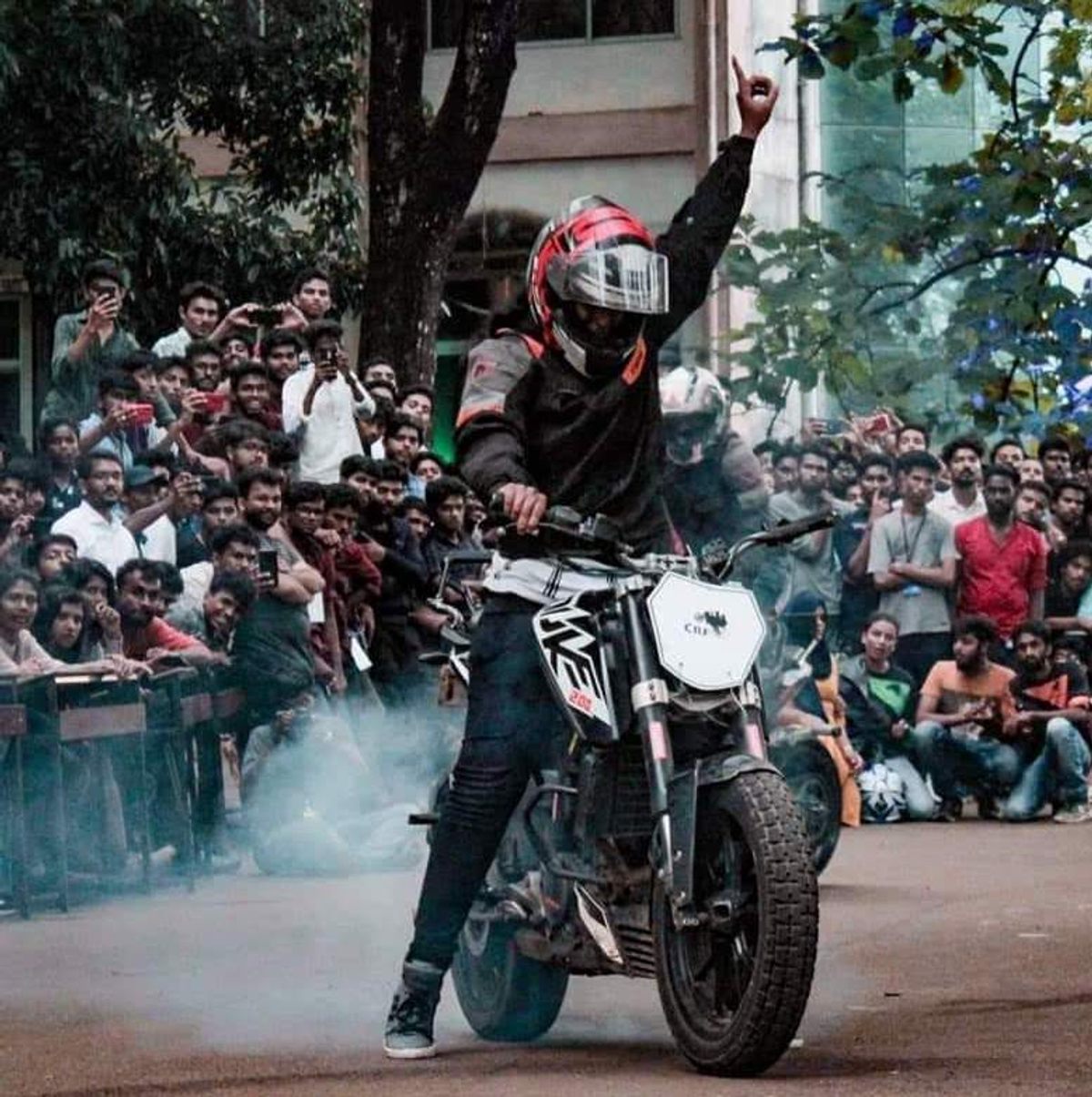 While no laws forbid women from stunt biking in India, some female bikers have had run-ins with the police. Nizar remembers one instance when she was in a hurry to get home and didn't notice a police officer trying to pull her over. The next day, an officer snatched her bike keys and ordered her to the police station. "The officers pointed to a woman in the lockup and said that I would meet the same fate if I did not stop stunt biking. They said that women who did stunt biking had loose morals and that they had arrested many for drug peddling." After charging her a fine for speeding the previous day, the police released her. Undeterred, Nizar was back on her bike days later, practicing a wheelie.
Despite the challenges, female stunt bikers continue to make inroads in the sport. In May 2017, 22-year-old stunt biker Anam Hashmi became one of the first Indian women to win an international stunt competition. In 2020, director Saumitra Singh announced that he would be making a feature film about Hashmi's life. At the 2022 India Republic Day parade, the all-female stunt team Seema Bhawani performed trick after trick to thunderous cheers. As the bikes rolled onto the main boulevard in New Delhi, team member Anita Bharti lazily read a magazine while cruising with her legs up over the bike's handlebars. Determined to support women in the sport, Shaikh co-founded the Bikerni in 2011, India's first group for female motorcyclists; the group now has local chapters in 17 states. "There will always be folks who will tell you that you should not be riding a bike. Do not pay heed to such negativity," Shaikh says. "It doesn't matter what you are riding, a 200cc or a 1000cc motorcycle. The point is you love riding. You love the feeling when you are on the road—that is the only thing that matters."