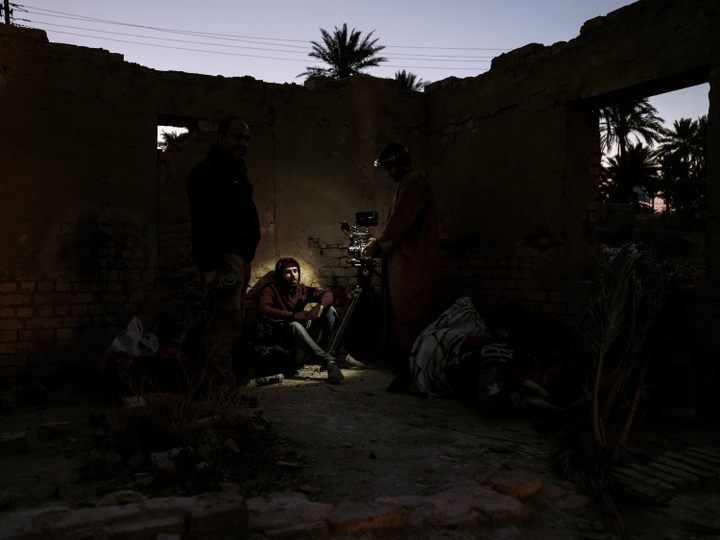 A New Generation Is Remaking Iraqi Cinema
"If we can't make the revolution on the streets … we can make it in cinema, sending a message, spreading our vision of the world."
I'm not a soldier, I'm a filmmaker. They want to turn us as soldiers, to give us guns, but I refuse it. I have a dream, and my dream is here and is cinema." Wareth Kwaish is checking the last details before shooting the next scene of the movie Hanging Gardens. He is the assistant director and is prepping fireworks to shoot off, and also guiding extras to where they should stand with a green laser pointer. Ahmed Yassin al Daradji, the director, is sitting on the bank of the Diyala River, a tributary of the Tigris, south of Baghdad, watching his young lead Hussein (his parents don't want his real name revealed) as darkness falls over the Mesopotamian landscape. Two soldiers blocking access to the river to protect the crew from local militias light cigarettes as they enjoy a behind-the-scenes view of the production. Kwaish calls for the crew to remain on standby, and only the croaking of frogs can be heard.
Ten years ago, Kwaish was in his 20s, fresh out of the Baghdad College of Fine Arts and trying to get his first short movie—Once We Were Here—accepted in the competition of the Baghdad International Film Festival, which had just been reestablished. But he felt only films about Iraq's historical heritage were being considered. "Since the first time I made cinema, I wasn't interested in the glorious past of Mesopotamia," he recalls, "and I don't think, as a filmmaker and director, I should be nowadays. We are here to tell the reality, the society where we are trapped, its problems, its hopes. If we can't make the revolution on the streets, because government and militias will kill us one by one, we can make it in cinema, sending a message, spreading our vision of the world."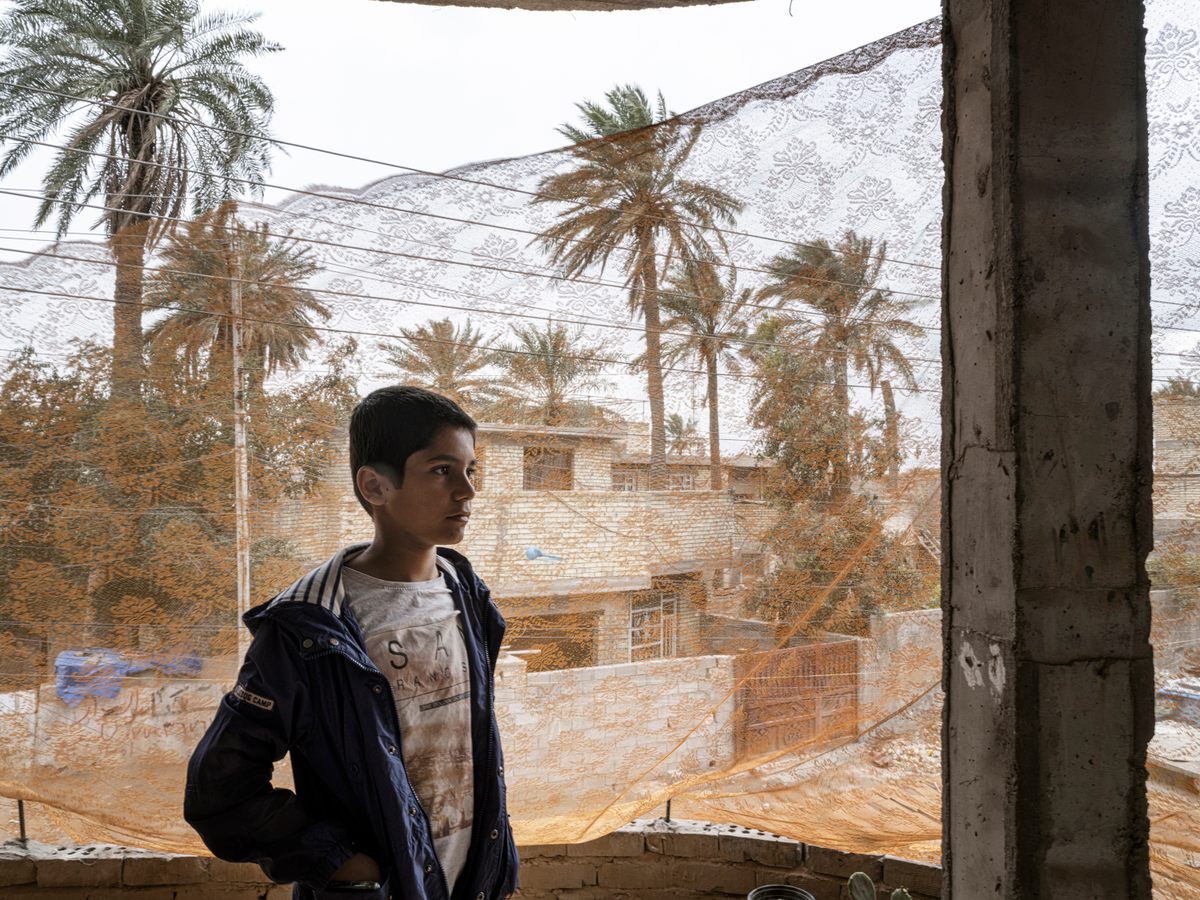 Across Iraq it's possible to see a fresh flourishing and diversification of the Iraqi film industry as the country continues to recover and evolve from three decades of conflict and instability. Many of these young filmmakers were trained abroad as refugees, and they're now making movies and guiding new talent at home. The industry is working in social realism (with a twist), in genre film, in sketch comedy, and much of the work is animated by a desire to show the world an Iraq beyond what it's known for decades.
That first film Kwaish made out of school captured the protests of the Iraqi uprising in 2011. He had grown up in Sadr City, the stronghold of preacher Moqtada al Sadr, a militia man who has transformed into an artful politician. About his childhood, Kwaish remembers only war: guns, airplanes, bombs, suicide attacks, and American snipers. "I don't even have a picture of mine as young boy," he says. "I don't know how I looked like. I never met the little Wareth I was." Moved by anger and ambition, Kwaish spent five years as a refugee in Paris, where he found work, became a filmmaker, and met his professional partner al Daradji, who was living in London. The two started working for the production company Ishtar Iraq, and moved back to Baghdad to shoot Hanging Gardens, financed by the Ministry of Culture of Iraq and the Arab Foundation of Arts and Culture of Beirut, among others.* The film is decicedly not about Mesopotamian heritage, al Daradji explains, with passion, after shooting another scene, in a landfill near Baquba, south of Baghdad. "In the film, the little orphan Asaad, during a day spent in a dump, finds, in a bag of waste from an American base, a sexy doll," he says, referring to a life-size silicone "partner" that plays a significant role in the film. "The doll has an expressive face in which he recognizes the image of his mother, the one he has never known. He gives her a name, Salwa, and he takes care of her."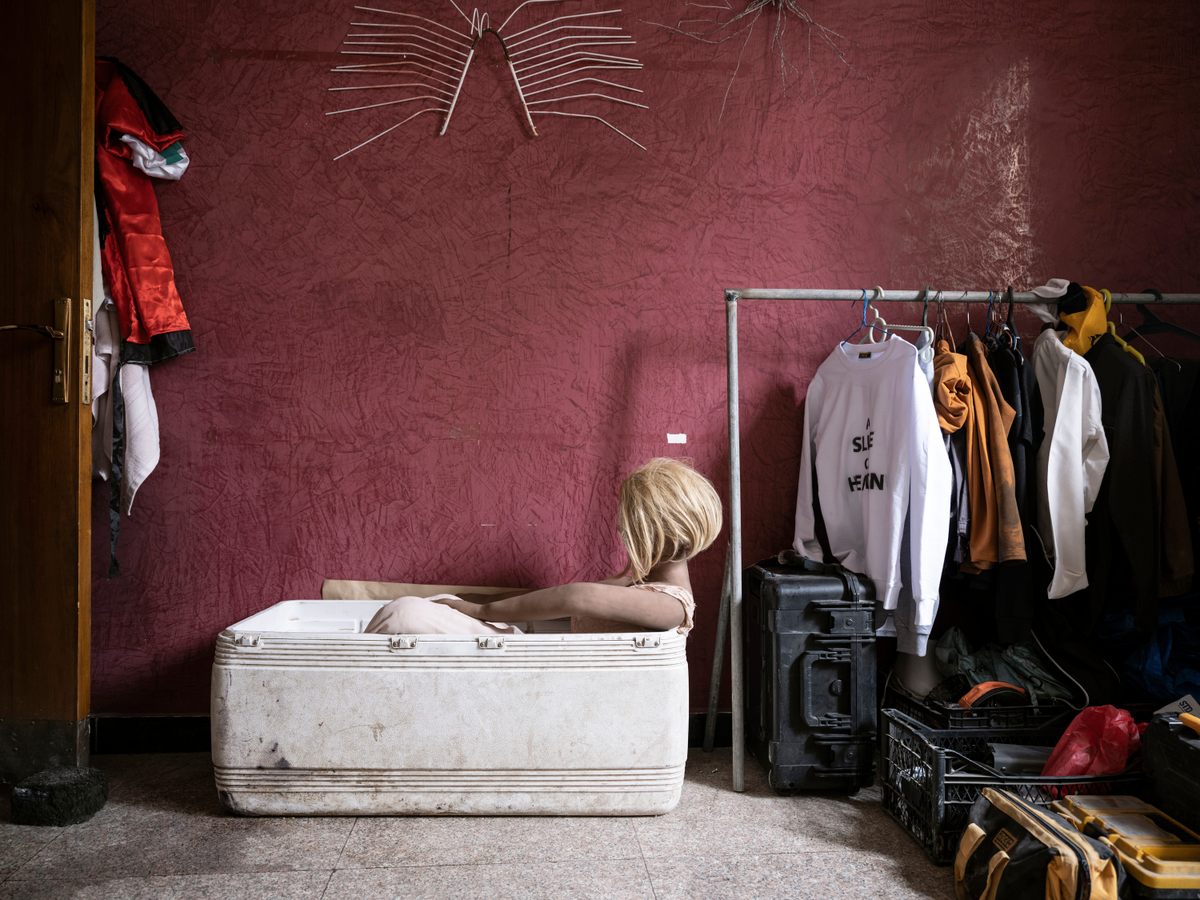 "We have chosen a symbolic story to tell of Iraq today, out[side] of the war-and-oil imaginary," says Wareth, "and we strongly wanted to return to Iraq, despite great difficulties. Making films here has the flavor of discovery." Kwaish and al Daradji decided to bet on the potential of their home country, a seemingly limitless cinematic frontier, after the industry was plunged into oblivion by the Saddam Hussein dictatorship, the American invasion, and the conflict that followed.
That time left deep wounds in the family of another Iraqi filmmaker, Yad Deen, the son of a Kurdish peshmerga fighter who fled Hussein's regime. Deen's father helped him and his mother escaped Iraq when Deen was just a year old, crossing the border on a horse, he says. After spending some years as refugees in Iran, the family found itself in London, where Deen grew up devouring movies and dreaming of becoming a director. In 2012, he moved to Erbil, in the Kurdistan region of Iraq, and then to Baghdad, where he established his own production company and award program for young filmmakers, even as the security situation deteriorated. He also began to spend a lot of time in the southern Kurdish city of Sulaymaniyah, where he shot an award-winning horror short, Carga, about two Spanish filmmakers in an abandoned cigarette factory. Then, a group of artists and filmmakers converted that same factory into a center for digital arts. Inside, despite the pandemic, two exhibitions are installed, and young street artists decorate the walls. "I believe Iraq has great history, of course, and great locations," Deen says. "You have mountains in Kurdistan, the green plain of Nineveh around Mosul, you have deserts in the middle of the country and rivers and marshes in the south. Foreign productions could be encouraged to come here to shoot. It would be a great investment and more and more people would discover this country."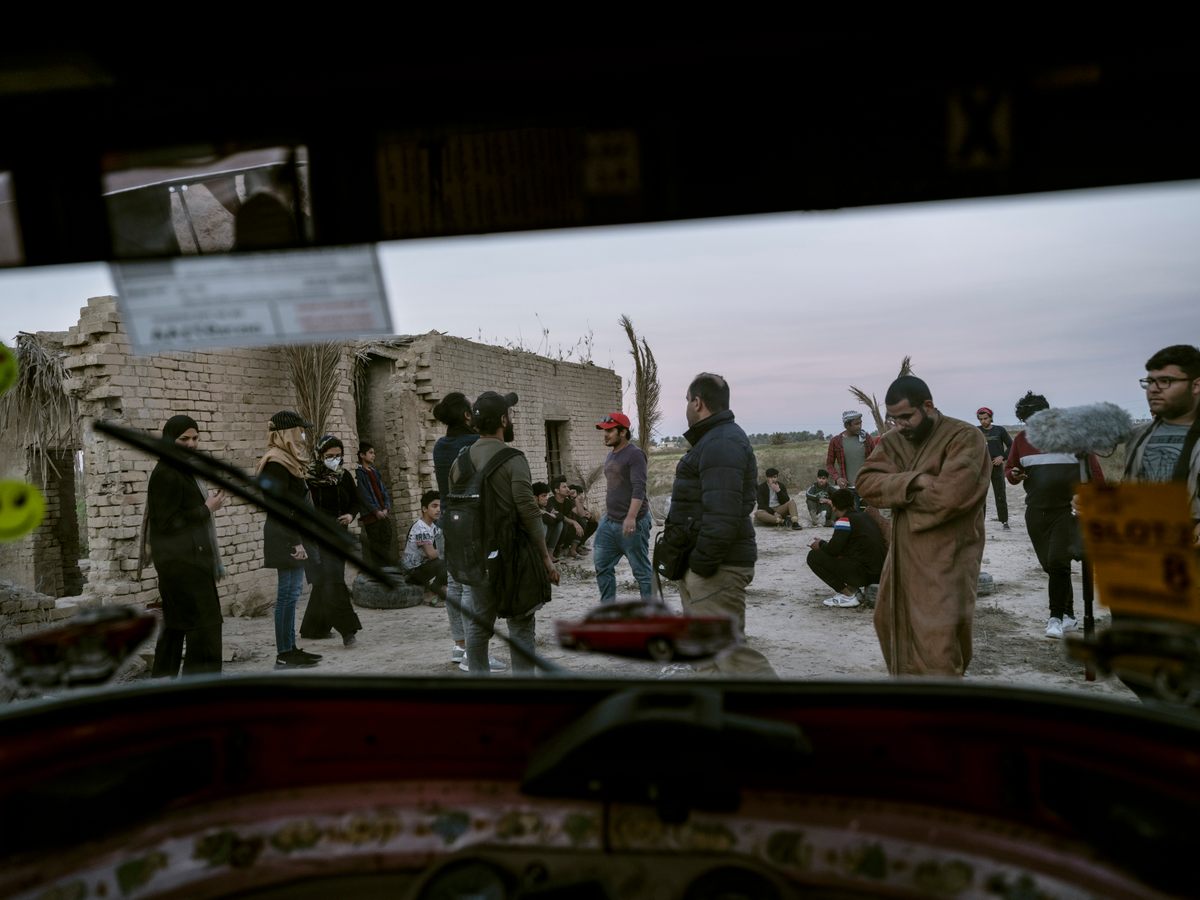 Deen brought in a crew of Spanish professionals to shoot Carga in 2018. "We had a lot of fun, plus the local crew benefited from the presence of the Spanish one, and vice-versa. I love building bridges, it's the only way we can continue to live in a globalized world," he says. Deen is currently at work shooting whatever he can: commercials, short movies, features. His latest passion project is a drama about the archeological history between England and Mesopotamia.**
Deen also took on the task of teaching filmmaking in Mosul, the setting of the 2019 documentary of the same name (not to be confused with the Netflix action movie, also called Mosul, which was filmed in Morocco). In that city, so devastated by the battle against ISIS, a flourishing of cinema is taking place. "Through a movie, we scream to the world," says screenwriter Ahmed al Najm, who is learning under Deen with a few others. "We want to tell the story of all people that were getting killed every day inside Mosul, like my mother, my sister, and my friend who died in front of my eyes. Pay attention to us, please."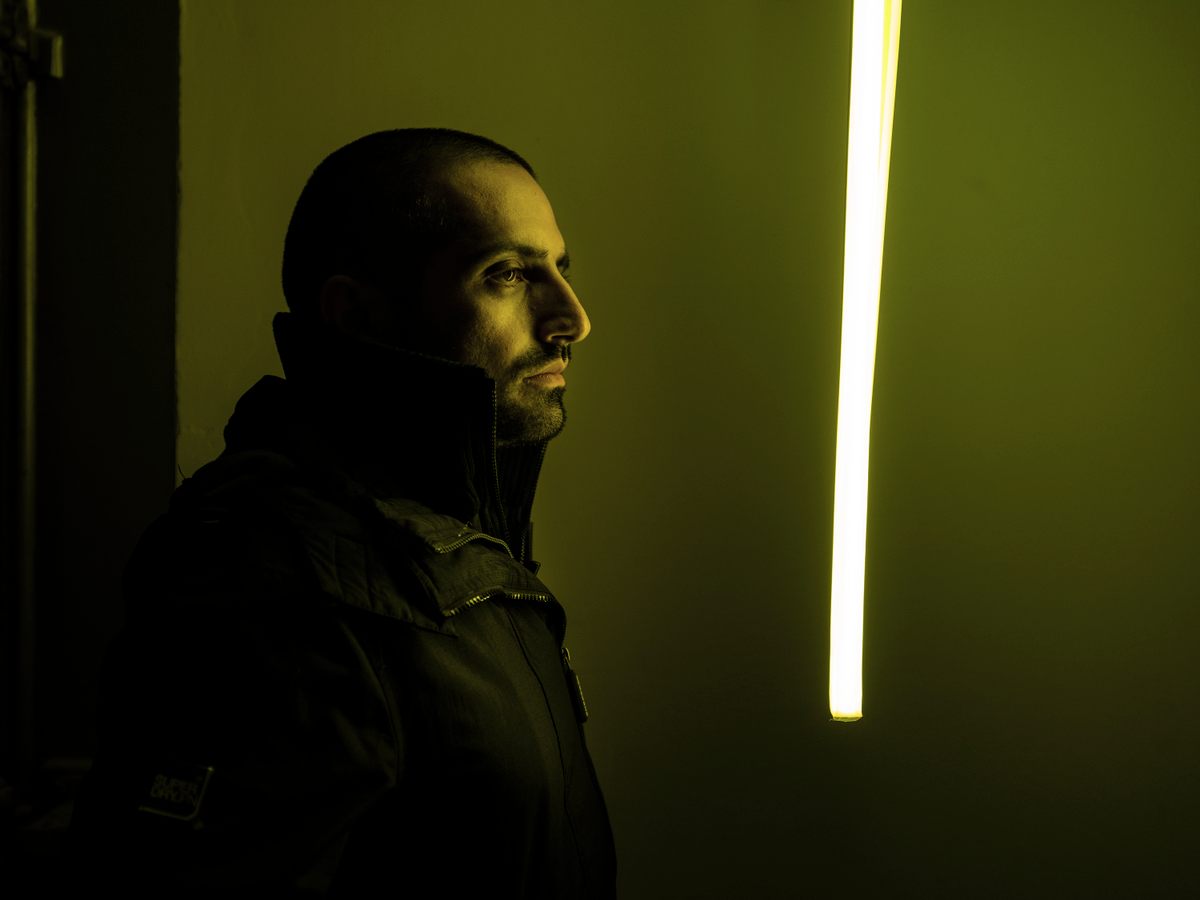 Mosul is a fitting place for a new generation of filmmakers to rise: The history of Iraqi cinema runs through it. Starting in the 1970s, Hussein's regime sought to build a cultural narrative to validate its power, and invested in the local film industry, established decades earlier by King Faisal II with British and French support, to create propaganda films. Mohammed Jamil al Shukri was the most lauded Iraqi director of the time, having shot several movies, including his debut feature, 1972's The Thirsties, a drama about water and the nation's dam system. The movie thrilled Italian director Roberto Rossellini and opened many doors for al Shukri in the European film industry. "At the beginning he didn't realize the standard we were capable of in Iraq," says al Shukri of the Italian neorealist. "But after he watched the movie, he recommended it and talked about me to all his colleagues." Today the octogenarian director lives with his wife—famous actress Fatma al Rubaee—in a middle-class neighborhood of Baghdad. His house is full of memories, photos, awards, and trophies from those shining years of promise. Though he's long retired, his eyes still glow with a rare fire when he talks about filmmaking. "I lived in a time where young people were at the center of the industry and they grew up in it," he says. "Nowadays, they need the same environment, and possibilities, to travel, go abroad and develop their skills, like happened to me."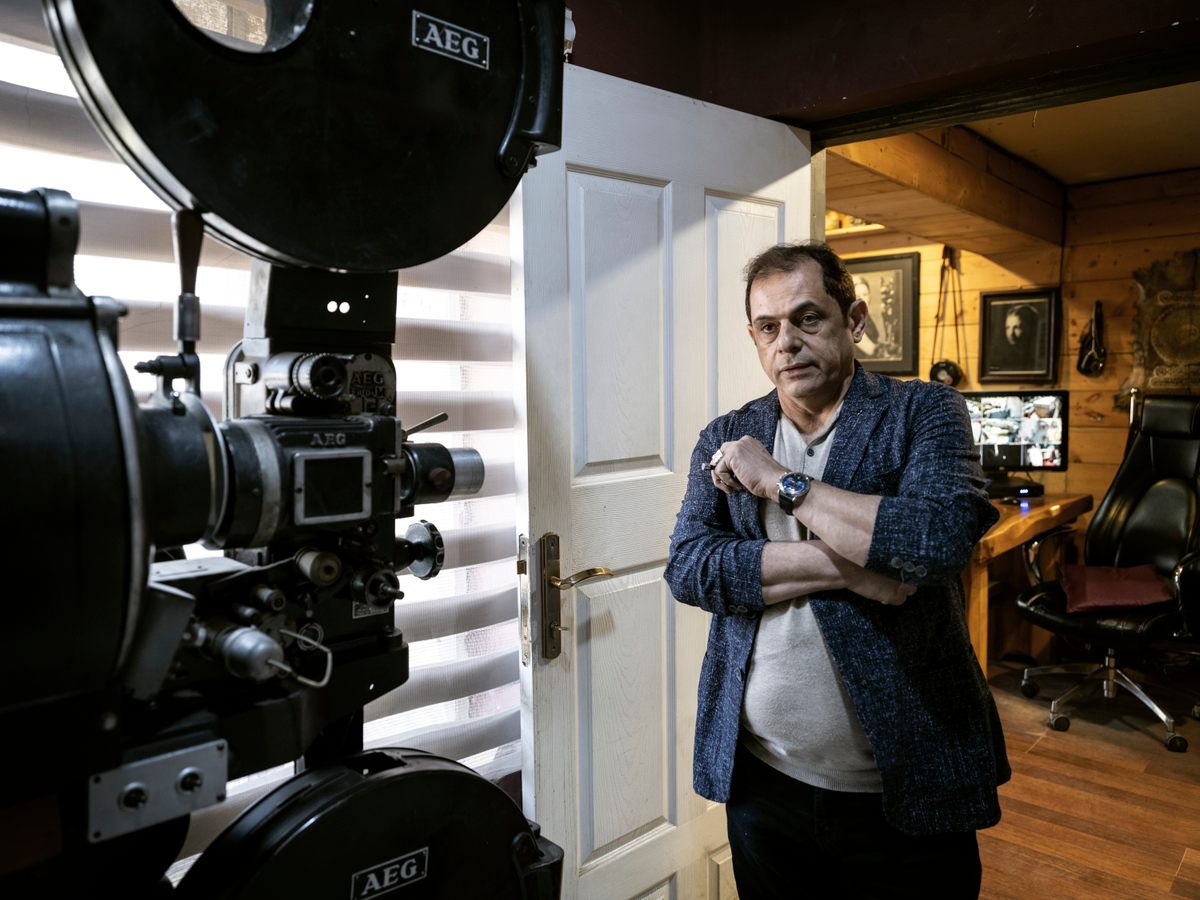 Hikmat Muttashar Majeed al Beedhan, director of the Department of Cinema at the Baghdad College of Fine Arts, has opened Baghdad's first major film production house, Art City. Since 2016 Art City has hosted an international short film festival, 3 By 3, to support local talent and provide opportunities for foreign exchange: "Iraqi cinema today is starting to have funding and an infrastructure, thanks to the success of television series, the birth of animation studios, the interest of Netflix," he says. "I'm doing my best to offer a possibility to our youth, connecting them with other talents around the world." Even a religious city such as Karbala now has its own film festival, and Baghdad boasts the studio headquarters of the Melon City Show, an Iraqi sketch comedy program created by comedian Ali Fadel. "'City of Melon' means a city without regard for the law. It describes a situation in which there is no organization and control, especially in society, because there is no effective government," Fadel says, from his studio. "Here we satirize everything and everyone: This explains why we are much loved but also why someone threatens us." Such threats are part of the landscape. Even with official permission to shoot, security remains a serious issue, with different types of militias still patroling parts of the country. Productions need to supply their own security, especially when shooting outdoors, as Wareth Kwaish and his team are doing for Hanging Gardens.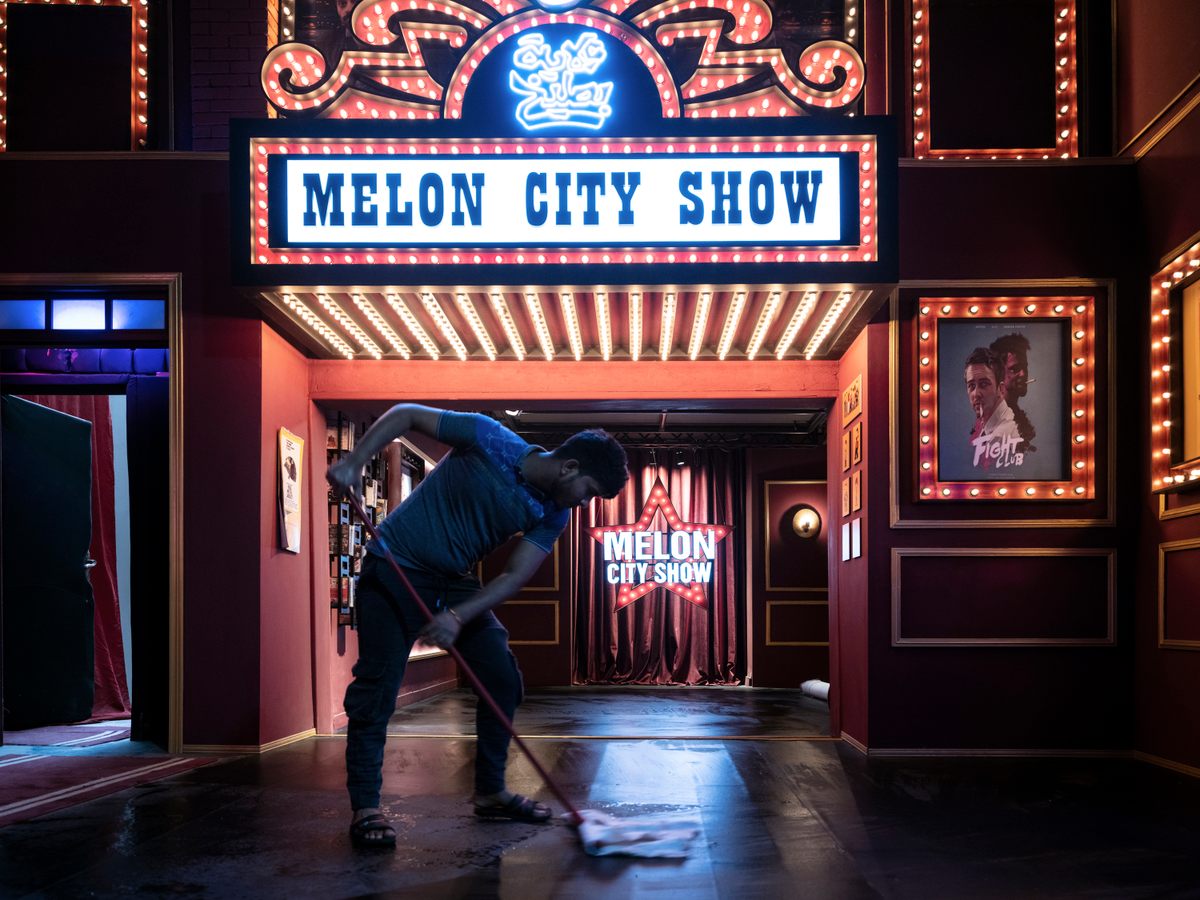 Back on the set of Hanging Gardens, in the silence of the evening, a dozen extras—all male teenagers—stand around a fire as they wait for the next take. For Kwaish and al Daraji, it is all dream, still in the process of coming true. "We are proud to be the generation that is building a new way to make cinema here. We are dreaming to reach a point to make a feature film each year. Now we make one film every two, three, four years," Kwaish says. "Why did we decide to come back to Baghdad? Because we believe that someone needs to say something about the present of our lives, not about our past, and to make something successful with it."
* Correction: This story was updated to add to the list of sponsors for Hanging Gardens.
** Correction: The original version of this story stated that Deen's latest was a horror movie, but is actually a drama.