In Japan, Combating the Coronavirus Calls for a Big Pink Cat
Meet Koronon—cute, cuddly, and a big fan of masks.
A masked superhero patrols two of Tokyo's busiest districts, on a mission to help Japanese citizens defeat the coronavirus. Its name is Koronon, and it's a bulbous, bubblegum-pink cat.
The crusader is a mascot—a person in a plush costume—with a big X slashing through the phrase "COVID-19" on its belly. Throughout the day, it prowls busy Ikebukuro and Shinjuku, handing out masks. Koronon also serves as a visible reminder to practice social distancing and hand hygiene, the pandemic equivalent of Smokey Bear's forest fire prevention efforts as a spokescritter in America's woods. COVID-era central Tokyo isn't quite as bustling as usual—bars and restaurants close early, and most events are canceled—but there are still plenty of people out and about, engaging with Koronon and its many peers.
While mascots in other parts of the world are largely limited to sporting events and amusement parks, Japan rolls out a mascot for seemingly every town, prefecture, business, event, local export, and more. Saiyou-kun, a besuited rhino, promotes the Tokyo Foundation of Employment Services; Ayucoro-chan, a kimono-sporting piglet wearing a fish as a headband, is the mascot of Atsugi City. Ranon-kun, a monk who is also a lion, is the mascot for Higashi Honganji Temple in Kyoto. Gansho-kun—the mascot of Gunkanjima, an abandoned mining island in Nagasaki—is a walking, scowling lump of coal wearing neglected buildings on its head. The list goes on and on and on.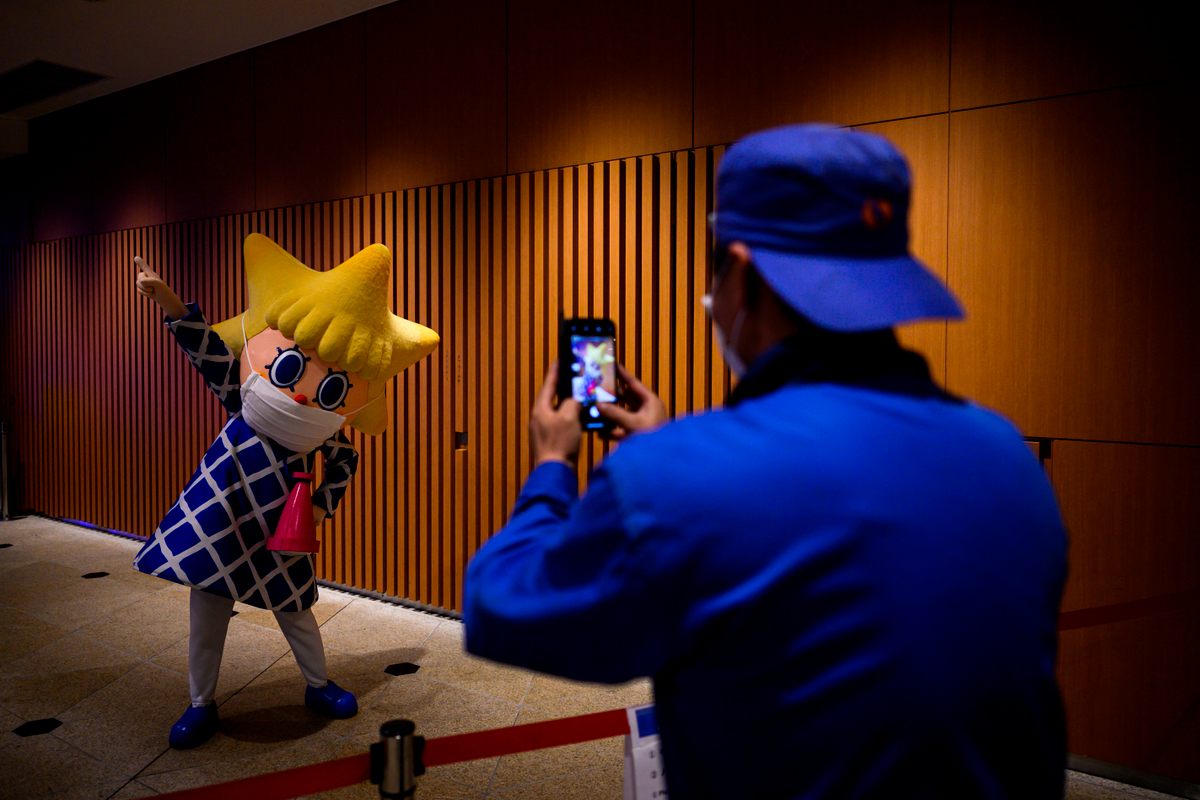 One Japanese website lists about 3,500 mascots across Japan, but this tally is nowhere near all-encompassing. The mascots draw on elements of yokai (supernatural monsters or creatures from Japanese folklore), anime, manga, and video games, and they're intended to appeal. "People tend to take pride in their local mascots," says Chris Carlier, who has been documenting Japan's myriad mascots on his social media accounts Mondo Mascots for roughly a decade. Carlier says people often buy the merchandise featuring their favorite characters.
The soft creatures can also be a balm. "Mascots help take the edge off when grim and serious matters are being discussed," says Carlier. Kaila Imada, an editor at Time Out Tokyo who has previously reported on mascots, echoes that sentiment. "I think part of it is about bringing a bit of joy," Imada says. Taizo Hayashi, designer and manager of Koronon (and Al-pha Co., an event promotion company), says he hopes the mascot helps make "the world peaceful" by providing a bit of light-heartedness against a backdrop of tough times.
While Koronon (whose name loosely translates to "no corona"), appears to be the only mascot created in response to the coronavirus in Japan, it isn't alone in its fight against the pandemic. Throughout the country, mascots have been repurposed to educate the public on issues surrounding the virus.
Some mascots that typically do other things have been enlisted to pass out face masks. Others, including Nazo No Sakana, the mascot for the Chiba Lotte Marines' baseball team, have starred in social media campaigns about proper hand-washing technique. Scores of them have been featured on signs reminding residents to practice social distancing, and illustrations of mascots appear behind human speakers at many press conferences; Carlier says their presence helps add levity to somber discussions. Because the quirky characters are so recognizable and so associated with particular places, the arrangement also helps viewers pinpoint where the politicians are speaking.
Beyond Koronon, sought-after pandemic-era mascots have included Shinjuku Awawa, a giant soap bubble that used to hang out in the nightlife district, reminding people to wash their hands; Maskuma, a mask-wearing bear who has long been the mascot of Tamakodaira Health Center in Tokyo; and Quaran, a winged creature whose big goggles apparently help it scope out infectious diseases such as Dengue and yellow fever. Since the pandemic began, many other mascots have been retrofitted with masks or visors whenever they make public appearances. Some have even worn costumes to look like Amabie, a mermaid-like creature from Japanese mythology who is said to cure illnesses.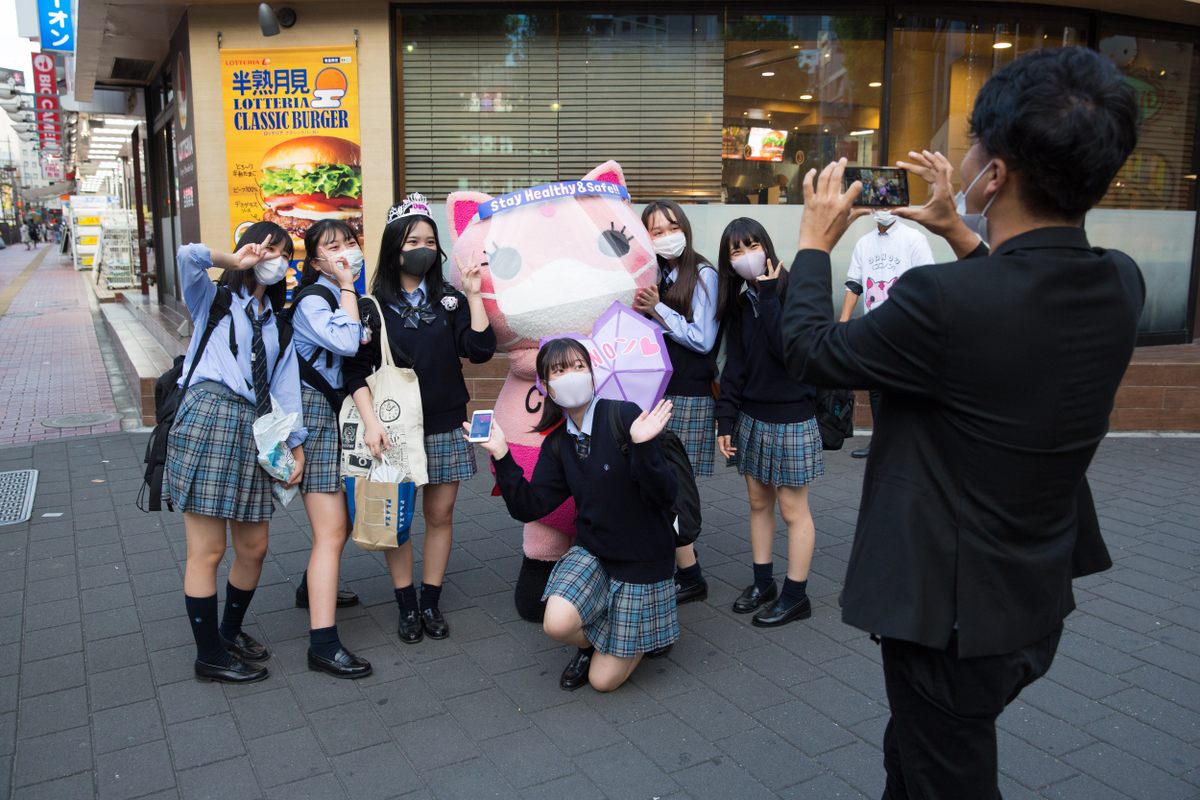 While the mascots have become a highly visible part of local governments' efforts to deal with the pandemic, it's hard to quantify their impacts. "A sign with a striking, colorful mascot is likely to grab citizens' attention, but I've no idea how effective they are," Carlier says. For one thing, they seem to be spreading the word about rules in places where people were largely already following them, anyway.
Hayashi isn't sure what will happen to Koronon in a post-pandemic world. If annual booster shots are necessary, perhaps the cat could scamper out to remind people to get theirs. Imada notes that some Japanese museums have been sourcing COVID-related materials for future exhibitions; maybe Koronon has a future there.
The big goal, Hayashi says, is for Koronon to join the ranks of Olympic mascots. Two others, Miraitowa and Someity, are already slated to participate in the opening and closing ceremonies of this summer's Olympic and Paralympic games, and various other ambassadors, including Sailor Moon and Astro Boy, have helped promote the events. Olympic watchers love a story of tribulation and triumph—of daring to try and then overcoming seemingly insurmountable challenges. And in a time that has thrown people so many hurdles, there's something delightful about rooting for an underdog. Even if it's a cat.