How to Name a Mountain Gorilla in Rwanda
Start with an ancestral ceremony for human babies. Then add 30,000 people who want to save the endangered, majestic primates.
A baby mountain gorilla's eyes glow amber amidst the leafy, emerald-green jungle. Here, deep in the lush, shadowy world of Rwanda's Volcanoes National Park, it's the gorillas' domain. Time slows in the presence of these majestic animals. Sound seems dampened by the thick, balmy air. Only a bird trilling pricks the silence.
The park's tangled, muddy maze has led a group of hikers to the Susa family, a troop of 26 mountain gorillas—including one newborn—that live on the fog-wreathed heights of Mount Karisimbi, one of the park's inactive volcanoes. Hulking silverbacks saunter across leaf-littered trails, their massive shoulders seesawing with terrifying strength. Others in the family sigh and guffaw with their arms crossed, as the baby coos and lolls about on the forest floor with his mother.
To know these animals, even for a brief time, is to want to protect them. And every September in Rwanda, tens of thousands of people gather at a riotous festival in hopes of doing just that.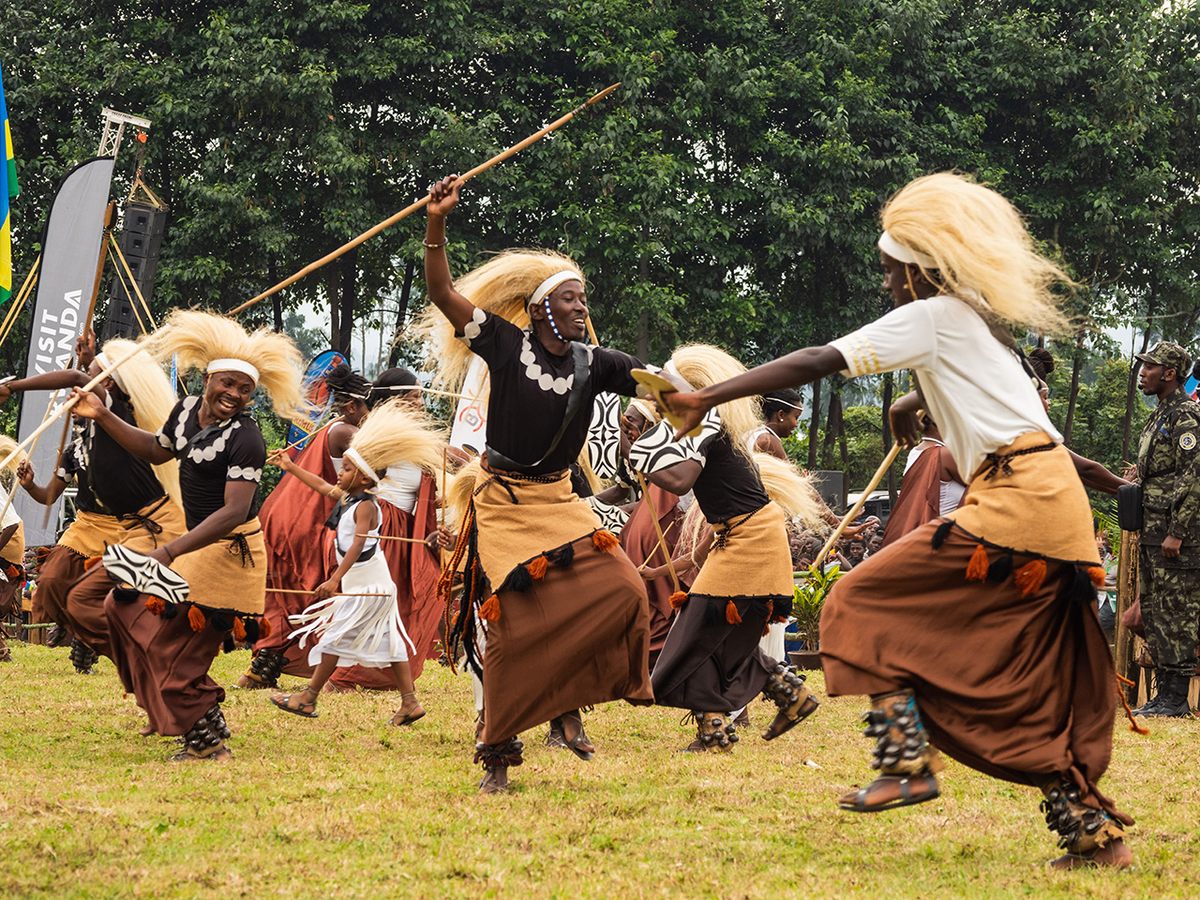 Kwita Izina, a naming ceremony for new baby mountain gorillas—which translates to "give a name"—is modeled after an ancestral tradition used for human babies, and aimed at raising conservation awareness.
"This is an ancient Rwandese tradition, and now we're doing it for our most treasured animal," says Rosette Rugamba, a founding member of Kwita Izina and owner of Amakoro Songa Lodge, near Volcanoes National Park. "We're linking conservation and culture."
The custom of hosting a naming ceremony for newborns is one of Rwanda's oldest cultural traditions, widely believed to date back to the foundation of the monarchy, in the 11th century. A week after a child was born, its parents would invite friends and family from their clan—or ubwoko in Kinyarwanda, the country's indigenous language—to their home to help choose a name. Women and children would prepare food—typically a one-pot dish combining local produce such as cassava, peas, and peanuts—while the men shared sorghum malt beer.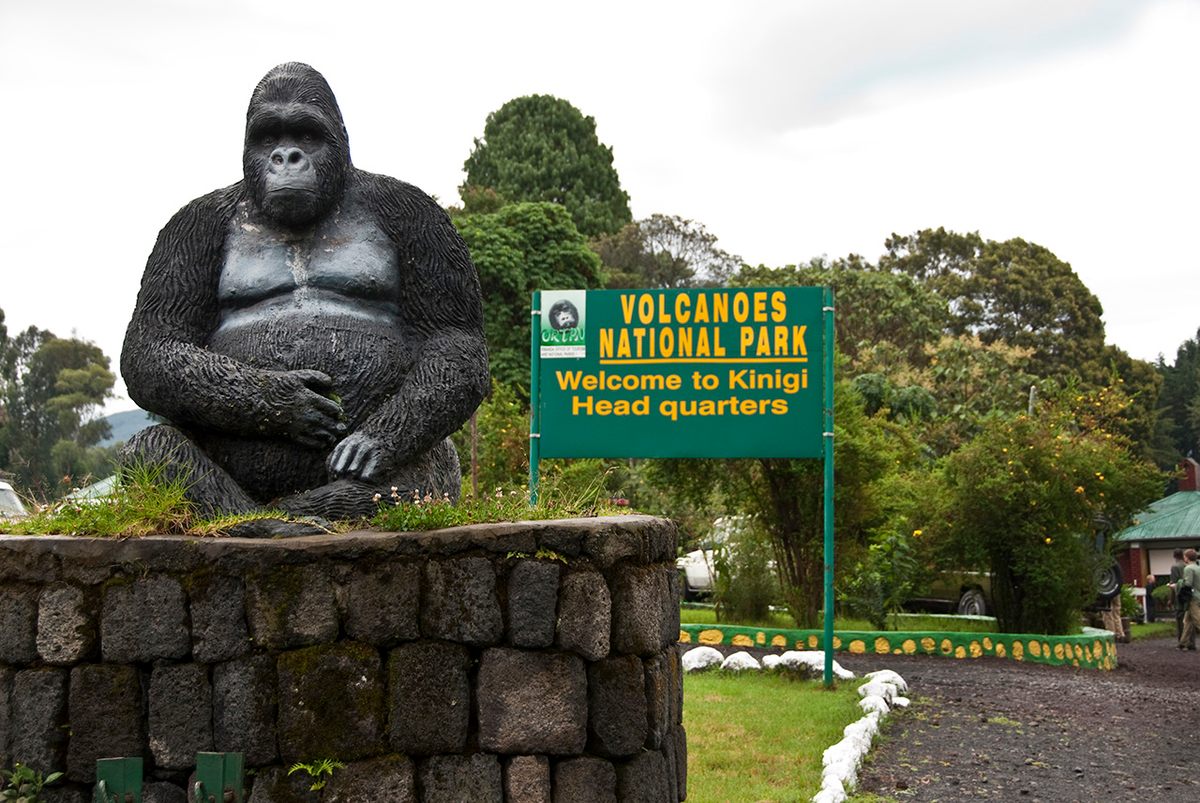 The ceremony would begin with the presentation of the newborn to the clan, followed by a collective prayer to Imana, the supreme being, to protect the family and endow the parents with many more children. Everyone from the tribe's youngest members to its elders would suggest a name—typically something with an auspicious connotation.
Once the parents chose from the list of proposed names, the clan mothers would erupt in cheering and applause, known as impundu ("happiness sounds"), and a parting beer made from fermented bananas, called agashinguracumu, would be served to the departing guests. The family would be showered with gifts, such as a cow or new linens, and the baby would be allowed to leave the house, and enter the outside world, for the first time.
This naming ceremony is still practiced today, though adapted to contemporary life. Prayers are often directed to a Christian god now, for instance, and might coincide with the child's baptism. "It's a big party," says Rugamba. "Now it's also a party for our gorillas."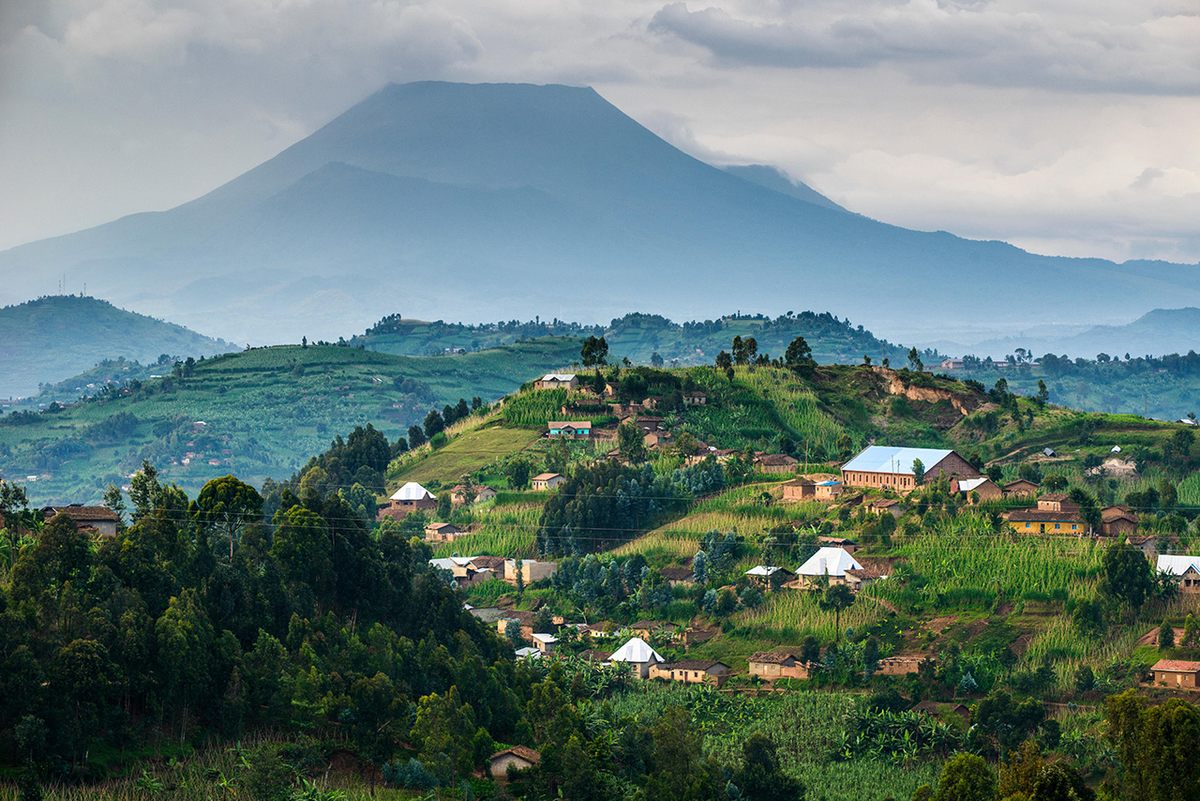 Mountain gorillas are endemic to this part of the world, spanning the Virunga Massif—a chain of volcanoes that shares borders with Rwanda, Uganda, and the Democratic Republic of the Congo—and Uganda's Bwindi Impenetrable National Park. But they've long been victimized by humans. Despite Dian Fossey's storied work to protect these endangered animals from poachers and human-transmitted disease—work that included her establishment of the Karisoke Research Center, in Rwanda's Virunga mountains, in 1967—the gorilla population steadily decreased throughout the 20th century.
As the 1994 genocide devastated the country's people—an estimated 800,000 were killed between April and June—it also left the gorillas unprotected and open to more attacks from poachers.
"Three or four years later," says Jean Paul Karinganire, a biologist at Akagera National Park in western Rwanda, "when Rwandan refugees returned home, they were given land that encroached on gorilla habitat, which further reduced the population."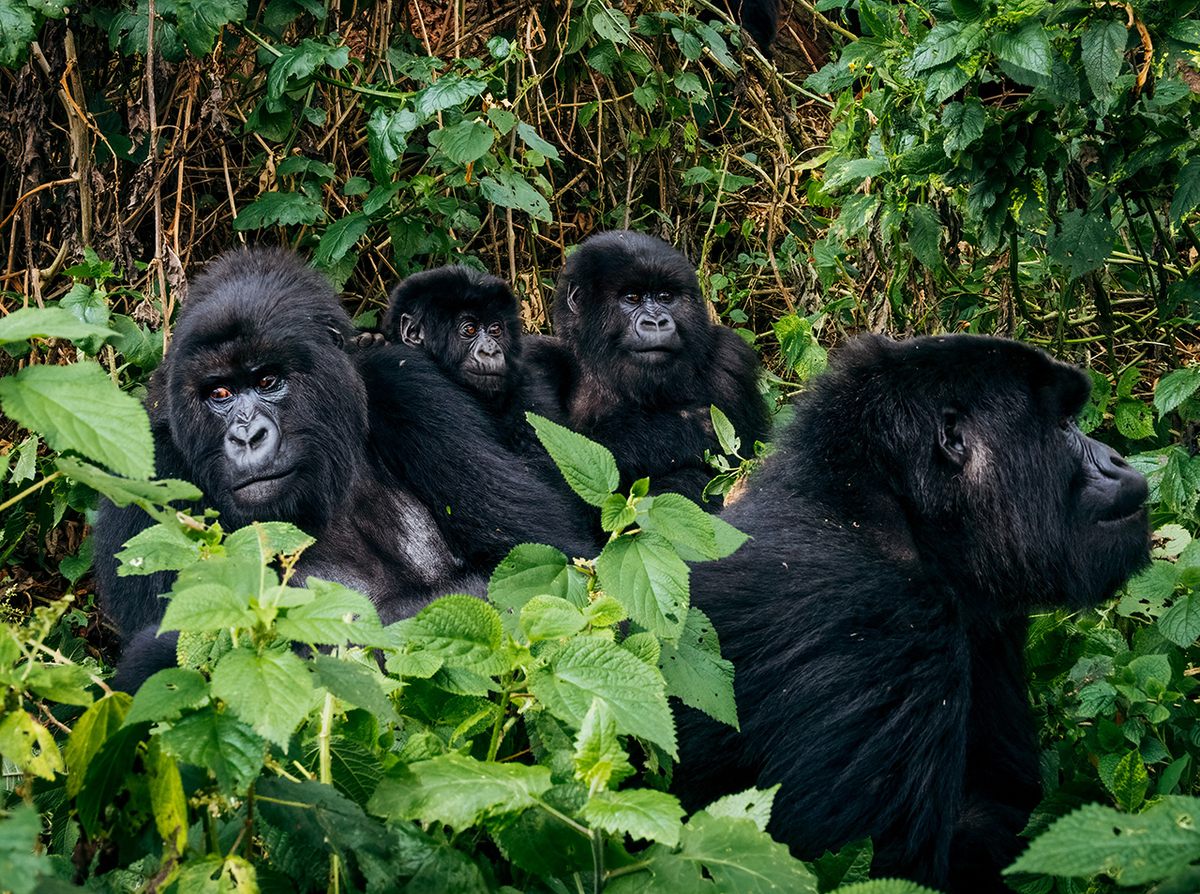 But slowly, through a strong park-ranger presence and a vigilant local community, population counts have started to climb. Since Kwita Izina began, in 2005, more than 280 baby gorillas have been named. At the same time, the number of mountain gorillas in the wild has risen. According to the most recent census, in 2016, there were 604 in the Virunga Massif—up from the low-water mark of 242 just a few decades earlier—and 1,004 in all (including those in Bwindi Impenetrable National Park).
The naming ceremony has helped bolster these numbers in two ways: by raising international awareness about (and funds for) gorilla conservation, and by keeping the local community involved in conservation efforts, and celebrating their successes. Ninety-four percent of Volcanoes National Park staff come from local villages, whose residents actively help protect the gorillas by maintaining the park's perimeter wall—which reduces human-wildlife conflicts—and reporting suspicious activities in the area.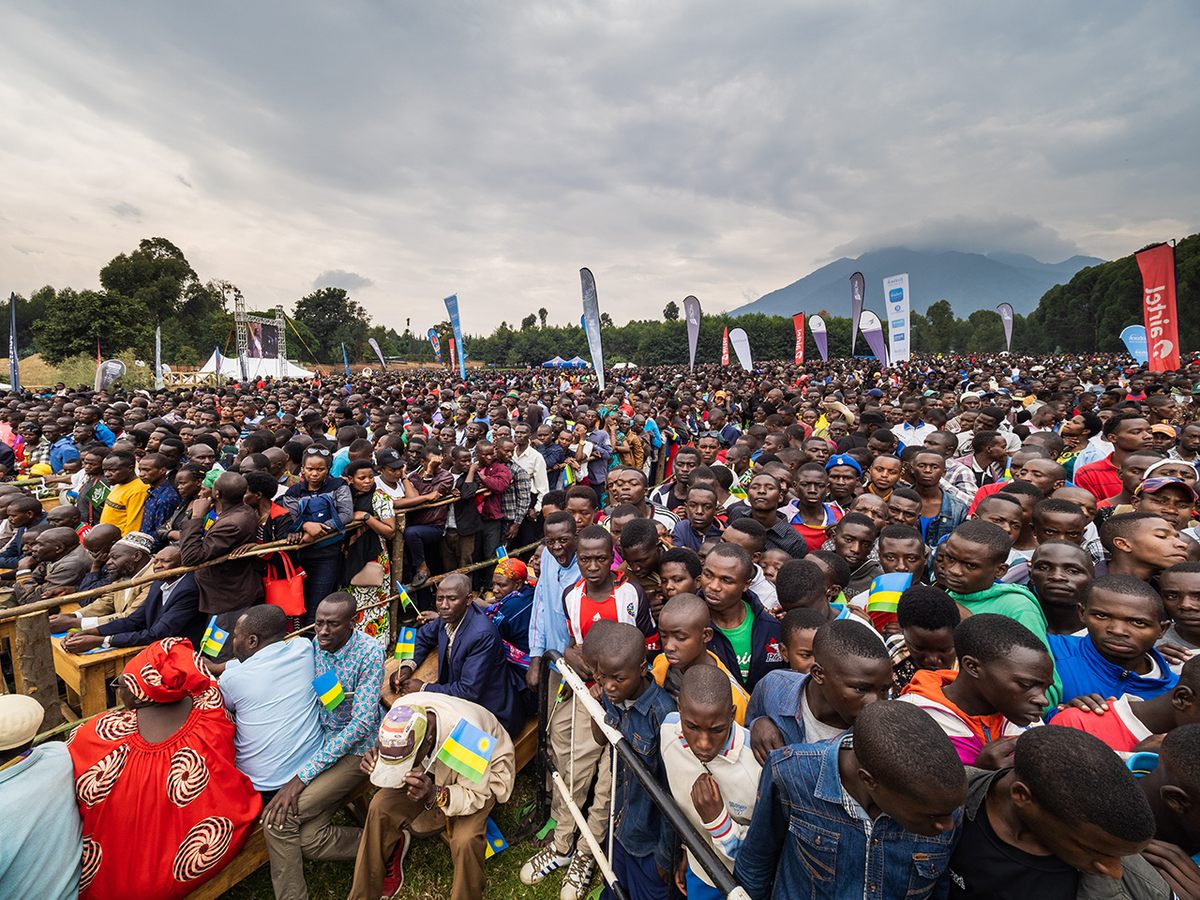 In return, 10 percent of Rwanda's tourism revenue, including the sale of trekking permits to see the gorillas, is fed back into the local communities surrounding Volcanoes National Park. The money is used to build medical centers and schools, supply clean water, and repair roads and other infrastructure.
In September, Kwita Izina was held in Kinigi, a town in the foothills of Volcanoes National Park. Rwandan dancers in vibrant beaded garb moved to the drum-based rhythm of the "Intore," the traditional national dance, whipping their long straw headdresses around like sheaves of wheat in the wind. The hum of the crowd and the pulse of the music grew feverish under the midday sun, until finally, each chosen representative took to the stage—a platform shaped like a silverback gorilla—to share their baby gorilla's name, chosen from a pool of names supplied by park rangers. Rwandans from all over the country waved the national flag and cheered, as the mythic spire of Mount Karisimbi loomed in the distance.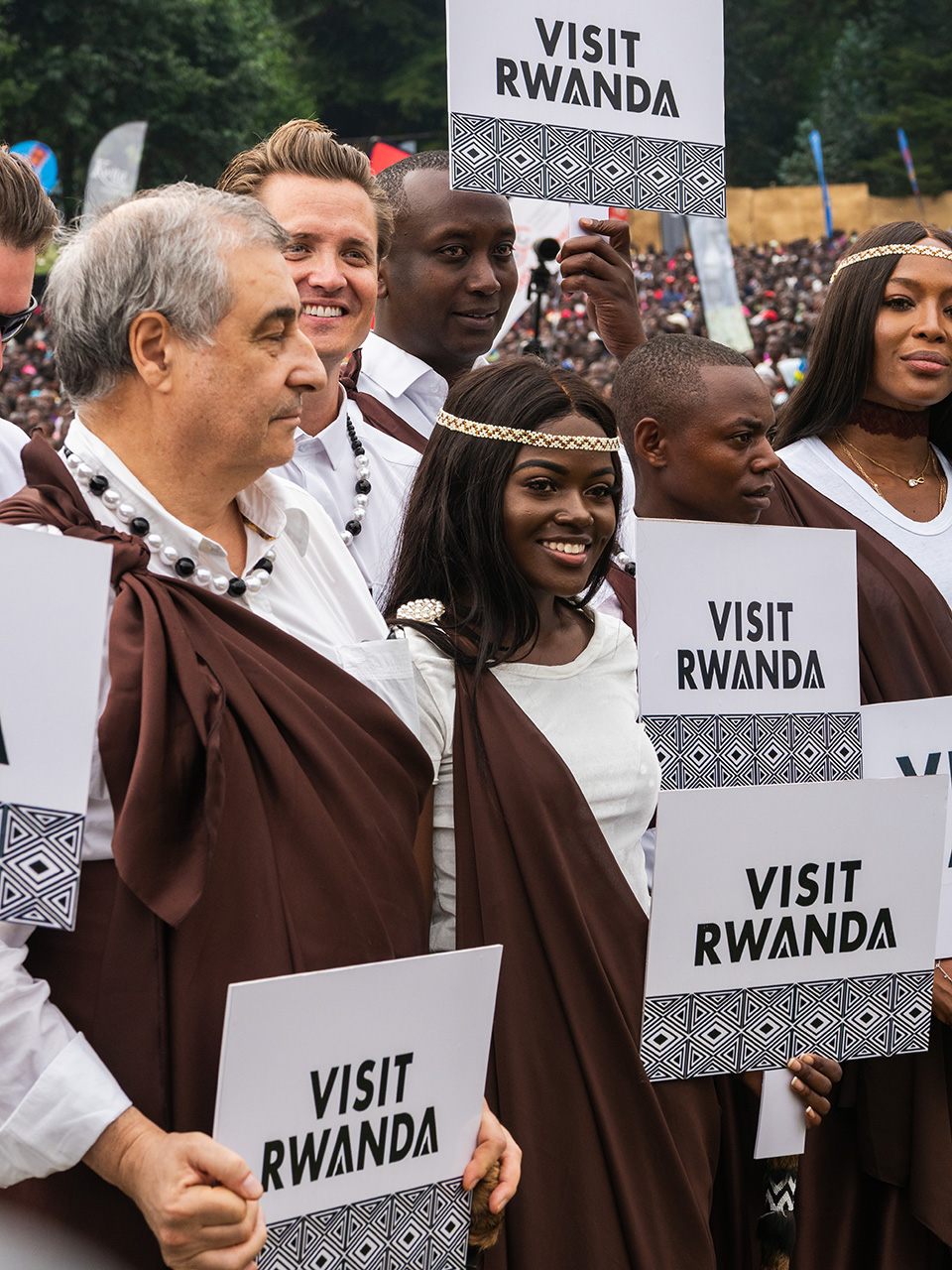 "I loved every minute of Kwita Izina," says Karinganire, who grew up in Kigali, the capital city. "I first discovered the gorillas when I was 10 years old and watched Gorillas in the Mist. Then at university, my knowledge about them grew, and since this event started, it increased my curiosity. They're a species that is so unique and close to us humans. Then I got to see them in person in 2012. It was the best experience of my life."
For 30 years prior to the first official gorilla-naming ceremony, mountain gorillas were named by park rangers and researchers in Volcanoes National Park, as a way to track the animals and monitor their health. At the ceremony's inception, Kwita Izina organizers invited the president of Rwanda and his wife, as well as the park's rangers, to name the gorillas. But as Rwanda's conservation success story grew, so did the list of attendees.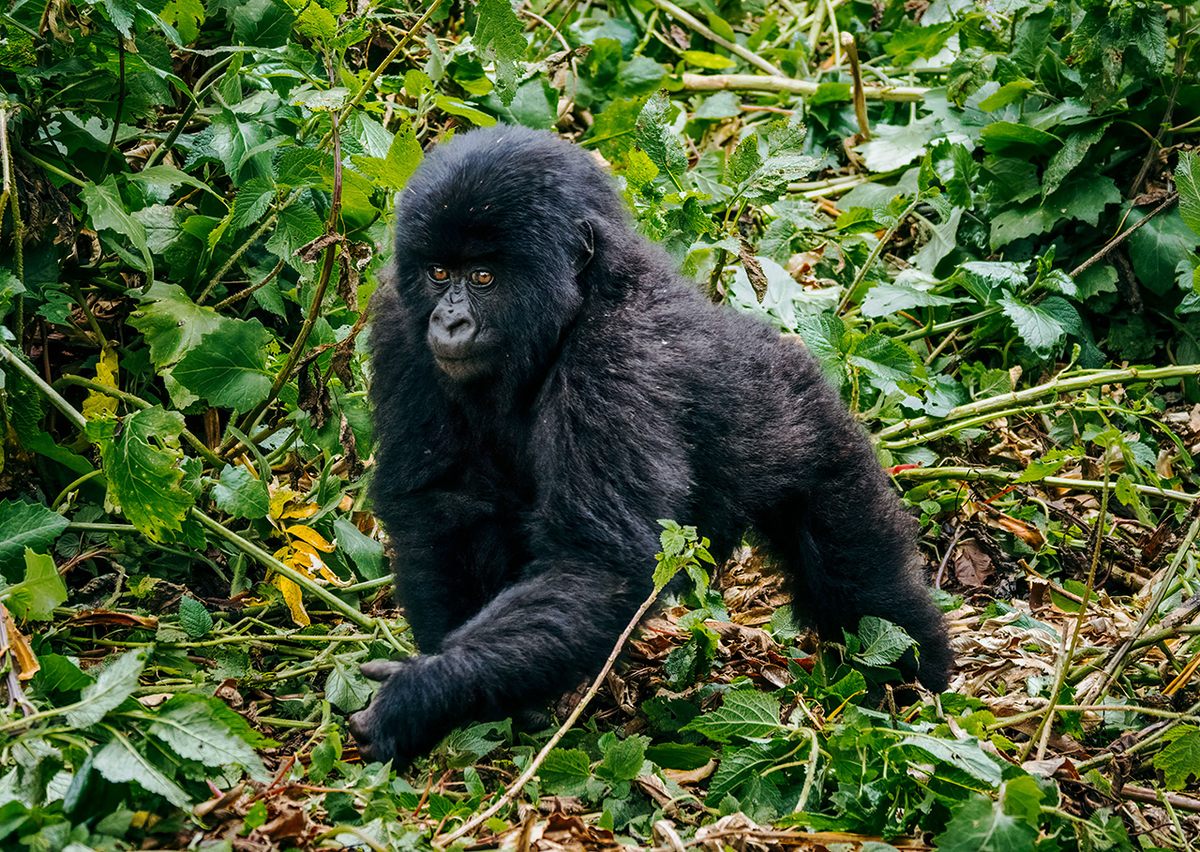 In 2019, 30,000 people watched as 25 baby gorillas were named by a group of international delegates—selected by a Rwandan government committee for their dedication to gorilla conservation—as well as local delegates who were chosen because of their community impact. This year the group included a young Rwandan boy who constructed a 4.25-mile road by hand for his village in the Karongi District, as well as foreign diplomats and celebrities such as Dutch football legend Louis Van Gaal and British supermodel Naomi Campbell.
Just as human names are carefully chosen and imbued with meaning, so are the gorillas' names. From the rangers' pool of suggestions, delegates announced names with meanings such as "excellence" and "leader." (In 2017, a gorilla was named Macibiri in tribute to Dian Fossey, whom locals called Nyiramacibiri—"the woman who lives alone in the mountains.")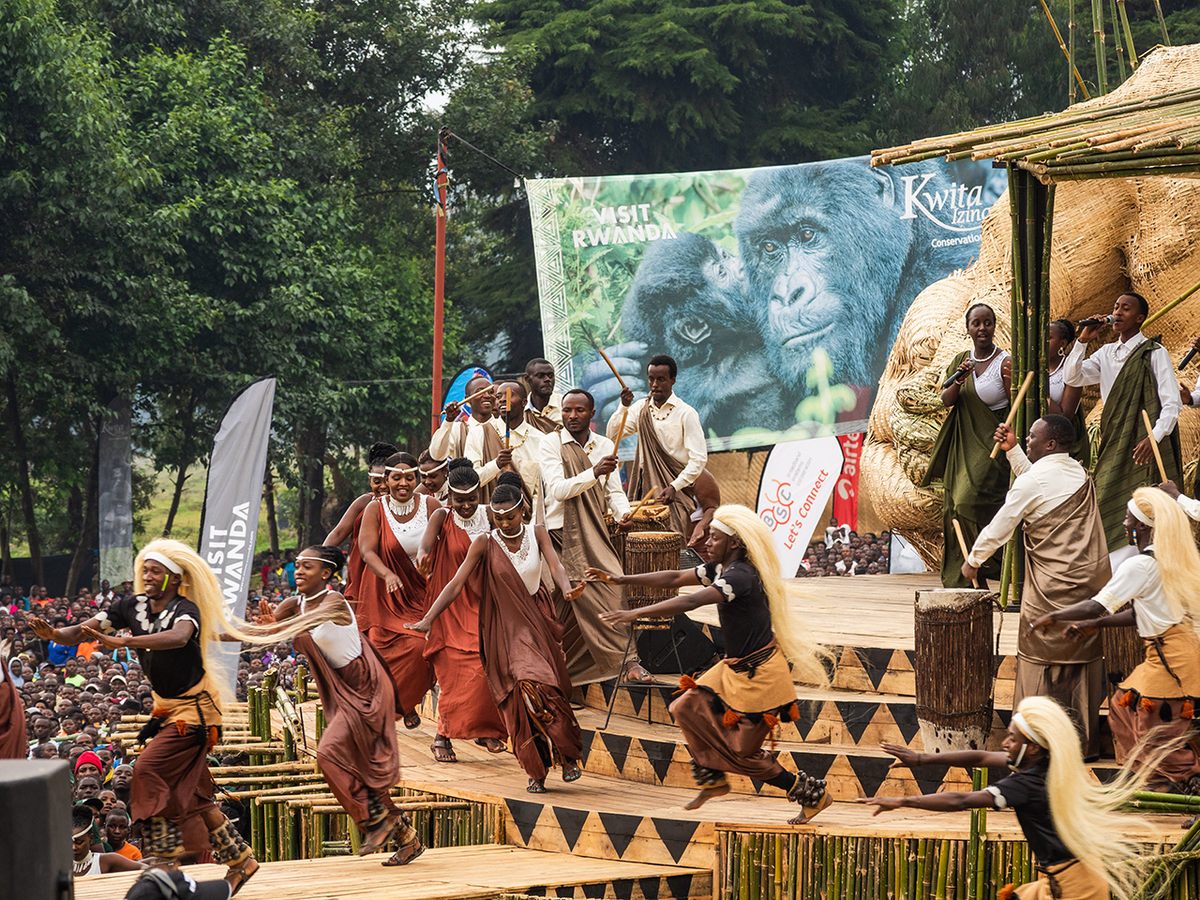 Many elements of the day hark back to the traditional naming ceremony used for people, from the jubilant applause to the gala dinner where the gorillas, and those working to conserve them, are recognized and toasted with local beer and wine.
The decision to extend Kwita Izina, an ancient familial tradition, to the gorillas, is a symbolic torch set aflame, signaling to the world that the life of a mountain gorilla is as deserving of care and attention as a human one.
"The gorillas need my protection," says Karinganire. "I love them, and I love how my country has taken a leap in conserving them."