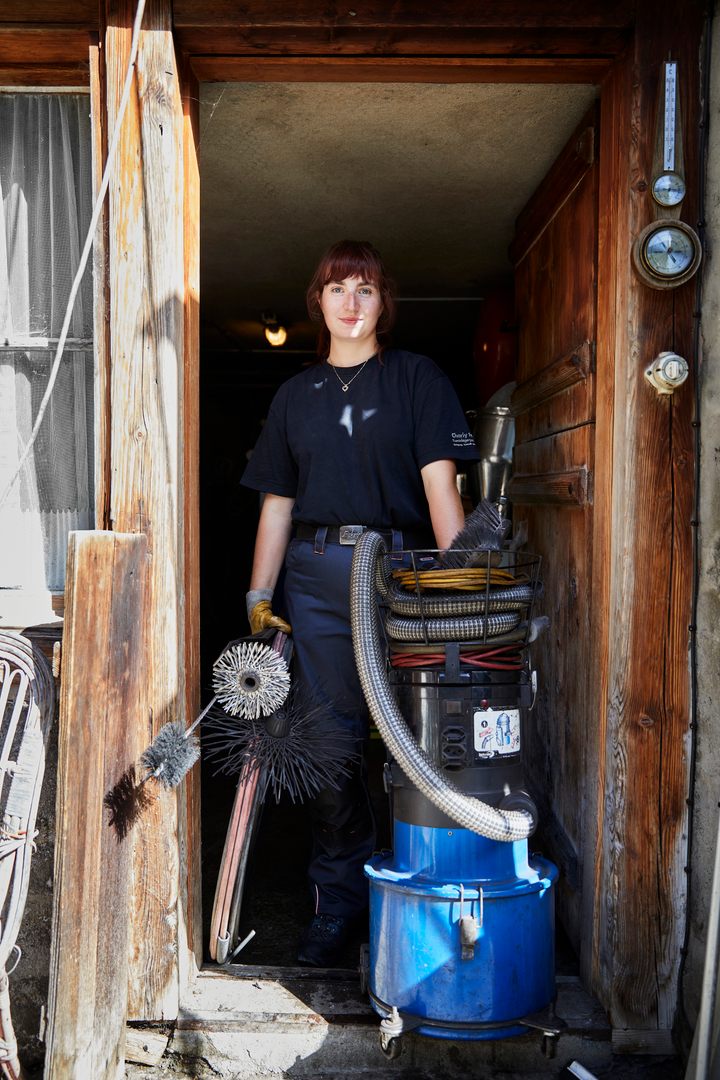 Is This the End of Switzerland's Chimney Sweep 'Mafia'?
The long history and new face of a sooty industry.
Imagine opening your front door, still in your pajamas, on a frosty Swiss morning, only to find a man dressed entirely in black staring back at you. Charcoal trousers, top hat, and boots, a little broom and dustpan peeking out of his bag. He waves an official-looking document in the air and insists on entering your house. A little bemused, you wave the chimney sweep in.
Such encounters are common in Switzerland, where these men and women in black are jokingly called the "chimney sweep mafia"—"mafia" because they seem to be exempt from all the rules. In some cantons they can turn up at short notice, enter your house, and charge you for the privilege. It's all state sanctioned: the cantonal government assigns one chimney sweep—or one small company, often family-run—to service a particular geographical area, and all other chimney sweeps are forbidden from working there. The government also sets the price of their service (from about $100), and residents are legally required to have their chimneys swept every year or so. This type of monopoly is highly unusual in a capitalist state where virtually every other profession is governed by the norms of free-market competition.
Swiss government protection of chimney sweeping is rooted in history and was designed to protect citizens from a very real fire threat. Wood burnt in a fireplace often doesn't receive an adequate air supply, leading to incomplete combustion. The resulting vapors produce a toxic, tar-like substance called creosote which hardens inside chimneys and can blow up at inopportune moments. For instance, creosote is likely to have contributed to the severity of the Great Fire of Bern in 1405, which destroyed more than 600 buildings and killed 100 residents. The Swiss government believed chimney sweepers and their monopoly would help prevent more of these types of devastating fires.
Until recently, they weren't the only ones either. Neighboring Germany and Austria only liberalized their own chimney sweep monopolies in 2013 and 2015 respectively, because of increasing criticism that the monopolies were violating European Union competition law. As an EU outsider, Switzerland remains impassive to this pressure. Nevertheless, the chimney sweep mafia may be slowly becoming obsolete. To date, just over half of Switzerland's cantons have overturned their chimney sweep monopoly which has existed for over 100 years—a change that may allow chimney sweep companies to expand and make the seemingly antiquated profession an attractive career option for young Swiss.
Training to become a chimney sweep in Switzerland is rigorous, consisting of a minimum three-year apprenticeship program, with the option to continue to a master level. Far from the sooty stereotype perched on a rooftop, a modern-day Swiss chimney sweep can advise on the safe, environmentally friendly, and energy-efficient operation of all types of combustion and heating systems, in both residential and industrial buildings. Brooms have made way for dust and water vacuums, steel brushes, and high-pressure cleaners. Even the uniforms have been updated, to simple black trousers and shirts.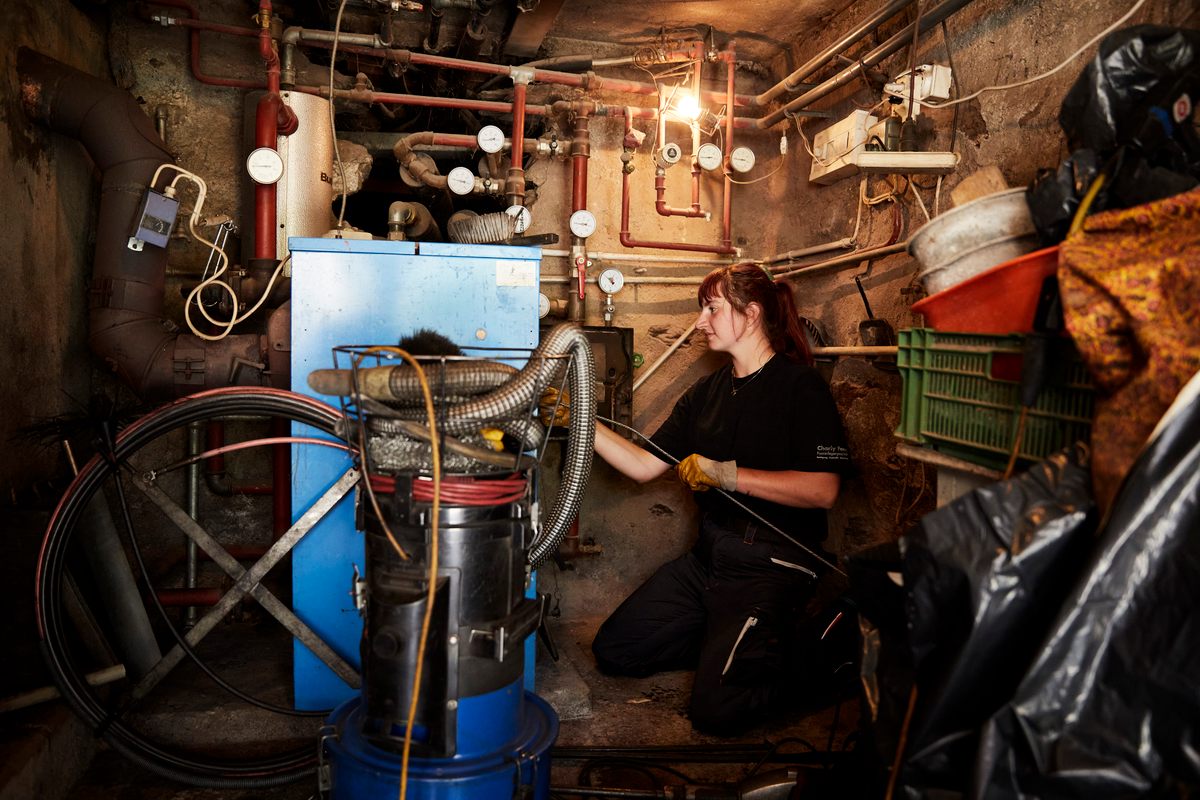 Twenty-year-old Martina Graf is perhaps the best proof that chimney sweeping is not merely a relic of the past. Growing up on a traditional alpine dairy farm with a spectacular view over the waterfalls which gush down the Lauterbrunnen Valley, Graf had specific criteria for her future career. "I always wanted a physical job, where I would be outside and also where I wouldn't have to travel far to work," she says. That was chimney sweeping. She now works at a small family-run business which employs five sweeps, three women and two men.
The chimney sweep monopoly ended in Graf's canton of Bern earlier this year. At least temporarily, the increased competition has meant less work and more traveling for Graf. "It's also interesting to go further away and see how things work in other places…but actually, I found it was better before, when everyone had their own area and knew everything," she says. Perhaps that's why parts of Switzerland continue to embrace the chimney sweep mafia. It's nice to see a familiar smudged face every year and develop local relationships. "When you can go inside the house, there's often coffee, maybe something to eat," says Graff. "That always saves my day."
Another possible explanation for why chimney sweeps still hold a monopoly in many cantons: they are considered a symbol of good luck. In Switzerland today it's not uncommon to buy a lucky four-leaf clover plant at the supermarket embellished with a tiny black sweep figure sticking out of the soil. Older residents remember the days when just seeing or touching a chimney sweep promised to bring happiness.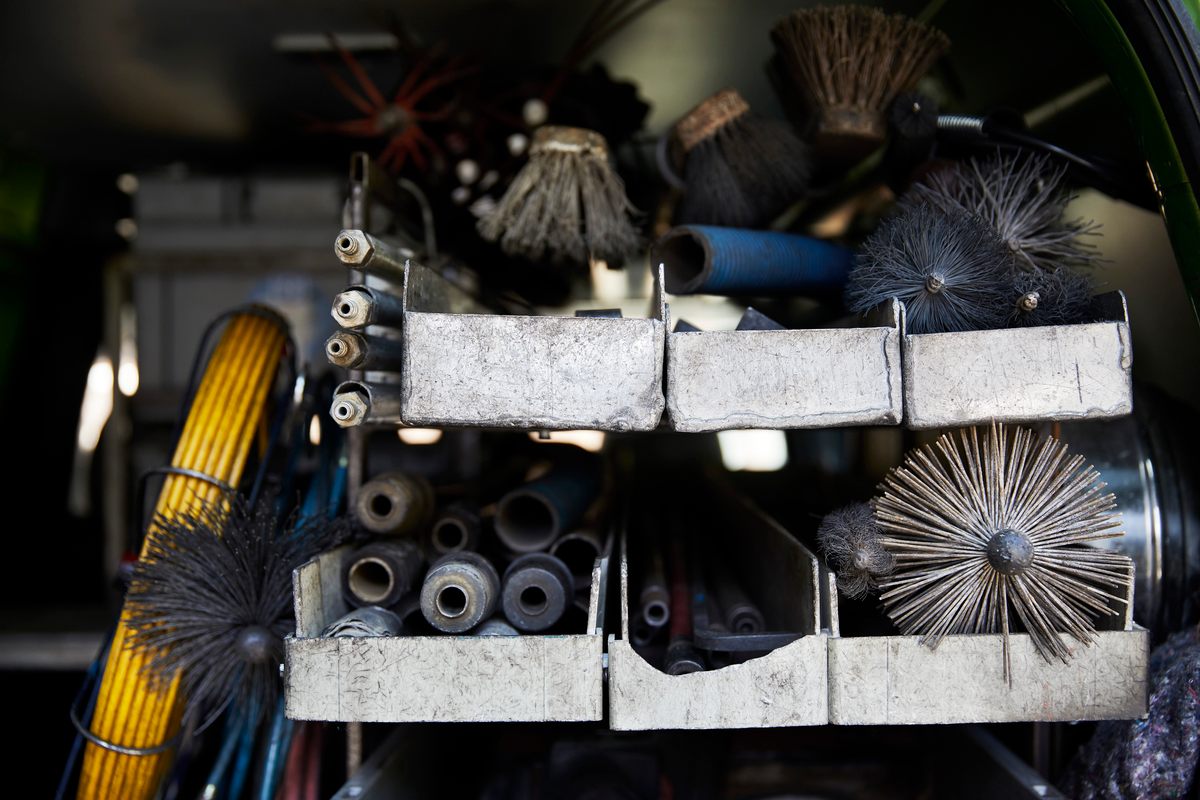 It's an unexpectedly cheerful connotation for a profession with a difficult history. If you were a particularly small boy between six and eight years old in the Italian-speaking region of Switzerland in the 18th century and had the misfortune of coming from a poor family, chimney sweeping might just have been your worst nightmare. Hundreds of little sweeps were recruited to work the sweeping season from September to April. As they cleaned chimneys deemed too narrow for adults their heads were often enveloped by a "caprüza," a hood without eye holes to protect them from soot and dust as they scraped with the rasp and brush in the dark.
"They went into the chimneys barefoot, propped themselves up with their knees and elbows…until they'd scratched [the creosote] all out. They were given little to eat. It was a terrible exploitation," says Anita Hofer. Hofer is the vice president of the Chimney Sweep Association in Italy and oversees the Spazzocamino (Chimney Sweep) museum in Santa Maria Maggiore just over the Swiss-Italian border. The practice lasted about 100 years, until around 1930 and the story is retold in pictures, song, and first-person accounts on the museum's second floor. The humble exhibition is found off a cobblestoned street and behind the stone church in Santa Maria Maggiore; it is easily recognized by the shadowy figures adorning the roof. The museum is both a celebration of the profession and a haunting reminder of its checkered history.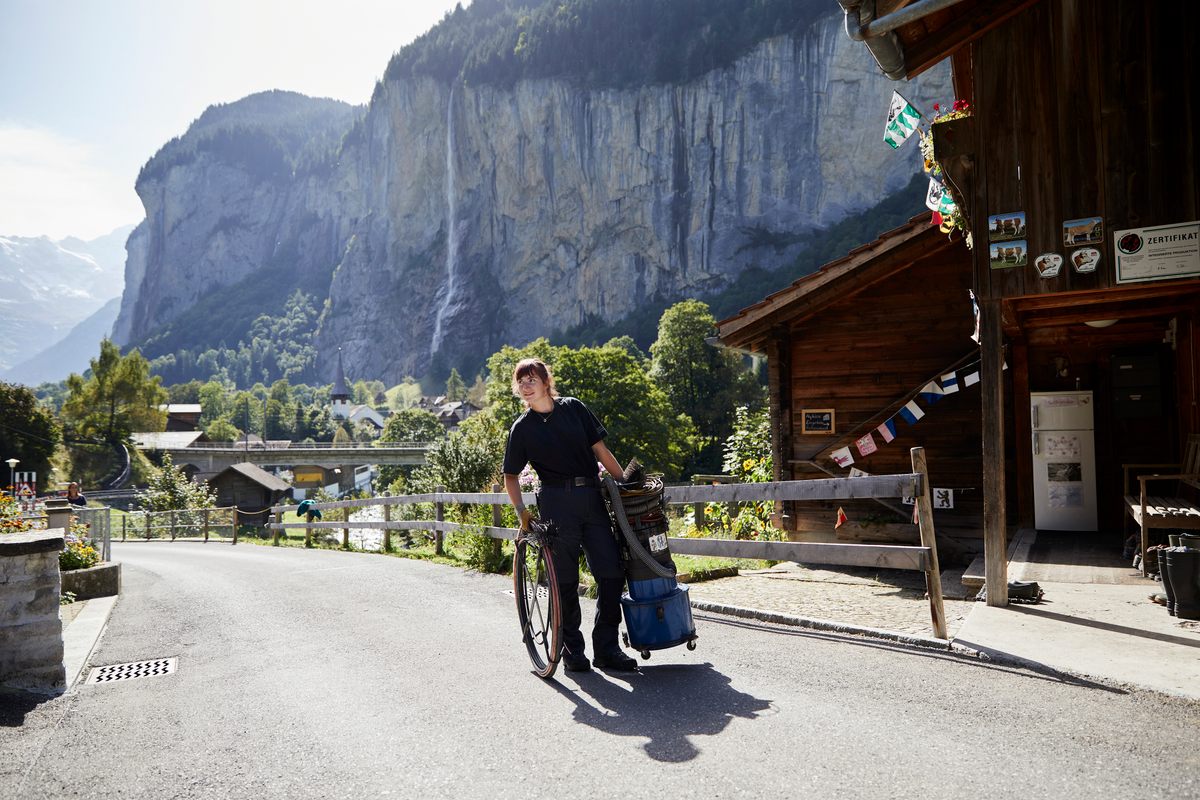 The sacrifices of the little sweeps have not been forgotten by their successors. They are remembered each year at the International Chimney Sweep Festival held in Santa Maria Maggiore over three days on the first weekend in September. The festivities attract some 1,000 chimney sweeps from 26 different countries, including Japan and the United States. The festival also attracts thousands of curious visitors who gather to watch the chimney sweeps parade in their traditional dress with sooty black faces. Look for the revelers with black top hats and red scarves tied around their necks, an enduring symbol of Switzerland's chimney sweep mafia.