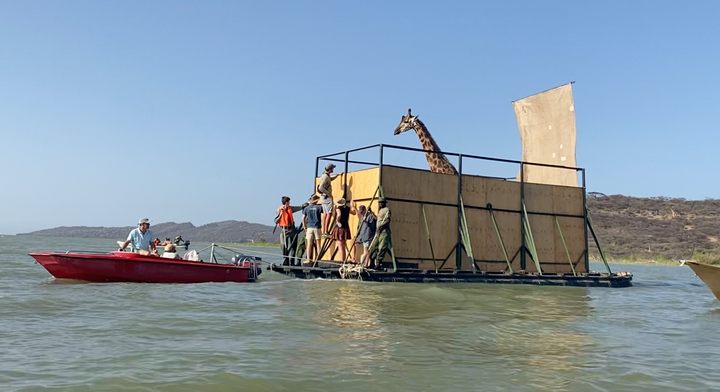 Flying Rhinos and Divine Tigers: Atlas Obscura's Year of Awe-Inspiring Critters
Looking back on 2021's stories about amazing animals and the people helping to protect them.
Humans are one in a trillion, give or take. That's about the max number of species believed to inhabit our planet, according to biologists' best estimates. That number does, however, include microbes (and among them, viruses), and we can probably agree that we'd rather read about something else right now.
Fortunately, this year our writers fanned out around the world to find lesser-known species that deserve our attention, and novel projects that humans are undertaking to make the world a little better for them—and, by extension, for all of us.
Take a look at some of our favorite wildlife stories of 2021, from the surprising to the serendipitous, and be awed by some of the trillion or so other species out there.
---
by Ashley Stimpson
The buffy-tufted-ear marmoset, nicknamed the little skull monkey, always looks like it wants to speak with the manager—and really, can you blame it? Already threatened by disease and habitat loss, the primate is now getting muscled out of existence by common marmosets running amok. Meet the team trying to help this grumpy monkey.
by Jessica Leigh Hester
These penny-sized invertebrates arrived on the scene well after Henry David Thoreau's 19th-century meditation on the natural world. Today, modern Thoreaus can marvel at the non-native species that has established itself with little fanfare in one of the world's most celebrated bodies of water.
---
by Gemma Tarlach, Senior Editor/Writer
From the slopes of Denali to the treeless High Arctic, more than 20 bumblebee species thrive in the 49th State, thanks in part to a self-heating system that rivals that of mammals. But just how many bees are bumbling about Alaska? Researchers are taking the first-ever head count to find out.
by Winnie Lee, Visuals Editor
We take a look at how Eastern Australia's Byron Bay Wildlife Hospital, which has the country's largest mobile urgent care unit, tended to furry, feathered, and spiny victims of recent historic flooding.
---
by Radhika Iyengar
Tigers and leopards roam across a wide swath of western and central India, including populated areas. Many locals believe the animals are manifestations of a deity—an attitude that has led not to conflict, but to celebration of, and coexistence with, the fearsome predators.
by Winnie Lee, Visuals Editor
As floodwaters rose and a Kenyan lake threatened to swallow their home, a local population of giraffes faced a terrible fate. Moving the animals is no easy task—their unique anatomy poses special risks—but a coordinated effort, and a custom-built barge, led to an innovative solution.
---
by Ashley Stimpson
How do you move a rhino? Very carefully. And it turns out the best way to move the bulky beasts across long distances or challenging terrain is by helicopter. While it may look like torture, researchers have found it's actually to the animals' benefit.
by Hannah Thomasy
Big-eyed and capable of making R2-D2-like calls that echo through the cave systems where they live, little coquí frogs rank high in the cute critter category. We follow one researcher trying to learn how to save these frogs from disease, habitat destruction, and other threats.
---
by Ashley Stimpson
A once-neglected plot of land owned by SFO has been transformed into a safe haven for the beautiful but highly endangered San Francisco garter snake and other species in need of sanctuary.
by Kristen Pope
Why did the langur cross the road? It doesn't matter. What's important is that, thanks to a novel approach that upcycles discarded material into urban canopy bridges, animals are now able to travel safely, far above the madding (human) crowd.