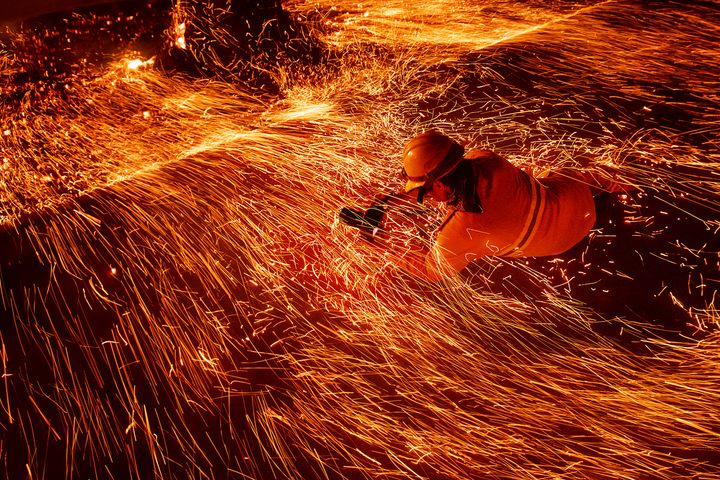 The California Photographer Who Has Shot More Than 100 Wildfires
Noah Berger is in his element amid smoke and flames.
Photographer Noah Berger was running on adrenaline, loads of iced coffee, and very little sleep when he made a mistake. He was covering the Lilac Fire in San Diego in late 2017, and the firefighting crew was preparing to spray water on a burning house. Berger ran around to the opposite side of the building, "and they turned on the hose, and it went through the house and blew out the back door or window that went into my face and cameras," he says, " … blew my glasses off my face, and I can't really see without the glasses." His first camera was dead, his second functional but crippled. "My glasses I couldn't find so I had to get back to the car and I put on my sunglasses." But after that, he more or less called it a night. Getting hosed is just one of the challenges of photographing wildfires, but facing them paid off for Berger and his Associated Press colleagues, who were named 2019 Pulitzer Prize Finalists for breaking news photography. Some of Berger's images are also part of the group show Facing Fire: Art, Wildfire, and the End of Nature in the New West, featuring 16 artists, at the California Museum of Photography in Riverside.
"It has escaped no one's notice that wildfires are growing in scale and severity. In California, 16 of the largest wildfires ever recorded have occurred in the last 20 years," senior curator and photographer Douglas McCulloh writes in an email. "Berger and the others have multiple motivations in doing this arduous, dangerous wildfire photography. One motivation is to shine a brighter light on the issue of wildfires, man's role, and in climate change. In this they are successful. These images are seen literally around the world."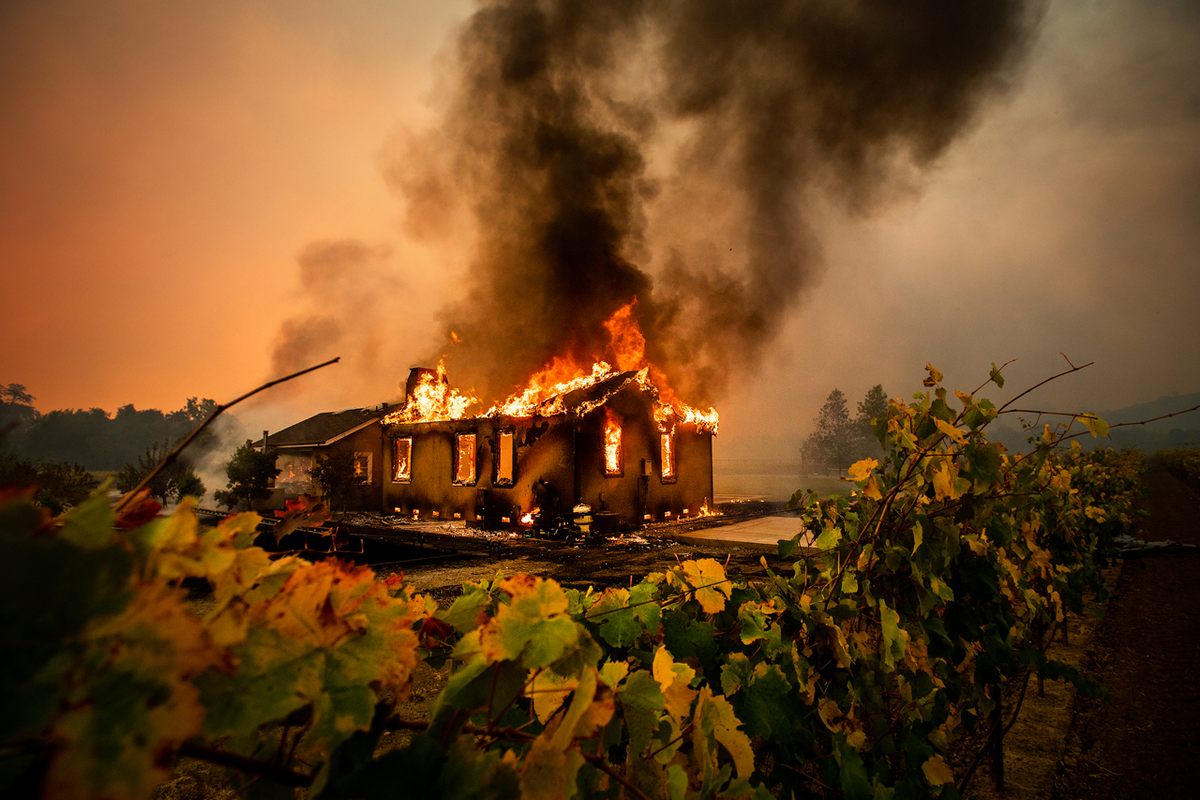 Berger's inspiration to get close to smoke and flames is also very personal, zen-like, in the way that the mundane disappears during long, exhausting days immersed in the scorching worlds of the Camp, Kincade, or Carr fires, all of which he covered. "It was just you, the firefighters, and fire, and I just like that stripped-down existence," he says. "That really spoke to me."
Berger spoke with Atlas Obscura about some of the fire phenomena he's witnessed, how vital teamwork is, and what's really important when shooting wildfires. The exhibit Facing Fire is on view until August 2020.
How and when did you first start photographing wildfires?
I've been a news photographer for 25 years, so I've done a couple of them over the years. But it was after the Rim Fire in 2013, out by Yosemite—I did that one for three or four days, and I was like, "Oh yeah, this is what I'd like to do with my summers and falls. This is awesome, covering this." Since then I ramped up my knowledge, my kit, my ability, my desire for it, so it's really grown since 2013.

I was out there with [photographer] Justin Sullivan, who is also part of the show, and we had the same thing, the sense of witnessing this awesome fury of nature that people don't really get to witness. For the Rim Fire, there was a lot of tree crowning, which is where the fire jumps from treetop to treetop. You witness these 50-, 60-, maybe 80-, 90-foot flames. The other aspect of it is that we were out there and not dealing with the normal part of life—you're not returning emails, you're not going to the post office, walking the dog. It's really trying to get the best photos you can, without dealing with a lot of layers of life that are tedious.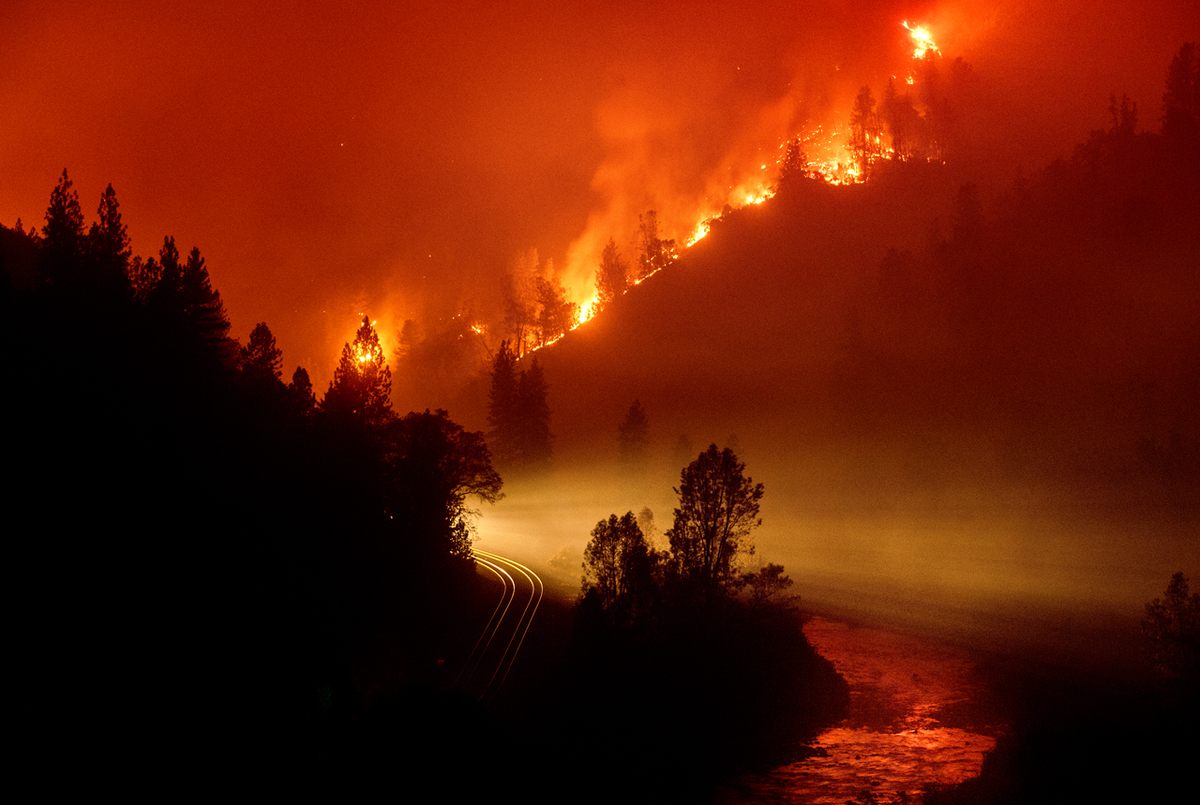 What's the closest you've been to a wildfire? How do you stay relatively safe?
A couple of feet. California has a statute that allows press access to emergency zones. So if you have a press credential, legally you're supposed to be able to go wherever you want in the fire, with a couple of exclusions, like if you're impeding operations. So we're often right in the advance of the front flames, there's no distance limitation. That's why you don't see these photos from other areas, such as Colorado or Idaho, that have big fires. It's not because there aren't good photographers, but because they don't have the access.

I feel you learn about fire behavior both from the classroom and the experience. When we're driving, we keep a safety zone in mind like the firefighters do. We keep our exit routes open, we're always thinking about what the fire's going to do. There was this situation two years ago, in Redding at the Carr Fire, where the fire tornado kicked up, and that really did get me thinking because I was about three-quarters of a mile from where it touched down and you can't prepare for that. Having a safety zone doesn't mean anything when you have 140-mile-an-hour winds of fire. But for the most part, in normal fire behavior, I feel like I'm able to stay safe easily.
What was the toughest experience you've had while shooting a wildfire?
The fire tornado was just so dark and so apocalyptic that you couldn't see a half-mile away that it was happening, it was just so black-black-red. Intellectually that was probably the most scary. The other one that really stands out is the Camp Fire last year in Paradise. Usually what happens is that when someone dies, they close off the streets for blocks around it, consider it a crime scene, you can't get in. But in Paradise, they let us tag along with the coroner's crews that were doing the body recoveries, for days. At first, me and the other photographers were looking at each other like, "How are we doing this, we're not getting kicked out." That was pretty intense and definitely sad. A lot of the time you don't really quite feel the deaths like you do when you're watching them recover bodies.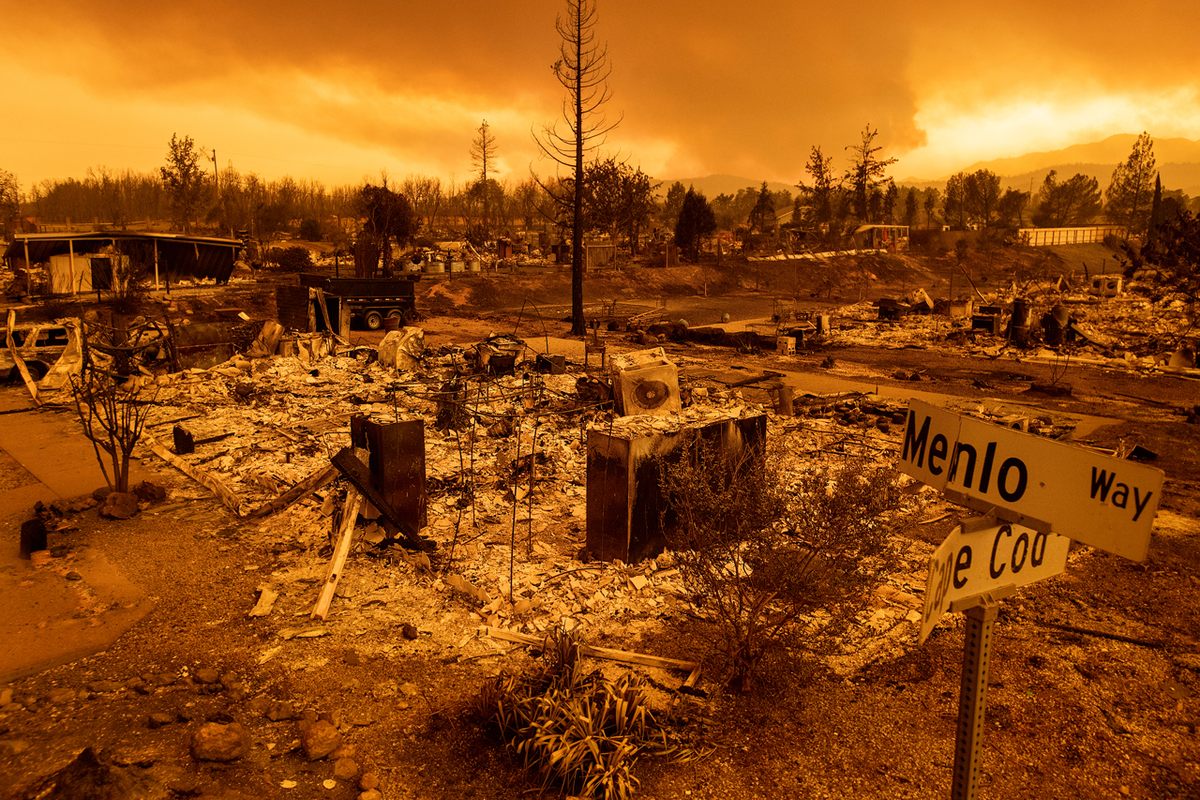 It sounds like you're often working with other photographers. How do you all work together?
We're very much a team, which is awesome, and it's really rare. I think in other cities a lot of photographers are more territorial and protective. But we've developed this thing because we've known each other for a long time. It's me, Justin Sullivan and Josh Edelson who are in the show, and Marcus Yam, who's Los Angeles Times, and Stephen Lam, who's Reuters. Our preferred thing is to have two cars with two photographers in each car. It helps to have one person navigate and look out for power lines and obstacles and the other person drive. And the other thought is if one of the cars has a problem, you have another that you can jump into.
One of the things we worry about is we often come up with the same pictures a lot of the time. Still, there are so many benefits to doing it this way. We have a good time together. And it really helps to have a crew to bounce those ideas off of for where to go. Do we want to drive up this road, are we going to block a firefighter if we do that, is it going to lead to where we want or are we going to spend an hour up this dirt road for nothing?
How do you keep your gear working under such extreme conditions? And how do you manage to get good photos with such crazy lighting conditions?
I don't worry too much. You have to clean the cameras from dust at the end of the year, but in general it's not that hard on the gear. Our stuff is made for abuse.
In general, there's less of a range of camera settings that I use on fire than on other work. There's also less of a range of lenses. I tend to just go out with two lenses, and I bring less photo gear with me for fire than for corporate or other shoots. You want to travel light, you want to pare down what you need to grab as you get out of the car each time. But I have a really big fire kit. The main thing that you have safety-wise is full Nomex top and bottoms, the yellow fire-resistant clothing, and hard hat, and I have fire boots, multiple flashlights, and a lot more.
Any advice for aspiring photographers interested in this kind of work?
The biggest thing is not to get in the way of the firefighters. This isn't about you, this is about the firefighters doing what they're doing, about the residents and what they're doing, and then we're a distant third.
This interview has been edited for length and clarity.