Uncovering the Secrets of a Forgotten Viking Town
The remnants of Borgund were buried in the dirt for centuries and then sat in museum storage for decades.
Three hundred miles northwest of Oslo, Norway, nestled between replicas of medieval turf homes and 19th-century farmhouses at the sleepy Sunnmøre Museum, is a meadow. With impressive mountains and a crystalline lake in the distance, many wouldn't even notice the blanket of grasses. But this meadow has secrets to tell.
Beneath the undulating greenery and centuries of mud are the remains of the lost town of Borgund. Beginning in the late 10th century, this meadow would have been alive with activity. During the town's heyday, boatbuilders would have been busy crafting majestic ships, while traders hawked their wares. Children playing along wooden sidewalks might have been overheard by weavers crafting massive sail cloths within their small wooden houses. For most of us, it's hard to picture life in this town entombed in dirt—that's where the Borgund Project comes in.
The Borgund Project brings together an international team of historians, archaeologists, geologists, and others to tell Borgund's story. History has long overlooked the lives of ordinary people—craftspeople, laborers, women, and children. The Borgund Project has set out to change that. "We really don't know that much about ordinary people's ordinary lives in other places than the big towns," explains archaeologist Gitte Hansen, who manages the project.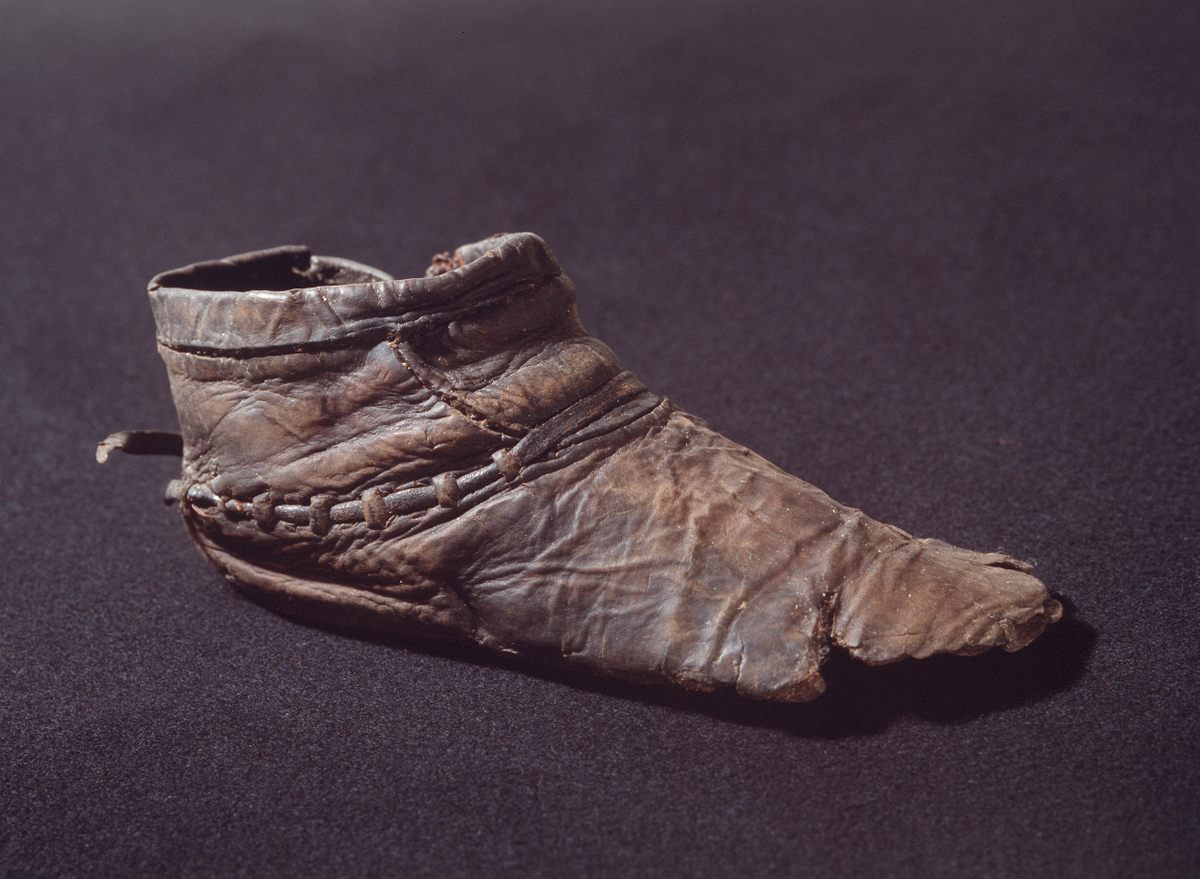 Very little is known about Borgund today. During the Middle Ages, Norway only had 16 towns; Borgund was one of the smaller communities. Textual sources only mention the town offhandedly; "there [was] not much drama in Borgund" for chroniclers to report, says Hansen. "We have very few written sources relating to the Viking Age and the Middle Ages in this part of Europe, and when we hear about places in the written sources, it's usually because the king was killed." While no royalty was killed in Borgund, in the late 14th century the king of Norway did mention the town in a decree, ordering local farmers to again use Borgund as a trading center, suggesting that trade had declined there. "There's a downfall after the 1380s according to the written sources, and this is one of the things we tried to find out," says Hansen. "Can we trust that there was hardly any activity after the late 14th-century or were there still things going on?"
Larger Viking and medieval towns eventually grew into the cities of today. The Norwegian cities of Bergen, where Hansen is based, and Norway's capital, Oslo, can both trace their roots back to Viking settlements. But Borgund disappeared from records after the Middle Ages. After one final mention of the town in the 16th-century, "it goes under the turf so to speak," says Hansen—until 400 years later, when someone dug it up. In 1953, a local parish church started construction to expand its churchyard. But instead of dirt, workers were digging up old shoes and fragments of medieval pottery. Archaeologists were called in and were soon overwhelmed with the sheer number of artifacts. During the nearly 30 field seasons conducted at the site, three square miles of the meadow were excavated, uncovering about 45,000 objects. They had found the lost town of Borgund. "We're talking about the largest excavation of a medieval site in Norway outside of the still existing towns," says Hansen.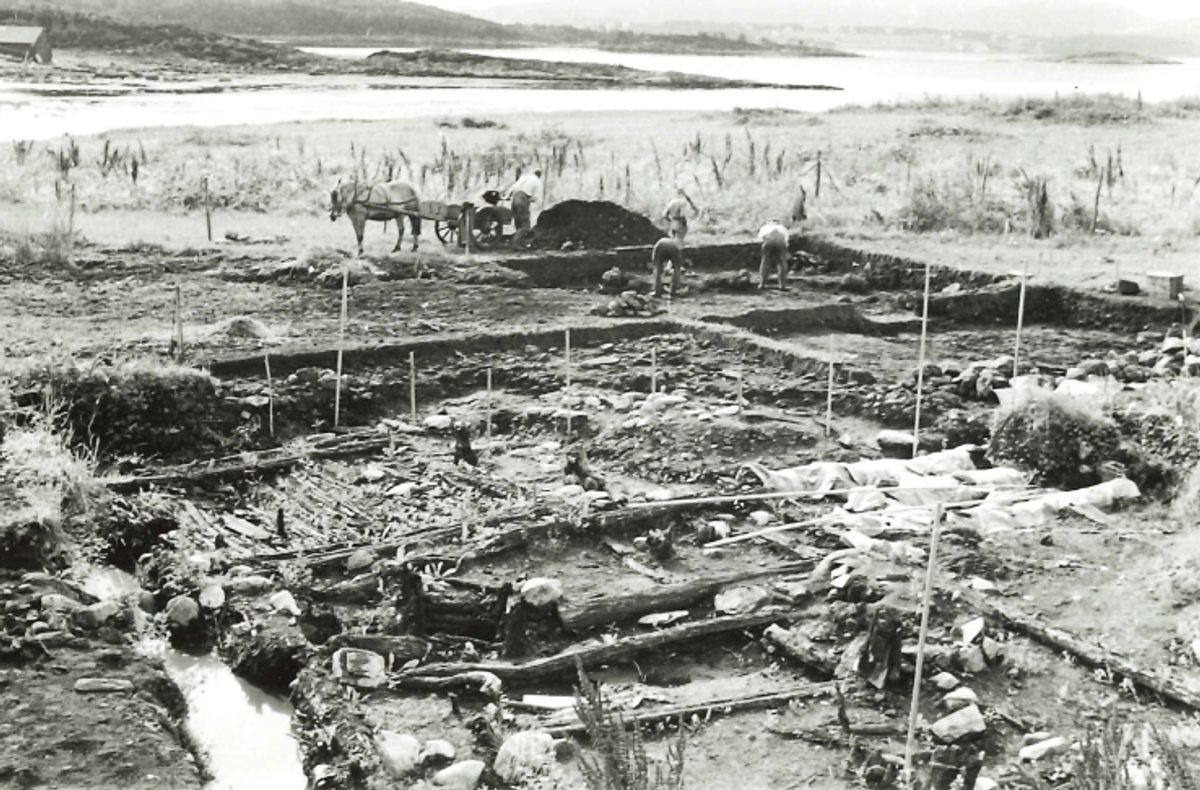 But after the most extensive of the excavations came to an end in 1981, "the Borgund material was sort of left in a corner" at the University Museum of Bergen, says Hansen. Filed away in museum storage shelves, those 45,000 objects sat unstudied for decades. To preserve what remained of the medieval town, archaeologists again buried Borgund in the dirt. Grasses grew. A meadow flourished, and Borgund was again forgotten.
After securing more than a million dollars in funding from the Research Council of Norway, the Borgund Project has finally begun the painstaking work of analyzing the thousands of objects excavated from the town in 2019. University of Bergen archaeologist Irene Baug has been looking into the 11,000 whetstones uncovered at the site; she believes they were likely delivered from medieval quarry sites "meaning that trade in whetstones must've been quite organized," she says. To confirm her hypothesis, Baug has partnered with geologist Øystein Jansen to conduct further geochemical analysis on the stones to confirm where they came from.
Archaeologist Brita Hope, a PhD candidate at the University of Bergen, meanwhile has been cataloging and organizing the nearly 5,000 iron fragments excavated from Borgund. So far, she's identified hundreds of nails and rivets that could indicate where shipbuilding was underway. She's also found knives, fishing hooks, smithing tools like a hammer and tongs, chisels, and lots and lots of iron lumps. "Most of the fragments that we find are broken, so they probably discarded them after they could not be used anymore and then they rust," says Hope. But even those "lumps of rust" can tell an interesting story of how much iron a small town like Borgund would've needed.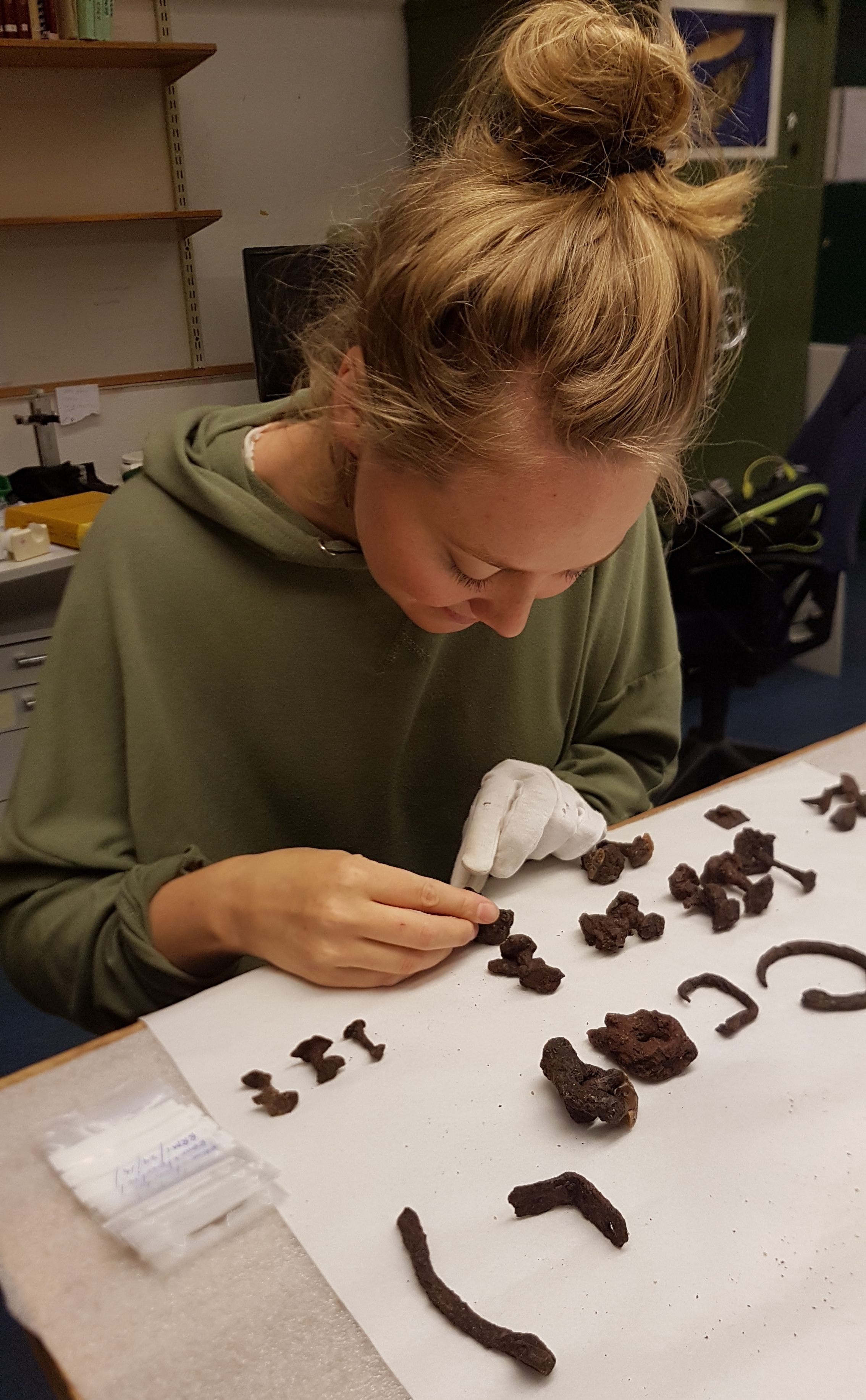 Brown University's Michèle Hayeur Smith traveled to Norway to analyze Borgund's several hundred textile samples. "A lot of the textiles had been garments," says Smith. Though by the time they were buried, many of the textiles would've been rags "and most likely would've been used in shipbuilding because they were covered in tar." Smith estimates that about 80 percent of the textile fragments are coated in tar. Working with textile craftspeople Marte Kløve Juhl and Monika Ravnanger, Smith reconstructed what these textiles would've looked like hundreds of years ago.
Every year since the Borgund Project launched, Baug, Smith, Hope, Hansen, and 26 other historians, archaeologists, and geologists have come together to discuss their research. "We're writing history on many levels," says Hansen "We're writing history for western Norway, for Norway, for Europe. But we're also writing history of women, children. We're writing history for these ordinary people. We're writing the history for the people without history."