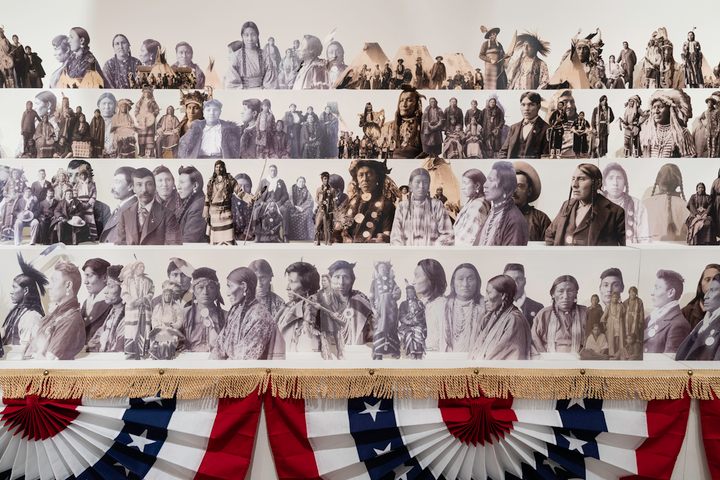 An Artist Reunites Members of the 1898 Indian Congress
In her work, Wendy Red Star reframes representation of Native Americans.
The man in the sepia photo, known as White Swan of the Crow nation, stands with a striped shirt and elaborate feathered headdress. With a hint of a smile on his face, his left hand palms a holstered pistol. Another image shows a woman of the Arapahoe nation, in a blouse richly decorated with neat rows of large, sewn-on beads. Yet another depicts Black Wezel of the Blackfoot nation, seated and sporting a Western-style suit and shirt, a round earring dangling off his left ear.
They were all attendees of the 1898 Indian Congress in Omaha, which happened at the same time as the Trans-Mississippi & International Exposition. The world's fair managers invited an unprecedented number of members of Native American nations to participate, and camp out, mostly in tepees, on the Expo grounds. The individuals of the Indian Congress were treated by the organizers as a ticket-selling spectacle—part ethnological exhibit and, due to visitor demand, part "Wild West" show. For three months, the 500 people there were showcased in traditional dress in an overtly rustic encampment, where they performed dances, rituals, and sham battles for more than two million visitors. But it was also the largest gathering of different tribes at that time.
A photographer, Frank Rinehart, and his assistant were commissioned to document the gathering, in a studio set up on the fairgrounds, during the last week of the Congress. He took hundreds and hundreds of photos, entire tribal groups and individuals, in variations of bust, profile, and full length.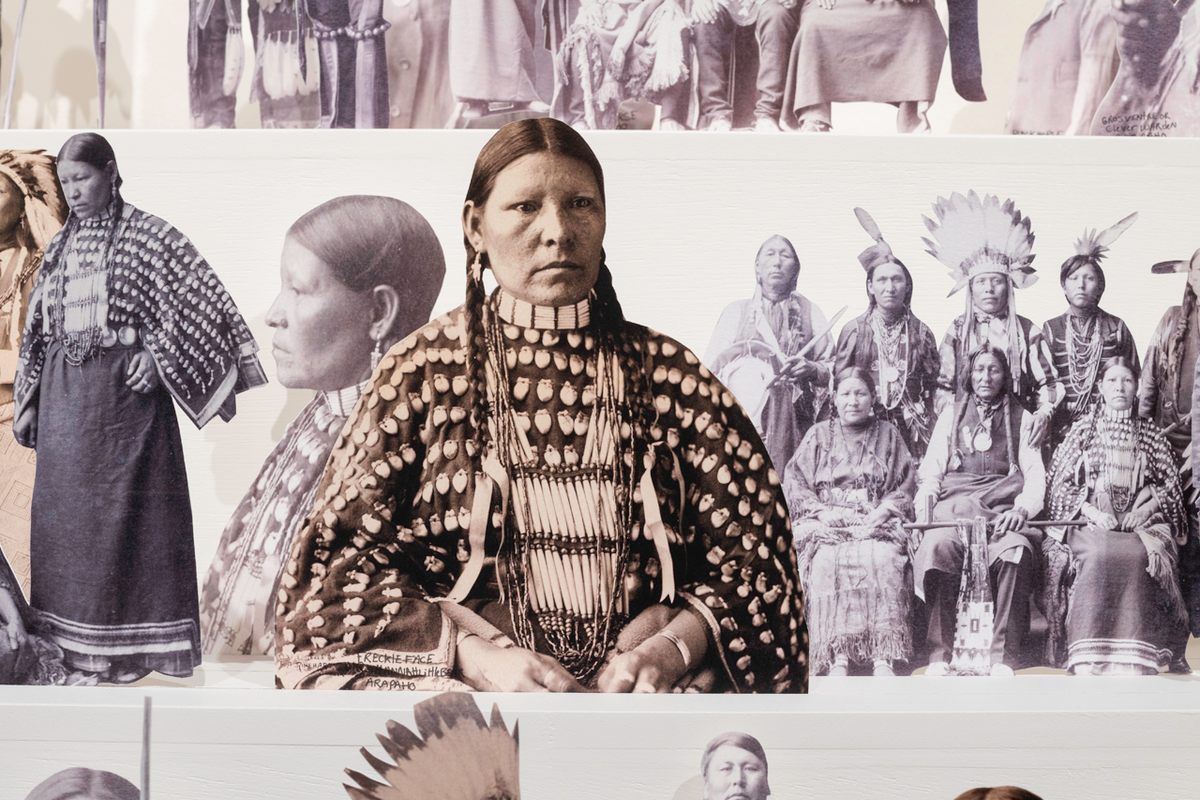 The event and its collection of photographs intrigued Oregon-based multimedia artist Wendy Red Star, of the Apsáalooke (Crow) nation. While in Omaha, she visited the site of the Congress, and even Rinehart's grave. "I was very, just in awe of … the magnitude of 500 individual Native people gathering together," she said in an interview with the Joslyn Art Museum's associate curator of Native American Art, Annika Johnson. "And the Rinehart images are so beautiful, and the other thing that I really appreciate about those images is that he has written each individual sitter's name and their tribal affiliation, which is rare, and sometimes hard to do, so that was even more exciting for me." To bring that history to life, she created the site-specific installation, The Indian Congress, at Omaha's Joslyn Art Museum, in 2021.
Her previous work and intense archival research address matters of Native American identity and representation. Her new installation is poignant in this respect, and located a few miles from where the 1898 gathering took place. In it, cut-outs of people from a mix of tribes—such as Sioux, Cheyenne, and Wichita—are arranged on crowded, 18-foot-long tiers festooned with patriotic bunting, much like displays of prized produce at the fair, reflecting the way the gathering was viewed by visitors.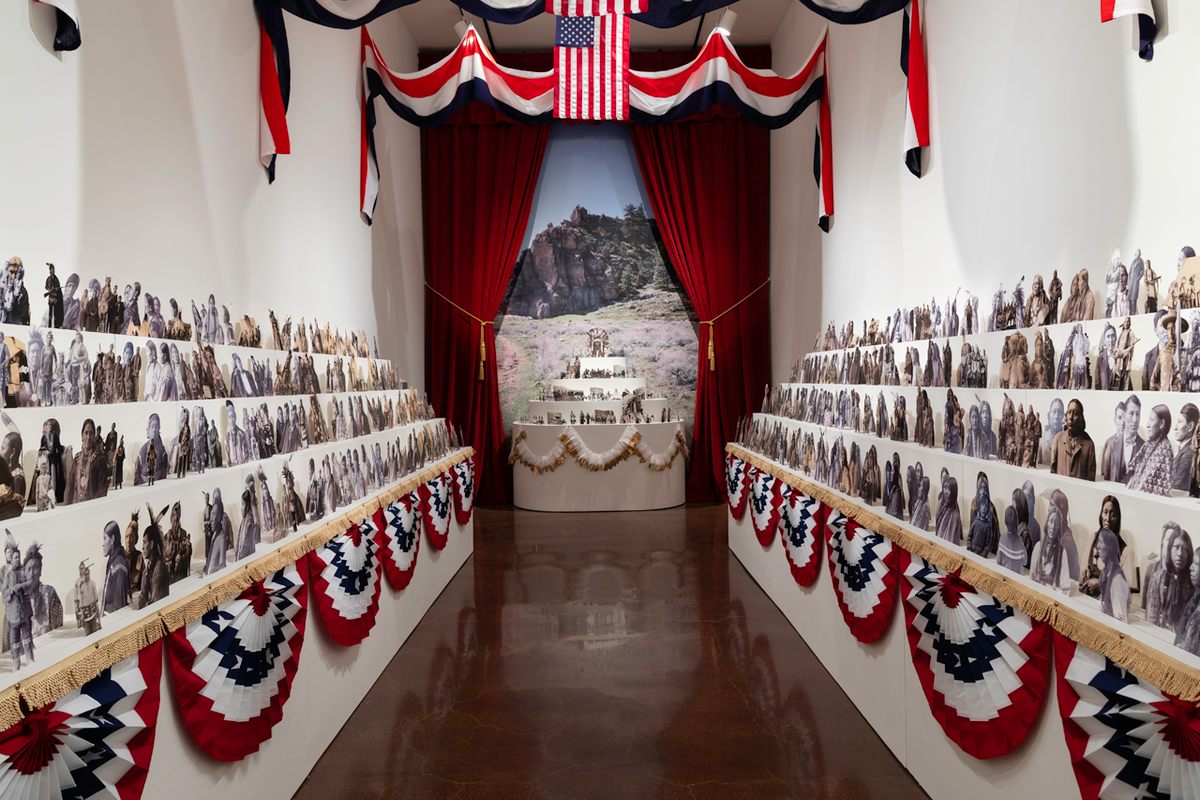 Despite the problems of this form of representation, Red Star wanted to convey the inherent power of such a large assembly. The artist had many portraits by Rinehart printed, and carefully excised the figures from their artificial studio backdrops, to reunite them. In spending so much time examining and cutting each and every figure, Red Star learned nuances of each tribe and individual. She noticed that some were wearing the same blanket or clothes, or holding the same objects. In the interview, the artist said, "It's a very intimate process, where I'm getting to pick up sort of different details…. I'm very familiar with the Apsáalooke and some of the clothing that they're wearing, and some of what that represents. But then to have the opportunity to cut some of the Omaha nation, some of their tribal members, and look at how they're representing themselves as well—the diversity among these communities and these nations, is what I'm really kind of picking up on."

During her childhood on the Apsáalooke (Crow) reservation in Montana, and education at a nearby public school, Red Star said, her white teachers did not talk about Crow history, or the complete history of the country. Red Star added that diving into historical research and connecting pieces of history like a puzzle grounds her. "All of these people have a story, and a very powerful story," she said. "Not just a powerful story but an important story to the fabric of American history. That's kind of the gravity and the weight of which I'm feeling while I'm cutting these images out."